Expect The Unexpected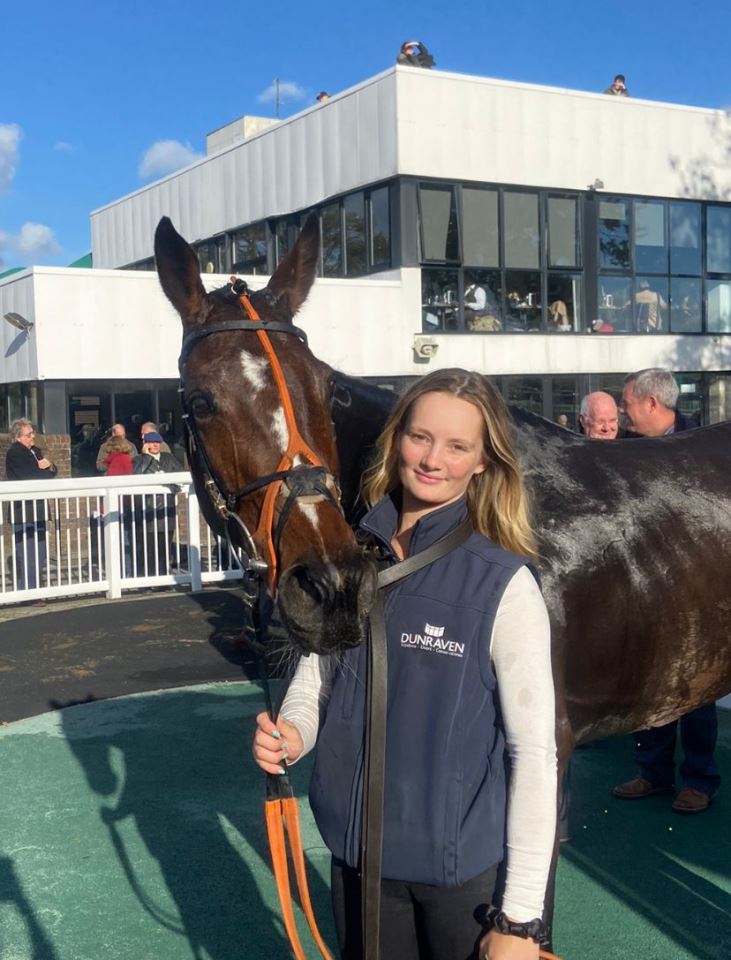 It really feels like the jumps season has cranked up a gear now. The clocks have changed, the temperatures have dropped, and the rain (in some places) is falling. The big guns are all starting to fire, and it is all very exciting.
Last week started off with two runners at two different tracks. Volkovka declared to make her seasonal debut in Hereford, and Blue Bikini down to run in Plumpton. Blue Bikini had made her yard/seasonal debut in Warwick just over a month previously, where two things were very clear, she needed to jump an awful lot better, and that, as her pedigree suggested, she really needed a test of stamina. So 2 miles around Plumpton not ideal for that, but it was ideal to test her jumping. She had been the recipient of an awful lot of schooling both at home and away, and she needed to show what she had been showing on that score, now back under the spotlight. As it turned out the jumping was much better, and she was effective over the minimum trip! Connor Brace rode her, and gave her a very good ride. BB was a little keen early, but was then, in effect, flat out for the rest of the race. At no stage, until jumping the last, did she look like the winner, but that is where she finished - staying on strongly after the last, and really sticking her neck out for a well desreved success.
Plenty to thank - Fergal and the team - lots of work has been put into her health and well being. Connor for a great ride, Kev her vet for his hard work on her ulcers, Louise her owner/breeder for letting us have her and enjoy her, and especially her shareholders - those that stood by her when things were looking not so rosy, and those who joined (and rejoined) in the summer. The decision to change tack with her was one that was not made quickly, or lightly - but sometimes in life difficult choices have to be made, and this was one of them.
W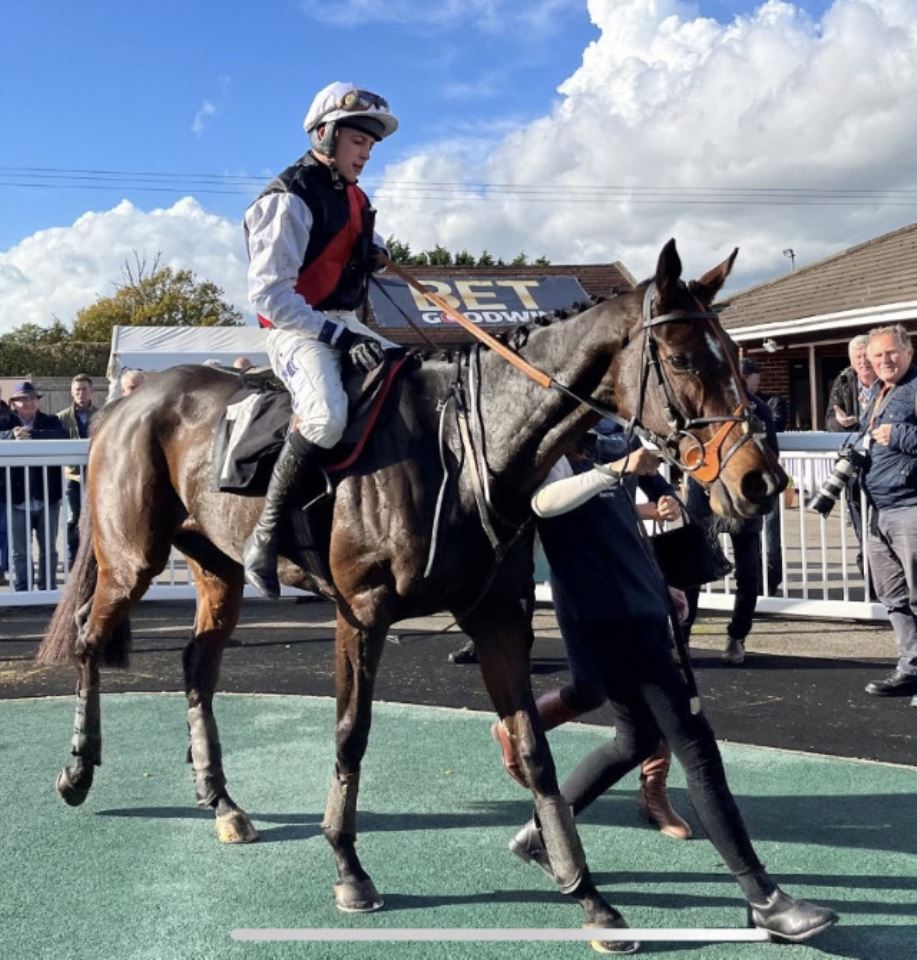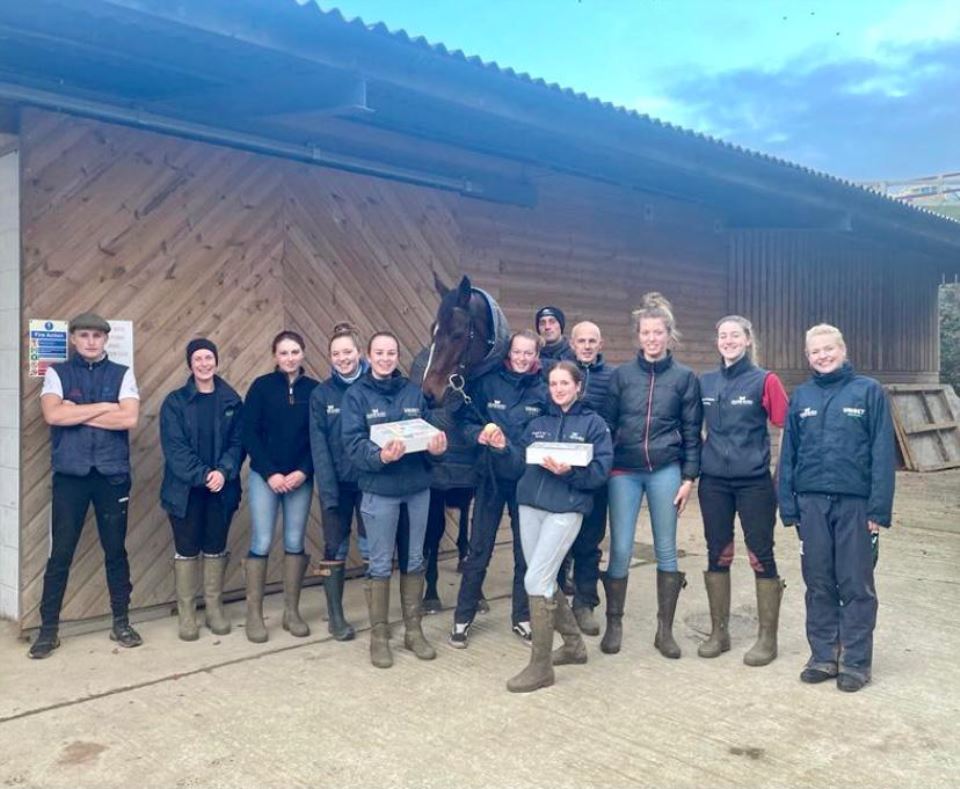 We will not get too carried away, it was not the strongest of heats, although it was run in the same time as the 0-120 handicap over the same trip later on the card, with BB carrying more weight than the winner of that race. BB will clearly have to continue to improve, but the way things went for her in the race, there is every chance she will, and either way, it was great to get the second winner of the season on the board!
Plumpton on a Monday is never a nice trip, and with the added problem of people randomly glueing their faces to the M25 - I decided to make the trip west to Hereford, afterall, we were only hopig for a better round of jumping from BB, and a bit of placed prize money. I should have learned by now to expect the unexpected! Volkovka was due to make her seasonal debut in Hereford, her homework, had been good, and she has ceratainly improved physically from last season. We were hoping for a nice run, sadly all the rain that had fallen in the area, and flooded fields on the edge of town, failed to get the ground on the track to anywhere near the soft that she prefers, and it actually dried back to good ground on the day, and after riding in an earlier race, Paddy said it was too quick for her, and to wait. My day consisted of 5 +hours in the car, to watch a winner on the TV, at the course I wasn't at - to tell a bunch of owners that their horse was a non runner, and a drive home! After BB won - I could at least do it all with a smile!
Elsewhere this week - Mamoon Star headed back to Ravenswell Farm. Fergal will now prepare him for the Listed Bumper in Cheltenham on New Years Day. It was good to see the form of his debut run in Huntingdon franked yesterday, when the third horse won the bumper in Aintree. I said at the time, that although the Huntingdon heat was the first race of its kind this season, there would not be a stoinger one run before the turn of the year, and I still believe that, any national hunt race where they reach speeds of 39mph has to be taken seriously. We can't wait until Jan 1st with him - things will be far more in his favour next time!
Also making the trip from Ivy Lodge Farm to Ravenswell was 'Betty' the four yr old Westerner Filly. She has done plenty with Maguire, and now heads on to big school. She is a hardy tough girl, and another that will just keep on keeping on! Winter fun to be had with her - only a handful of the 25 shares remain - get in touch to join our latest syndicate!
As two stables were vacated at Ivy Lodge we soon filled them - the Soldier Of Fortune filly came in from the field, and Tintagel Queen headed back there from The Elms. Both will pre train there, with the SOF filly heading to Ferg around the turn of the year, and TQ heading to Olly Murphy.
Also at Fergal O'Briens - Yauthym is well, and has an entry this week in Hereford. Hopefully she can put a sub par effort last time behind her. Hidden Beauty is looking and moving really well. Her debut date draws ever closer, and Volkovka, having had a day out without running in Hereford, gets to make a longer trip up to Carlisle for the mares handciap hurdle up there. Peter Kavanagh, one of the most exciting 7lb claimers in the country, who is attached to the Donald Macain yard, helps to take his claim off of her top weight. She is a free going filly, but we hope there is more to come from her this season, as she has improved so much, physically.
Auditoria is having a quiet coiuple of weeks, and a bit if treatment for ulcers. So there has not been much going on for us with Olly, but his yard are in fantastic form, and he must have one of the most exciting groups of young horses of any trainer in the UK!
At Kim Baileys, Queenohearts is another that looks fit to burst - and she is in fine form. She is doing plenty of cantering - her course of ulcer treatement is now complete, and when the vet says the time is right, they will start turning the screw with her, and upping her work.
At Fences Farm, Classic Ben gets ever nearer his seasonal return. Another share has become available in him - with the seller asking just £500 for it - have a look at the details on the FOR SALE page - a bargain surely! Go Millie Go looks like switching back to hurdles for her next run - possibly in Ascot on the 20th, she looked far from natural over the bigger fences on seasonal debut, and has had several sessions with a MctTmony Practioner since that run as she was a bit stiff and sore. Her form from last season continues to be bolstered, and I think the mares staying hurdle division is the best for her at this stage.
At The Elms all of the youngsters are in good health, and the broodmares continue to bloom. Both Savingforvegas and Molly Childers are confirmed in foal to Falco, and we can't wait to see those foals next spring. The stores are all well - one may take a different route now, after the news from The BHA regarding national hunt 3 yr old hurdles from October 2022.
This coming week - Carlisle with Volkovka, Hereford with Yauthym, Hidden Beauty's first entry, and the Cheltenham November meeting! Lots going on - looking forward to a fun week!