A Special Week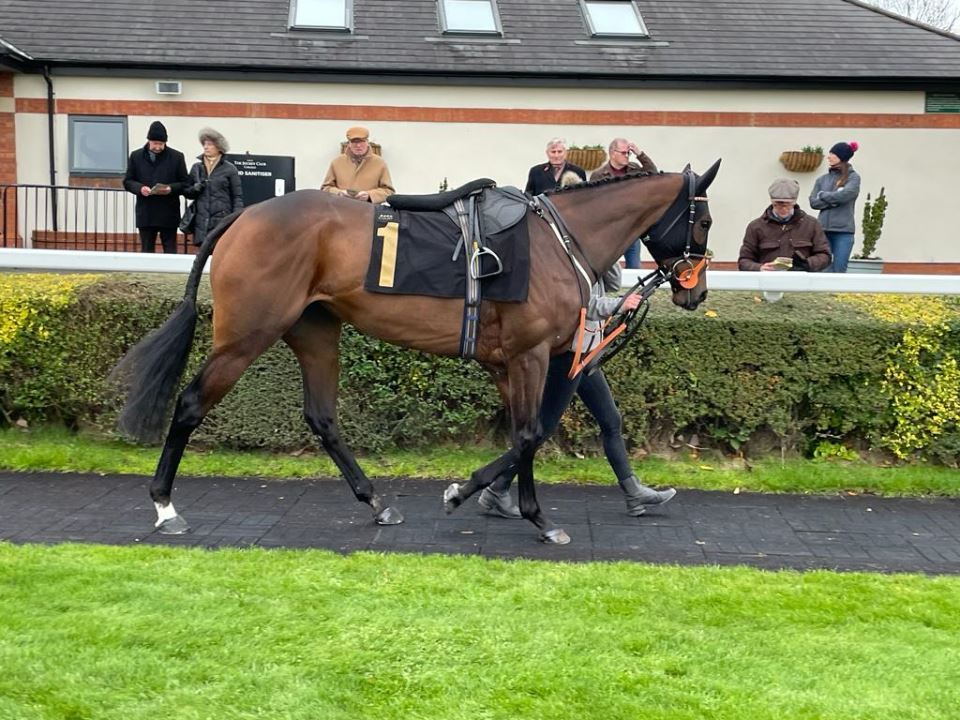 Sometimes all the stars align, and along comes a very special period - last week was one of those. We started with a long trip up to Carlisle for Volkovka for her seasonal debut on a mares handicap hurdle. Volkovka is ceratinly the most physically improved horse across the entire squad this term. The transformation in her from last season is astounding, and we knew that if that improvement was mirrored on the course, she would be a very exciting filly this season. Her homework had been good, and she had been working with sime very nice horses at home, so if she settled on her first run back from a break, at a track, and on ground that both looked to suit, we were hopeful of a good run. Peter Kavanagh, a seven pound conditional, attached to the Donald McGain yard was booked to ride. His first ride for Fergal, but a lad that we had all been watching for a while, and been very impressed by. Paddy thought that it was the right thing to take a few pounds off of her back as she was set to carry top weight. Peter cut his teeth with Colin Bowe, champion point to point trainer in Ireland, and came over to McCains just over a year ago, and he gave Volkovka a perfect ride. He settled her early, and got her jumping superbly - he took her back slightly down the back as there looked to be a bit of trouble ahead, and then switching wide at the foot of the hill he forced his way up the outside, and with two cracking leaps at the last two flights then powered away for a very easy 7 length success. Volkovka's third win over hurdles, and one that suggests that she has a very bright future ahead of her - she has size and scope - has plenty of speed, and stays very well. There area lot of options open to her, and we will see what the handicapper has to say about her performance when he releases his weekly amendments tomorrow. It was a great ride from Kavanagh, he is a jockey to follow.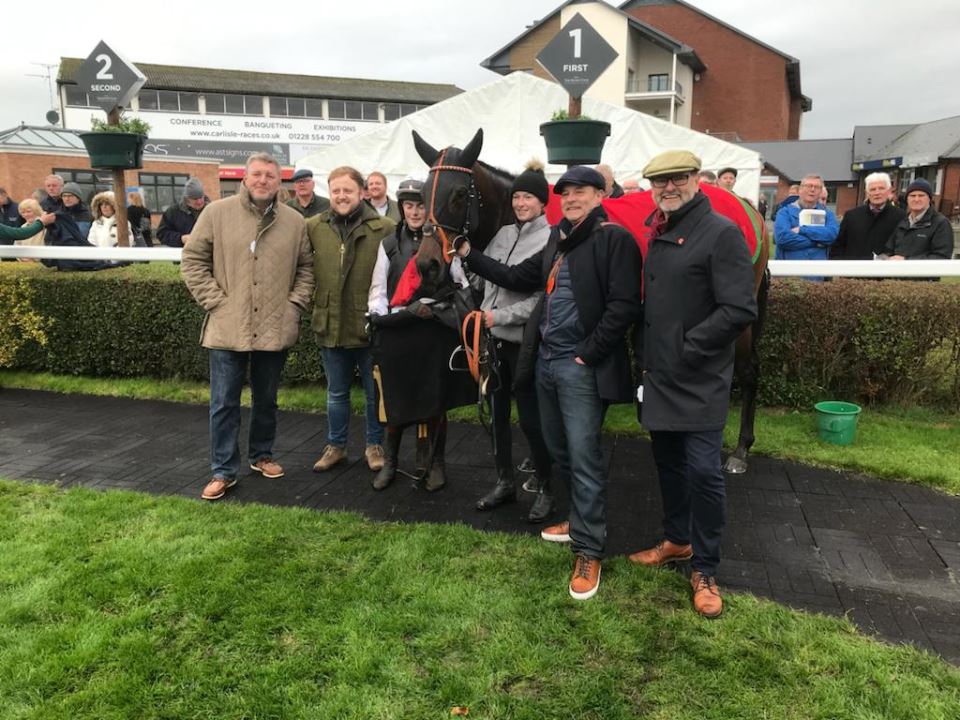 On Tuesday we headed west to Hereford with Yauthym, for a the concluding race on their card, a handicap hurdle. Yauthym had been disappointing when last seen in Ludlow, although finishing fifth, she was not her usual self, but had been in good heart at home, and a lot of work had been done on her by the team at Ravenswell. Paddy had felt it was worth a crack at making the running with her the last day, and that clearly hadn't suited, so with Liam taling over in the plate to take a valuable three pounds off, the plan was always to sit a little off the pace, and make their way through the field when needed. As it transpired they went off at a million miles an hour, which suited perfectly. Yauthym jumped and travelled really well, she can be so quick over her hurdles - and approachung two out, although she was out of shot on the big screen, Liam said he always knew he was going to win. She cruised up on the outside of the leader, which Liam had hoped would carry him a bit further into the straight, but she was going so well, they breezed past,. Despite knocking the final hurdle flat, she then cruised away for another easy 13 length success. Her victory was the third in 8 days following the gutsy victory of Blue Bikini the week before, and this one was the easiest of the three. She came out of the race well, and again, we will see how much she goes up for this and find another suitable heat for her. It was good to see her back in the winners enclosure, and a real testament to the great job the team had done at home.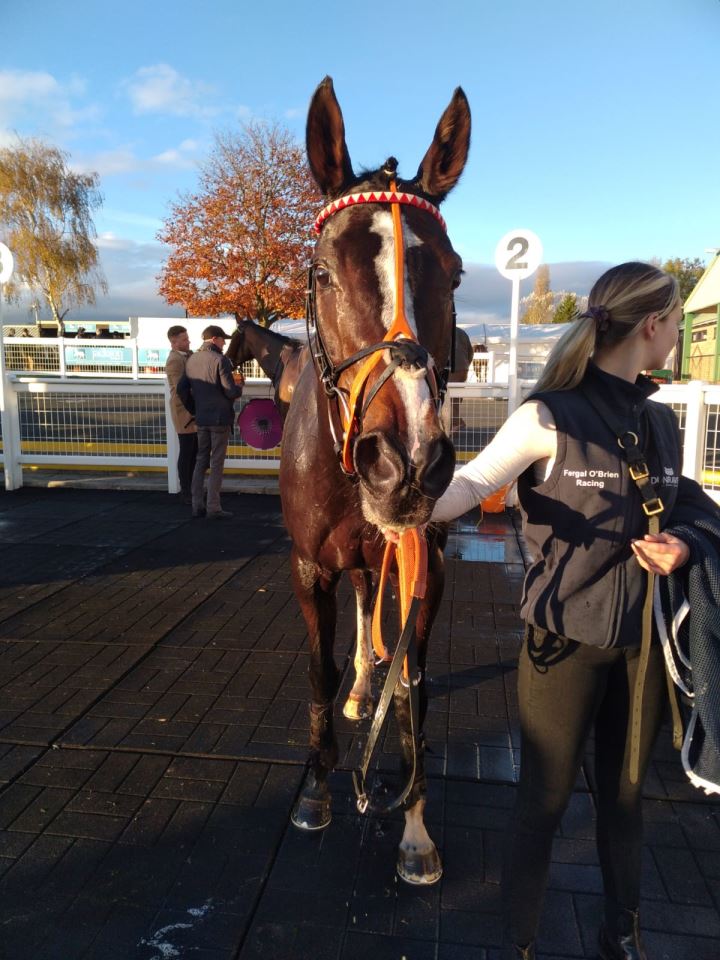 The week had started well - and continued in mid week - when we managed to restructure and re fill one of our existing syndicates. A superb core of people that that can now move on and enjoy their raicng along with some new members - we wish the all the best of luck going forward!
On Thursday we headed down to Cheltenham for a few days - their November meeting is always a meeting we enjoy, and it is great to get away to the Cotswolds for a few days. This year the dry autumn, lead to fewer runners across the three days than normal, so after spending Friday and Saturday at the sports, we used yesterday to pop into Ivy Lodge Farm with some NBR members to see Tintagel Queen canter, and have a short session on the water treadmill. She looks really well, and is an big, scopey easing moving filly, that, if she can go as well as her pedigree suggests, should give her members an awful lot of fun when she joins Olly Murphy at the turn of the year. The 3 yr old filly by Soldier Of Fortune also looks in great shape, and she will have a similar regime before going to Fergal, at the same time.
So after our golden spell, we are quite prepared for our luck to change, but hopefully it will last out for a few more days - as we have three runners this week. Auditoria heads to Fakenham tomorrow, to face just three opponents in their opening mares novices' hurdle. She was second at the track just over a month ago - when she looked like she was going to overturn a 1/5 shot, just running green in the final stages, and bungling the last. Once again Aidan Coleman takes the ride, and after speaking to him in Cheltenham on Friday, I know he is very much looking forward to riding her again.
On Wednesday it is the turn Of Hidden Beauty to make her debut. A day we have all been looking forward to for some time. HB is a gorgeous big filly, who we have all been very patient with. She had been in full work in the spring, and was fit enough to run, but the right thing to do was to give her the summer off, so we all had to put our enthusiasm on hold and wait for the autumn. And here we are - she will head to Ffos Las for the mares bumper there, and we will see what we have. Reports from Ravenswell Farm are very encouraging, and she has worked very well with some very nice horses, so hopefully she can replicate that on the track!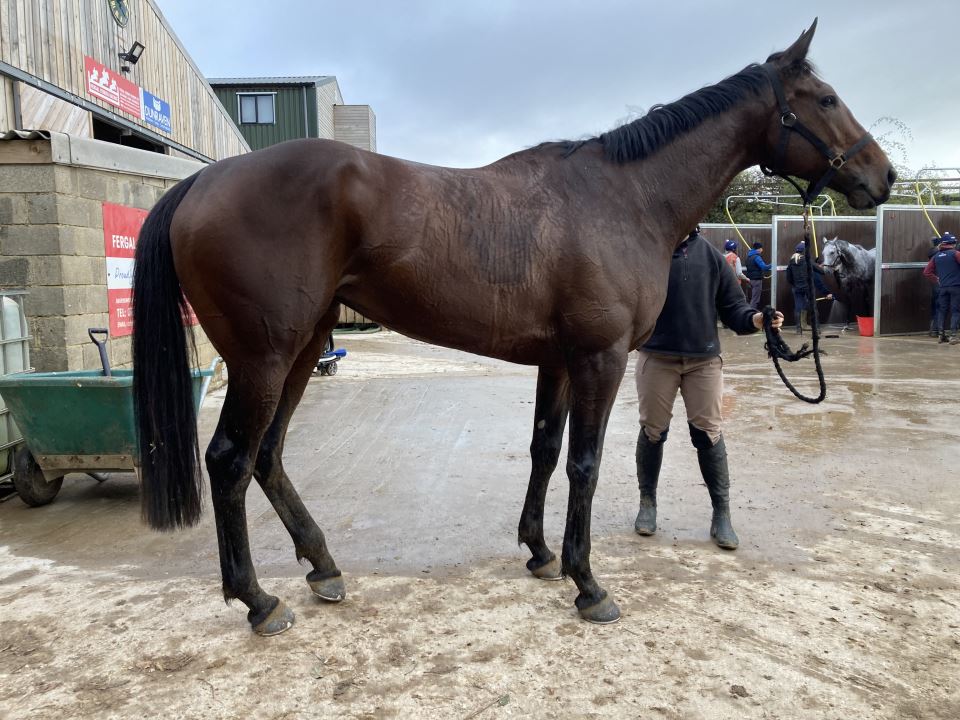 On Saturday, Go Millie Go has an entry in the Mares handcap hurdle in Ascot. Returning to hurdles after one run over fences that was far from pretty, she is reported to be in good heart and will hopefully run well.
All of the remaning horses are in fine fettle. Mamoon Star is on course for the Listed 4 yr old bumper in Cheltenham on New Years Day. The form of his debut has worked out well - with the third and the tenth placed horses from that heat both winning. The winner has been third since, but if you dig into that a bit deeper there appears to be a reason, and with a stiffer test of stamina looking sure to suit MS in Cheltenham - we are looking forward to getting there for sure!
Queenohearts is looking amazing - she has completed her ulcer treatment, and has also reached a point where Kim and the team can start to slowly ramp things up a bit. Fingers crossed that she stays in one piece, as she has never looked better.
Classic Ben is another on a slightly longer road back to the track than normal, but he has been given the go ahead from the vet and is now stepping up a gear too and it won't be long before he is back.
Let's hope this week can be a fruitful as the last!