Babete Beating!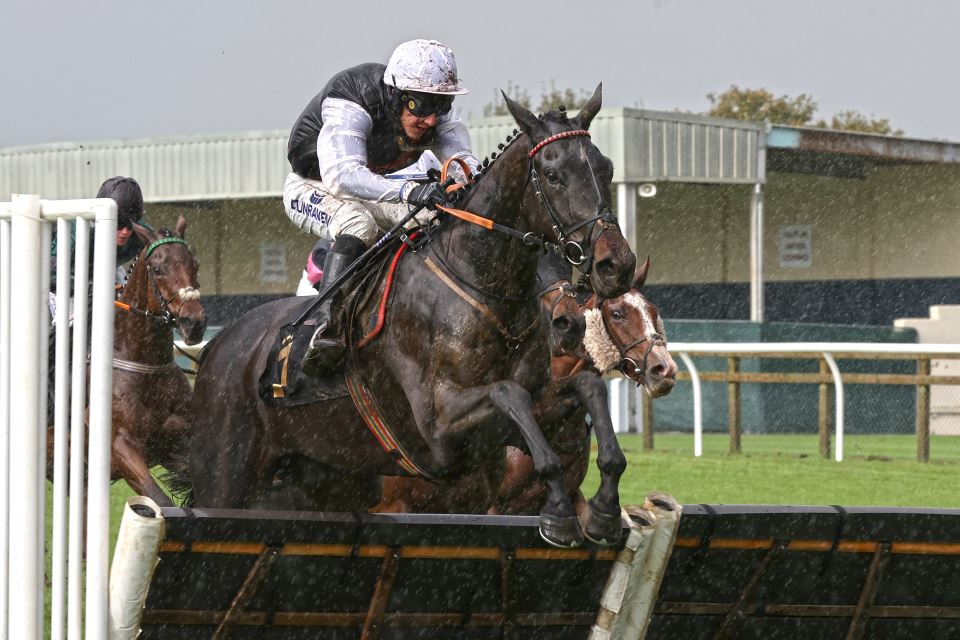 A Curate's Egg – something partially good, and partially bad – that seems to sum up things for us since the summer break – results show the runners are achieving one of two things – second place – or pulled up! It could be worse – they could all be pulled up I suppose!
Monday started with a bang – a mad morning for entries – with four being entered for races on Saturday. Blue Bikini and Maria's Flame in Market Rasen, Itchy Feet in Newton Abbot, and Hidden Beauty in Stratford. At the time it looked like being a fun filled Saturday, but a certain Babete came into our lives on Thursday and Friday and put an end to that! On Monday afternoon we headed up the A1 again for the October Sale in Doncaster. Another small catalogue for the Tuesday – and nothing to get overly excited about. After dropping the horsebox off at the sales complex we headed over the road to the Whitby Fish and Chip Restaurant – it being Monday – Vivos was closed! Whitby's is the 'go to' on a Monday, and once again, an excellent bit of fish and chips! Back up to The Hilton, a quick change and a couple of pints in the bar – all very sensible for once – as I say – it was a small catalogue and there were not many folks about!
Tuesday, and a small catalogue does mean a short day, and we didn't have to endure too much pain, good to catch up with a few existing clients, and also be asked to put together a few quotes for some potential new ones – it is never a wasted day in Donny! It was good to catch up with Donald McCain and Brian Hughes at the sales. Donald gave an update on Dino Bellagio and Old Blue Eyes. OBE is on the easy list for now after sustaining a small injury behind the saddle, he will transfer down to Ivy Lodge Farm, possibly next week where he will have a period of rest before having the full use of all the rehab facilities there before heading back into training in a few weeks time. Dino is in great form – and although he was found to be tight on one side of his back after his antics in Bangor On Dee, he is good again now, and although he will not be rushed, he will be prepared for another start over hurdles. He will have plenty of schooling and at least one trip away from the yard to school elsewhere. I also had a good chat with Fergal at the sales, and we talked through a few of the horses there. Greyval is back healthy, and is ready to run, we did discuss where she may go – a conversation that concluded on Friday morning and have decided that we will give her another week to get over her sub optimal trach wash last week and bypassed a possible entry in Cheltenham next Friday. Mamoon Star is in great form, and he was declared to run in Wincanton on Thursday. Although we had planned to run him over 2m4f in the spring, we had decided to drop him back to 2m for his seasonal debut, as this was to be a bit of a sighter. Blue Bikini and Maria's Flame would both be declared for Market Rasen on Saturday, BB upped to 2m7f, which we are sure will be a huge plus for her, that trip on a track she has won at was the perfect way to start her season. Maria's Flame would be making her racecourse debut. She goes well at home, and although slightly still on the weak side, the 1m5f trip would suit on a sharp track, and it would be a fun day out for their syndicate members! In the afternoon it was good to see Alan King have an across the card double, especially with Kay Tara Tara winning on hurdles debut in Huntingdon. It was a race that in the end took little winning, with just the 4 runners, but she did it well, and made all of the owners of our own Rockola very happy, as our 3 yr old filly has been working with Kay Tara Tara all this season, along with other very useful fillys and mares – which bodes well for the future for Rockola. I've said it before – with just 2 shares remaining – she should not be missed! Have a look at her details on the For Sale Page and get in touch – she has a planned entry in under 2 weeks, and if she runs well on her debut, the share price is sure to go up! Do it now!
Wednesday I headed down to Gary Mooore's Cisswood Stables to see Cloud Dancer do a nice piece of work. He is nearly ready to run, and will have an entry in a 2m novice hurdle in the next couple of weeks or so. He looks fantastic, and has been pleasing everyone since he returned to the yard in September after pre training with Jason Maguire. He is still only 4, and has obviously grown, strengthened and matured since his debut season last term, and he is one we are very much looking forward to seeing this time around. He worked really well on Wednesday morning with a couple of useful workmates, and everyone was delighted with him afterwards. Although he was a winner in Newbury on his hurdles debut, he remains a novice for this season which is the bonus of winning one of the new National Hunt juvenile races – before they were introduced last season – having won in Newbury, he would now have to go straight into handicap company, and I am not sure he is quite ready for that yet! Like last season, his schooling has been very good once again, he really enjoys jumping, and that is sure to stand him I good stead!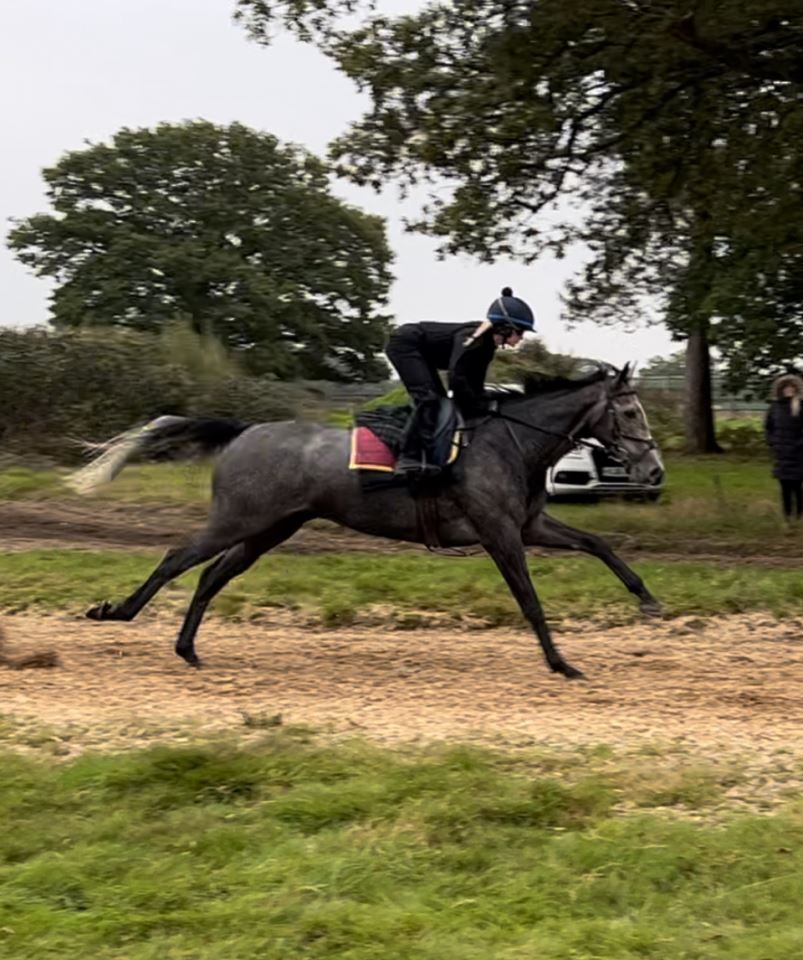 Cloud Dancer first time up.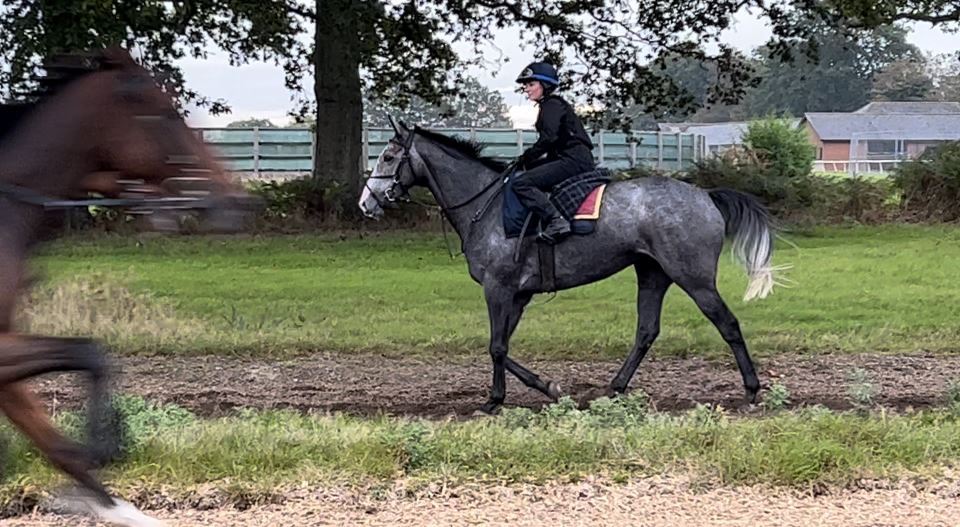 Walking home.
On the way home I chatted with Fergal about the weekend runners from Ravenswell, and we decided to leave Hidden Beauty out of her engagement in Stratford on Saturday – she needs a sound surface ideally, and the forecast did not look good for the midlands on Friday, so with the likelihood of her being a non runner any way – she would not be declared – Blue Bikini and Maria's Flame would be declared as planned.
Thursday and the forecast arrival of Babete! After throwing a multitude of coats in the car, I headed off to Wincanton to see Mamoon Star get his season under way. Actually, a really good drive down – the journey to Wincanton always fills me with dread! The A303 and Stonehenge to negotiate! The usual queue, nothing major, and we were there in good time. Surprisingly bright when I got out of the car, so a medium, showerproof jacket, and no cap – by the time MS arrived in the paddock – that had turned out to be the wrong choice and the jacket was proving to be insufficient! We had been through this before with MS, it had rained cats and dogs during his race in Taunton when he won last season, so his owners that wee there were perversely cheered by getting soaked in the prelims, considering it a good omen! I was not so sure! It was great to have Debbie Burt there, who braved the elements to take a few photos for us! Thank you Debbie! Mamoon Star looked great, he is a fine looking horse, and we would learn a lot about where we go with him after this run. There was sure to be a very strong pace on and Connor was happy to ride a very patient race at the back, even over a trip that was likely to be on the short side for him these days. What we didn't expect was for him to not pick up the bridle at all! He did not travel for most of the race, and although Connor was never unduly worried, he was always 'at' him to keep him in touch with the rest of the field and not be detached. As they turned for home the furious pace up front started to collapse and the field began to come back to him. MS stayed in really well up the straight and passed the entire field apart from one that had got first run on him. He finished second, and it was a good start to his season. It was good to see him gallop right to the line, and although he still tended to drift right handed, he was not as bad as he had been last term. We confirmed what he needed to – he still needs to run right handed, and he definitely needs a step up in trip. My immediate reaction was that he had possibly not faced the tongue tie he was fitted with for the first time, and having chatted with Connor and Ferg in the days after his run, it is a real possibility that that was the case. He had worn it plenty of times at home, but as we always say – racedays are different, and it is something that we will have a think about going forward. By the time we got back upstairs to the owners lounge we were pretty bloody damp – and we would take a bit of drying out!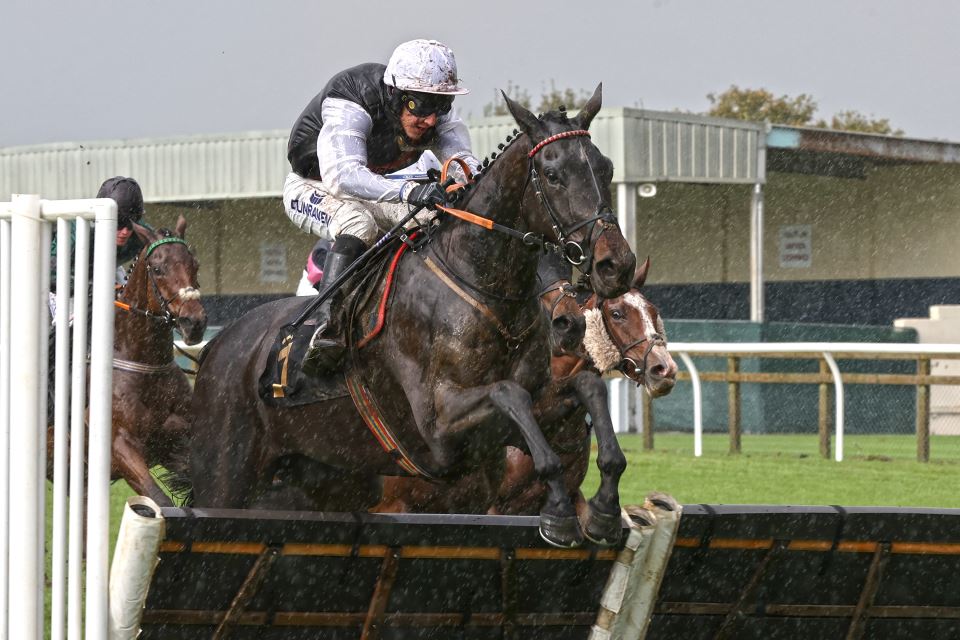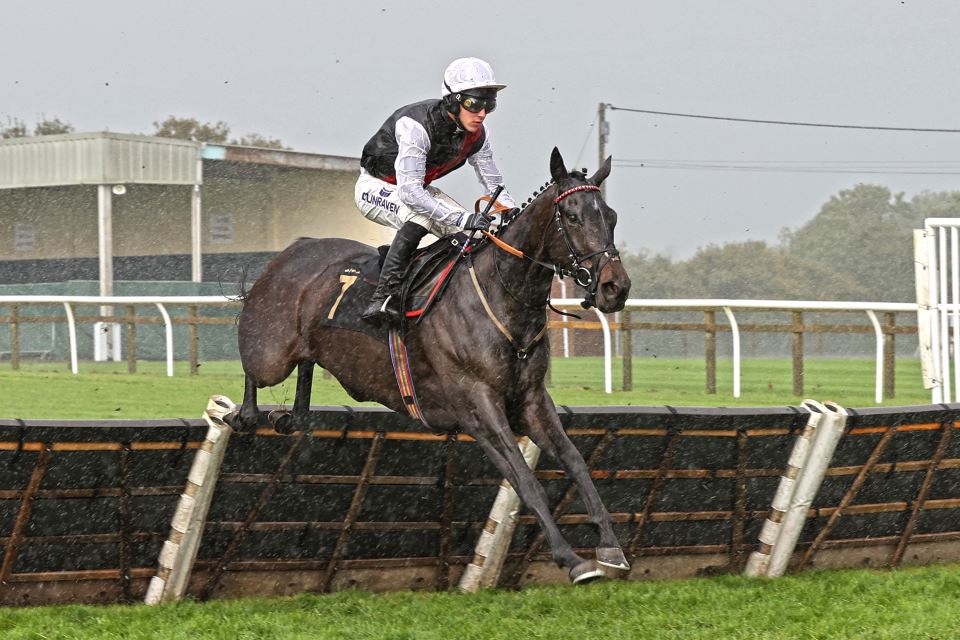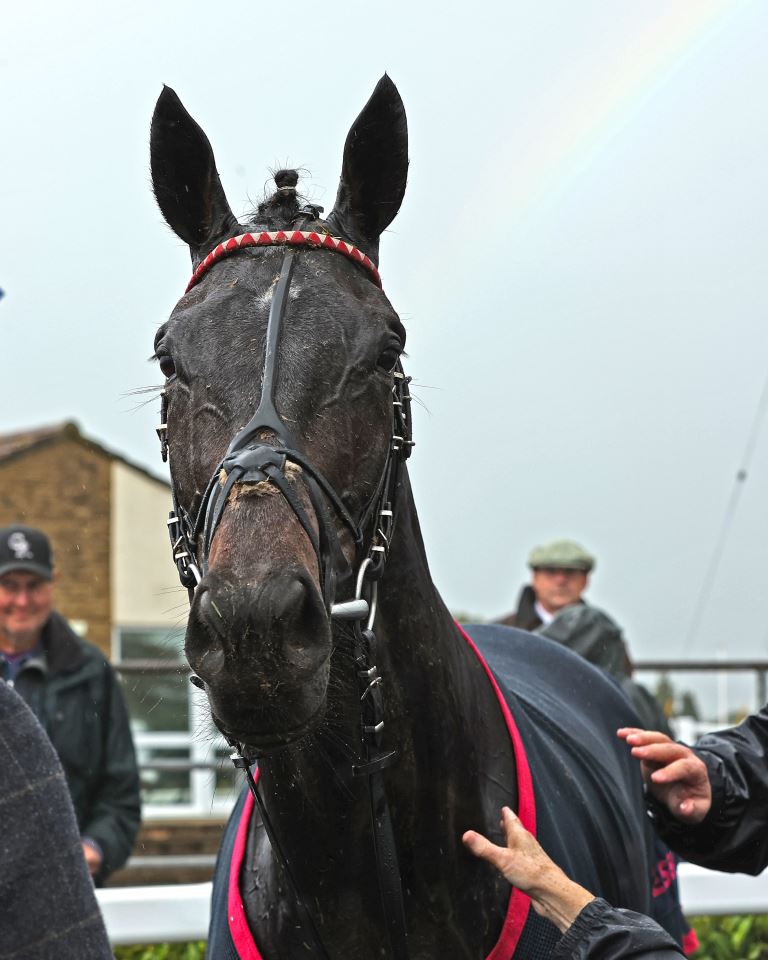 Thanks to Debbie Burt for the wonderful photos, and for braving the elements to get them!
On Thursday – declarations are made for Saturday. Itchy Feet would take on five rivals in Newton Abbot, a nice place for him to start. Blue Bikini and Maria's Flame down to run in Market Rasen, and Hidden Beauty would not go to Stratford. Fortune Forever who is in great order, and has come out of Warwick really well, got an entry in Worcester next week. Rather than brave the A303 again on the way home I headed up to the Cotswolds for the evening, before heading into Ravenswell on Friday morning. With Kev and Jules no longer at The Kilkeney, I needed a new base camp – The Stump had been recommended, but was full, so I made my way to The Green Dragon at Cockleford. I have eaten there before but never stayed. Another good little spot. A nice, cosy room. The best shower I have ever encountered in a hotel room, and a friendly pub to boot. Debbie joined me for dinner, and we had a couple of good hearty platefuls to warm up after a very wet day. The Green Dragon is a really nice spot, and with the rooms named after Gold Cup winners, it is a bit of a must for racing fans!
Friday I made the short trip to Ravenswell in the dark, and in the middle of a monsoon – Babete had arrived overnight, and was hanging about! All work on the hill was cancelled and the horses just exercised on the round gallop – work would wait until Saturday! It was a bloody miserable morning, those that were there, including one work watcher who actually changed into a pair of shoes with a hole in them (yes I was confused as well) got a good soaking – having watched three lots, I think I had been soaked to the skin four times in less than 20 hours! Huge thanks to the staff, not only at Ravenswell, but at all the yards – who battled through the rain and wind while still being able to laugh and smile – fair play – not easy! All the horses looked great – Mamoon Star had come out of his race fine and had a day off in his stable – he was lucky. Volkovka and Blue Bikini both schooled first lot. Fortune Forever looked in great form on the round along with Greyval, Maria's Flame, and Hidden Beauty. Volkovka has an entry over fences in Ludlow next week, and Hidden Beauty is also in there, over hurdles. Storm Babete was taking it's toll – all the jumps meetings on Friday were abandoned, and by lunchtime – Market Rasen's Saturday card had gone too. Blue Bikini and Maria's Flame would stay at home and work instead. Newton Abbot had survived, just – and Itchy would head there as planned.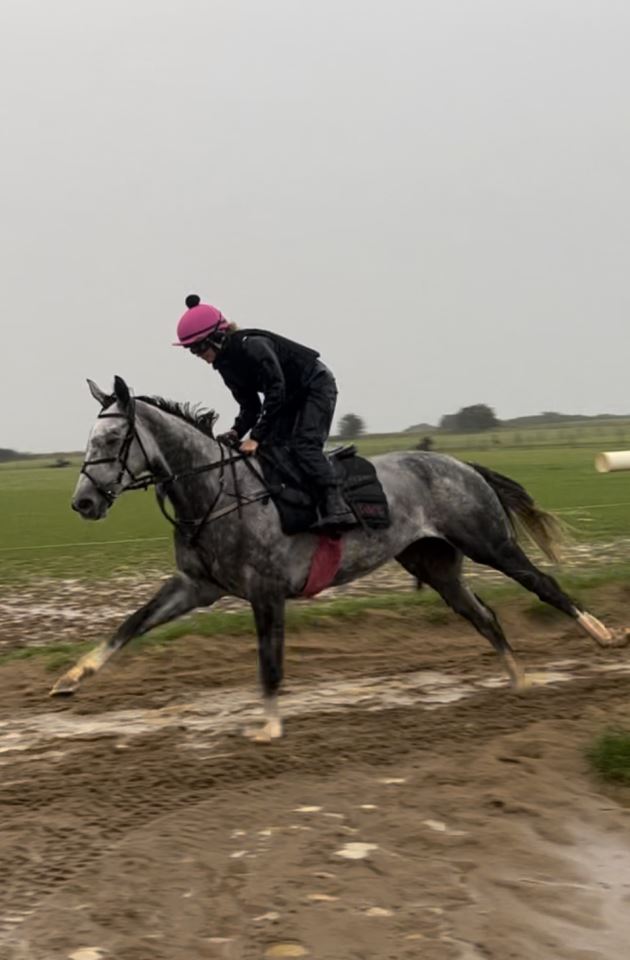 Greyval on a soggy round gallop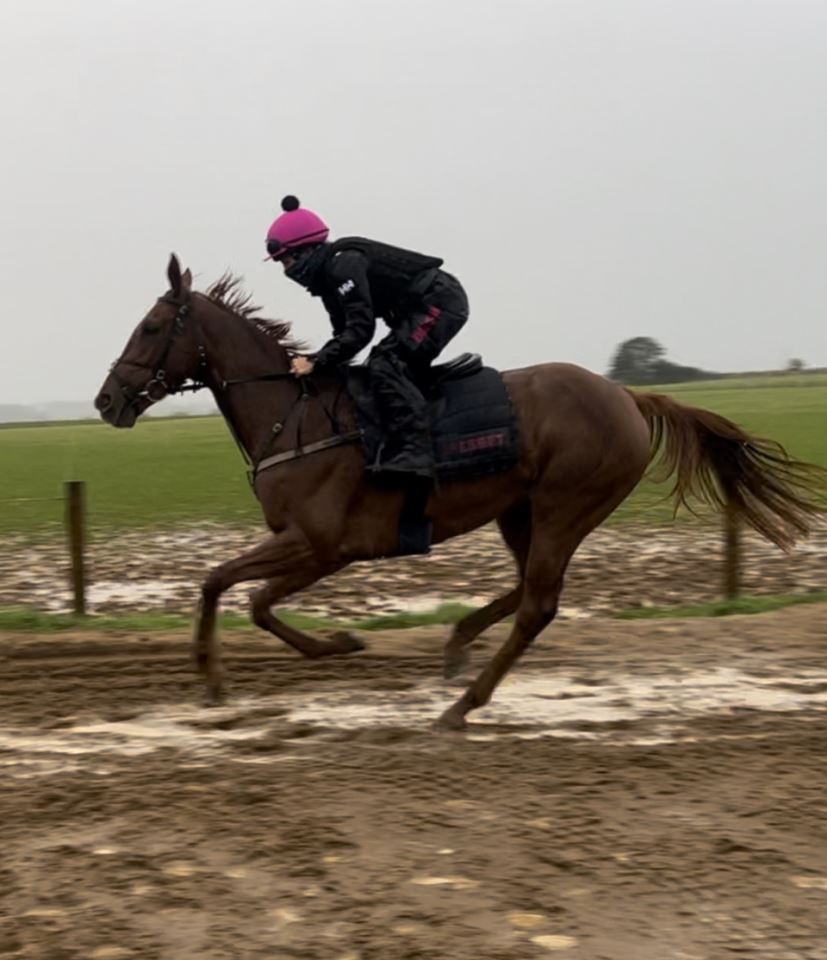 Fortune Forever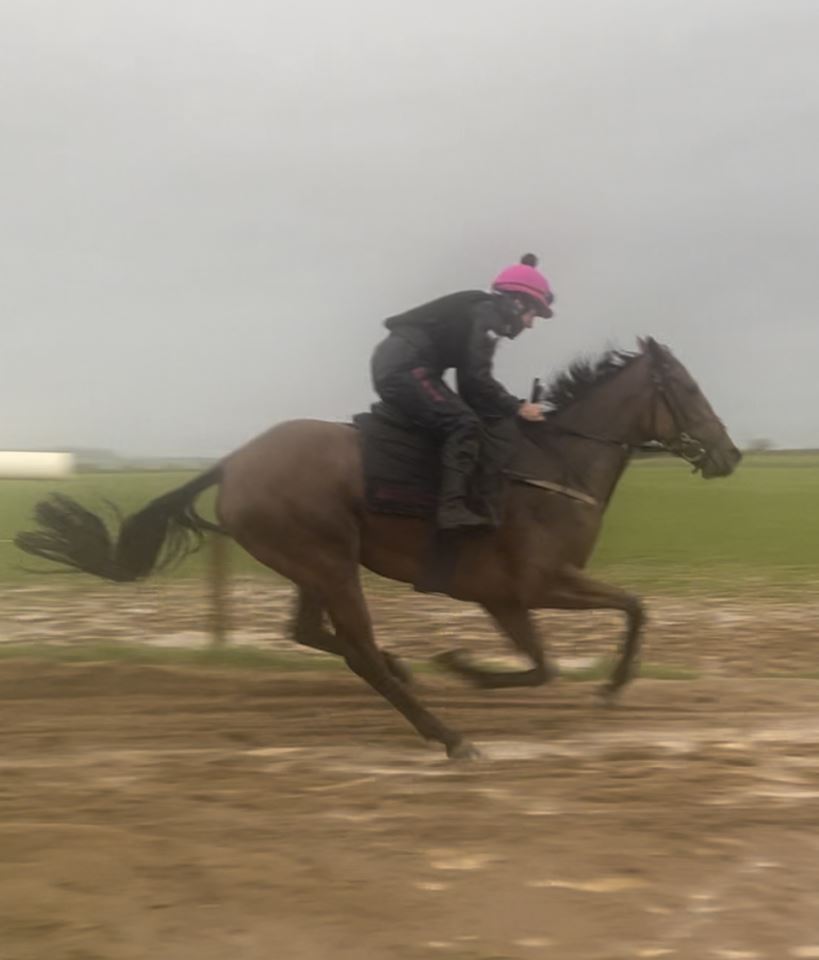 Maria's Flame
I had planned to go to Market Rasen on Saturday, so that was out of the window, and decided not to make the long trip to Newton Abbot for Itchy Feet. We were looking forward to seeing IF out again, and this race looked like a good starting point for him. He would be shouldering a big weight, but it was the lowest class of opposition he had face for a long time, and with Dylan Johnstone taking a handy 7lbs off of his back, it looked like the right place to start him. Sadly Itchy did not read the script – he was happy lobbing along upsides for the first half of the race, but when he was headed and the muck started flying back in his face he resented it somewhat and decided that he didn't really like it, Dylan rightly pulled him up. Not the start we had wanted, but he seems fine after the run, and we will go again in 2/3 weeks, and do things a little differently. Hopefully Itchy will get out of bed on the right side that day!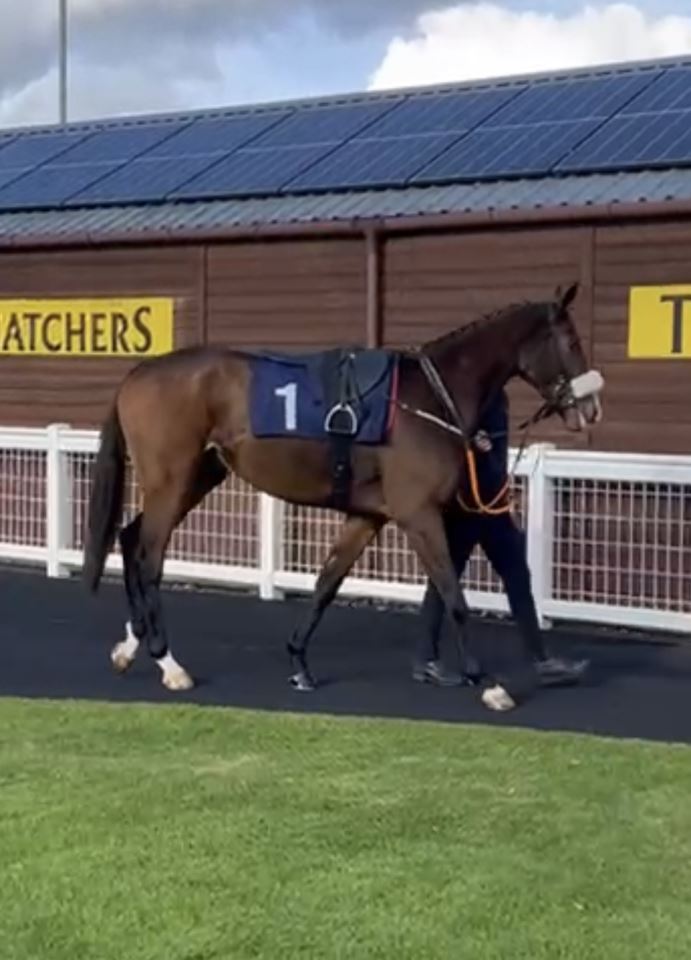 Itchy Feet in the paddock
Around the remainder – Reflexion Faite is back at Ivy Lodge Farm – she is very light, and Jason will get her fed well for the next few weeks. The yearling by The Grey Gatsby is in good order and will soon be off on his winter holidays – staying at Ivy Lodge Farm – he will be back in for more work in the spring. Intrepide Sud will start cantering on the sand gallop this week – he is in great order. At Warren Chase – Auditoria is very well, and we will start to look for her next race from Monday – and I will get a full update on Tintagel Queen when I see Olly later. She needs just a couple of pieces of work, and she will be ready to run in a couple of weeks – can't wait to see her out – plenty of soft ground around for her now! At Alan Kings, Rockola did another lovely piece of work yesterday and will be getting her fist entry very soon!
Off to Villa Park this afternoon – kindly invited by Olly Murphy – Aston Villa take on West Ham! Last year a 1-0 win for West Ham – but a really poor game! It will certainly be a better game this year with both sides in good form – hopefully West Ham can come away with a win!