Syndicate Management Service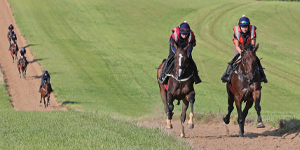 Through Olney Bloodstock Ltd we also offer a bespoke syndicate management service. With over 20 years experience managing syndicates at the highest level, we offer a tailor-made service for the those that are either new to the world of multiple ownership, or are too busy to do the day to day administration that is required to operate a fun, friendly and successful syndicate.
We can take on as much or as little of the workload as you want, from setting up the syndicate, dealing with the BHA registrations, organising colours, training agreements, and pre training. Keeping syndicate members involved and up to speed with hosted stable visits and picture and video updates. Organising raceday packages to suit you, including hospitality, O&T badges, transport and accommodation – and should you wish we can even provide a hospitality package that will include a visit to your box from a top racing professional to mark your card before the action starts. These packages are tailored to suit the clients need – please get in touch if you think we can help – we would be delighted to chat to you.