Went Forth, Came Fourth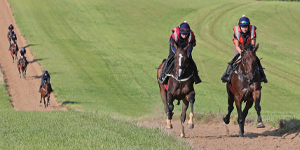 We packed a lot in last week! Monday started busy, and just got busier. The phone started to ring beofre 7.30am, and just didn't stop for the whole day. I had just about got round to doing all the things I had to do on the day by 10.00pm. A long day - but a very good day - we will have some very exciting news soon!
Tuesday we headed to Uttoxeter to see Auditoria run in the mares handicap hurdle on the card. This was to be her first try at 2m4f - although she has won over 2m this season - this step up in trip has always been on the cards - she was campaigned over 2m on the flat in France, and what she has achieved over that trip over hurdles has been a bit of a bonus. That being said she has been a bit keen in the past, so despite there being absolutely no pace in the race, the decision was made to hold her up on this first try beyond 2m. Doing this would make it much harder for her to win, as she would have to come from a long way back, in a race that was likely to turn into a sprint, but Olly felt that it was the right thing to do this time. The race itself panned out just as we had expected, the pace was a dawdle, but she did settle and jump well. When they finally got racing as they turned for home she was caught a little flat footed, and had to come wide - a mistake three out costing her vital momentum. To her credit she battled all the way to the line to finish fouth. There are plenty of positives to take from the race - she settled fine over the trip, and can be ridden slightly handier next time, although she does appear to like to come through horses - she looks as though she will stay further as well, and we can't wait to see her over a fence next season! She looked really well in the paddock, and has taken her racing very well all season - she will have one more run this month, before a summers break back at The Elms. It was great to catch up with a large group of owners at Uttoxeter, who, in the past had been one of the better courses to deal with regarding O&T Badges - now that they have a greatly improved O&T facility, with a vastly increased area, they seem to be less inclined to cater for larger syndicates. Having told me that they had hospitality boxes available - why was it not possible to hire one for the afternoon for our syndicate members, so that we could take a little bit of pressure off of the numbers in the O&T facility - we were willing to pay. We prefer to work with courses towards a common goal of having all owners and sydicate members with horses running on the day having the best possible experience - we realise that lots of members of large syndicates present on one day can make life a little crammed in certain areas - surely, us easing the pressure, and hiring a box for our members away from those areas, where they can all be together and base themselves for the afternoon, and not take up valuable space in the O&T bar would be a win win - we will even pay to help you out! I would love to know a reason why that couldn't/wouldn't be done. As you kniow we pride ourselves on never having to have had to resort to a ballot for badges for members and their guests, and once again everyone was catered for.
Wednesday - a beautiful sunny drive down to Wincanton where Yauthym was to take on four rivals in the mares handicap hurdle. Her season had effectively been ruined when she was raised 11lbs for her second win of the season in Hereford in November, a low grade affair that simply fell apart. As she does - she gives it her all very time, and as a result she has only dropped 3lbs since then - and has been finding things really tough. Her previous run in Huntingdon against the boys had suggested that she may be able to go close back in mares company, so we aimed her at this race - although it was a grade or two higher than ideal. Her Hereford win had come on quick ground, and like Hereford, Wincanton is a sharp right handed track, so, with plenty of pace in the race as there had been in Hereford it looked as though she may just get away with it, and run a big race. Sadly it didn't quite pan out, and whereas the lesser opposition she ran against in Hereford couldn't sustain the gallop that they set in front, these more talented mares could, and Yauthym could never quite peg them back. If she had not been held up on the crown of the home turn I think she would have been third, but she was never going to win. A prime example of how a rise in the handicap is not all about the weight they have to carry - it is so much about the grades of races they are permitted to run in. It was good to see Martin and Geeta at the races - they recently suffered a family tragedy, and hopefully a day at the races was a little respite from what has been a torrid time for the them. I hope it helped. Also good to see Steve Speller, Steve has a share in Hidden Beauty, and had been to Harry Frys in the morning with the Racegoers Group on a stable visit. It was good to see him, and be able to take him into the paddock for Yauthyms race. Yauthym has come out of her race well, and will run again in 3/4 weeks.
Steve, like the remainder of the Hidden Beauty syndicate were in good spirits this week, as it was agreed for her to return to training in July and have a crack at hurdling. She has schooled over hurdles at home and was very very good, before she headed off to Jason Maguires. She will return to The Elms later this month when things start to warm up. It is no secret how talented she is - but the fibrillating heart problem she suffered with in Cheltenham in January really did leave its mark on her mentally for the rest of the season. We hope that a summers break, and a chance to forget about being a racehorse for a while, along with the introduction of hurdles will see her gain the confidence that she has clearly lost. If she does she will be hugely exciting, and if she doesn't she will will not be asked to carry on and will head off to start her broodmare career. A share has come available in her if anyone is interested - just £25/week all inc. Get in touch. Volkovka had a school over fences for the first time - and boy did she love it! She really ttok to the bigger obstacles well, and we can't wait to see her over a fence next season!
Thursday - Thatch Watch - no Thatchers, and no scaffold - job done- nice to have the house back, for those with thatched properties I would really recommend Roger and Mark who did the work here! Roger really is a Master Thatcher - and a master of the art for sure! They have done a fantastic job, and brought the whole roof 'back into sync' - now we have to start saving for the next round! One group of workmen gone, but the project manager (Cheryl) hadn't stopped there - JB Joinery in on Thursday and Friday to do some work inside - another superb job, - again I would recommend John to anyone - his work is top class!
Friday night was one I had been looking forward to for a while - the Huntingdon Rugby Club Sportsmans Dinner - an event, that like lots more, has not been able to go ahead for a couple of years due to the pandemic. This year the club came back with a bang! Guest speaker former Engkand and British Lions hooker Brain Moore. A thrill to have been able to share a table with this legend of the game for dinner, and what a fantastic speach! It was some night - great to catch up with so many of our clients, both old and new, and time to catch up with some old friends - although it took us a while to persuade the staff at the hotel to reopen the bar - of course we hadn't had enough at 12.30am!! As expected it was a late one - and there was not much done yesterday - I was hugely grateful that a client postponed the visit he had planned to go and see his horse on Saturday morning I can tell you!!
Next week we will be on our travels again - I have not been in to the yards for a few weeks, and plan to get to Olly Murphys early in the week, along with Charlie and Francesca Postes to see 'Dean' .Charlie called on Tuesday to say how pleased he is with Dean, he is doing two canters now, and doing them very easily. He has also had a pop down the jumping lane and is very good and willing at that too - so all going well with him. At the end of the week I will pop down to see the horses in with Fergal, and those that are with Jason Maguire, including the Jukebox Jury, who is now going very nicely around the circular gallop. Jason has ridden him himself and says he is a 'very nice horse'.
A round up of the rest of the team: Mamoon Star is in full work and going well, he will run in 2/3 weeks in a bumper - his final start of his season. Fortune Forever looks like she is really coming together now. She has been quite weak, and didn't find it easy to get up the hill the second time - but as her strength improves she is finding it easier and easier, and it is hoped that she will make her racecourse debut either later this month or in May. Blue Bikini worked well earlier this week, and it was hoped that a return to the track was not far away - that is still the case, but she will now be trained slightly differently as subsequent tests have shown that she is still not 100% - Fergal is confident that it will only be a minimal hold up, and that now that the warmer weather is here, he can adopt a slightly different regime with her and all will be well.
Queenohearts is back with Kim Bailey, and a decision about her future will be made this coming week.
Tintagel Queen had a few easy days last week, as she seemed to pull a muscle behind. I saw Olly's assistant, Gerard Tumelty in Wincanton and he siad how happy they all are with her, and said that it was still very much the plan to get her to a racecourse for a racecourse gallop later this month - all of her syndicate members will be welcome - and we won't have any hassle for badges!
Classic Ben is in good form. Stuart messaged to say that he popped a set of blinkers on him at home in the week, and unlike the first time that he tried them, this time there was a positive response. He remains in full work, and will run again this month ground permitting. We will decide nearer the time if he sports blinkers or not - it just may make sense to save them for next season.
Sunset Melody is coming to the end of her period of box rest at Jason Maguires, the vet looked at her on Thursday, and all is well - he has decided that she will remain locked up for another two weeks - he is really happy wih her progress, but doesn;t want to rush her.
Another to see the vet this week was yearling 'Barry' who came in from the field with a fat knee. The vet had a look at it, and decided to scan it to see if he had damaged a ligament in any way - the scan revelaed no ligament damage - but the presence of a huge blackthorn which was duly removed. If he thought the blackthorn had been painful - Barry's week was about to take a turn for the worse, as it was decided that while he was in, and the vet was there, he may as well geld him!! OUCH!! Although sore - and 'two stone lighter' he is fine.
Savingforvegas was due to foal last week - but we know her well by now, this being her fifth time, and she always likes to keep them for a week or two longer than her due date - hopefully we will have a new addition to the team this week!
Due a 'technical' hitch ( I left my ipad in a car on Tuesday, and didn't trust myself to take charge of it late on Friday night) I will upload photos later this week!