Landrover Week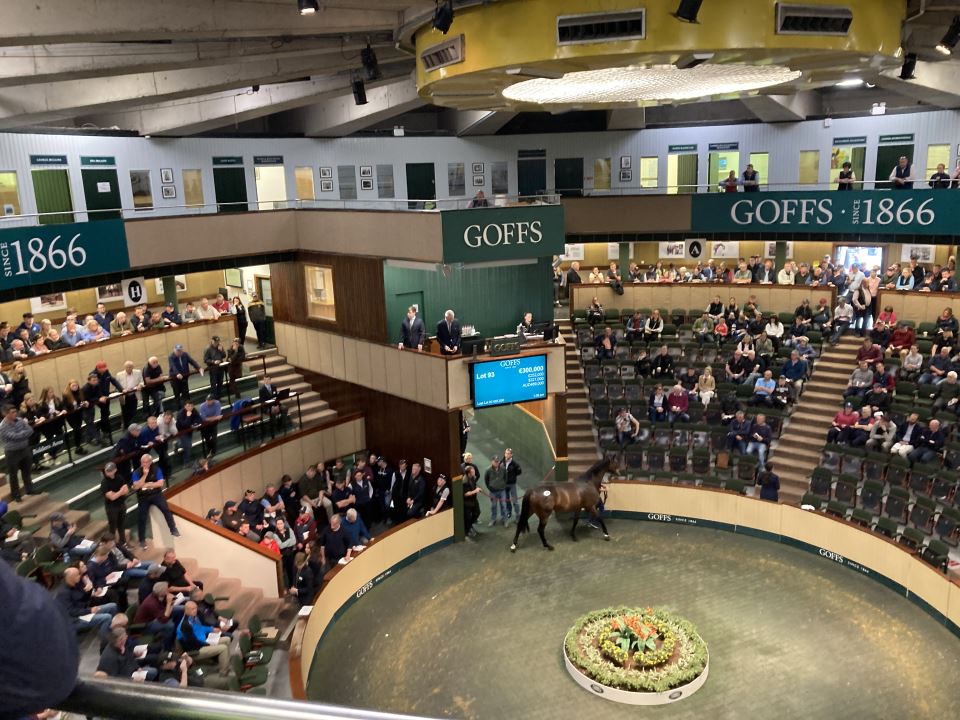 This week was spent mostly in Ireland, at the Goffs Landrover Sale, which takes place over three days. The entire sale is made up of three year old unraced and unbroken 3 year old National Hunt horses, the sale takes place over three days, and is made up of a two day Part 1, and a day of Part 2. All lots were inspected by Goffs in Febuary and March, with the top 476 lots being catalogued in Part 1, and the remainder in Part 2. The horses undergo a veterinary inspection at home before they travel to the sale, where they go through a further vetting by the sales companies veterinary panel, which is usually on the Saturday before the sale, after which they are shown to prospective purchasers on Sunday and Monday before selling on Tuesday, Wednesday and Thursday.
This year we sent two horses across to the Landrover Sale, a Jukebox Jury gelding out of La Pelodette who was catalogued as Lot 30, and a Youmzain gelding out of Hey Laura who was catalogued as Lot 459, both very nice horses that had made it into Part 1 of the sale. Both horses were prepped at The Elms Stud, and travelled over to Ireland a couple of weeks ago. They went to Peter Maloneys Rathmore Stud from where they would be consigned at the sale. Rathmore Stud were consigning 24 horses over the three days, and they all travelled up to Kildare last Friday, and were vetted on Saturday. The sales vettings are always a nervous time, but these two sailed through their inspections, and we were all set.
The horses were shown on Sunday and Monday, with the Jukebox Jury selling on Tuesday and the Youmzain late on Wednesday. I flew out of Stanstead on Monday morning, my usual route to Ireland, and a trip I have made many times. So many times that, pre pandemic, I had it down to a T, I could leave home, drive to Stanstead, park the car, catch the bus to the terminal, head through Fast Track security (the best £7.50 you will ever spend), pop into boots for the liquid essentials that I don't take through security, glance at the board and head straight to the gate and get on the plane, virtually without stopping. After being warned by some friends last week that the queues were horrendous and that they only just made their plane - this time I did as I was told and got to Stanstead two and a half hours before my flight, only to breeze through security, and have to sit around for what felt like forever.
When I arrived at the sales the whole complex was buzzing, there were lots of purchasers on site, and there seemed to be a huge appetite for horses. Peters draft were very busy - I have never seen so many horses in one yard being shown so much - there was barely room to show them, and at one stage he was having to ask people to come back at another time as they were so busy. Both of our horses were well received. So much of the fun of the sales are the nights - and we certainly had a good few evenings in town. Monday night a few pints at the sales, and then on into Kavanaghs in Naas, and then into the Italian next door - thanks to Fergal for the lift into town, it was a great night with great company.
Tuesday we were selling at Lot 30, we knew there was interest in the first horse, but took the decision to put a lower reserve on him and get him going from the outset. He was busy up at the ring, and there looked to be plenty of interest in him. As he walked in the ring he immediatley got a bid of 14,000, and the bids came in thick and fast for him. At 28,000 Euro the bidders were down to two, and it was just bad luck that they happened to be sitting next to each other. In the end Rob James came out on top with a bid of 35,000 Euros with Gavin Cromwell the underbidder. Had they have been in different parts of the sales ring I am sure we would have got another couple of bids for him.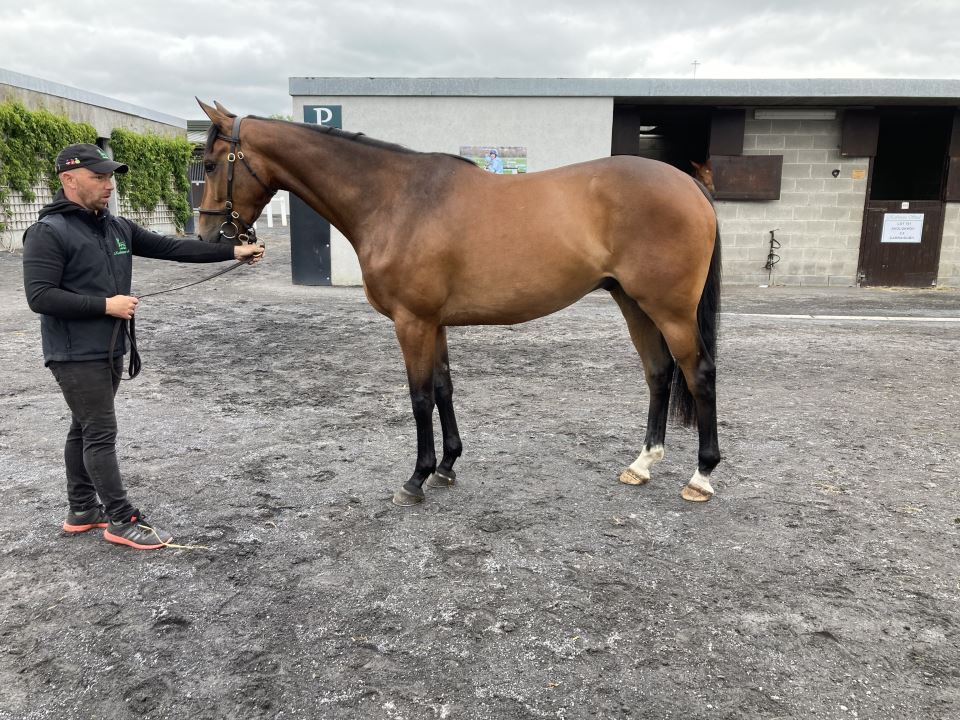 I spent the rest of the day looking at a few horses with Fergal, who managed to get both of the horses he wanted by the end of the sale. In the evening we struck a bit of good fortune, when a few of us secured a spot on a table at Vie Du Chateau, the bistro I mentioned when we came over for Punchestown, and my favourite restaurant in Naas - thanks to David and George and the team at Yorton Stud for the great company, and it is safe to say that it is an evening where I 'learned a thing or two'!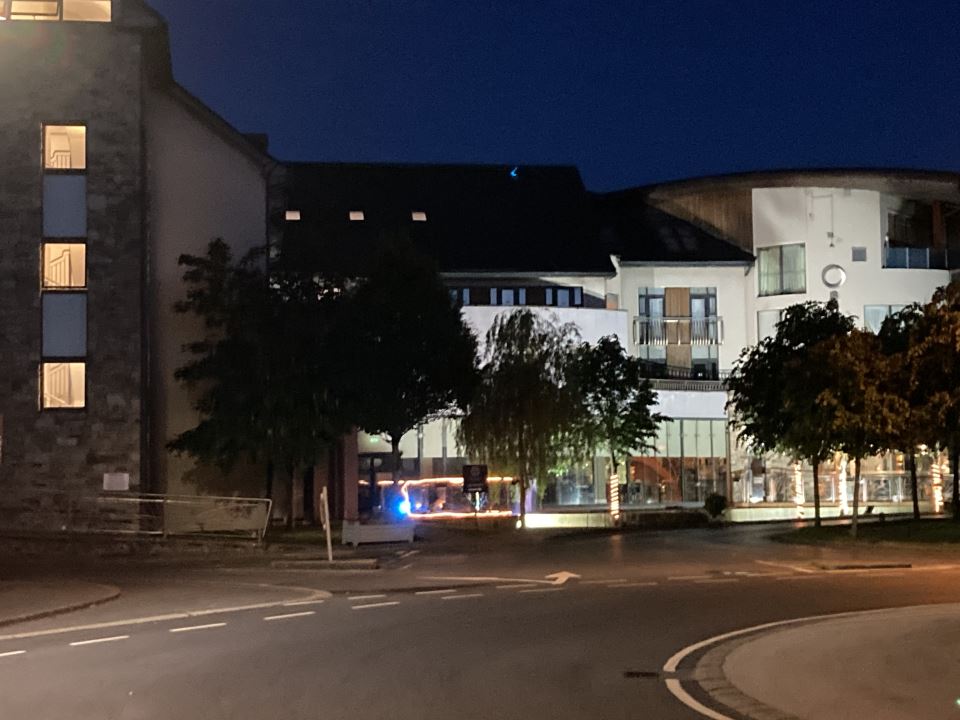 Wednesday, and with the Youmzain gelding due to sell at around 6.30pm it was a long day. I had not known what to expect with this horse, as the trade for sons and daughters of the sire had been sticky to sell over the last couple of years to say the least, but he was a very very nice horse, and thankfully he had been well received all week. He had shown himself beautifully all week, and although he was late in the day, there seemed to be plenty of interest in him. Peter had all of the Irish Point to Point trainers look at him at the very last minute as he was in the chute ready to enter the ring, and in the end it came down to a straight fight between Charlie Poste bidding form the balcony and Cormac Doyle bidding from the 'pocket' with Cormac eventually coming out on top at 32,000 Euros.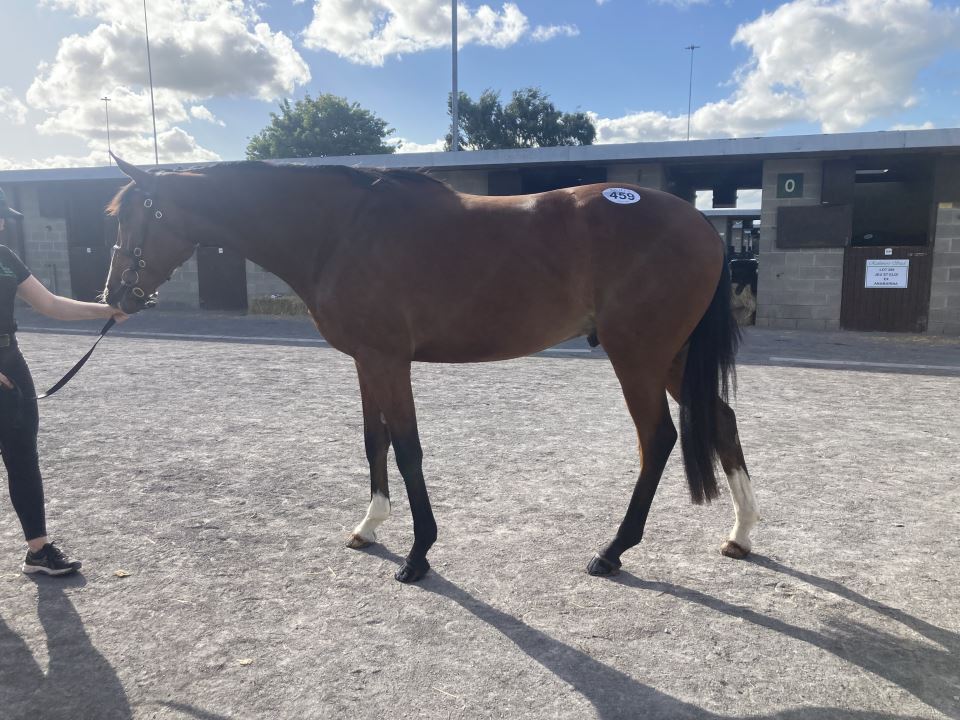 I have to say a huge well done to Goffs who put on a record breaking sale - they really had done a superb job with their selections, and also worked really hard to get the buyers there! They do a fantastic job of looking after all their overseas visitors, and from start to finish it was a superb sale. They were rewarded with top class results with gians across the board - it was a shame that the top lot, a Camelot half brother to Altior turned out to be unsold at 300,000, something e suspected at the time - but there were plenty of other headlines - with progeny of Blue Bresil in huge demand - which is great news for us!
I flew out of Ireland on Thursday, and decided to have a quiet night on Wednesday, and catch up on some much needed sleep - I don't stay the trip these days!
After a delayed flight out of Dublin on Thursday and another marathon stint in an airport, I got back home in the evening. A good week - both horses selling, one for slightly less than we had hoped, and one for a bit more. Plenty of craic, and a great to see such a buzz at the sales, it bodes well for the future.
Horse news this week. Our latest addition Intrepide Sud did another lovely piece of work with Paddy on Tuesday, and once again got glowing reports. He had entries on Friday and Saturday, but in mid week, Fergal and I decided to wait with him, the ground looked like being pretty quick and he is too nice to risk on that. In addition - most of the shares are now spoken for, and lots of his new owners are away at present, and others wanted the chance to see him at home before he ran, so we decided to put together a morning at Ravenswell instead. As mentioned, he has received glowing reports at home and most of the 12 shares are spoken for, but there are a couple left - and if you are interested and would like to see him on the gallops at Fergals then please get in touch, and you can join the rest of the syndicate and see him work.Have a look at him on the For Sale Page - he is great value and will be some fun through the summer. (nickbrownracing@gmail.com).
Yauthym will head to a mares handicap hurdle later this month, and the remainder are all out relaxing in the field. One that will be coming back into work next week will be Fortune Forever who will return to Ravenswell on Tuesday. She is a filly that looks like she will appreciate a sounder surface, so her season will start a little earlier than the others, and she will be making her debut in a bumper in September. Most of the remainder will return to work around July 1st, but some, like Classic Ben, Volkovka and Hidden Beauty will return a little afterwards as they really do need some give in the ground in the autumn, and it makes no sense to have them just going through the motions at home in the autumn. Sunset Melody continues her rehab - it is taking a while, but it is better to be safe than sorry - her fracture was serious enough to take plenty of time with her recovery.
Next week revolves mainly around Royal Ascot - five days of outstanding flat action, which looks like taking place under blue skies and warm sunshine. It's not Cheltenham, but it should be a good week! On Saturday we look forward to seeing those that have taken a share in Intrepide Sud down at Ravenswell Farm - if you would like to visit the yard, and see the horse, Ferg, and the gorgeous setting, then please book your place - it will be a fun morning - and well worth the trip! email text or call me to book your spot!