Just The Opposite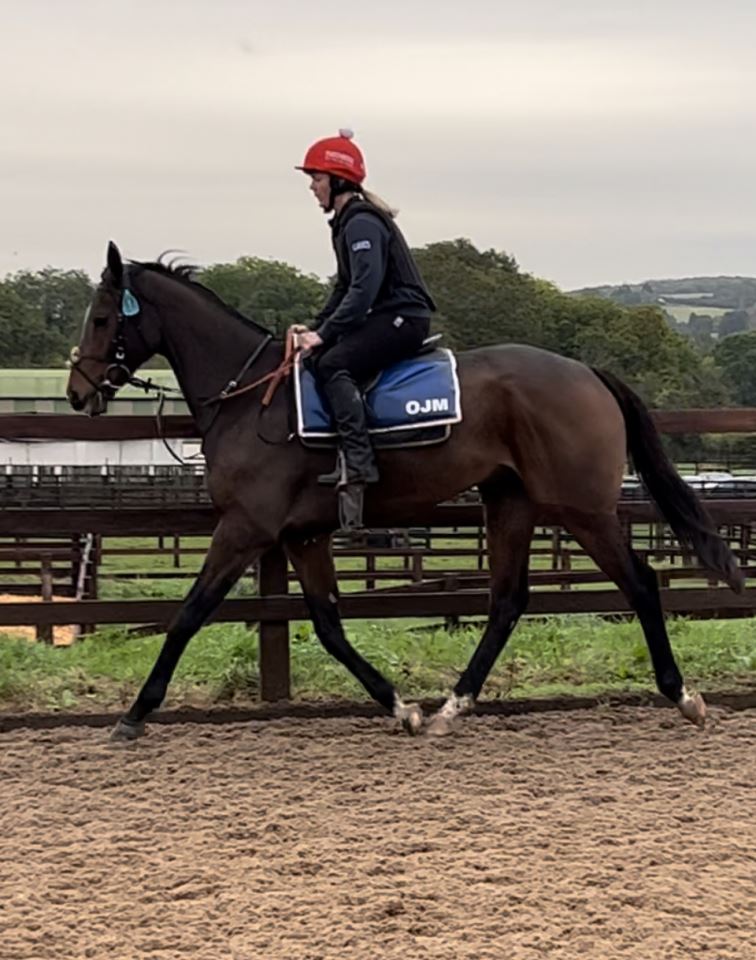 Sometimes – things just don't pan out quite how you expect them to. Over the course of the last week I had expected to see lots of the UK motorway system, and very little of my house, as it turned out - quite the reverse happened!
Monday - apart form the fact that I was home alone, started like any other Monday, as always, a schooling morning at Ravenswell Farm, and it was great to get a video clip of Maria's Flame having her first school since she has been there. She had done plenty of schooling with Jason Maguire during her breaking and pre training, and she had given us a glimpse of how good she was, so on Monday morning it was Fergals turn to see her hop a few hurdles. I had to ring him after he had sent the clip to confirm that the one word expletive that he typed under the clip was 'complimentary' – he confirmed that it was – he was very impressed with her – for a filly that is not over big, she has so much jump in her, and loads of scope, she is just a natural and really enjoys what she does! Maria's Flame had been pencilled in to make her debut in Huntingdon on Tuesday, but the good to firm in the going description meant that she swerved that, but she will have entries going forward, and will make her debut in a bumper, but could always switch to hurdles whenever we want to!
Monday is the day that entries close for the weekend fixtures, and Greyval had her engagement in the 4 yr Old Handicap Hurdle in Chepstow on Saturday. This race had been the plan since April, and no stone had been left unturned in the build up to the race, she had undergone a few tests to make sure that she was in great health, she had been away for an away day in Lambourn, and had a gallop up the 'back of the hill' down there, which had put her spot on, so we were full of hope, and her owners were all looking forward to a fun day out with her! As I had planned to be racing on Tuesday, Wednesday, Friday and Saturday, I took the opportunity on Monday to get the 3 yr old Jukebox Jury filly in training with Alan King named over the previous weekend. Her owners chose Rockola, and on Monday morning that was all duly done with the BHA. Sadly, the name was chosen just before Chris and Kath purchased their share in her – but rest assured they have got themselves a lovely filly, and they look sure to have plenty of fun with her. We wish them the best of luck with their new horse! Things were still going to plan as I sat down and typed the report of Auditoria's run in Fontwell on the previous Saturday. These reports came about, like a lot of things, during covid, as a way of getting all the pre and post race thoughts across to all owners and syndicate members whenever their horse has run. The document consists of a report of the race, analysis of it, and post race thoughts of myself, and more importantly, the jockey and trainer, followed by a conclusion which includes any plans that may be in place for the future. It is something we like to do to ensure that all syndicate members are fully up to date, and more importantly, are all on the 'same page'. Audreys report from her run on Saturday was a good one to write, she had run well to be second and had come out of her race fine! This is the point where the week started to take a bit of a turn – with the ground still good to firm in places in Ludlow, the decision was made not to declare Blue Bikini. She doesn't mind good ground, but we felt it was not a good idea to risk her on slightly quicker ground at this stage of the season. So that was my Wednesday trip out of the window! Then I got a call from Donald McCain – he had not been 100% happy with Old Blue Eyes (Frank) for a few days and felt that he wasn't quite moving right. He had given him a couple of weeks to recover but felt that although he had improved, he was still not 100% - the vet was called and he was found to have suffered a slight injury behind, which will mean he has six weeks off games, after which he will resume training as normal. It is nothing major and will have no lasting effects on him or his career, but it will hold him up for a short while. He will remain at Bankhouse for a couple of weeks before switching down to Ivy Lodge Farm where he will rehab, with the use of all of the facilities there. Jasons water treadmill will be invaluable in his recovery, and it will be the best place for him! He is still only three, and having this spell off of work, at this time of life may actually be a blessing in disguise. He goes very well in his work, and he is a very exciting young horse – he will be worth the short wait!
Tuesday we should have been heading to Huntingdon – but instead I was at home when Fergal rang to say that Greyval had worked poorly that morning, and had returned a less than ideal trach wash – it was not awful, and we had seen worse, but it was Fergal's view that although she was not sick at this stage, she was just on her way to coming down with something and that she would be definitely be under the weather in a few days. She would not be running in Chepstow on Saturday – and just like that all the plans and hard work had gone to pot – she was put on a course of antibiotics for a few days and is likely to be A1 again in short order, but this was bad timing for sure. Still, better to find out on the Tuesday before her run, rather than after she had run very badly on the Saturday. She is still an exciting prospect, and a filly that will give her owners a lot of fun this winter – and we will look for an alternative target for her in the next few weeks.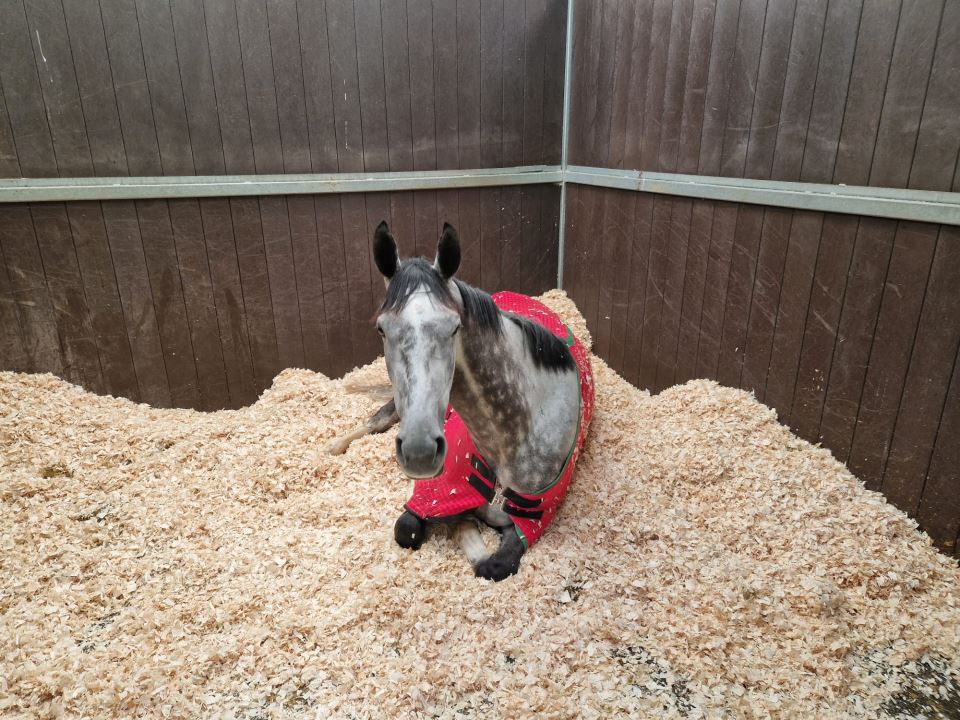 Greyval - better off here than in Chepstow!
Wednesday was the day that Reflexion Faite was due to be declared in Newcastle (Friday), but following the theme of the last two days, she too would end up not being declared. She had been found to be slightly lame behind over the previous weekend with a tiny foot abscess which the team had worked very hard on. She had been sound enough to exercise each morning, but her shoe had been off and on a lot. On Wednesday morning, she was still not quite right, and after a chat with Kevin we decided not to declare her in the hope that she would be OK, but to give her a nice break instead. She has been on the go for almost 12 months and deserves to have a holiday – this hold up seemed like a good time to give her that break. She has headed down to Ivy Lodge Farm where she will have the abscess dealt with and cleared up, and then have a spell of R&R – plenty of rest – paddock time and spells on all the equipment down there. She will return to training around the turn of the year. We had entered her in the Autumn Horses in Training sale in Newmarket at the end of the month, but it was only an option should her syndicate wish to go down that route – the feeling among them is that she is worth a try as a three year old, and so that is what we will do. On Wednesday Hidden Beauty got her first entry of the season in Huntingdon on Tuesday 17th October – a 2 mile handicap hurdle. She has been in fantastic form since her summer break, and we are all looking forward to seeing her out again, but as I type, Fergal and I have just decided to not declare her as their ground is also still good to firm in places, and we would not be risking a big girl like her on that ground even though she does appreciate a sound surface! Again, there will be options for her going forward – she will start over hurdles but could switch to fences at some stage too. One good piece of news last Wednesday was from Alan King who sent his usual work morning video through and then called shortly afterwards to say how well Rockola had worked and that he would now be looking for races for her. She will make her debut in a junior bumper in the next few weeks, and we are all looking forward to seeing her on the track. I have made no secret of how much I like her, and as a result I have sent out plenty of messages to that effect. It appears some of you do listen, and there are now just a couple of shares left available in her. As you can see – she goes really well, they are three smart older fillys she is working with – two are bumper winners and the other was third in a very good sales bumper in Newbury that has already produced bumper winners from the horses that were in behind her – so that is very strong form as well. Rockola should not be missed!
Also on Wednesday it was good to get a video clip of Intrepide Sud who began his journey back to full fitness last week. After his monster break, he will have a few days walking and trotting around the Gloucestershire lanes before starting to canter on the sand. It has been a long wait – and I can't wait to see him jump a hurdle – he is electric over an obstacle!
By Thursday morning, I still had not been out all week – which is the complete opposite of what I had planned at this stage the week before. With Greyvals poor work and equally poor trach wash on Tuesday – she would not be declared for Saturday, and there were no badges to organise, so it left me with a free day – so an ideal opportunity to pop up to Warren Chase and see the horses with Olly Murphy. Olly has had his team in fantastic form for the past few weeks, and his horses look fantastic! Itchy Feet is in great form, and Olly and I talked over options with him, he has a couple of races he could run in at the end of the month – one in Cheltenham, the other in Wetherby, and after that we are both keen to run him on right handed tracks as much as possible – his form figures right handed are 1,4,1,1,2,2,1 – and it looks like an angle that we may be able to exploit this season – with far more options open to him than there were last season – with more valuable handicaps run on right handed tracks this year. Auditoria has come out of her race in great order and was due to be clipped on Thursday afternoon. She will continue to give her owners huge fun and will be out again towards the end of the month. Tintagel Queen looks great, and we got to see her canter, and then school around the loop. She has taken to jumping really well, and after a couple of mornings when she will head off on an away day gallop, she will be ready to make her hurdles debut. She will relish soft ground, and the way she schools suggests that the obstacles will not be a problem for her – she even made the Homeschooling section of ITV Racing's Opening Show on Saturday morning! While we were grabbing a coffee with Olly between lots, it became public that Frankie was not retiring after all! Not a shock – he announced he was to continue to ride in the USA after all – I had said a few months ago that I felt he was not going to give it all up, shortly after which I heard from a good source in Newmarket that the move to the States was all arranged – it made the retirement tour a little uncomfortable if I'm honest – don't get me wrong – it is his life – and his choice – but when there was obviously money changing hands for his farewell appearances, be they on the racecourse or at private functions, it leaves a bit of a bad taste.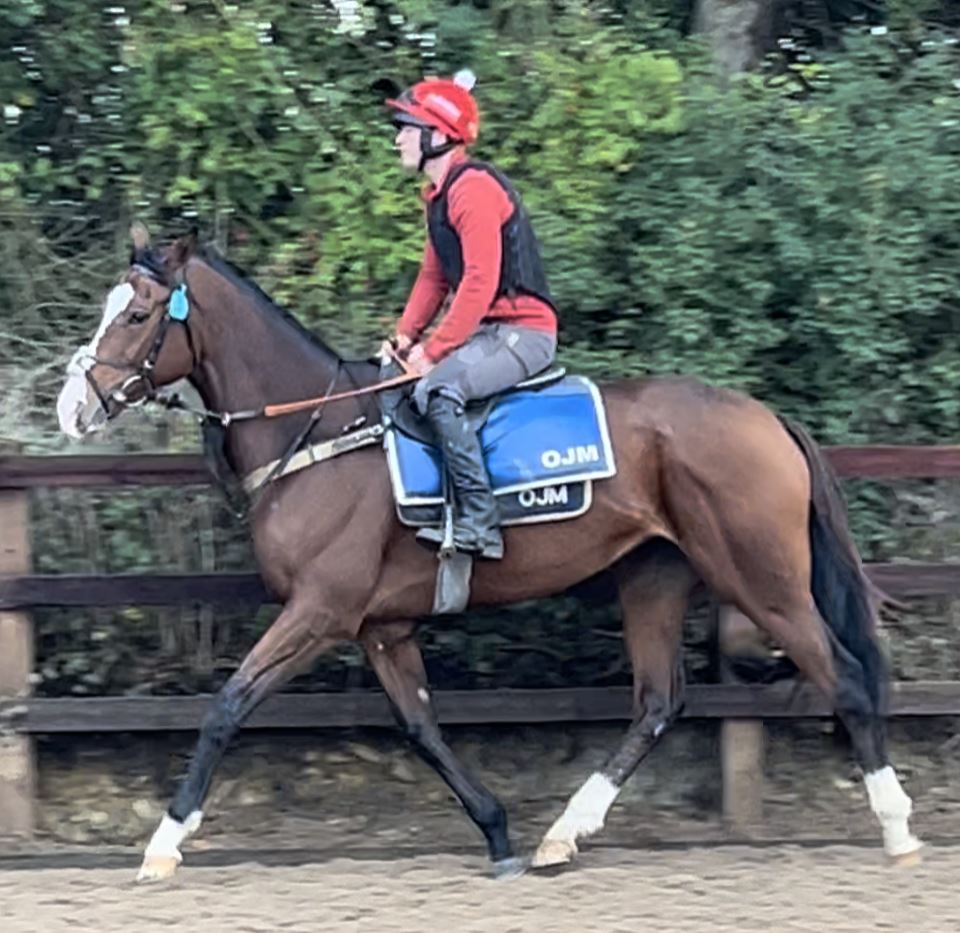 Auditoria A1 after her run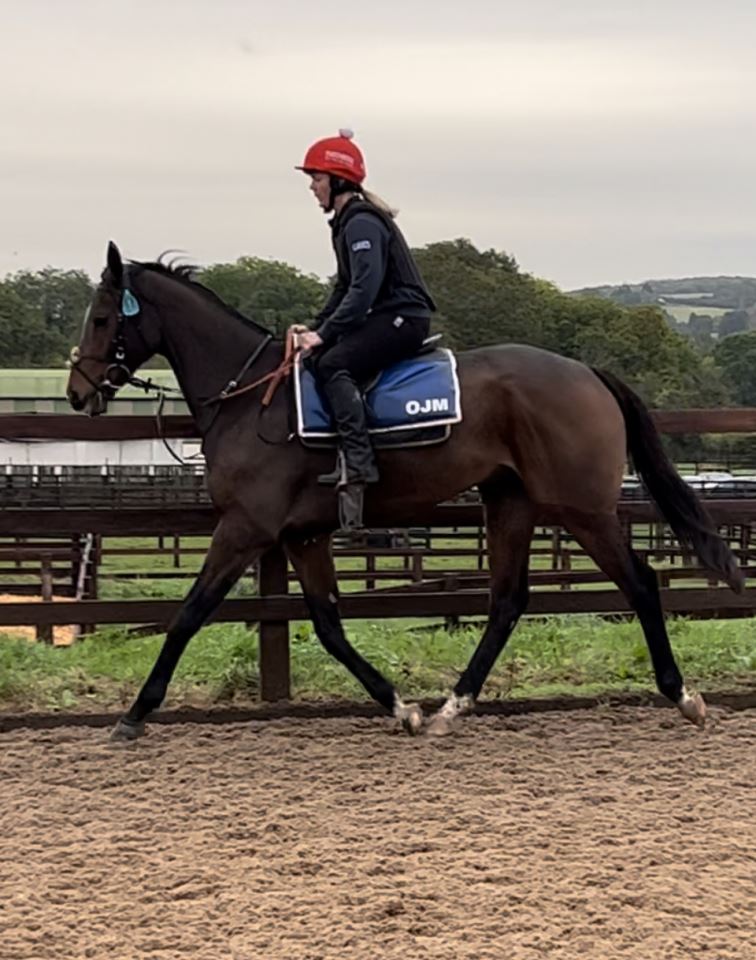 Itchy Feet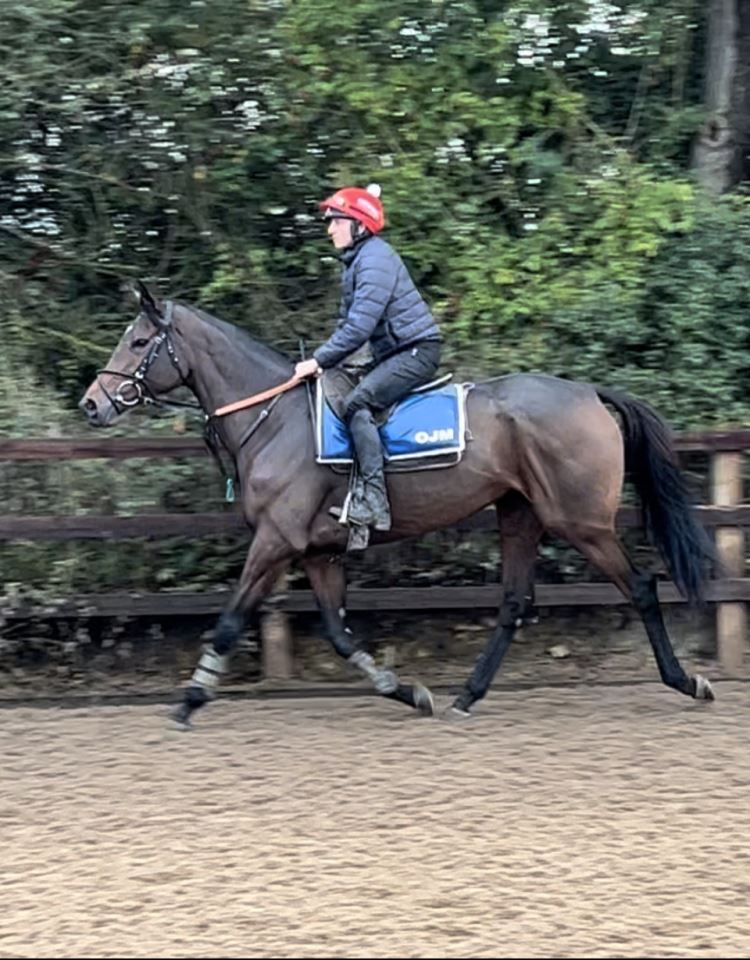 Tintagel Queen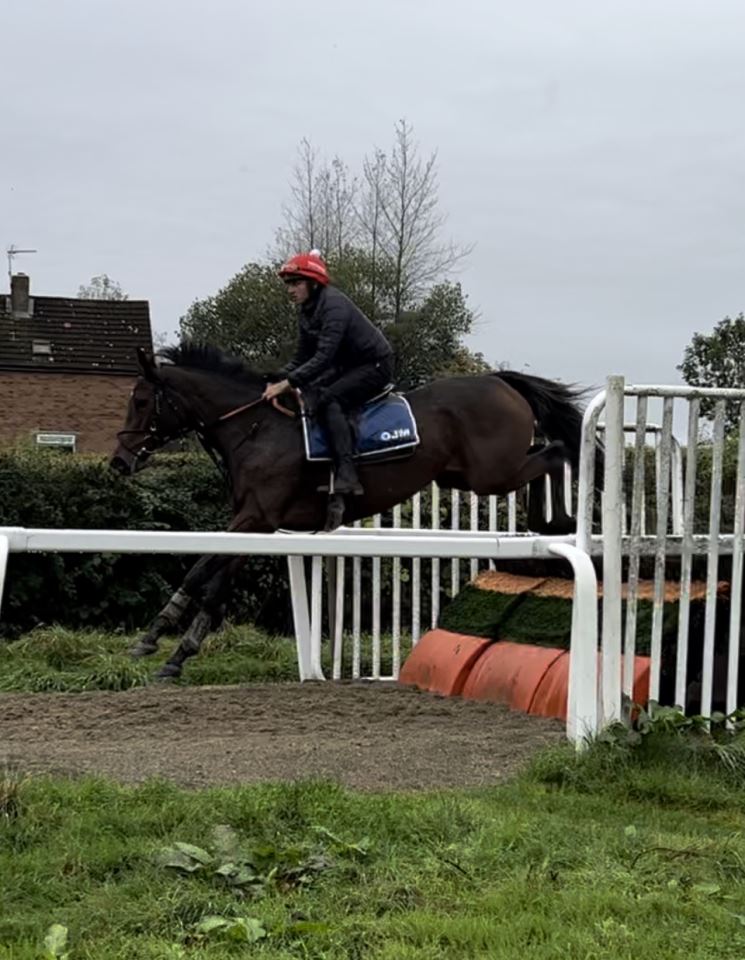 TQ loves her jumping!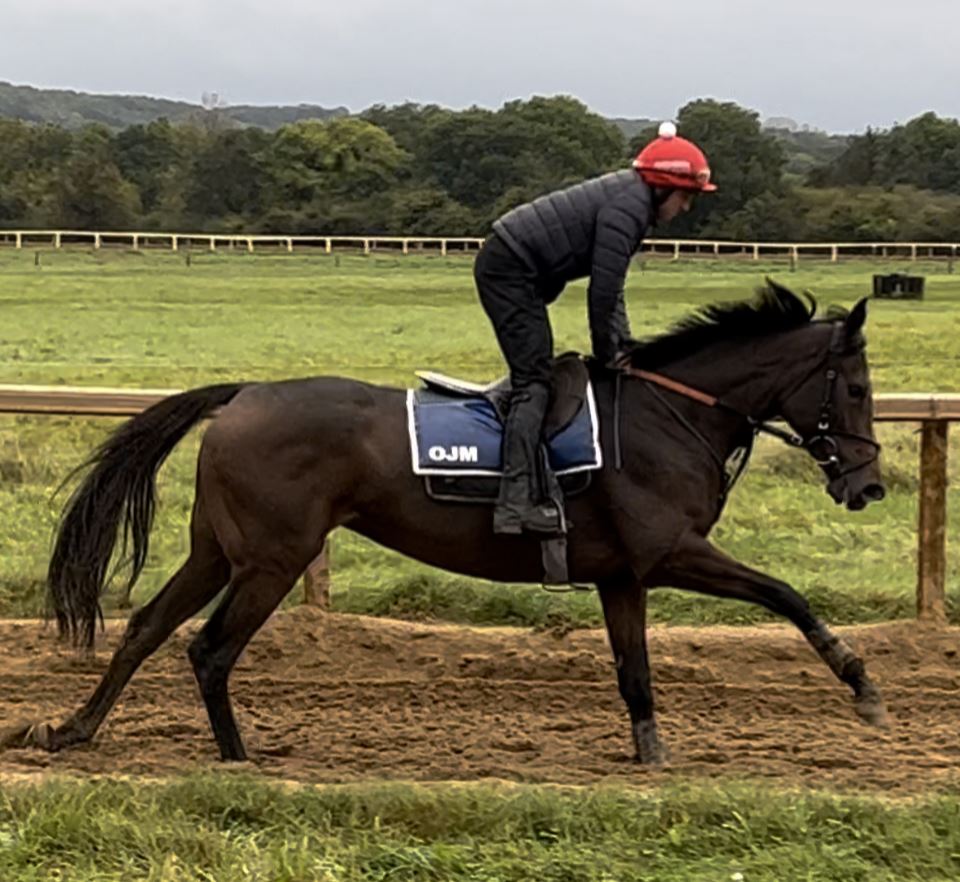 TQ having a canter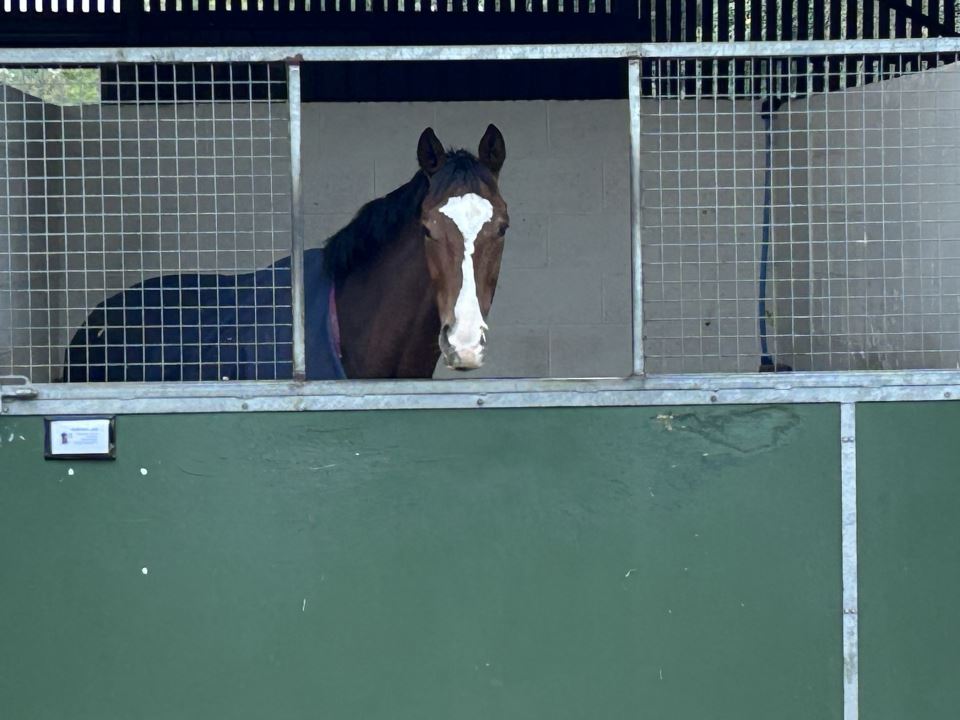 Audrey back in her box
Friday – another day in the office – Reflexion Faite left her stable at The Kings Yard, Egerton House, and spent the night in another yard in Newmarket before heading down to Jason Maguire early on Saturday, and I settled down to watch the racing from Chepstow. Up until the point that Greyval,was scratched from her race, I had been worried that the going could be too quick for her, as I sat and watched the rain fall on Friday afternoon I was grateful that she had not been declared – as I don't think she would have run anyway. By Saturday the ground was very testing, and although Greyval had won on soft ground around Huntingdon in the spring, that day, Paddy was far from happy with her on that ground, and even thought he was beaten half way down the back. Like a lot of others – she would have been a non-runner! It was great to see James Turner get another winner on the board for his boss Nigel Twiston Davies – James was at Fences Farm, when we had horses in training there, and is a top lad – he works hard, and now that he has turned conditional from amateur, he deserves the chances he is getting! Twiston Davies seems very keen to take advantage of his 10lb claim, and James is starting to repay the faith that he has in him!
Saturday – a chat with Donald McCain – Dino Bellagio was found to be quite sore down one side of his back after his disastrous hurdles debut in Bangor. No surprise really when you see the shapes he made. The good news is that he seems fine now and is back to his usual self. He will be given all the time needed, and Donald will make sure that no stone is left unturned before he is asked to have another go over hurdles. Just to keep up with the theme of disappointing news this week – Donald did have some, that may delay the launch of our new venture by a short while – we have always taken our time when taking our 'next step' into anything – be that buying new horses, or starting new syndicates, this way we feel we make the right decisions and give our owners and members the best value, and the best chance of success, this new venture is no different, and we will get things right – it is frustrating for sure – but it will be worth it in the end!
Around the rest – Cloud Dancer is in great shape with Gary Moore, and I hope to get down to see him this week. At Ravenswell – Volkovka continues to tear the place up – she is working great and will be ready to run in a couple of weeks. Fortune Forever has come out of her race fine and will also be out in 2-3 weeks. She will have learned a lot form her debut, and her jumping should improve no end! Mamoon Star has an entry in Wincanton next week – the ground there is good to firm in places at the moment – whether he runs on that, or we wait, will be discussed nearer the time. At Ivy Lodge Farm our yearling by The Grey Gatsby has taken his gelding op very well – but has manged to give himself a cut on his head this week – a cut at each end! He will be fine – only a little nick.
I got my car back on Monday – a day early – and 6 months and 3 weeks earlier than Jaguar Landrover said they could get it done – thanks to Adrian – who even got in his car on Saturday and shot up to Nottingham to get the replacement part when it had missed the courier! Great service!
Next week I hope to get to a couple of yards and may even go and see a few foals that are destined to go to the foal sales in Ireland in November – I am told one of them is very nice indeed, and I would like to see it ahead of the sale – it could be just the one for another pinhooking syndicate! I will be in Doncaster for the October Sale on Tuesday – but can safely say that I will not be coming home with a new horse! The sale only has just over 100 catalogued – and with plenty of withdrawals expected – it will not be a long day!
The trouble with most people is they won't admit their faults – I'd admit mine – if I had any