Super Start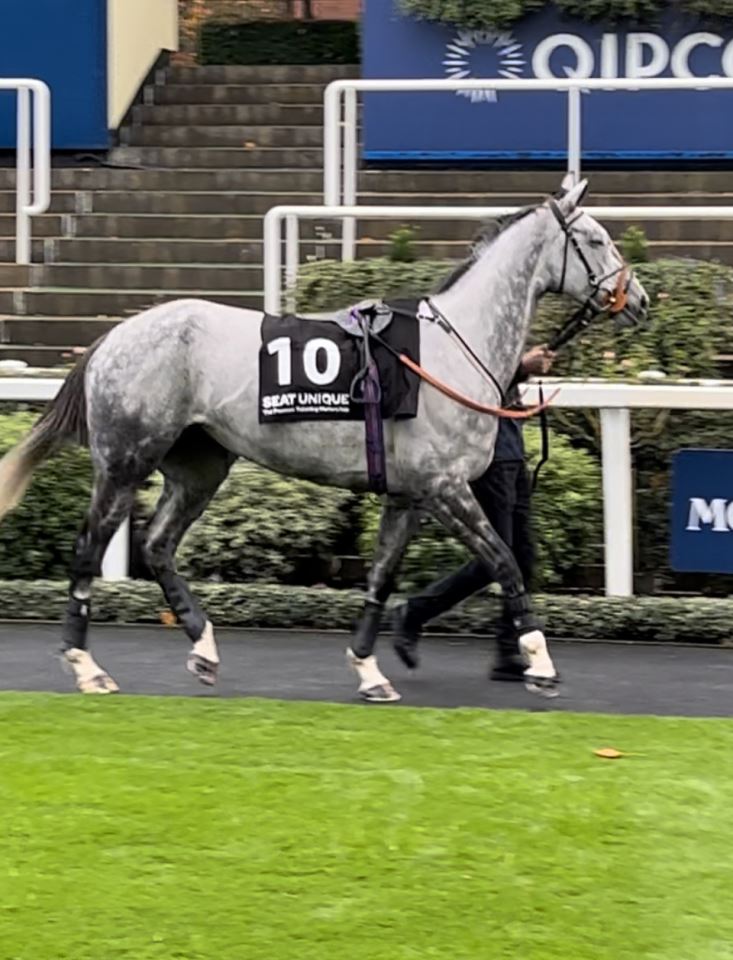 Another week, another storm to negotiate our way around. Ciaran forecast to bring a lot of rain and high winds to the country on Thursday and Friday. It did have an impact on one important piece of work but thankfully made no difference to running plans, and we got to see three of the team on the track this week.
Monday started with Greyval getting an entry in a valuable handicap hurdle in Ascot. She had been prepped to the minute to make her seasonal debut in the 4 yr old handicap hurdle in Chepstow last month, but a mucky scope had ruled her out of that, and having an 8lb penalty in the 4 yr old conditions race in Cheltenham a couple of weeks later ruled that out as an option – so we decided to enter her in what is usually a very competitive handicap in Ascot and get her season underway. When I spoke with Olly Murphy in the morning, he gave a very upbeat update on Tintagel Queen, who had schooled really well the week before, and who was scheduled to head to Nottingham on Thursday morning for an away day gallop on the racecourse, after which she would be ready to run, and if all went well, she would be getting entries shortly afterwards. I also managed to finally do a deal to buy a new horse for The Red Sash Racing Club! That has been a long process for sure, but as you know, we would rather be patient and give ourselves the best chance of securing the right horse, than just buy the first one that comes along or is offered. We have had several goes at getting the right one, one went lame the day before we were due to get a deal done and did not come right in a reasonable time scale to consider as an option, one slipped out from under our noses, due to a breakdown in communication between the vendor and a third party, but on Monday a deal was agreed for a winning Irish Point to Pointer who will be the first horse to run for our new Racing Club. A new website for The Red Sash Racing Club is on its way, something that keeps me on the laptop until late at night as the man that has designed our websites from the beginning, decided a few years ago to emigrate out to Arizona, which means a few later nights for me getting content out to him and explaining how I want the site to function. We should be getting that up and running in the coming week. I already have a LONG list of interested parties that will receive full details of this new exciting horse ahead of his public release, if you would like to be on the 'Priority List', just drop me a line and I will make sure that you get all the details ahead of the share issue going live.
Tuesday started with declarations in Stratford, where we had two entered in the 3 yr old fillys bumper that concluded their card. Alan King was keen to get Rockola on the track for her debut, and we also had Maria's Flame entered in the race. The preference was always to run Rockola at Stratford and wait a week or two with Maria's Flame – the weather forecasters had started to talk in ominous terms about a certain Ciaran coming through on Thursday, and although Rockola isn't the biggest filly, she is by a sire whose progeny seem to like soft ground, and she had shown in her work that she was very tough and genuine. We felt that she was possibly better suited to the likely testing conditions than Maria's Flame, who although looking a stronger filly, may have found that test a little too much. In the end Rockola was declared and Maria's Flame could run next week, she has an entry in Ludlow on Thursday. With that sorted we set off for Chepstow to see Blue Bikini make her seasonal debut in a mare's handicap hurdle – her first try at 3 miles, which is what we have all been looking forward to. I have to say I travelled down with one of her syndicate members in high hopes that she would run really well. With plenty of rain around it looked at one stage as though they would be running on really testing ground, but thankfully Chepstow missed the bulk of it, and although a very heavy storm just before racing loosened it up a bit, conditions were not too bad. BB looked fantastic in the paddock as always and headed to post nicely. Connor felt there was going to be plenty of pace on and had made a plan to drop her in fourth or fifth in the six runner field and get her a little bit of cover – this was her first try at 3 miles and she can be a bit keen at times, especially on this her first start of the season. That part of the plan went fine, what happened afterwards was anything but fine, she was never really travelling, and Connor was having to get busy on her with a circuit to go. Eventually he gave up the uneven contest and pulled her up 2 from home. A puzzling run – and certainly not her – tests would be done later in the week, there had to be a reason for her poor run – it was certainly not the step up in trip or the ground.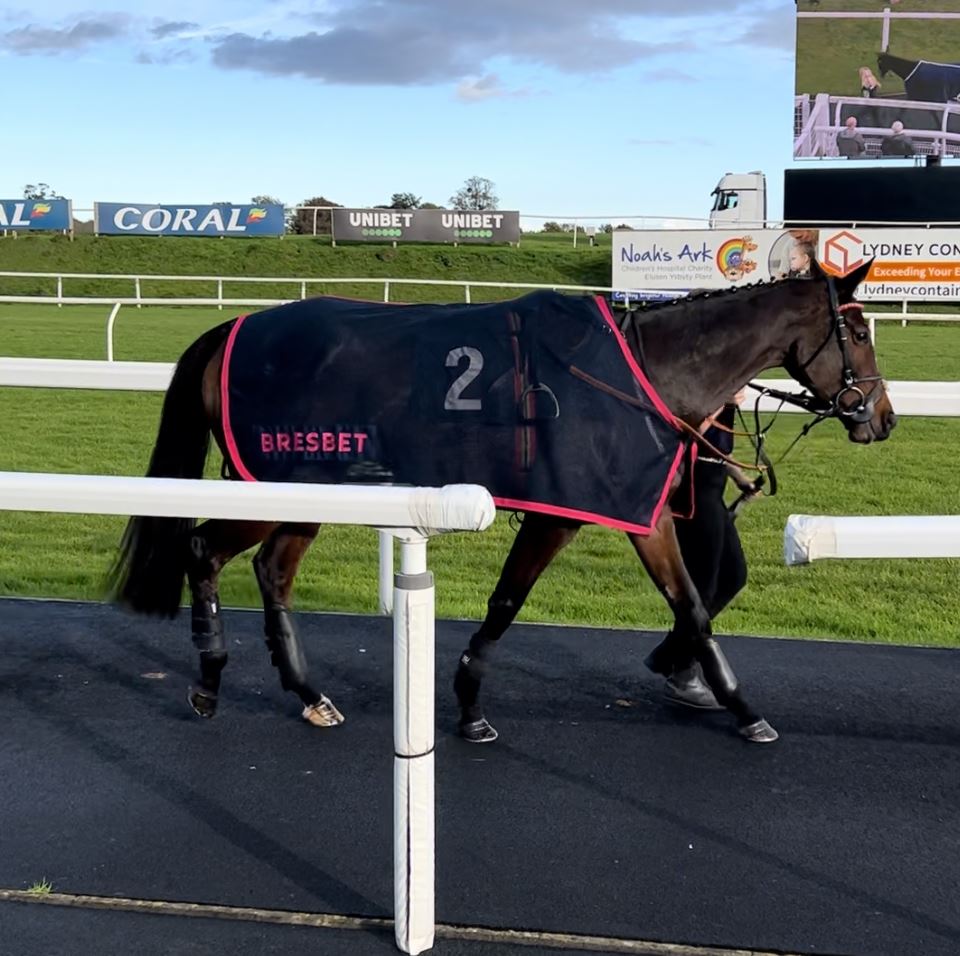 Blue Bikini pre race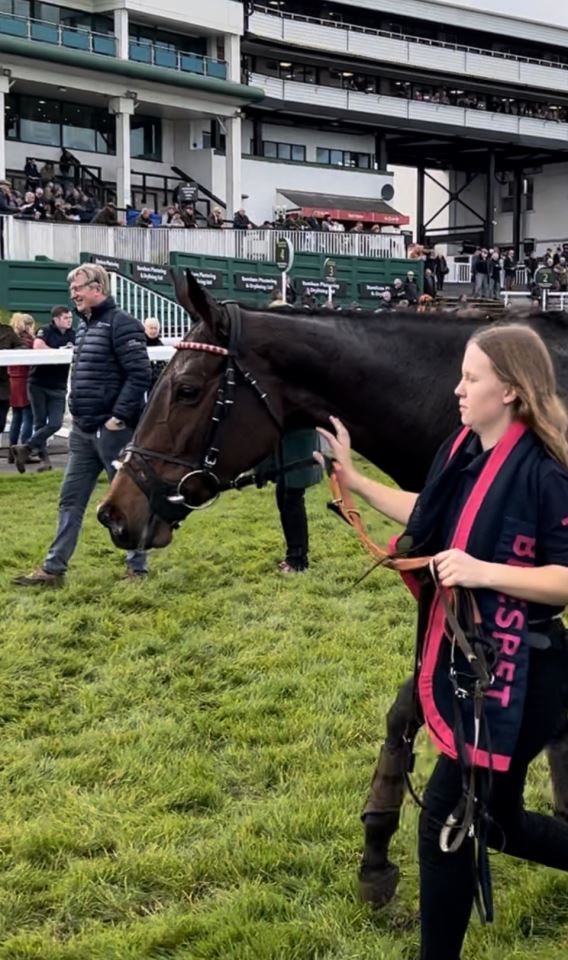 Blue Bikini post race - tests later in the week would show that she was not 100%
We did get some good news on the journey down to Wales – the new horse had passed a full vetting that included scopes and scans and he has a clean bill of health! At last! We have our horse! As he has come from the Irish Point to Point field, where he was a winner last month, he is fit and ready to run, and new members of The Red Sash Racing Club will not have to wait long for their first taste of action! Even I'm excited about this one – not often we get our hands on an Irish Point winner! Should be fun!!
Wednesday – Blue Bikini came out of her race fine – and the vet would be doing a comprehensive check of her on Friday, which would include trot ups, scope and blood tests. No stone would be left unturned in an effort to get to the bottom of her run on Tuesday. She had been known to throw the odd below par effort in in the past, but we have always felt there were reasons for those runs, so it would be no surprise to find that there was a genuine reason for this one. She is a very hardy and tough mare, and if she doesn't run well there is usually a physical reason for it – her ulcer problems are well documented, and we seem to have a regime that sorts that problem out now, so this had to be something else – hopefully the puzzle would be solved at the end of the week. Also being checked by the vets was Old Blue Eyes, our three year old homebred gelding who is up with Donald McCain. He suffered a small injury a few weeks ago and has been on box rest since then. On Wednesday he was given the green light to travel down to Jason Maguires rehabilitation yard to complete his box rest, and then be brought gently back into full work with the use of all the excellent facilities that he has down there. As OBE is only three, it is very likely that he would have had this spell out of training anyway, as he is a slightly different type to his half brother Dino Bellagio and would benefit from a few weeks break before he finished his preparations for his debut. In effect, in sustaining this small injury he has told us to give him a break, and I am sure that it will do him the world of good in the long run. The team at Donalds have been very careful and cautious with him, as they hold him in pretty high regard, as he has already shown them that he has plenty of ability – although his owners will have to wait a little longer to see him on the track – he will definitely be worth the wait! On Wednesday night we awaited the arrival of storm Ciaran, keeping our fingers crossed that it would not be as bad as they thought, and that it would have no effect on Thursdays card in Stratford.
Thursday arrived, and to be fair – it was pretty wet, but it could have been a lot worse! Stratford racecourse had not become a land mass in the middle of the river Avon, and the meeting was still on, although the peak wind speeds were scheduled for 4.00pm – our race time? 4.05pm – lovely! On Thursday morning Brian Hughes was in at Bankhouse and he got to school Dino Bellagio over hurdles. It was the first time he has sat on him since Dino's very wayward display on hurdles debut in Bangor, and all went well. Donald has done plenty of schooling with DB, and he has found a key to him. As we all know Dino is a bit of a boyo! He is very expressive and spends a lot of his time bucking and kicking. He struts around like he is the King of the place and that he knows everything when in fact he knows nothing – the trouble is, he isn't too willing to learn either. So, to concentrate his mind and make him focus on what he is doing rather than looking around him and paying no attention to what is in front of him – including the hurdles, Donald has been schooling him in some cheekpieces, and they seem to have done the trick. He seems to be more focused in them, and Brian was happy with him when he schooled him on Thursday. Donald and Brian are happy that he can go racing now, and he has been entered in a novice hurdle in Sedgefield next week, although he will have to come through a piece of work earlier in the week to confirm that he is ready to run. The one thing that did not happen on Thursday was Tintagel Queen's away day in Nottingham – their meeting on Wednesday abandoned which also meant no gallopers on Thursday. Instead, Sean Bowen was in to school her over hurdles, which went well. She will have one more piece of work next week, which will put her spot on for her hurdling debut somewhere in the next two weeks. It was a damp drive to Stratford, but thankfully it was mainly dry by the time I arrived. So good to see so many of Rockola's owners there to see her debut. She behaved well for her first time at the races. She was saddled in the saddling boxes, and although slightly 'lit up', she was good to do, and entered the paddock looking really well. The paddock was fun, loose horses, one with a jockey on board started bucking and fly leaping as he got in the plate which set off a couple of others, one of which got loose and careered around the packed paddock – fun times – but not for her groom who took a nasty knock and left the paddock in a wheelchair – I hope she is ok. Rockola was amazing, as all her competitors got wound up in the paddock, she simply took it all in her stride and headed out very calmy to do her job – for her first time at the races she showed that she had an amazing attitude and was pretty much bombproof. Tom Cannon, Alan Kings stable jockey took the ride, and his instructions were to give her a nice fun introduction and let her enjoy herself, she had to come away from the day thinking it was fun and wanting to do it again. Conditions would make it a real test for these young filly's anyway – Alan certainly didn't want her to have an extra hard time. Tom gave her a peach of a ride. She was slightly keen in his hands to begin with but was well positioned on the inner. She hunted round nicely, and despite getting a bang and coming under pressure on the home bend, when Tom pulled her off the rail and she got some daylight, the penny dropped, and she put her head down and ran right through the line without Tom resorting to the stick. This was a very nice debut, she will have learned a great deal – and really enjoyed her first day at the races – there is plenty more to come from her, and she will be a lot of fun for her owners! There is still a chance to grab yourself a share in this well-bred filly who obviously has plenty of ability, and a superb attitude to life! Have a look at her on the For Sale Page and get in touch – her paddock value when her racing days are over makes her a very sensible option for potential new owners, she is already a half sister to a black type performer, and will always have a value when her racing days are over!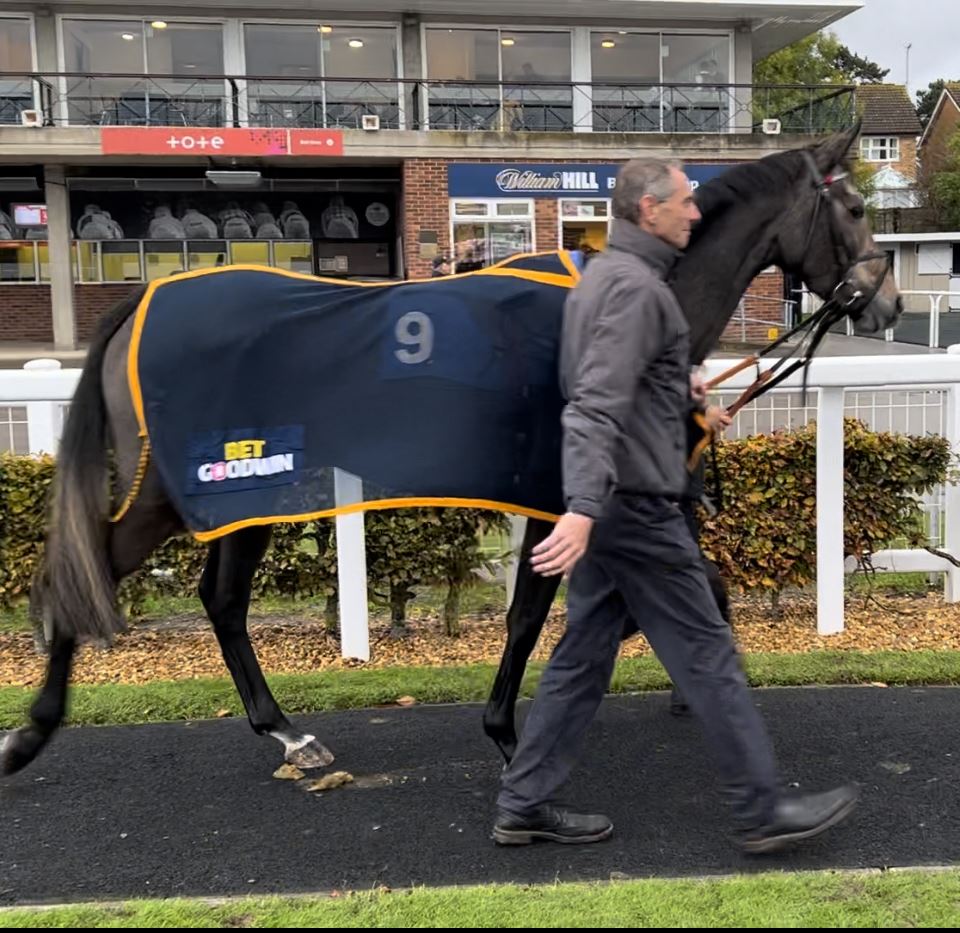 Rockola in the paddock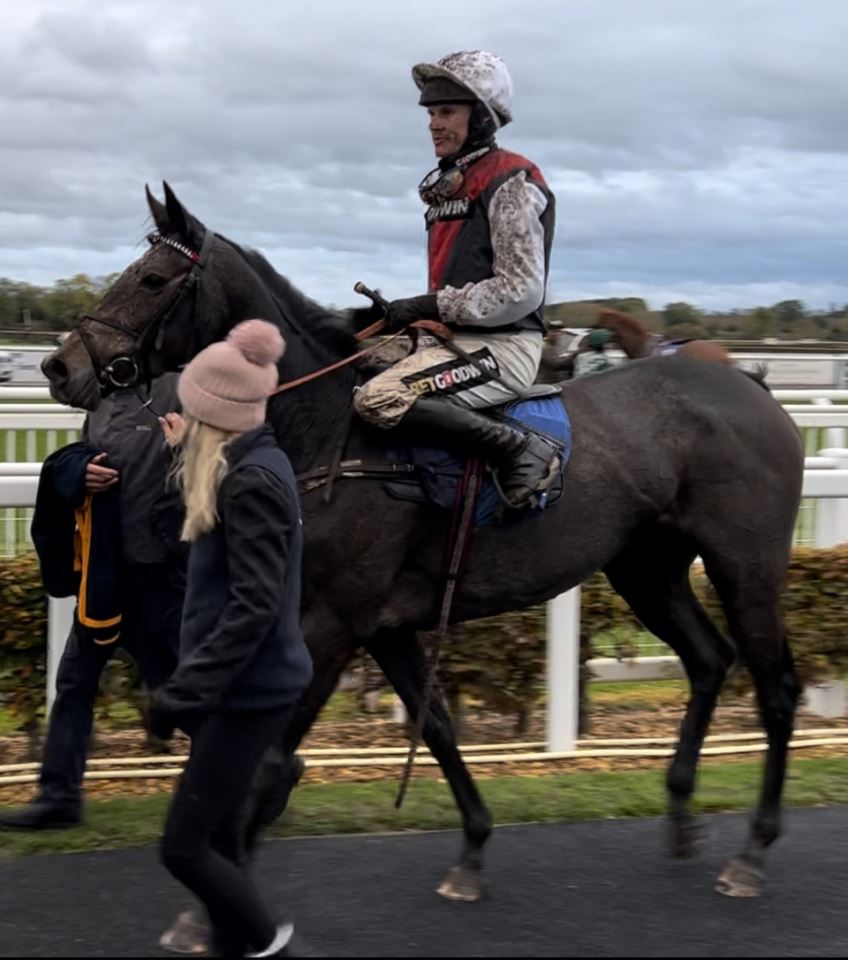 Coming back in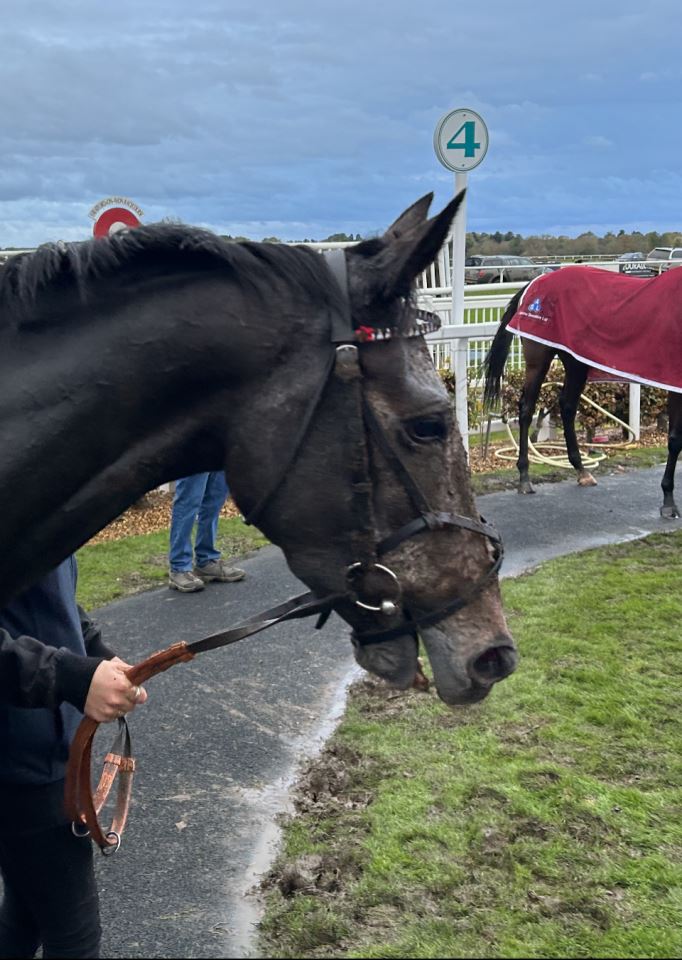 Rockola post race
Being the last race meant that we had to make a quick charge to the bar to grab a drink before it closed! Good to chat with Kingy and some of Rockolas new owners before I set off for Doncaster, for the new British National Hunt Breeders Showcase sale on Friday – a select sale of national hunt bred foals. It was not a nice trip, a closure on the M1, a missed junction and a detour – I eventually got to Doncaster around 8.00pm, but luckily, someone that saw me arrive had a pint in my hand before I checked in – it ended up a really fun night – dinner in the hotel – we were not venturing outside in the rain – led to a few beers in the bar with some cracking company! I, for once was sensible and pulled up at a half reasonable hour – others less so – I was the brightest on Friday morning!
Friday morning and more things coming together for The Red Sash Racing Club. We will be partnering with a leading bookmaker, who are interested in coming on board with the venture. I had a long chat with them, and in the next few days we will have a plan in place for the way forward. It is very exciting to be teaming up with one of the country's oldest bookmakers, and it will mean that new members are likely to get some unbelievable deals when they sign up! As planned the vet had a good look at Blue Bikini – her trach wash was not ideal, and her blood test results showed that she was far from A1 – there was a reason for her poor show – she will have an easy few days and a course of antibiotics, Ferg will also make a few other changes to her routine – and she should be back firing on all cylinders in no time. She is one tough cookie – and there had to be a reason for it!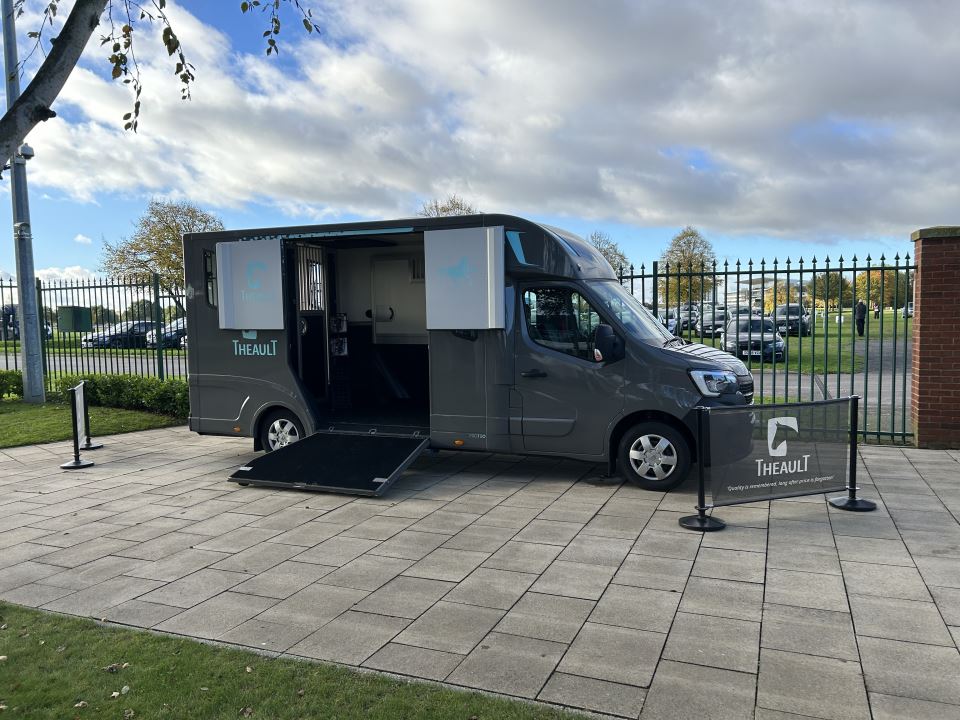 Sales day in Donny!
Saturday, we headed down to Ascot to see Greyval make her seasonal debut in a red-hot looking handicap hurdle. This had not been the plan but was the right place to start – if nothing else, her owners would have a fantastic day out! Greyval looked stunning as always. She was jig jogging in the pre parade, but that is her. When she got into the paddock, she took a huge dislike to the big screen that is positioned at the end, and as a result Dragos took her back out and kept her away from it. Paddy mounted her outside and headed to post first. The race was run at a fierce gallop and will turn out to be very strong form. Greyval travelled and jumped great for a 4 yr old, and was in the mix turning for home, but then the hill awaited, and she faded to finish 6th, but was not given a hard race. We now know where we are with her, and she will now drop down into calmer waters in a few weeks, when I think she will be very competitive to say the least!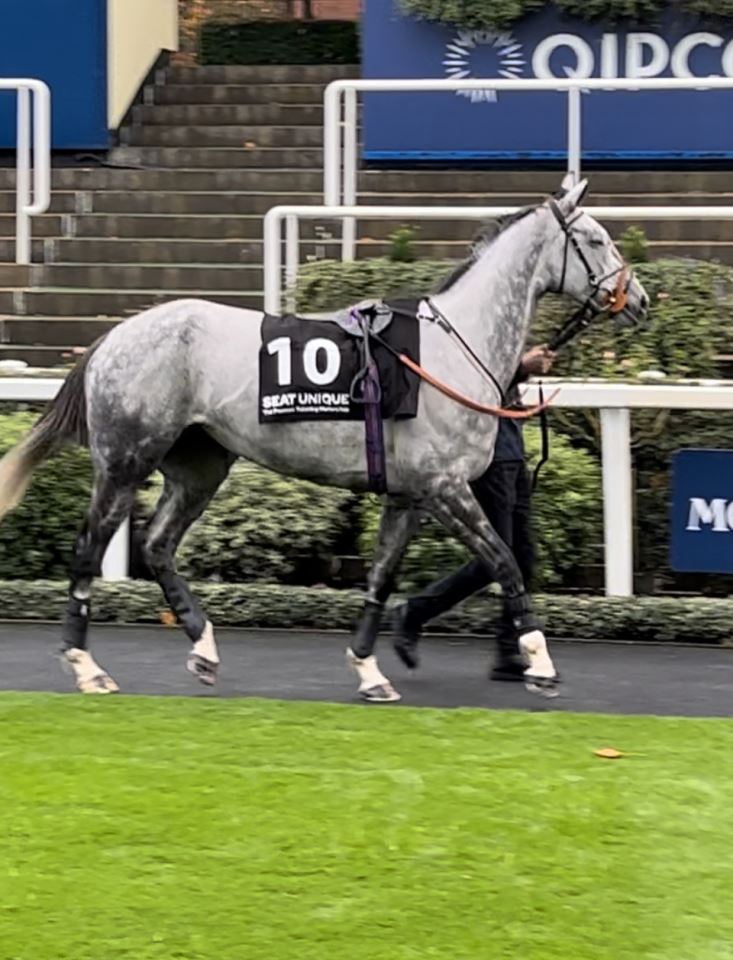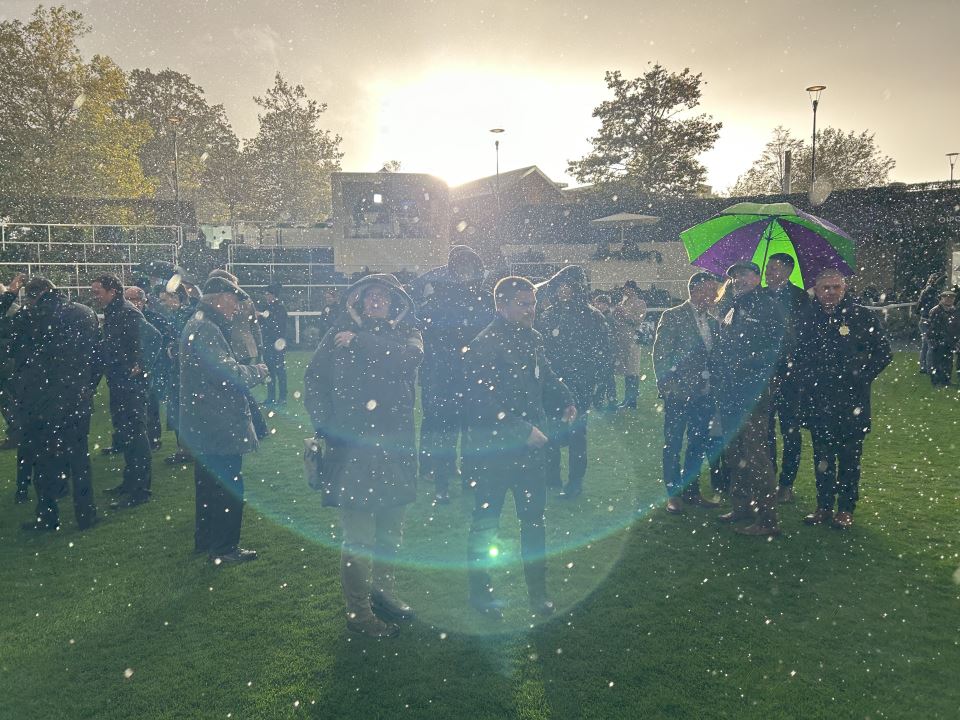 Another soaking in a paddock!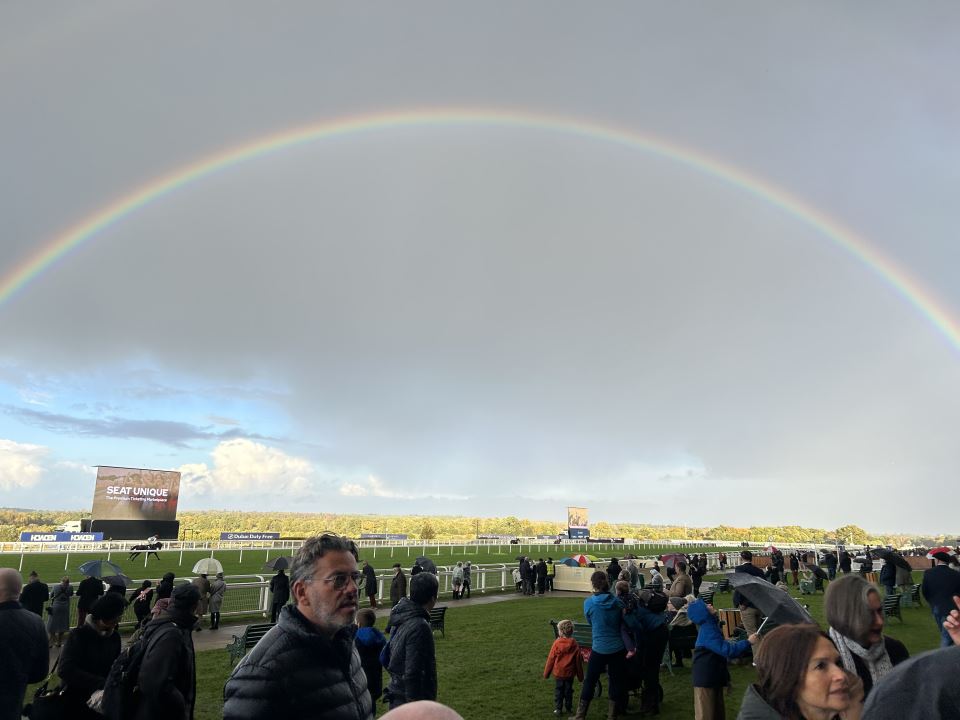 No Gold for us this time!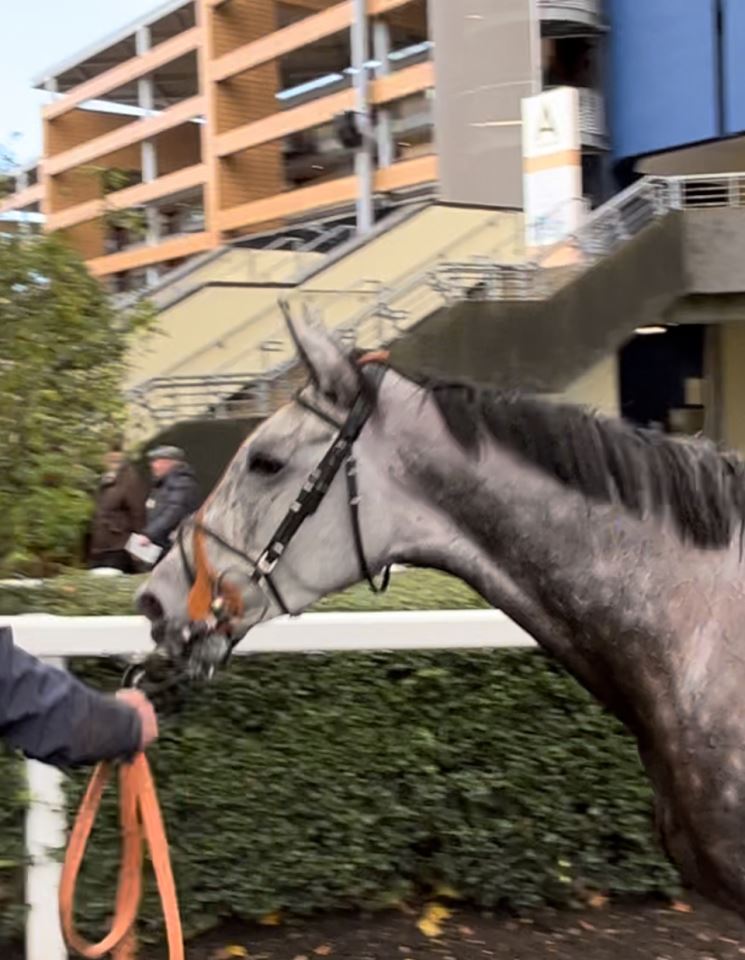 Greyval post race.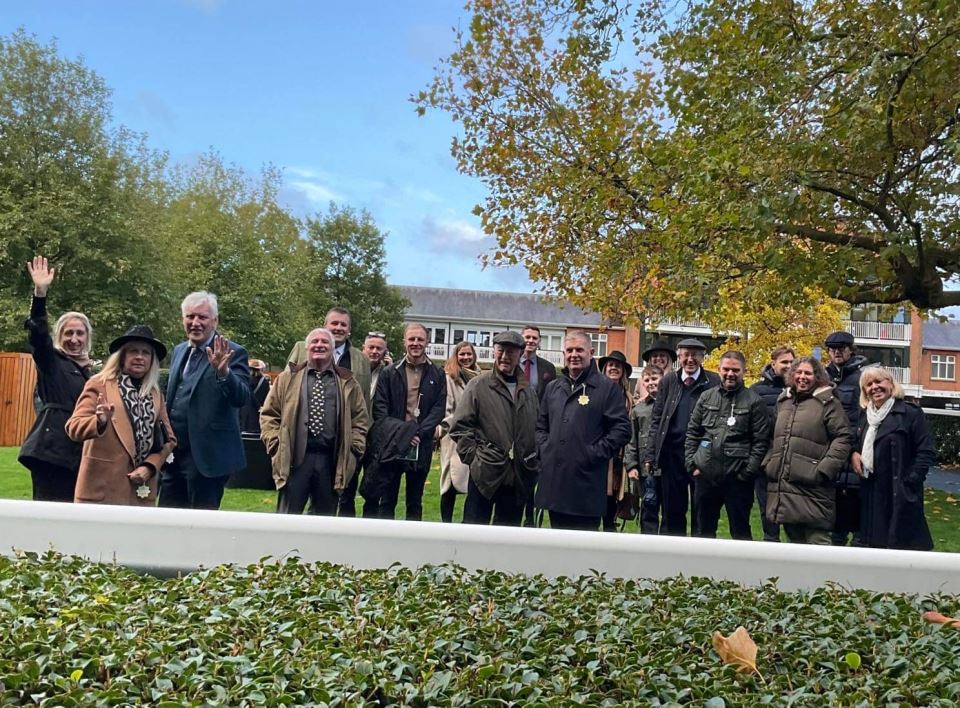 Her owners post race
Around the yards, all the others are in good order. On Friday, Hidden Beauty did her first piece of work after going down with a bacterial infection a couple of weeks ago – she went well, and her trach wash afterwards was clean, so after a piece of work on Tuesday, all being well we can look for races for her.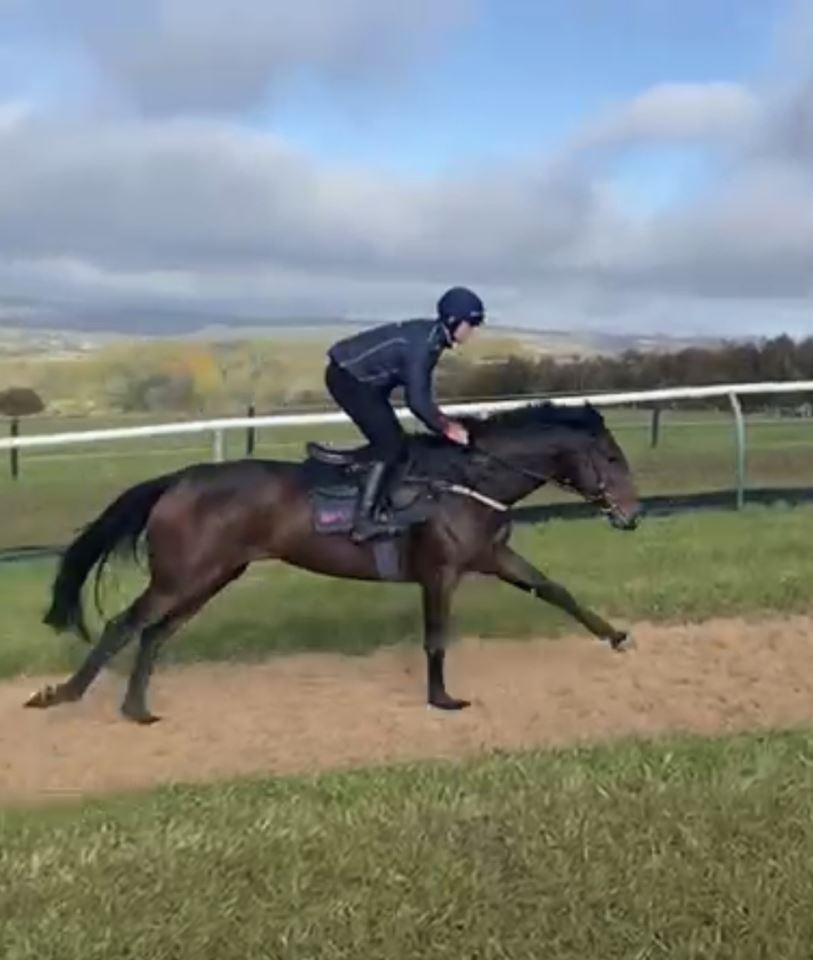 Hidden Beauty works on Friday
Mamoon Star is in great shape and will be out again very soon – as will Fortune Forever who worked great on Friday, she has an entry in a novice hurdle against the boys in Warwick next week. The plan was to run in a mares' maiden hurdle, initially scheduled in Uttoxeter but moved to Ffos Las when Uttoxeter was waterlogged and was eventually abandoned when it rained in Wales (who would have thunk it!!) She will have learned a lot from her hurdles debut when her jumping was far from perfect – and hopefully she will run well. Volkovka is another with an entry next week – a 2m 4f handicap chase in Ludlow – the form of her final race of last season is working out very very well, and she has schooled really well this autumn – we are looking forward to seeing her out again! Up at Warren Chase, Auditoria had an entry in Hereford tomorrow, but was not declared – she is well, but Olly decided there were other more suitable options for her going forward. Another one that is popping out of his skin is Itchy Feet, who will have another entry very soon. We would like to get him going right handed again – but there are just no options that way round – I will chat with Olly this week and make a plan. I had a chat with Gary Moore on Tuesday, and he is really happy with Cloud Dancer, he had brought his work morning forward 24 hours, and worked him earlier that morning due to the forecast 'monsoon', and said that he now has him at a stage where he can make his debut. He will be out in the next couple of weeks, in a 2m novice hurdle. He is a different horse from the one we saw last season, and I am really looking forward to seeing him out again – I hope he can make it to some nice meetings this winter – being by Jukebox Jury he should relish a soft surface despite winning on quick ground in February. Down at Ivy Lodge Farm Intrepide Sud passed his final assessments before resuming cantering next week. A big step forward, and hopefully we can now crack on and get to see what this lovely horse has to offer over hurdles! Already a bumper winner, that was a bonus – wait until you see him over an obstacle!! The yearling by The Grey Gatsby is now out in the field – rugged up and growing fast – he is going to be a big boy – which is ideal for the path that we have mapped out for him! Reflexion Faite is also on a break down in Gloucestershire. She will return to training in the new year – her form took another boost on Friday when two fillies that she had run against in the summer finished second and fourth in a hot little Listed race in Newmarket. She will be some summer fun next year!
Next week looks busy – possible trips to Warwick, Ludlow, Wincanton and Kempton – along with a yard visit or two! Beats work!