Learning Curves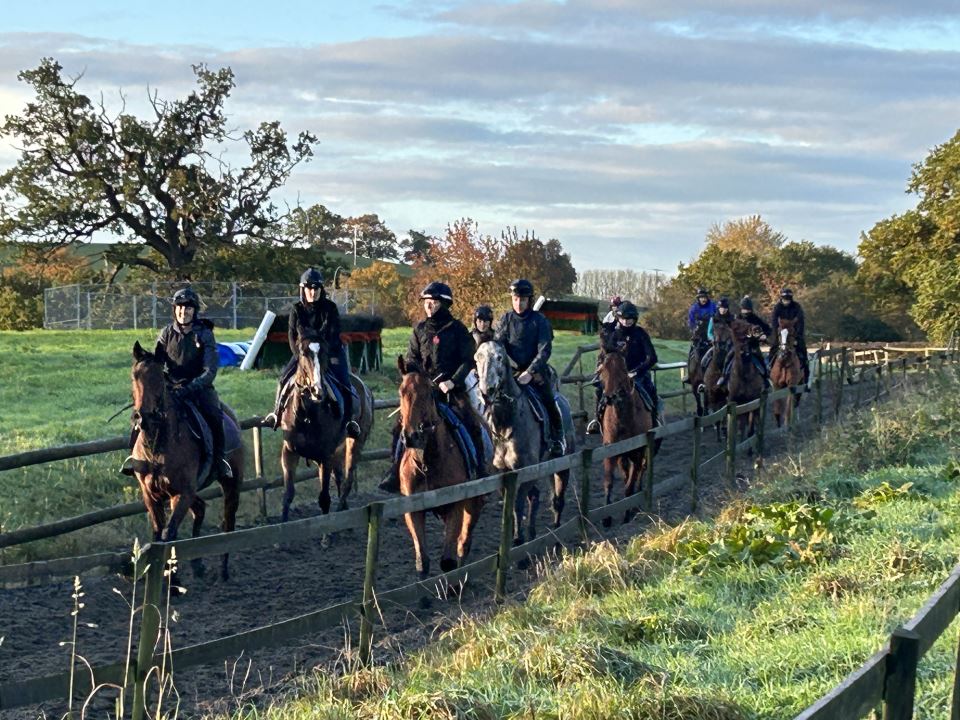 A week that was all about education – a couple of horses learned a bit – and a few humans were left scratching their heads! The week started in the office, more work putting the final touches to The Red Sash Racing Club – the website should be live next week, and all of the offers that new members will be able to take advantage of, should also be finalised in the next few days. By the middle of the week we should have all the new welcome packs in stock, and we will be able to launch our new exciting venture! By 10.00 o'clock we had declared Fortune Forever for her second start over hurdles. There was a lack of suitable mares options – without dropping her into races that were simply too strong for her at this stage, so she was declared against the geldings in a 2m novice hurdle in Warwick. Her jumping had been far from perfect on her hurdling debut last month, and all we really wanted to see this time was a more polished round of jumping and a nice finish from her. One horse was on the move on Monday – Old Blue Eyes made the trip down from Donald McCains to Ivy Lodge Farm, to complete his recuperation from a small injury he sustained a month ago. He looks really well and will have a further 2 weeks of box rest before commencing his rehabilitation with the use of all of the specialist equipment at Ivy Lodge Farm. He will return to Bankhouse when the vets are happy with him, which should not be too long.
As Old Blue Eyes headed south on Monday – I headed north on Tuesday, to see the team at Donald McCains. The horses all look great, and although they have been a little quiet of late, they are ready to burst into gear now. Dino Bellagio is in great order, and did have an entry in Sedgefield on Thursday, but after Donald and I chatted on Tuesday morning, we decided not to declare him, and instead Donald will take a little longer and do a little more work on his jumping. He is schooling very well, at home and everyone is happy with him, but we saw what he did on hurdling debut in Bangor, when he encountered hurdles away from home – so he will head away from Bankhouse for a schooling session, and if that all goes well, he will be out again very soon.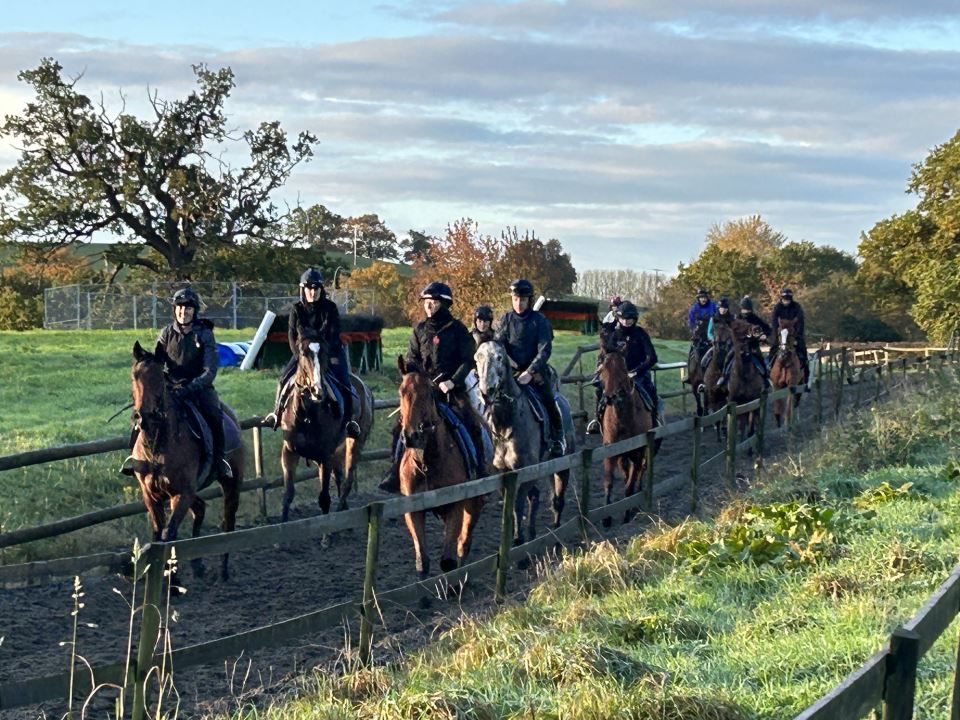 Warming up in Bankhouse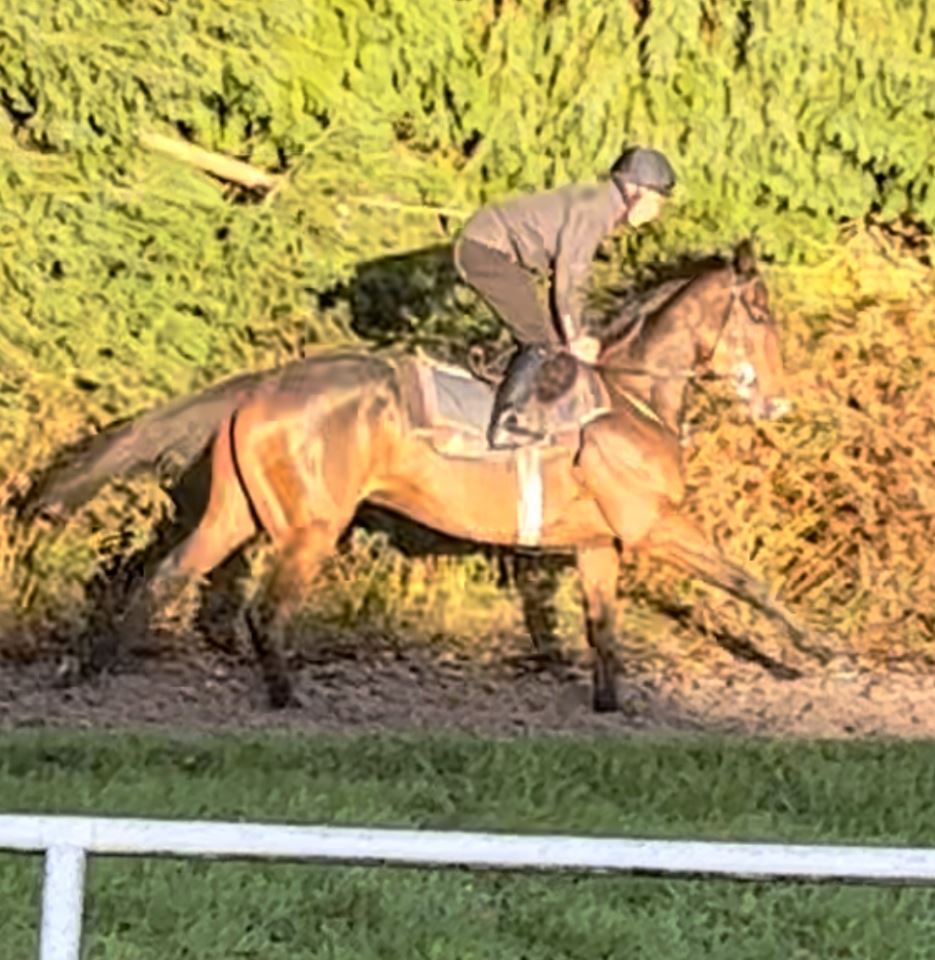 Dino Bellagio - catching rays and pigeons!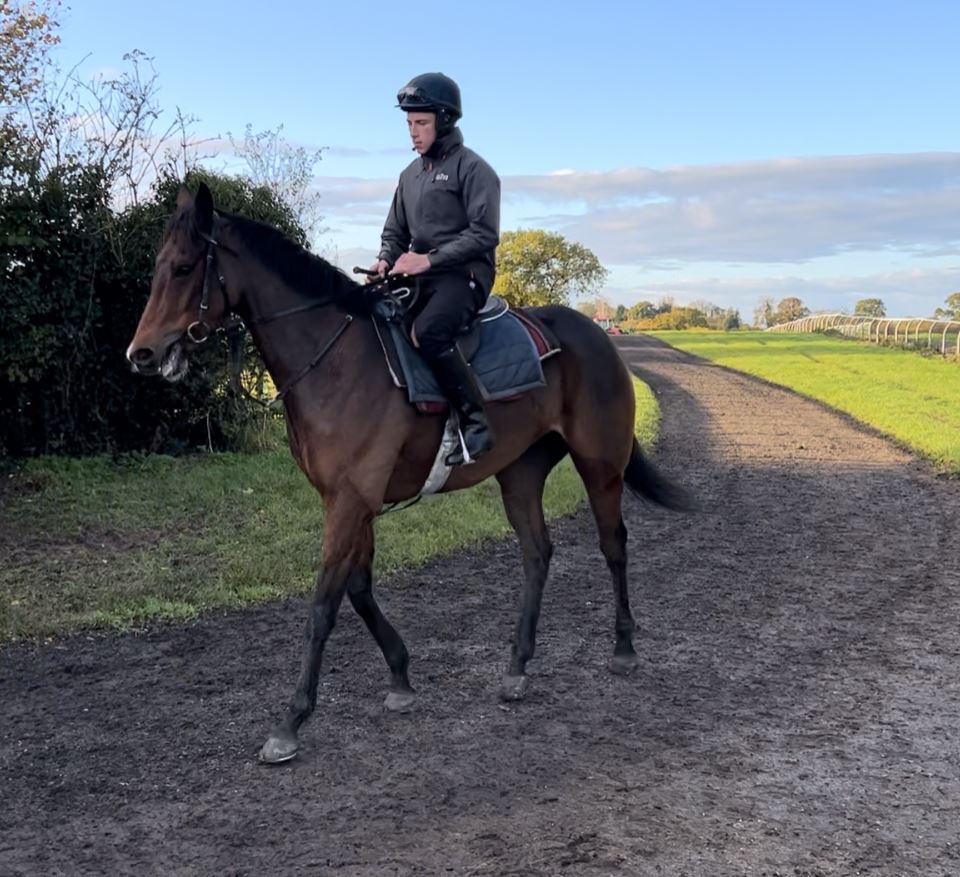 Dino coming home
One that was declared on Tuesday morning was Maria's Flame who was confirmed to make her racecourse debut in a 3 yr old junior bumper in Ludlow. She also held an entry in a fillys race in Huntingdon next week, but with their current stabling issues, she was by no means guaranteed to get a run in that, so she was declared against the geldings in Ludlow. Huntingdon would have been the right race for her, but we took the decision to run her on Thursday and then head to mares company for her next run.
Wednesday started with a really good video from Olly Murphy – Tintagel Queen looking very accomplished over hurdles up the schooling strip under Sean Bowen. She had been away for a gallop the day before, after her scheduled racecourse gallop in Nottingham last week was abandoned, and that had gone well, although Olly had been slightly surprised by how much she had blown afterwards. The work will have really brought her on and she has entries next week
. We headed to Warwick to see Fortune Forever run, and we were all pleased with her performance, as mentioned, this run was all about getting her jumping with more fluency, and she did that, so that box was ticked. The 2 mile trip was always going to be on the sharp side for her, and she will be stepping up in trip very soon, now that her jumping is much better. She has come out of her race well and will be out again around the end of the month.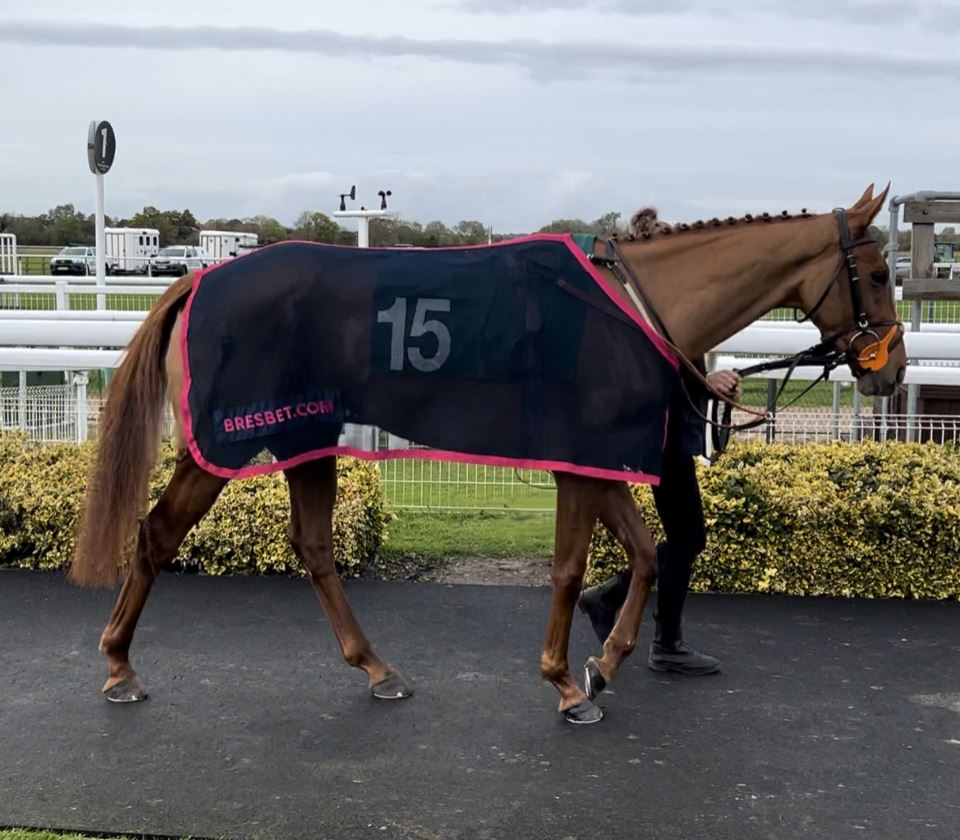 Fortune Forever in the paddock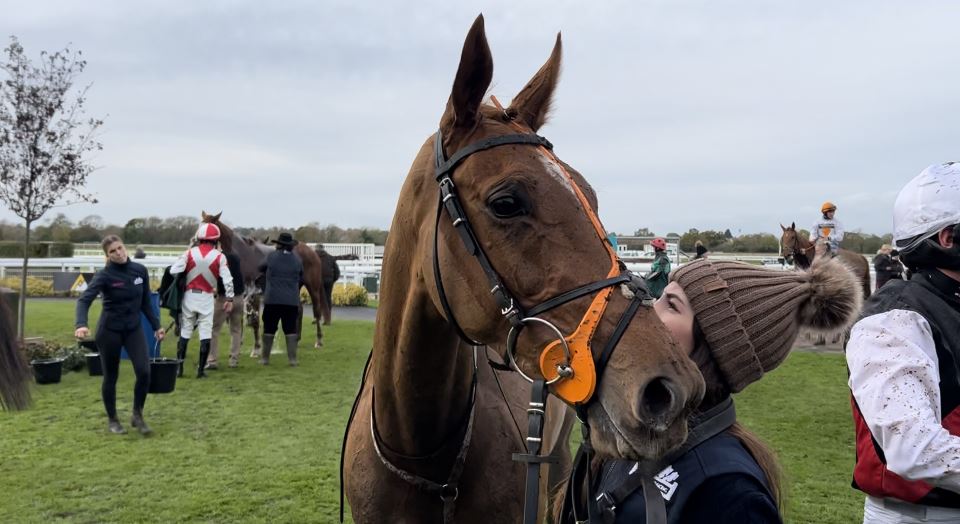 Happy with herself after a better round of jumping
It was good to catch up with Alan King in Warwick, and he reported Rockola to be in good shape, and having a very easy week just trotting around the estate. One snippet of info that emerged this week, was James Owen who trained the second in the race that Rockola made her debut in the week before, saying that he holds her in pretty high regard, and she will head to Cheltenham on New Years Day for the Listed bumper there. I think that Rockolas race will turn out to be a nice bumper, and those that finished near the front have very nice futures. Rockolas was another that had not had the benefit of a racecourse gallop before her debut, so there is an awful lot of improvement to come from her for sure! After getting home – the work was not done – more website work with the team in Arizona – time was less of an issue when they were 10 miles down the road!!
Thursday – Volkovka declared to run in Wincanton in the morning. A conditional jockeys race, in which Liam Harrison could still claim 3lbs. Made a lot of sense! Late morning, I headed across to Ludlow to see Maria's Flame in the bumper. A good turnout of syndicate members – I always think that Ludlow is one of my least favourite trips – so fair play to Dan, who came up from the south coast! Maria's Flame was making her racecourse debut and looked fantastic in the paddock. She took all of the prelims in her stride, as she has everything that has ever been asked of her. She has a great temperament, and is very trusting and willing to please all those around her. She showed that when she was broken in, and it was no shock to see her take everything in her stride. Without the benefit of a racecourse gallop, Thursday was very much the first day at school for her, and so she was going to have to learn on the job – I always feel that these youngsters, on debut, need to come away from their race having finished strongly, hitting the line hard, and not having a hard race. They have to enjoy their first day and want to do it again. As is usually the case with first time out runners from the Fergal O'Brien yard she was settled in rear by Connor Brace and settled well. She ran slightly green when he first asked her to make a place or two at the end of the back straight, but the penny dropped 2 furlongs out, and when Connor switched her right and into a clear track, she really hit her straps and fairly flew home to finish fourth. It was the perfect introduction, she had run right through the line, Connor struggling to pull her up, and when she came back in she looked really pleased with herself and had really enjoyed herself. She has come out of her race really well, she was tired, but she ate up, and didn't lose too much weight. She went into a lot of notebooks for sure – and rightly so! She is taking her training well, and all being well she will head into Fillys company in around a month – and I am very excited to see what she can do up against her own sex, with that first race under her belt. The course we take for the rest of the season will depend on how she gets on next time out – but as she is an unbelievable jumper, she is very likely to be seen over hurdles in the new year! There were a couple of shares available in her before Thursday – one has been snapped up – leaving you with just one chance of getting involved in this lovely filly. She will be hard to beat next time, and I will definitely be disappointed if she doesn't land a hurdle race by the end of the season – what is stopping you – no capital outlay – just £132/month all inc! 07909 618902 – or email nickbrownracing@gmail.com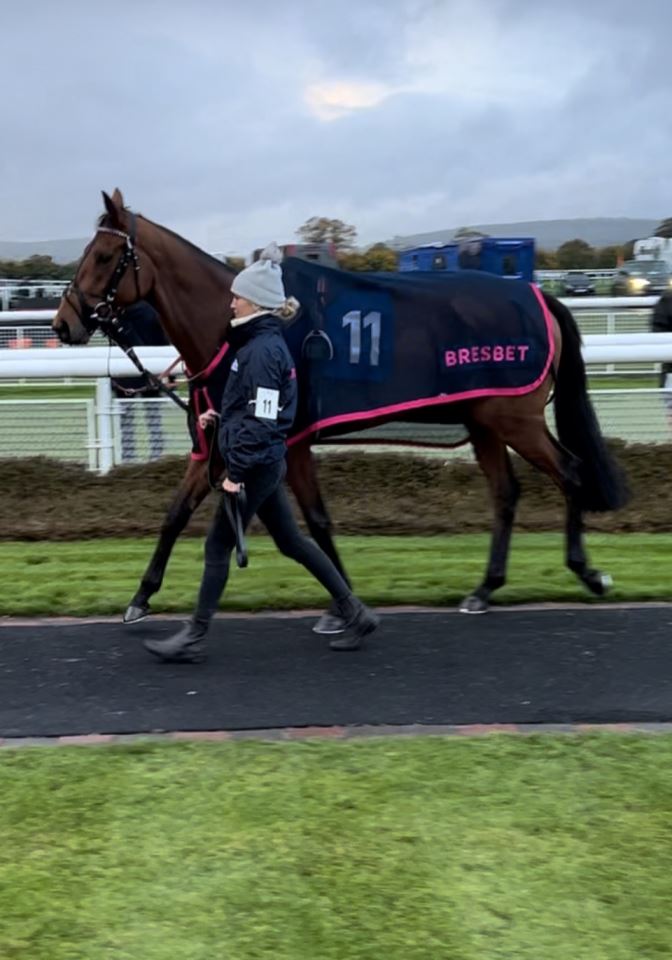 Maria's Flame pre race
Maria's Flame really enjoyed her debut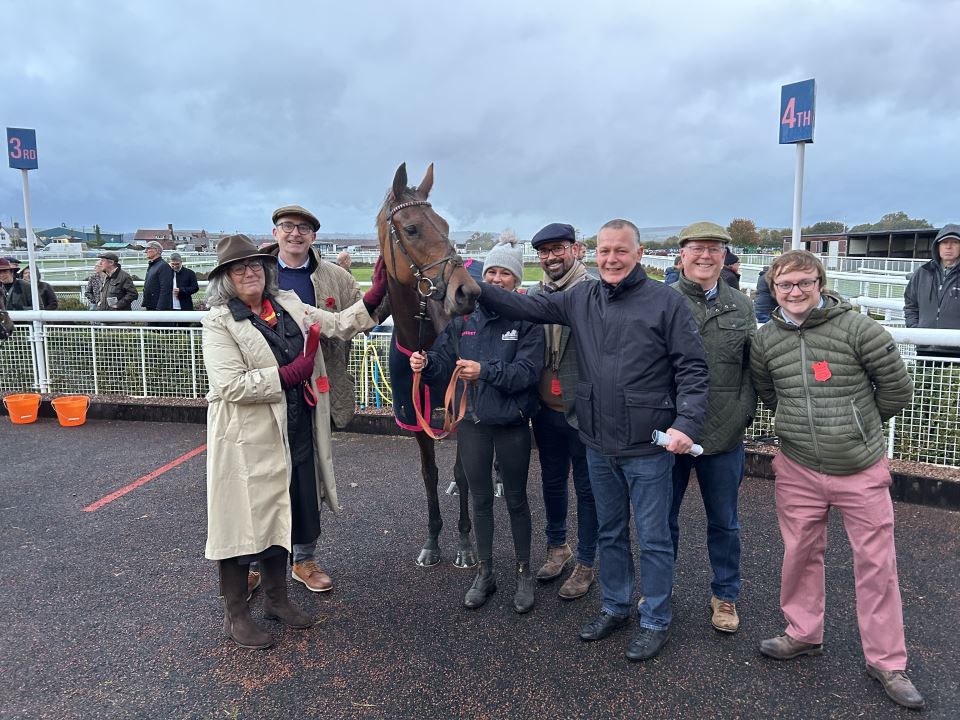 Happy Syndicate members - dreaming of the future!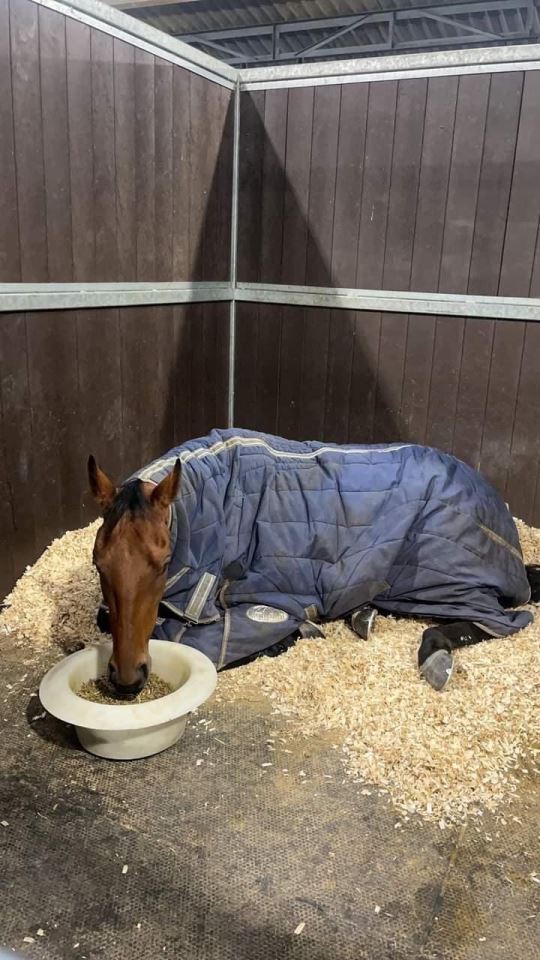 She got breakfast in bed the next day!
And Relax!
Long trips back from the races give me a chance to catch up on a few phone calls, and it was good to catch up with Gary Moore and get an update on Cloud Dancer. He is very happy with him and said he would have him spot on after a final piece of work on Saturday morning, I will chat to him early next week and see what races he has in mind for him – I am very much looking forward to seeing him back on the track.
Friday – another office day – more Red Sash Racing Club work, race reports written and sent to owners and syndicate members, and two more entries for Tintagel Queen in Market Rasen next week – one over 2m and one over 2m4f – I am very much looking forward to seeing her make her seasonal debut – she is another that should give her syndicate a lot of fun through the season.
Saturday, I headed down to Wincanton to see Volkovka make her seasonal bow in the second race on the card. She had started her chasing career at the track but lost her confidence on her next start in Hereford. Her next two starts went a long way to restoring that confidence, with the form of her final start of the season working out really well. We travelled down to Wincanton confident of a decent run on suitably soft ground, but sadly it was not to be – she was never travelling and ran a bit in snatches – very unlike her. After a run, when any horse is beaten you can usually pinpoint a reason for the performance, but yesterday it was tough to come up with any reasonable explanation, other than she may have needed her first run of the season. When Blue Bikini put in a sub par performance a couple of weeks ago – tests were run a few days later, and she was found to be under the weather, similar tests will be carried out on Volkovka, and we will get the answers. One high point of Saturday was seeing Horaces Pearl win the bumper for his owners Mark and Sally Burford. Horaces Pearl was one of the horses that we sold as part of our pin hooking syndicates, sadly his sale coincided with the very worst of the covid restrictions, and his trip to Deauville was not successful and he failed to reach his reserve. On his return he went to Jason Maguire, and he liked the horse so much that he recommended him to Mark and Sally. Horaces Pearl was always a horse that needed time, and he found the perfect owners in Mark and Sally, and the perfect pre trainer in Jason – to get the very best out of him. They have given him every bit of time he has needed, and once again, patience has been rewarded. After going into training with Fergal, he won his bumper on debut in the spring in Wincanton and repeated the dose yesterday in impressive fashion carrying a penalty for his debut win. He looks a smashing prospect, and we wish Mark, Sally and all the family the very best of luck with him going forward.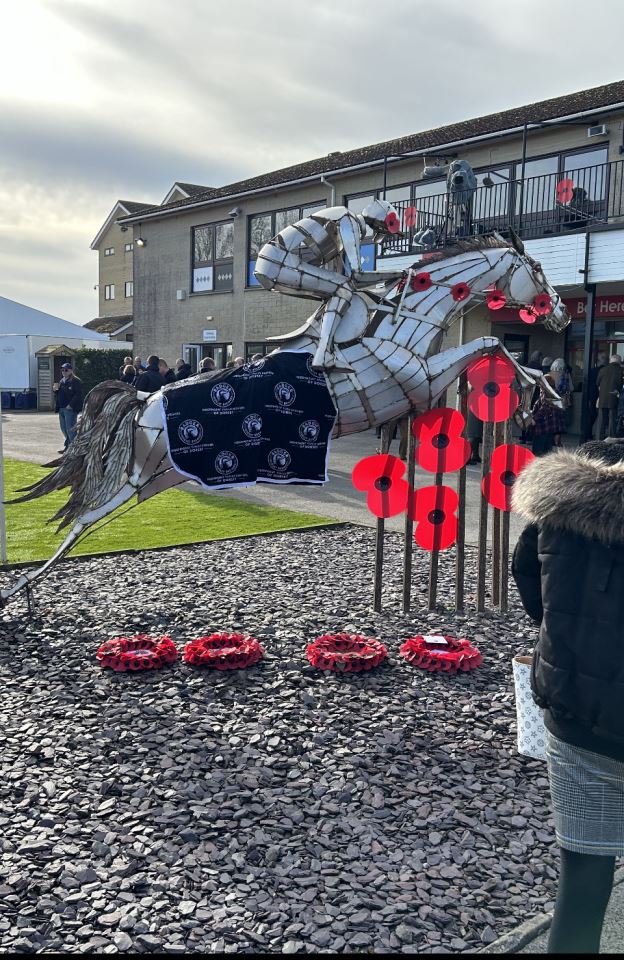 Armistice Day in Wincanton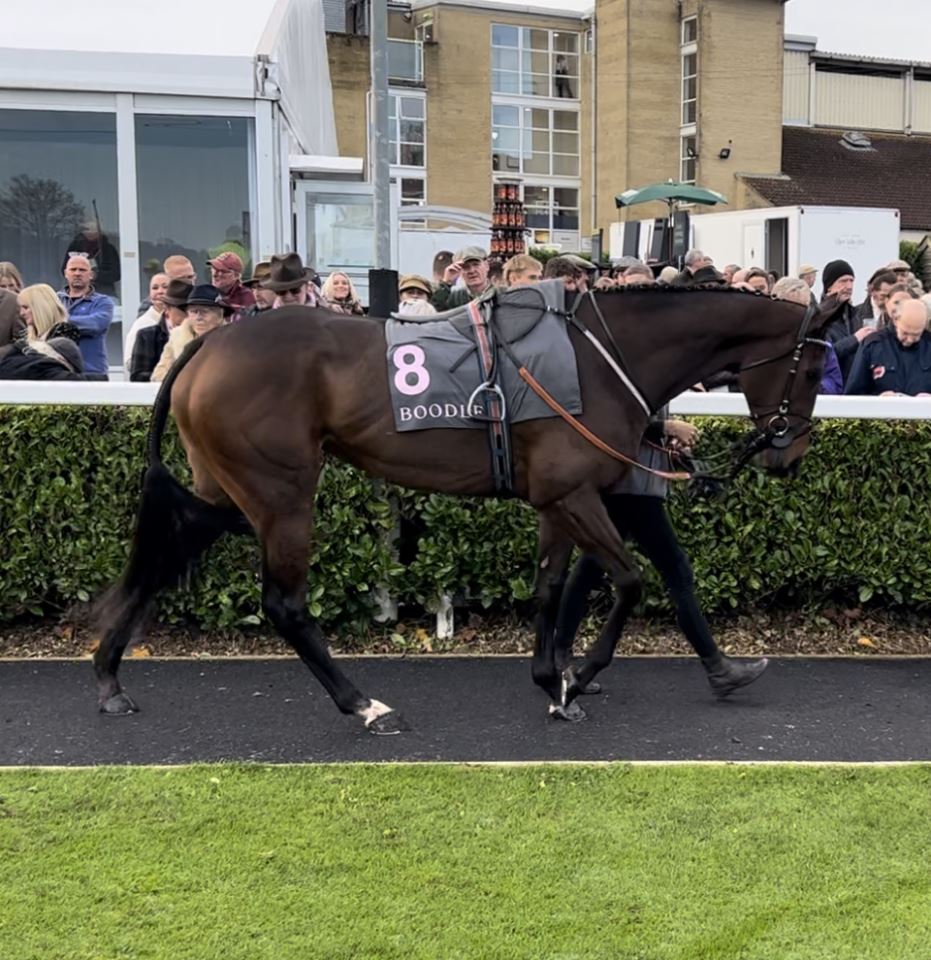 Volkovka pre race
Around the remainder – at Ravenswell, Hidden Beauty is in great form, she has recovered from the bug that put her on the easy list a couple of weeks ago, and is ready to run – she has an entry in Lingfield on Tuesday, but as I write this a decision on her participation has not been made yet – the forecast at the track looks a bit damp, and she does not need the ground to be too deep! Mamoon Star is scheduled to run in Sandown this afternoon, he has come out of his seasonal debut in Wincanton in good order, and hopefully the step up in trip today should suit him really well. Blue Bikini is back cantering gently, and on the road to recovery after a course of antibiotics, and Greyval has come out of her race last week in Ascot in good form, and will be out again in early December, when she will run against her own sex in slightly calmer waters, which should be perfect for her. Up at Warren Chase – Auditoria has an entry in Lingfield on Tuesday – declarations for which are this morning – we will track the declarations and make a last minute decision on her participation. If she is not declared later this morning, she will be out in the next 7-10 days for sure. Itchy Feet is in rude health, and Olly did consider running him in Aintree yesterday, but changed his mind the day before entries closed. He is ready to run again, and Olly will find the most suitable race for him. Down with Jason Maguire, Reflexion Faite is very chilled out and putting a few pounds on while resting up. She has chilled out nicely and is taking her R&R really well. She will return to pre training after Christmas. Old Blue Eyes has settled in well, and the next few weeks are mapped out for him, and it was great to get a video of Intrepide Sud cantering up the sand gallop in the sunshine yesterday. He has got the go ahead to crack on, and looks as though he is thoroughly enjoying being back at work. Our yearling by The Grey Gatsby is just doing what store horses do – enjoying life, eating and growing – he is a gorgeous horse, and hopefully will be another one through our academy that goes on to do what the likes of Romeo Coolio, Cloud Dancer, Intrepide Sud, Off The Jury, Horaces Pearl, No Risk With Lou and a whole host of others, and win for us or the folks who have purchased them from us! There is still a share in this stunning grey gelding available – he has all options open to him – he may be offered For Sale at a top store sale as a three year old, or will come onto the racing team and run in our colours – whichever way we go with him, it will be a fun trip, and looks sure to end up with either a tidy profit, or a very nice racehorse!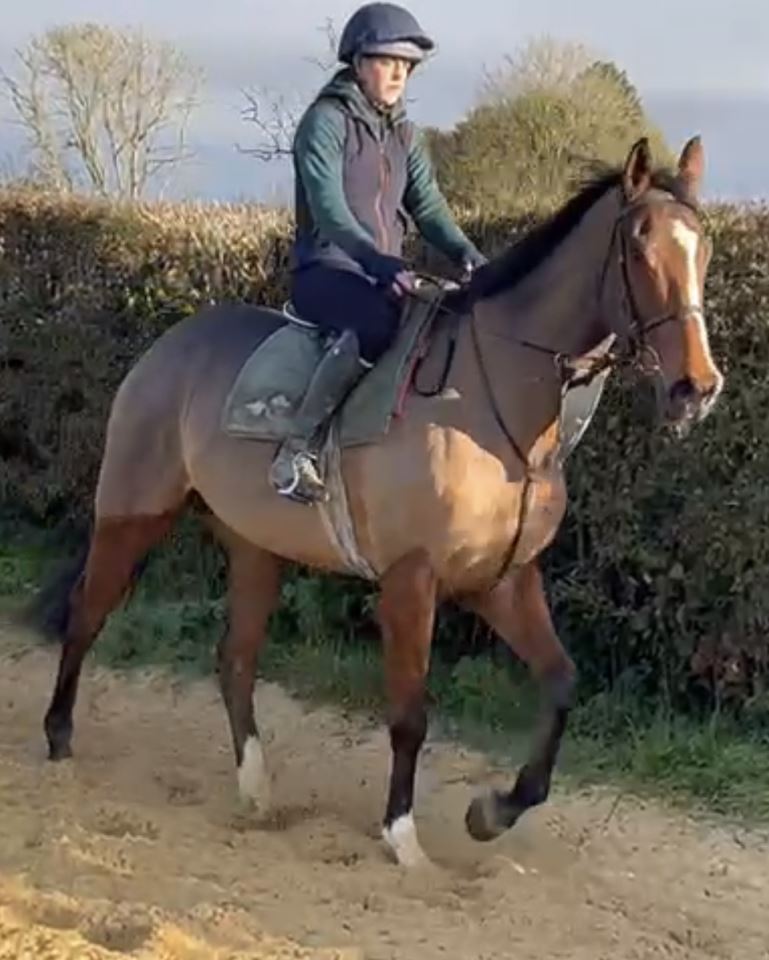 Intrepide Sud back enjoying his work!
Next week the bandwagon keeps rolling – we have plenty with entries in both Huntingdon and Lingfield on Tuesday and Tintagel Queen has a couple of entries in Market Rasen on Thursday. I will chat with Olly about her entries, as, looking at the programme book, it may be very worth while just waiting for a few days with her, and putting her hurdling debut back a few days into the following week, when there are a huge number of mares races of all distances, which, if nothing else, will dilute the number of runners in each race, as well as offer some opportunities at courses which should really suit her – I will update her syndicate members when I have had the chat with Olly.