Heads Up, Heads Down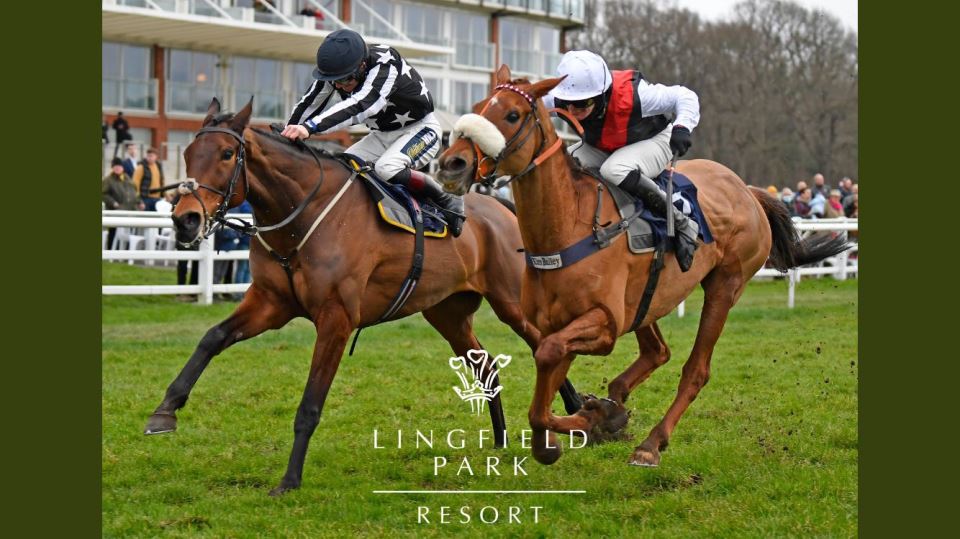 Last Sunday Hidden Beauty had a little trip away from Ravenswell Farm, for a spin on a grass gallop. Paddy rode her in her work - and was very very happy with her - green light for an entry in Market Rasen on Friday.
Two others were to get entries on Friday as well - Auditoria in a handicap in Market Rasen, and Queenohearts would be entered in two on the first day of Lingfields new Winter Millions card.
Hidden Beauty was an ultra impressive winner on debut in Ffos Las, and the members of her syndicate had been eagerly anticipating her next outing. She is highly regarded, so on Monday she got an entry in the Mares' Listed Bumper in Market Rasen, with last time out winner, Auditoria getting an entry in a 2m handicap hurdle on the same card - a race with a decent prize fund, and one that was worth a look at.
Queenohearts' owners have had to be so patient with her - a couple of injuries keeping her to just one run since March 2019. She is a very good mare, and because of her ability, and the fact that she was always likely to prove a better chaser than hurdler, they were prepard to give her every chance. This meant taking advice from a number of vets, pre trainers, agents, jockeys and experienced racing people, and putting a plan together that gave her the very best chance of getting back to the track, and showing her true ability again. The journey began way back in July, when she left The Elms Stud, where she had been recuperating after her latest set back a year ago, to head down to Jason Maguires. The vets had put in place a detailed schedule for her return to full work, and the facilities at Ivy Lodge Farm made it the perfect place for her to be. She also got the added bonus of getting to use the spa and water trwadmill, two things that would prove to be vital in her pre training. The plan that was put in place also involved a switch of yards, and she left Jasons to go to Kim Baileys. On arrival at Thorndale Farm, she was given a programme of lots of steady uphill canters, which worked out very well, as at the same time she was scoped for ulcers, and was found to be suffering very badly with them, so her treatment for those would dovetail perfectly with her exercise regime. Vets had advised that she not do any faster work until December, and by the time that came around she was looking and moving very very well. Both Ciaran and Will who rode her most days were delighted with her. When the Winter Millions weekend was announced one race in particular jumped out for her - a 2m4f Mares' Novices Handicap Chase. It looked perfect, with the back up of the 3m Novices' Chase on the same day. When she started to quicken up, she headed off to the 'Back Of The Hill' Gallop in Lambourn, where she really came to life - Ciaran rode her work and was thrilled with her- she worked with a highly rated 2m 4f chaser, and proved that all of her old ability was still there. A second trip to the same gallop a couple of weeks later where she pulled a long long way clear of a bumper horse only reinforced what she had shown the time before.
So Monday was entry day - Hidden Beauty and Auditoria in Market Rasen, Queenohearts in Lingfield - the mares novices' handicap chase was the first option - tracking the novices' chase to see what was in, we decided to put her in that as well, as there was a slight confusion about race conditions for the mares race - but who has ever heard of having to qualify for a quailfier? As it turned out - good job we did - 12.05pm - Queenohearts not qualified for the mares race - 3m novice it was then - but actually she ended up being the best in at the weights for that race when you took into account penalties and mares allowance, so even if we had had the choice, we could well have gone down that route anyway.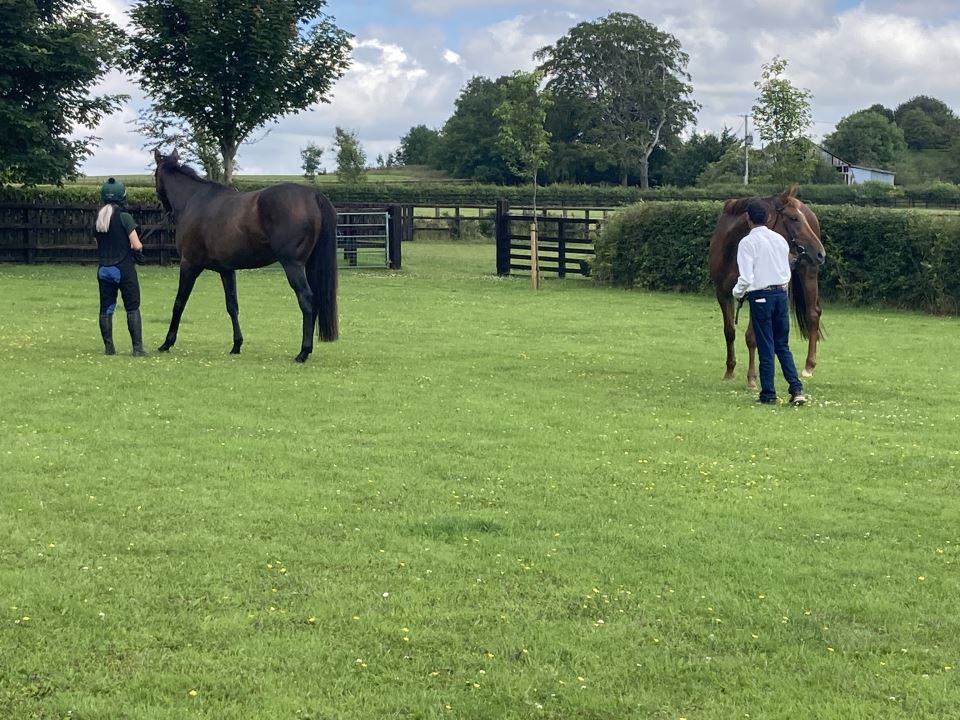 Tuesday Queenohearts headed off to Laura Collets for another session with the Olympic Gold medallist. A session over poles in her outdoor school, just to get her to think about her job, and sort her technique out - her first visit had started very badly - but had got much much better, and she was foot perfect on Tuesday. She had also schooled great with Ciaran over the chase fences at home - so she was ready to go.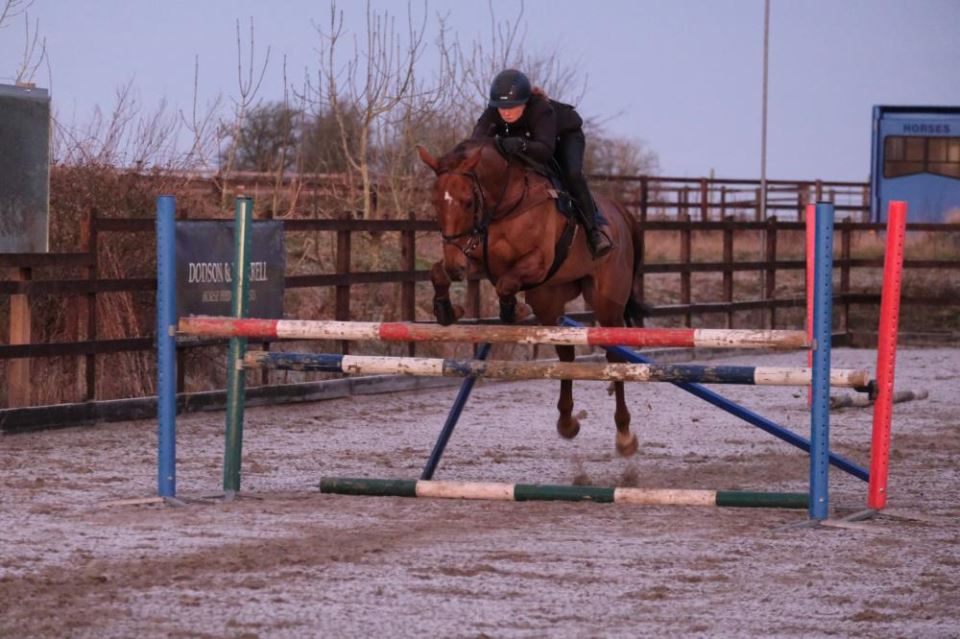 The cold weather meant that all the work at Ravenswell Farm on Tuesday was done on the round gallop. Volkovka getting back up to speed, after being a bit quiet for a few days after her run in awful ground in Sandown. A return to mares company for her soon. Yauthym coming back to full fitness after a nasty foot infection kept her off games for a couple of weeks - she should be out in mid Feb. Mamoon Star had been pencilled in for a run in the £40,000 bumper in Lingfield this weekend, but both myself and his owners were less than excited to see him on the all weather - so he will head to Newbury next month. Sunset Melody is back doing all of her work after a respiratory infection. She is going well, is still a little green, but has time on her side. The Soldier Of Fortune filly is progressing well - we should have her syndicate finalised this week, and then we can crack on and get her named - a spring bumper still the plan. Blue Bikini looked and moved great on Tuesday, but a tell tale cough on the way home meant a scope and a trach wash - she too suffering with an infection - so a spell on the easy list for her. Superb from the vets who sent through a detailed breakdoen of the sample analysis - which stated what they had found - what it meant to performance, and what was needed to clear it up. A great piece of information to send out to the syndicate, it really keeps everyone up to speed and 'in the loop'.
Wednesday, and declaration day - We decided to swerve Market Rasen with Auditoria, there would be easier opportunities going forward. Hidden Beauty declared in the Listed Bumper, and another heading to Market Rasen was Ciaran Gethings who had been retained to ride for Stuart - Stable jockey David Bass now heading to Lingfield for QOH.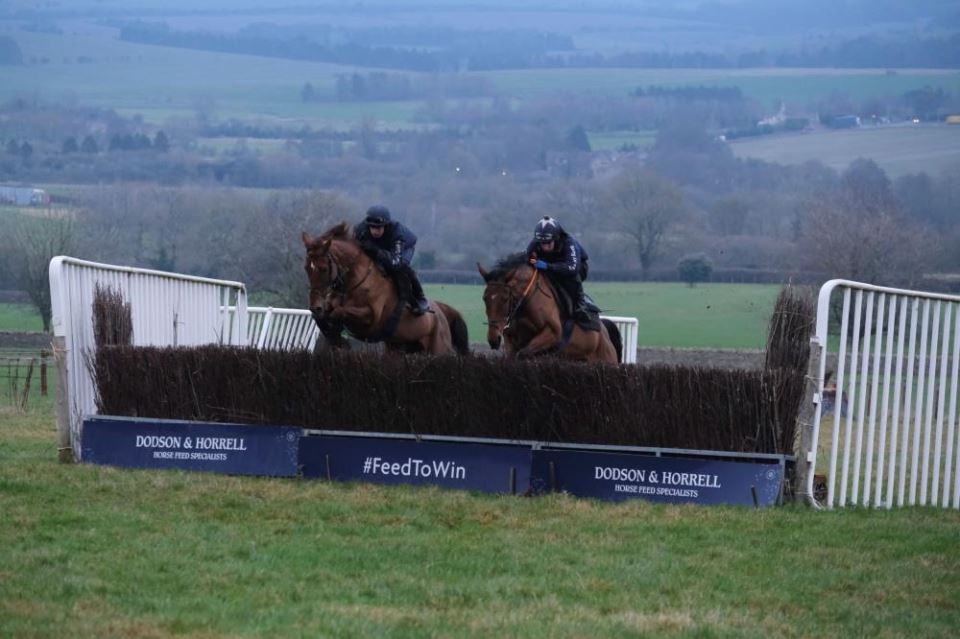 Wednesday also a chance for another trophy auction - we are always asked 'who gets the trophy', and the best way we could think of to sort this welcome problem out was to auction them among the horses ownership group, with the winning bid going to The Injured Jockeys Fund. Congratulations to Grant - £200 off to the IJF.
Wednesday night - a delayed Christmas bash - great night out in a new restaurant in St Ives - Di Rita's - great authentic Italian food - worth a visit if you are near!
Thursday - finalsing O&T Badges for Friday. A big crowd heading to Market Rasen for Hidden Beauty, and all the owners of Queenohearts in Lingfield to see her. Market Rasen were superb to work with - I have to say - and I said it to them - it has not always been the case - but the new team there were a joy - very helpful and understanding. We have never had to ballot for badges - and pride ourselves in offering the very best ownership package on raceday that we can. Our all inclusive packages mean that when owners allocations are exceeded, rather than let members down who would like to attend, we will make other arrangements at no further cost to members to facilitate them all getting the very best experience on raceday! We have over 20 years of working with the tracks, which is a great help! Classic Ben had a school over fences - his confidence not dented by his fall in Exeter. He will be out again next month.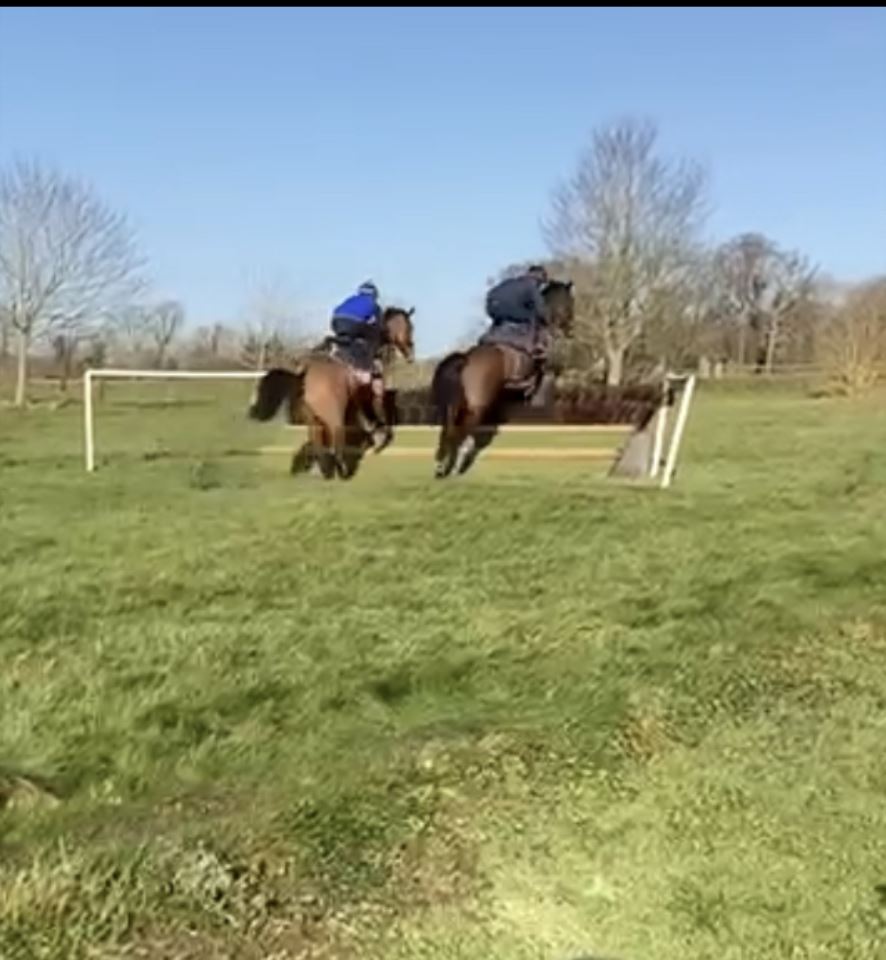 Friday - do I go to Lingfield to see the results of a long thought out plan with Queenohearts or head to Market Rasen for the exciting Hidden Beauty? Market Rasen won the day - lots of members there, a few first timers too, so time best served there. The lads down in Lingield were 'hardened pros'. Frost all week, and Lingfield had the covers down - they were confident of it being on , and rightly so - the meeting given the go ahead shortly after 9.00am. Market Rasen were also confident - with just a precautionary inspection called. Overnight temperatures reaching -3.9 but still only a few areas of concern according to reports - se we set off at 9.30am - four in the car, John and Tom joining us - car share! John was 'refresh man' , continually refreshing the pages on his phone to get the first indication that the inspection was passed. We continued the trip north, and were 1/2 a mile from the course when the meeting was eventually abandoned! A pint and a sandwich in the box - those that made ot to track were far from happy as you can see from the photo - a wasted trip! We headed home, stopping at 3.00pm to watch Queenohearts.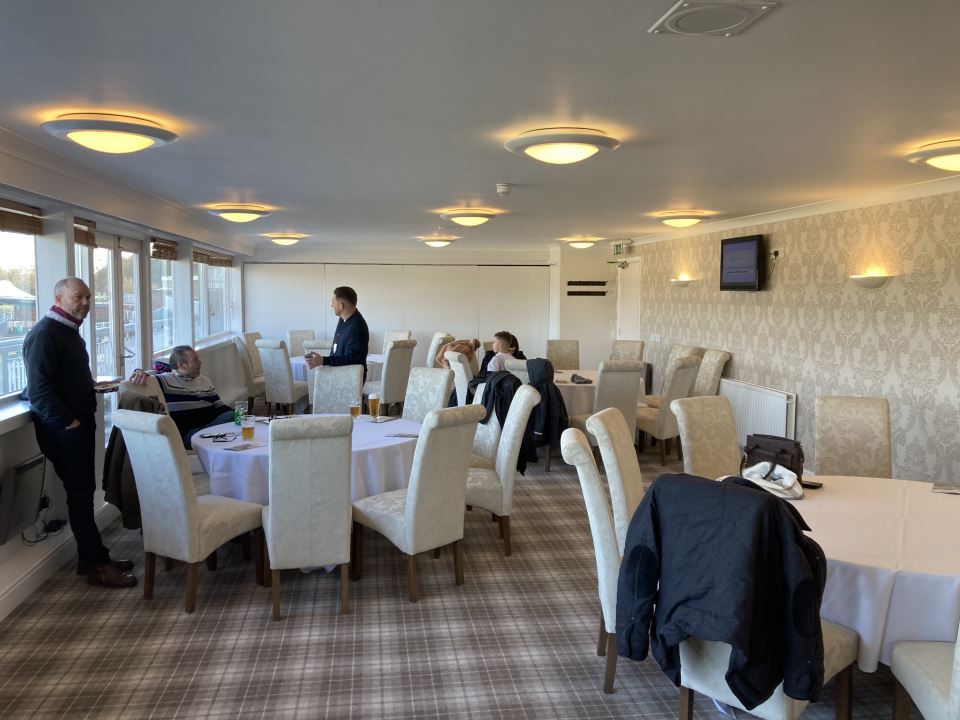 We pulled over into a layby and the four of us watched the Lingfield race, with a queue of traffic waiting at traffic lights on our right hand side. What they must have thought of 4 idiots shouting and screaming at a tiny picture on a phone as the race developed I have no idea! What a race QOH ran. Given a superb ride by David Bass, she jumped great for her first time over fences. She handled the ground like we knew she would, and turning into the home straight looked booked for second. A slight mistake 2 out didn't help, but she winged the last, and set off in pursuit of the leader. It was a head bobbing finish, and oh so close, but sadly she was on the wrong side of the bob, and was just touched off. What a run - it was a huge ask for her to make her debut in a £50k Novices Chase against geldings - but she answered every call, and it was a simply superb performance. All the patience, money and time that had been spent on her return, had all been worthwhile. Four folks in a car in a layby just north of Peterborough enjoyed it, as did all of her owners in Lingfield. Great job by everyone that played a part in getting her back - on behalf of The Sherington Partnership - Thank you.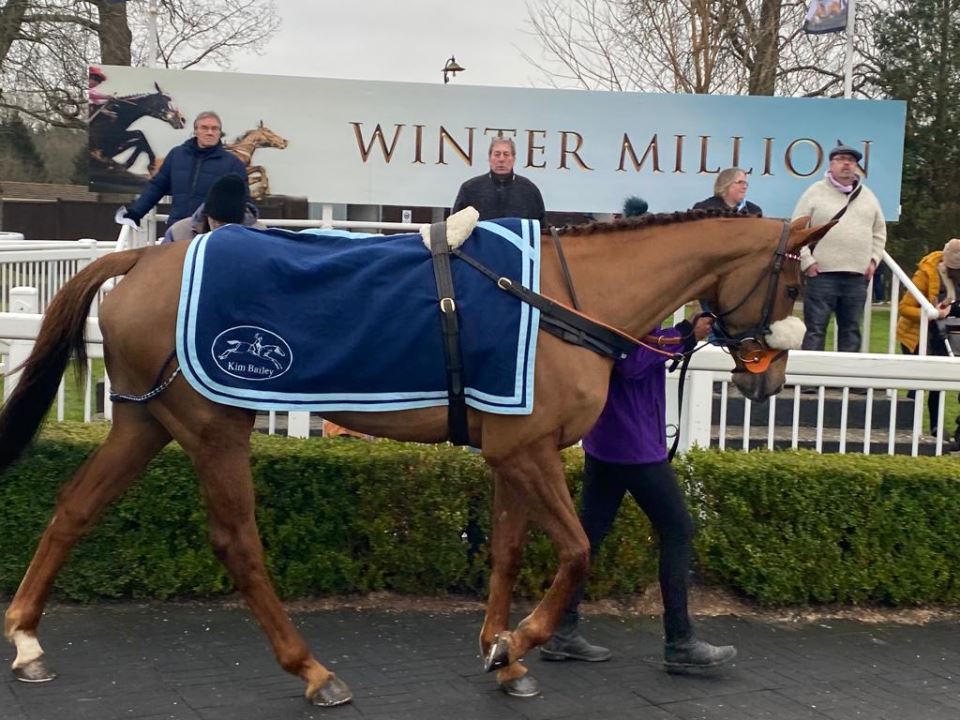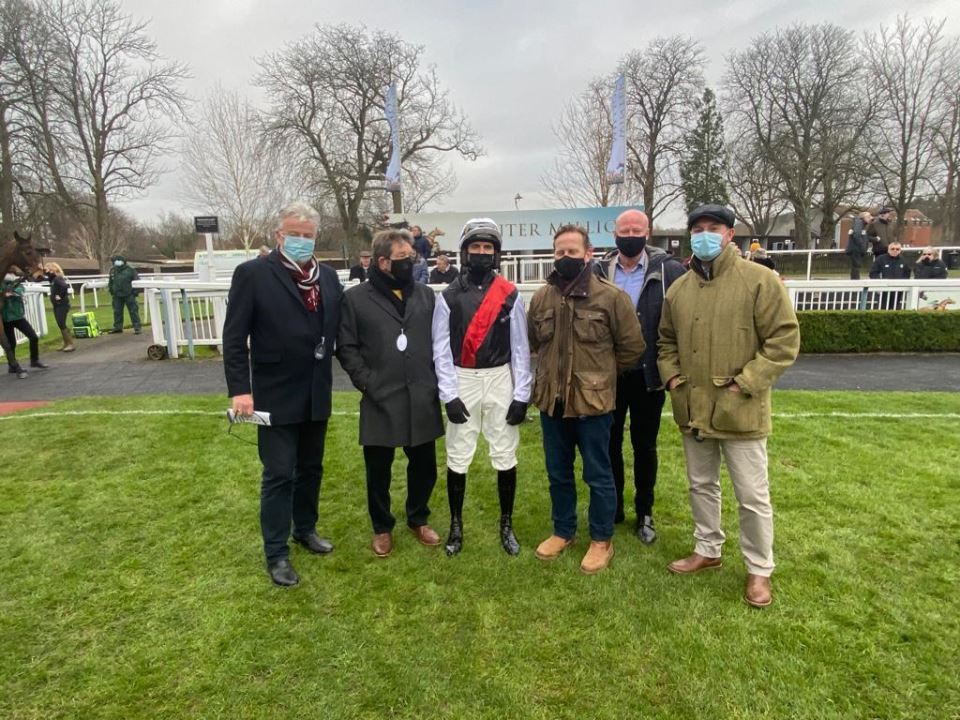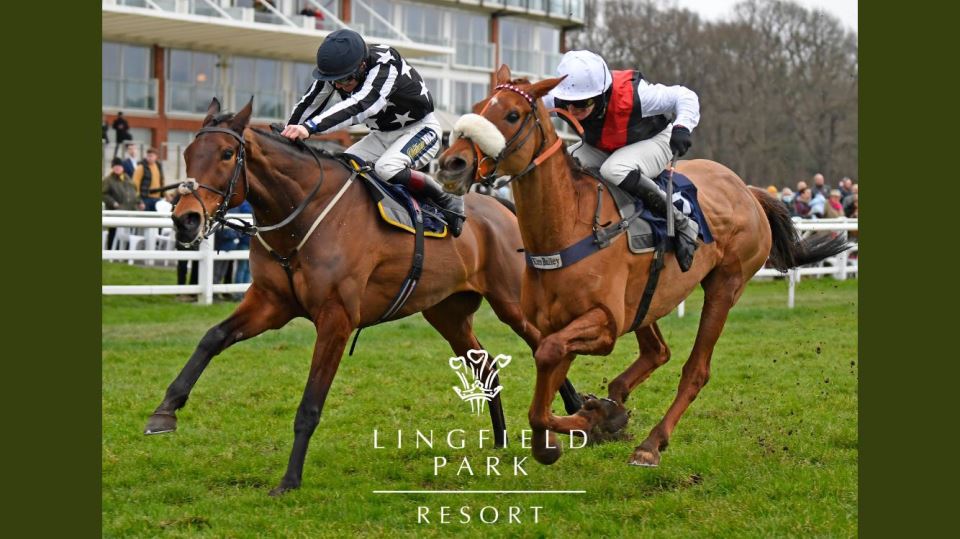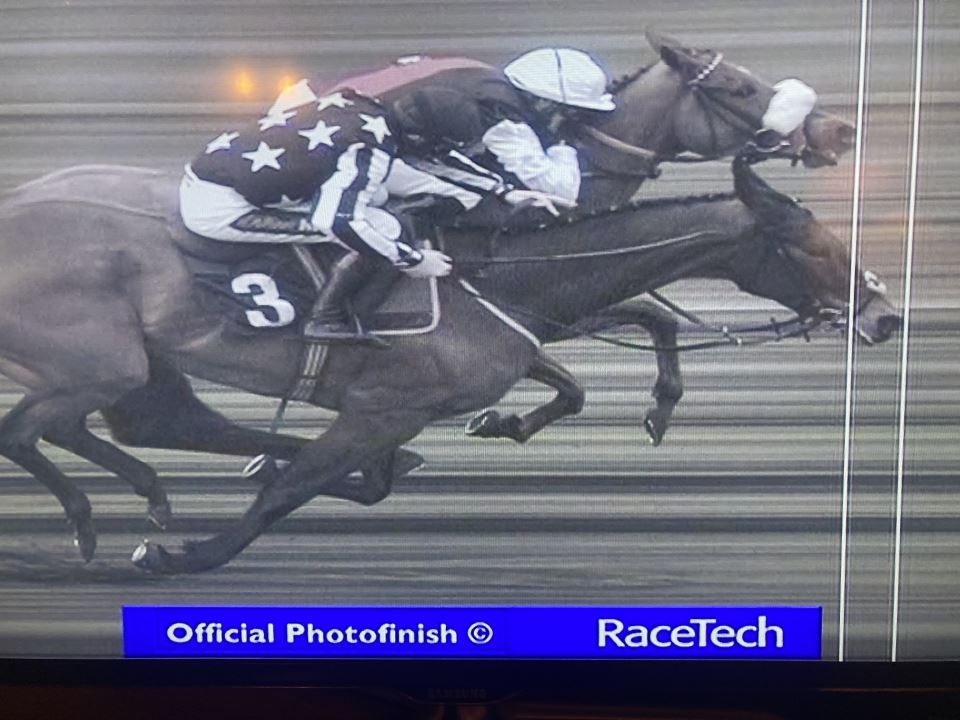 Saturday - Queenohearts seems to be fine after her run - a massive plus - we will let her get back into full work and then look at a plan for her going forward - some great days to be had with her if the wheels stay on! Great to take on another client - a small syndicate that have a horse coming from Ireland. It will head off into pre training with Jason Maguire before going to Olly Murphy for a summer campaign. If you would like a chat about our syndicate management service then please call or email me - we tailor make all our packages to suit clients needs - we can do as much or as little as you require - it takes the hassle out of the job - and you can enjoy your sport!!
Updates on those horses not already mentioned - Tintagel Queen has settled in really well at Warren Chase, she is enjoying life, and looking great. I will be organising a visit for her syndicate with Olly very soon - hopefully we can get together in a couple of weeks time. Go Millie Go has had her treatement, and is improving, she is moving better every day.
Next week looks busy - heading to Doncaster tomorrow for the sales - National Hunt yearlings on offer - we hope to add one, then off to different yards towards the end of the week - although there is a chance that plans for Friday could change - that will depend on an announcement tomorrow. No entries planned so it will be in the office towards the end of the week!