Looking After Owners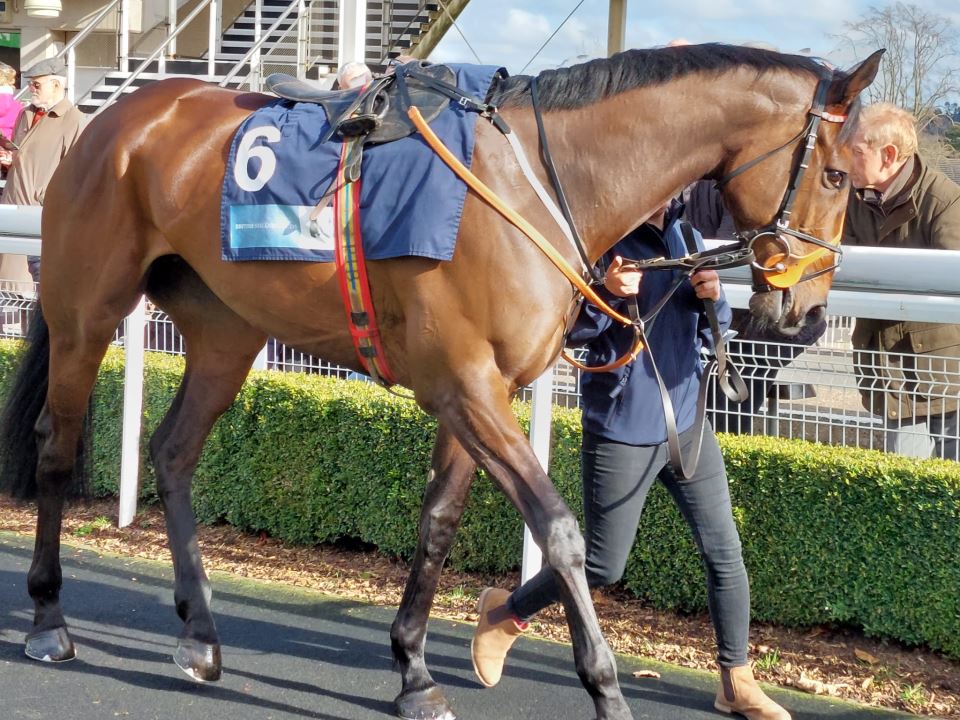 We start this weeks news with last weeks news. After posting last week, Yauthym ran a fabulous race in Huntingdon. As mentioned - I was able to get the best of both worlds - a Birthday Lunch, then a dash to Huntingdon, and then back for a slice of cake - so it was a flying visit for me, but a good one. Great to catch up with a few folks before her race, and to meet up with an old friend and client afterwards - he looks like returning to the fold! There were no great expectations of a win from Yauthym. She is still badly handicapped after her Hereford win, and the very soft ground, which had gone heavy in places, and had Fergal ringing me when I was still at the lunch to chat about running her, was definitely not in her favour. Saying that she is the most admirable mare, and will always run her race for her owners. Once again Liam took the ride, and as always she setteld and jumped well early. As they turned into the straight the group I stood with all thought she was travelling like the winner but the weight and ground eventually told, and after making her customary hash of the last she ended up finishing a close third. Once again - with nothing much in her favour she has tried her hardest and rewarded her owners with another third place. She has run 14 times for them over the last two seasons since I claimed her out of a race in Lyon in France. She has won twice this season, and been in the first three a further nine times. A heavy fall when she would have either won or been second, and a fourth and a fifth complete her 'set' - what a model of consistency she has been! She came out of the race fine, and is having a little change of scenery up at the Martins Hill yard up in Stow On The Wold for a few days.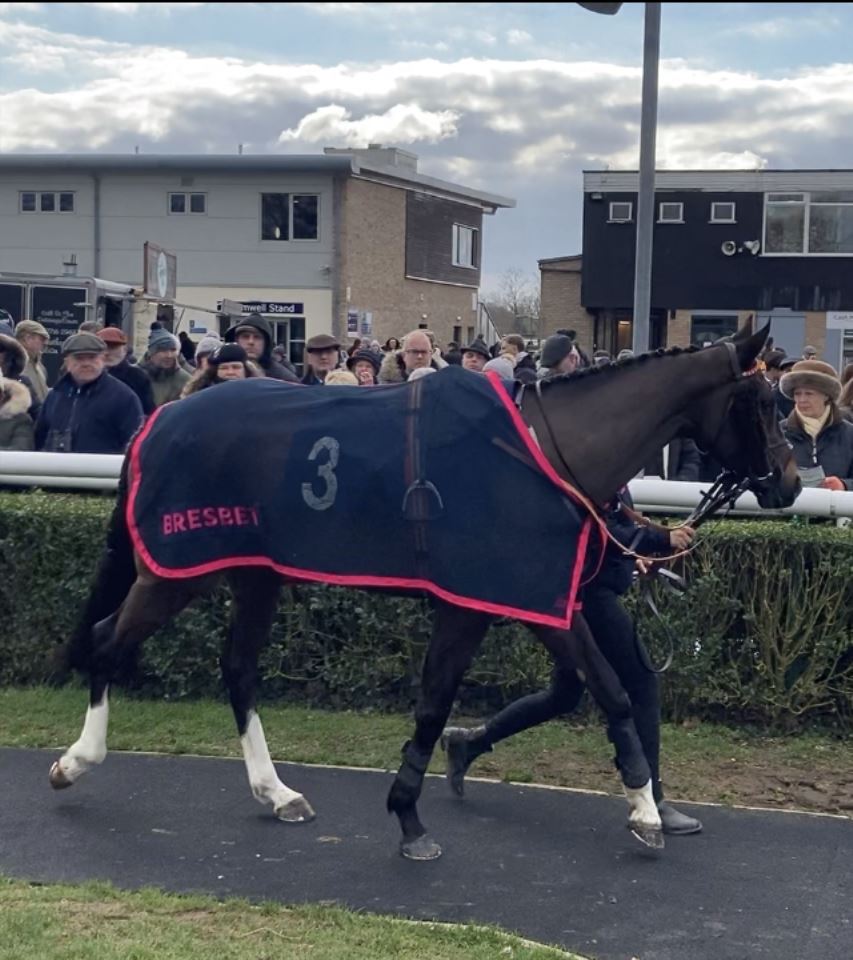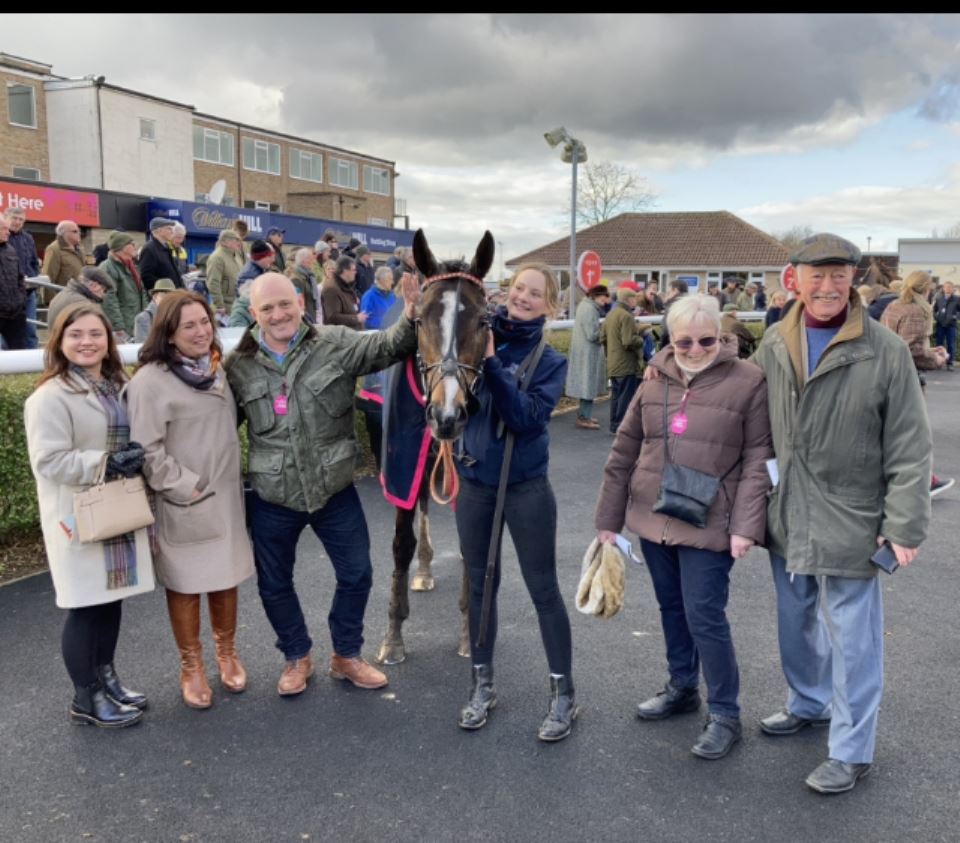 Monday - entries for Hidden Beauty, Volkovka and Go Millle Go on Saturday and Sunday.
Tuesday I headed off early to meet owners in Ravensell Farm. Fran and Sheridan were in to see their horses, and Ben was in to see Volkovka do her last piece of work before a planned run on Saturday. Fortune Forever worked with Hidden Beauty and went well. Mamoon Star had just returned from a break at Jason Maguires, and just cantered on the round. Volkovka worked alone in front, and although she worked well, Sam, her regular pilot felt that she just needed it, and therefore her planned run on Saturday in Hereford was shelved and she will will be out again in the next few days. Blue Bikini is another that has had a break - and she looks terrific, she was struggling to shake off a respiratory infection, and after a course of antibiotics hadn't done the trick she was sent to Jasons to give her system a good long break and let her recover naturally - it seems to have done the trick! She did three on the round gallop and one up the hill, and seemed in great order! Fergal sent a video of her schooling on Thursday - and she looked in flying form - everyone is delighted with her, and she will hopefully be out again soon over 2m 4f.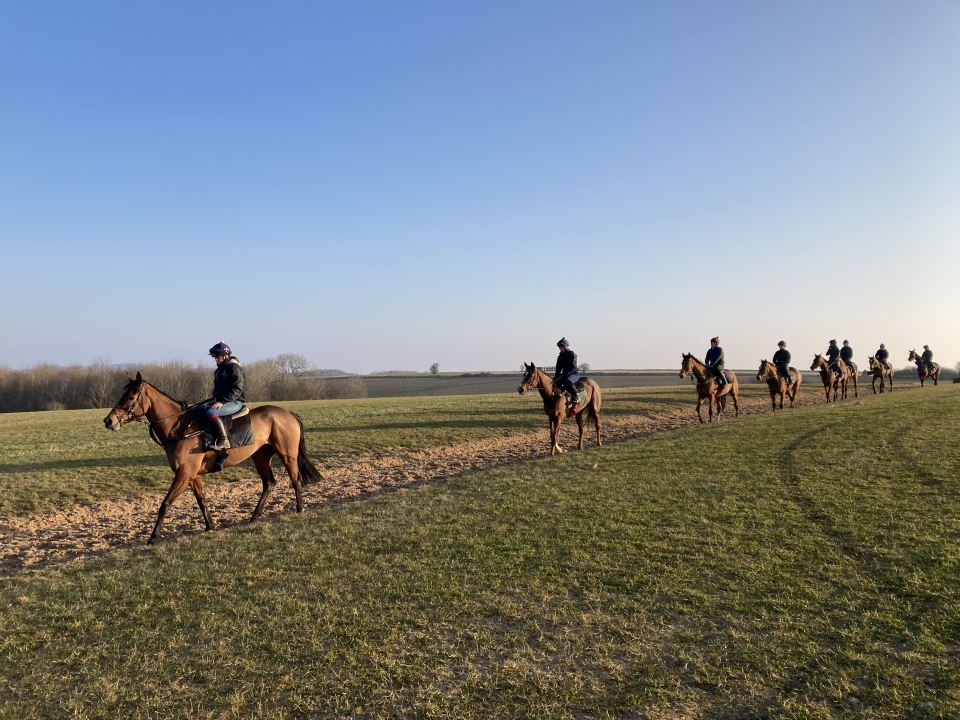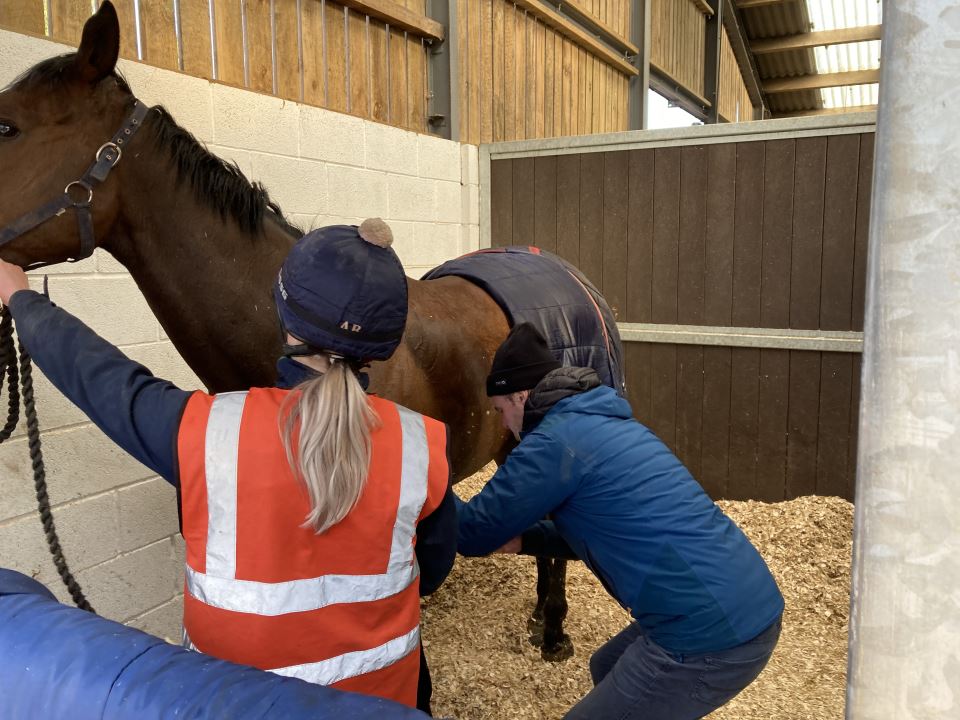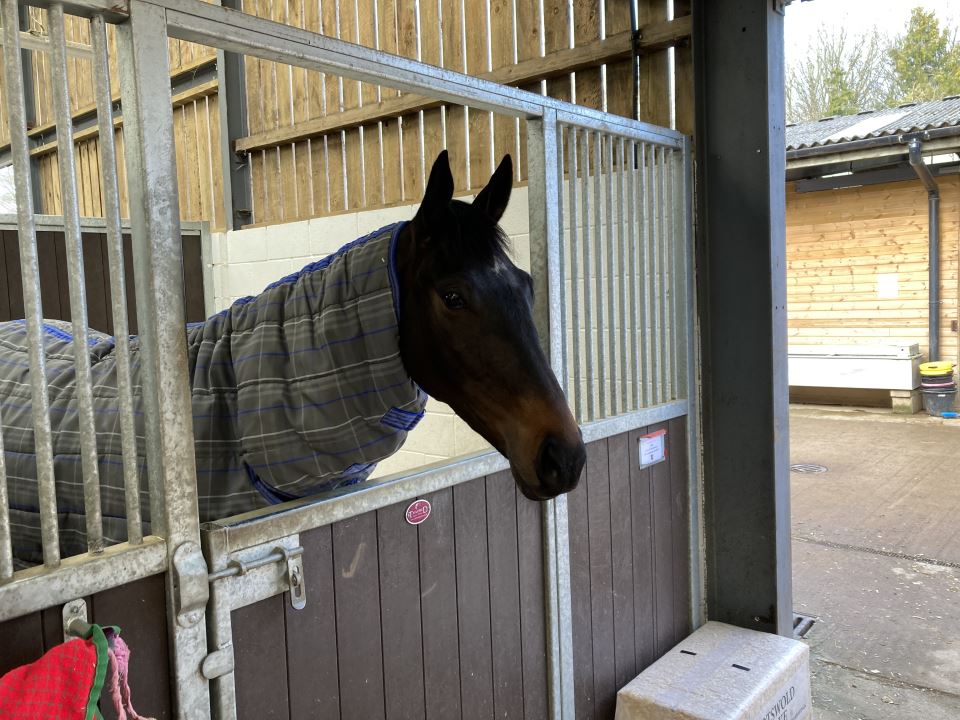 After Ravenswell we popped down to Ivy Lodge Farm to see the three horses there. Sunset Melody had arrived that morning to continue her convalesence after suffering an unfortunate pelvic fracture a couple of weeks ago. She will have 2/3 more weeks box rest before resuming exercise on the walker. Queenohearts is also with Jason, just for a short break away from Kims to freshen her up. Fran was keen to see the new boy who arrived with Jason last Sunday. By the time she saw him on Tuesday, he had got a set of front shoes on, and had lunged and been driven in long reins. Jason really likes him - he has a pedigree, is very well put together, moves great and has a wonderful mind - you couldn't ask for more really! He goes into training with Gary Moore in July, and already this week we have sold two of the six shares, and have a meet up planned before racing one day in Cheltenham next week, with one exisiting and one potentailly new client about shares in him, I have no doubt he will be fully subscribed pretty quickly! 07909 518902 or email nickbrownracing@gmail.com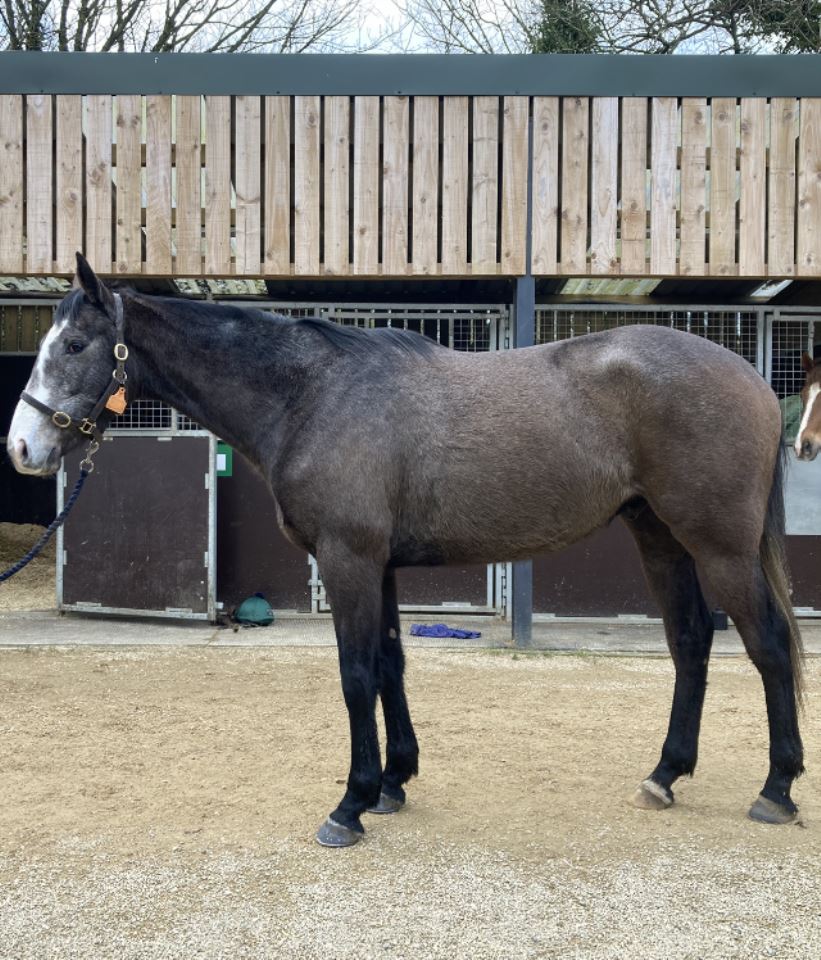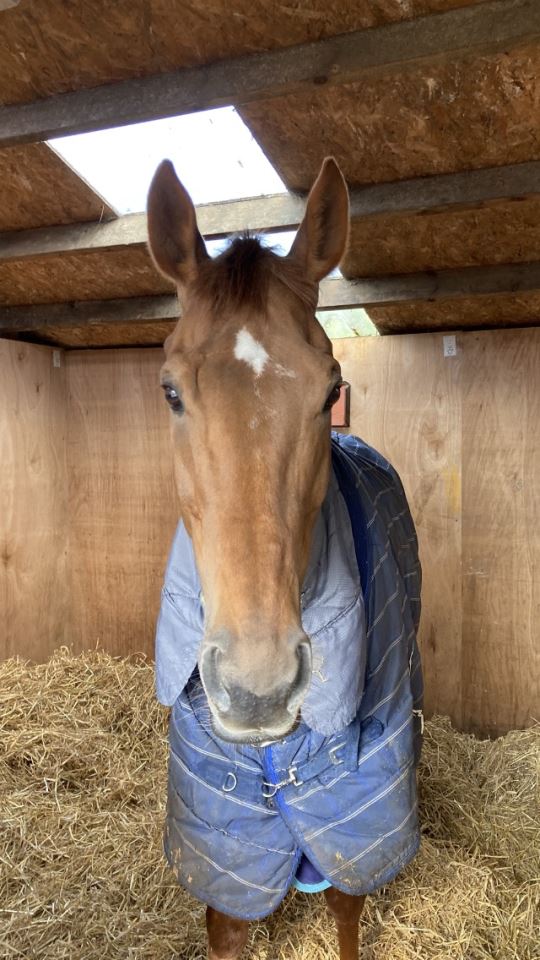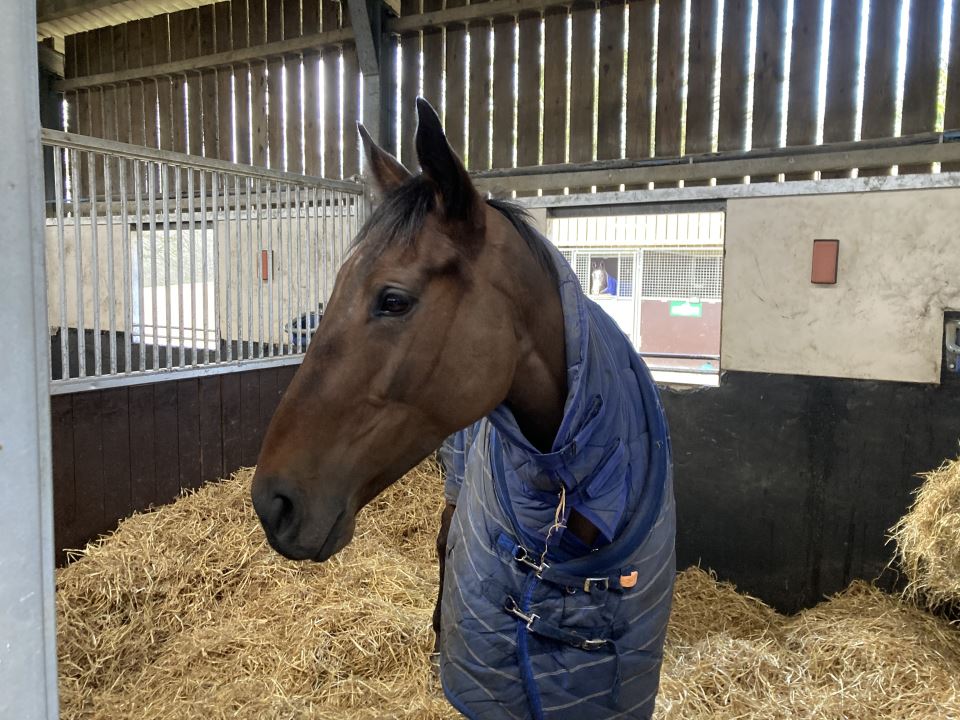 Stuart called to say he had entered Go Millie Go in Plumpton on Monday, and that it looks like Classic Ben will have to run over an extended trip again when next seen, as the only races he has found in the calendar that are suitable are all over those distances. Ciaran had advised that a 3m handicap where he was towards the top of the ratings would be ideal - but there isn't one of those in the programme book - he will have an entry or two soon.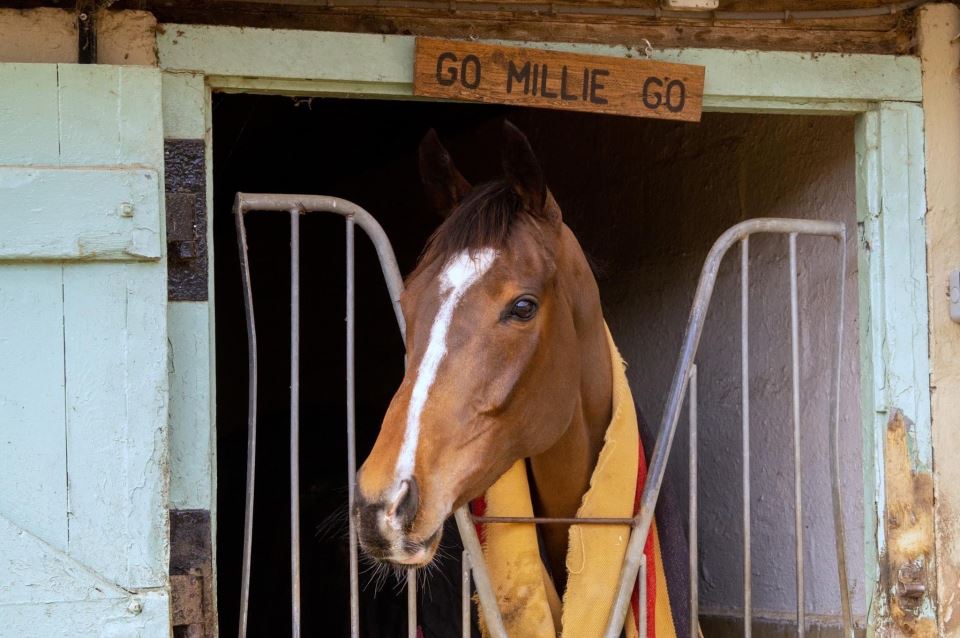 Wednesday I caught up with Charlie Poste to get a progress report on 'Dean' - He is really pleased with him, he gave him a couple of days to settle in, and now has him going along nicely. He describes him as strong willed and tough - a lot like his mother - but he is delighted with the way he is going as he is forward going. After the Festival I will get up to Charlies and get some photos of him, and launch his syndicate proper. Saying that we have already filled a third of the 25 available spaces in him, and that was just from a mention on Twitter. He goes into training in July with Donald McCain - and will be aimed at the new National Hunt Juvenile hurdle series which kicks off in October. He is ideal for that, and looks sure to give his syndicate a huge amount of fun! Message me for more!
Thursday - declaration day for Saturday - Hidden Beauty declared in the Listed Bumper in Sandown, Volkovka missing Hereford.
The rest of Thursday organising owners badges for a team of 30 syndicate members that wanted to see Hidden Beauty run. Sandown are a great team to work with, and over a good few years we have built up an excellent working relationship with them. We will alwys do our best to alleviate numbers pressure on the O&T facility if we can, and they in turn always find us a hospitality box for our owners/members. Although they now use a far bigger facility for their O&T's it is still something we do with them and it works well. In over 20 years of running syndicates I have never had to ballot for O&T Badges for clients, our larger syndicates are set up so that we can always find a way of not only guaranteeing a badge for every member that wishes to attend, but also accomodating their guests as well. No additional badges have to be paid for in advance, and we ensure that everyone gets to spend the day together in the same space, along with paddock access to see their horse, trainer and jockey. We pride ourselves on being able to offer the very best raceday experience for our members - it takes a bit of sorting out - but having a large group all together at the races is well worth it!
Friday - Go Millie Go not declared in Warwick on Sunday - instead she heads to Plumpton on Monday.
Saturday we,and a huge group of owners headed to Sandown to see Hidden Beauty contest the Listed bumper. This hugely talented mare had destroyed her opposition on her debut in Ffos Las in the autumn, but had been pulled up sharply in a Listed bumper in Cheltenham at the end of January. She had suffered an irregular heartbeat that day. Tests at home had proven that the problem had righted itself, and continued checks all the way through had proven that she was physically A1 to run. Once again she looked a picture in the paddock, and looked very enthusiastic going to post as always. Paddy held her up in rear as usual and although keen for the first furlong or so she quickly dropped the bridle, which actually isn't like her, and was an indication of what was to come. She lobbed along nicely at the back, and Paddy was tracking the favourite into the straight, but as the taps were turned on and he went for the next gear, it just wasn't there, and although she got no slower, she just didn't quicken. Post race tests revealed that all was fine with her heart, and her post race demeanor suggested that she hadn't really let herself down fully - obviously lacking confidence after the events in Cheltenham. This was the start of the rebuilding process, which will not happen overnight - so her season is over, she will remain in light work and have a school over hurdles, and head off for a good long break next month.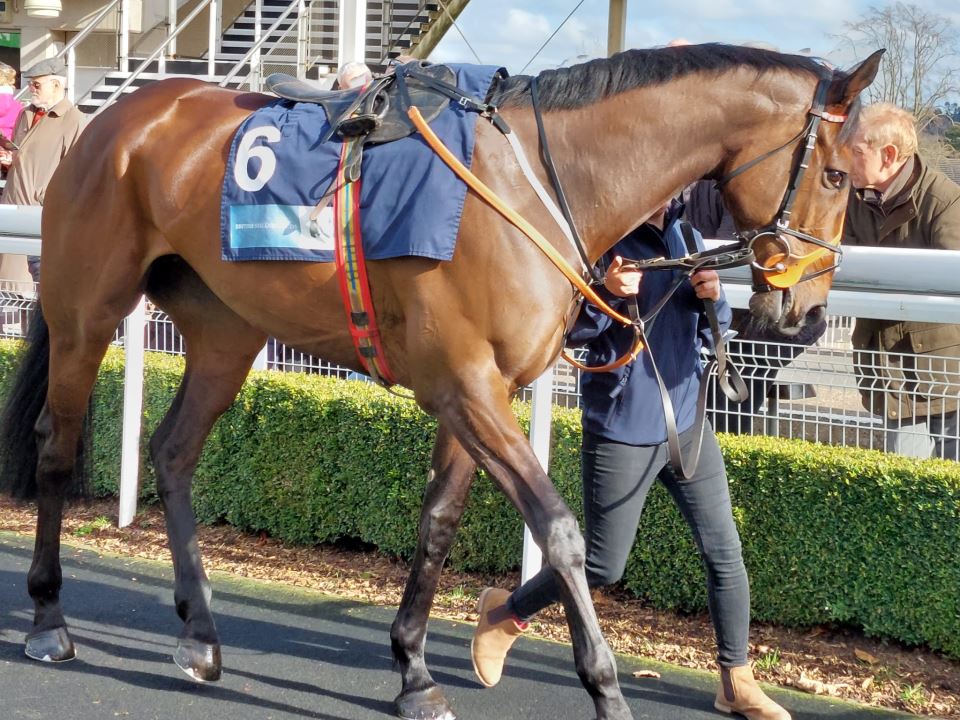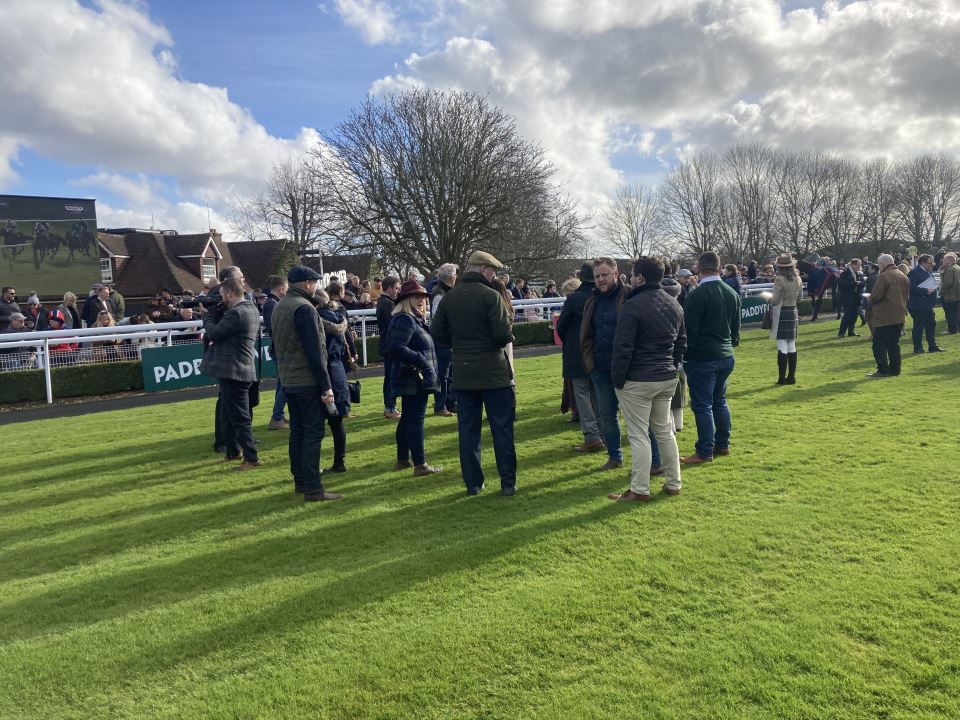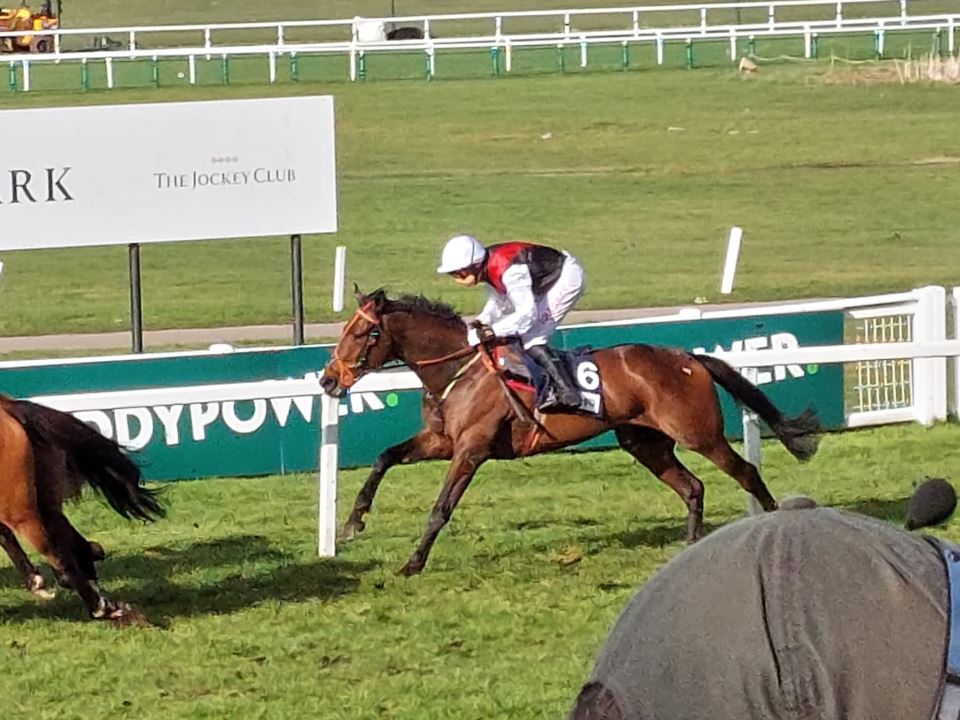 Despite the result it was a really fun day with the members that could make it there, and take advantage of the hospitality box we organised for them. Elizabeth was making her first visit back to the track in 50 years - and bought with her a very special trophy. Yesterday was Imperial Cup day, and Elizabeth had brought along the trainers trophy for the 1959 running of the race - won by Langton Heath and trained by her father in law. They don't give out trainer trophies like that these days! It certainly made a lovely conversation piece for those in the box!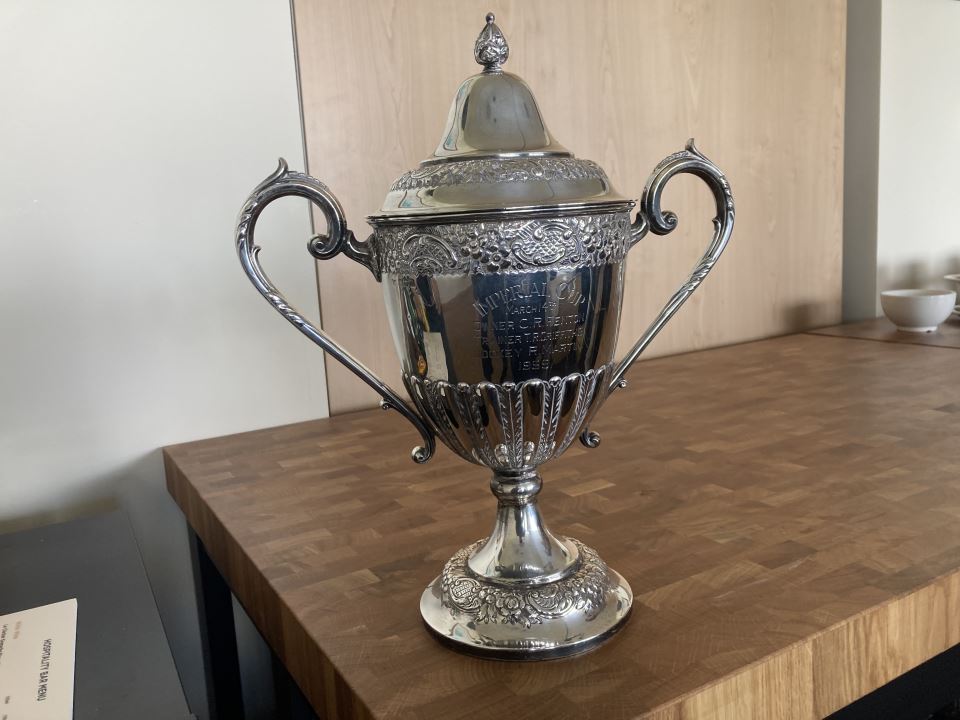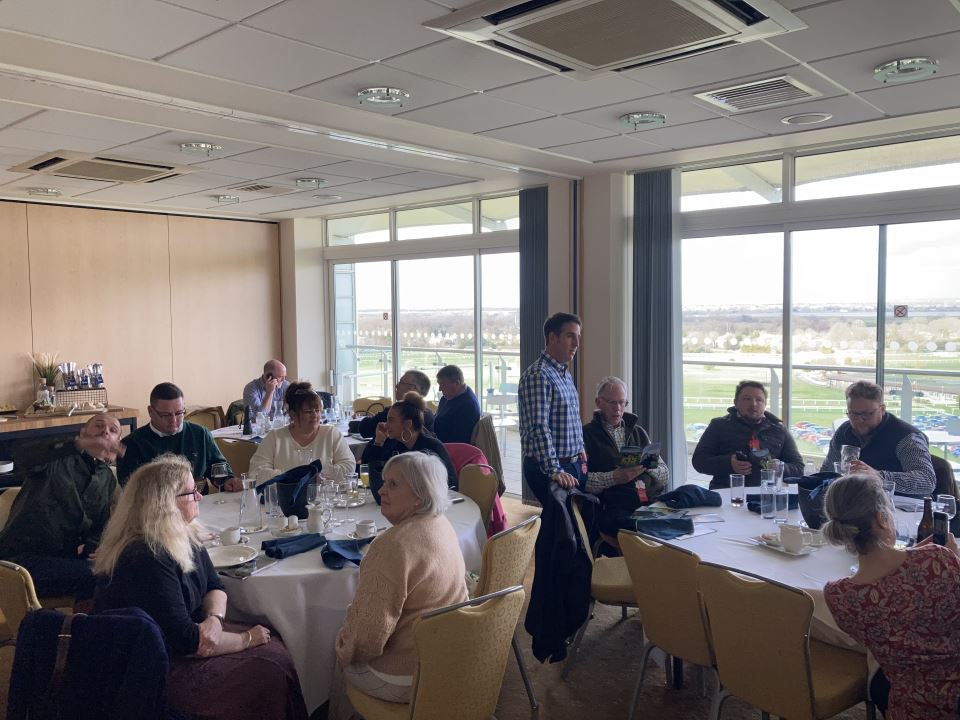 No Warwick this afternoon - another Birthday lunch.
Next week Cheltenham - fabulous to be back there after a two year break - really looking forward to some great racing - great fun, and the chance to catch up with a host of friends and clients. No runners there - the next will be next Sunday.
Have a great festival everyone - if you can get there in person or are just watching on the TV - If you are there it would be good to see you - give me a shout and I will see you for a Guiness!!