The Usual Order!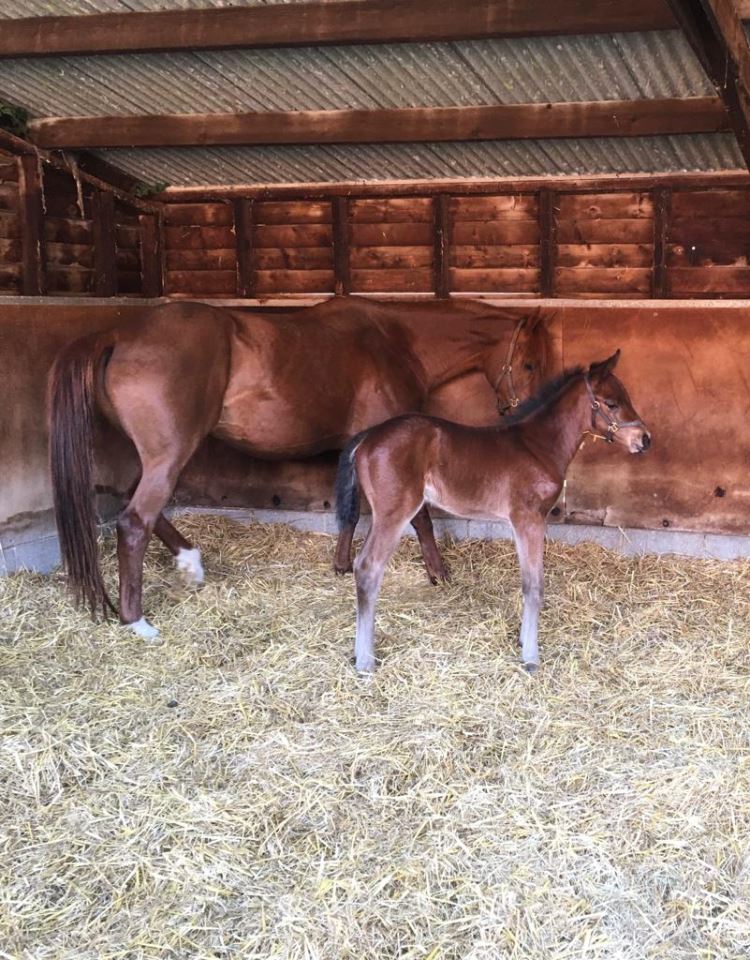 We have another new horse on the squad! Floyd arrived late evening on Monday, when Savingforvegas succesfully delivered a lovely colt foal by Falco. She is such a wonderful Mum, not least as she has produced five foals in six years and they have all been bay colts. In days of old, bay colts were exactly what breeders were wanting, but with all the hard work that has been put into the promotion of the mares division lately, a filly would have been welcome too, as it would have been 100% qualified for the Great British Bonus that is attached to mares bumpers and juvenile,noviceand maiden hurdles, along with certain novice and beginners chases, worth a cool £20,000 should they be good enough to win. With this young mans arrival came the headache of finding him a stable name - we like them to have a 'Vegas' theme. and we have used quite a few of music ones with Elvis, Frank, Dean, and Barry, and we also like their stable name to begin with the same first letter as their sire, as a small 'aide memoire', but with this lad being by Falco, and having already used a Frank we were scratching our heads a bit - that is until Wednesday night in a Cheltenahm restaurant, when three parts of the way through a very sociable dinner after racing, that involved far too may 'Old Fashioneds', and 'Whisky Sours' Alex went down a different path and suggested a boxing themed stable name - so the little lad instantly became 'Floyd' - after the legendary Floyd 'Money' Mayweather, the outstanding multi weight World Champion who fought so many of his title fights in Las Vegas! Lets hope this little foal grows up to be as talented and tough as his name sake! Both Mum and son are doing great, and she will head of to be covered by Golden Horn this time round.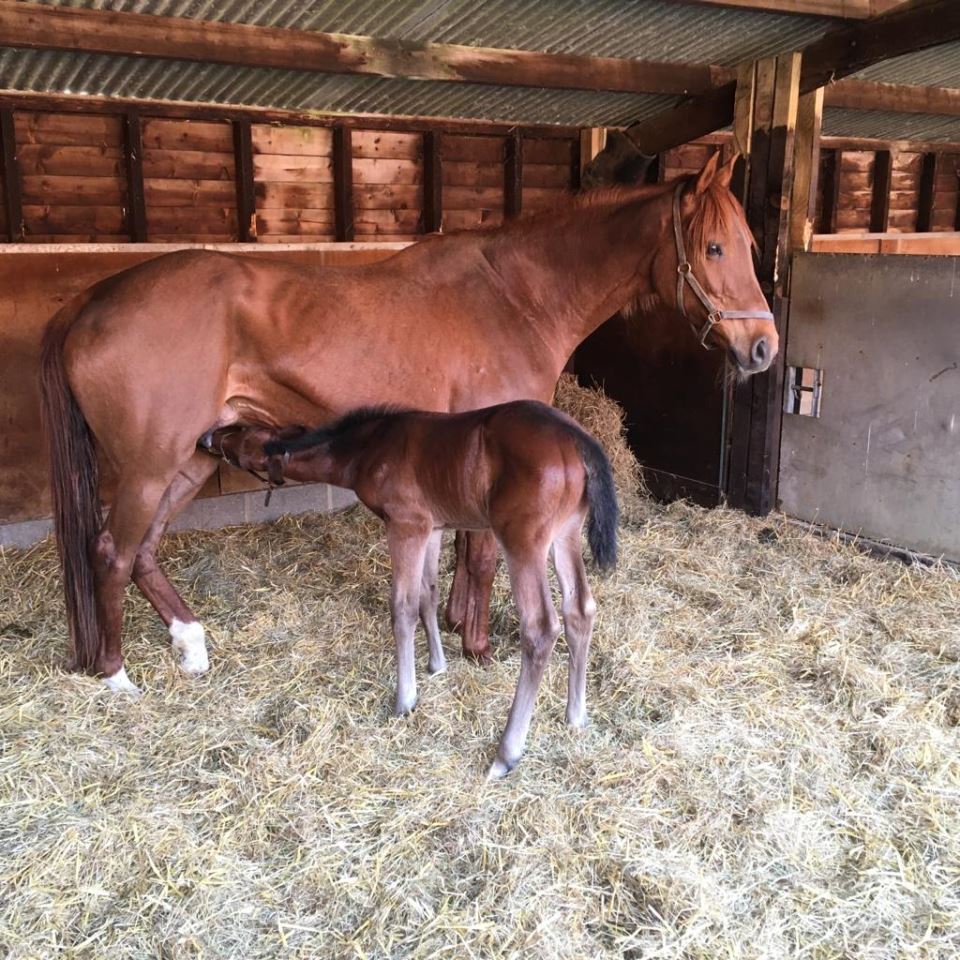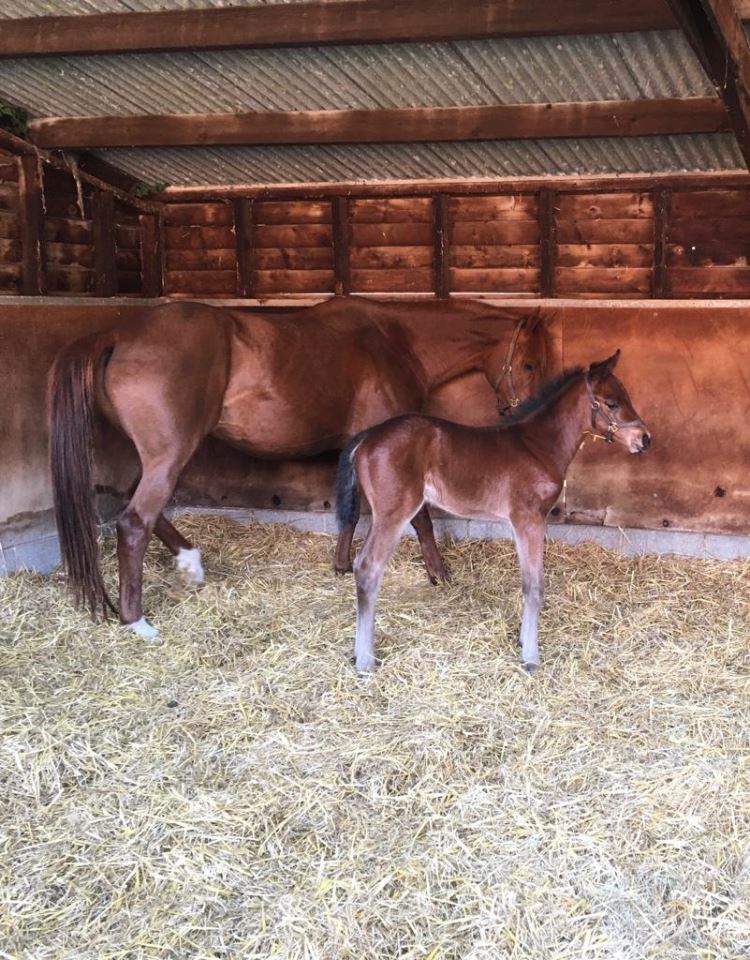 On Wednesday we headed down to Cheltenham - slightly later than planned, but we got down there in the end, thankfully, after the really heavy shower early in the card! It was good to meet up with a few friends and clients during the day, and talk about their new horses, and horse boxes - great to see Fergal get a double on the day too! I wasn't able to get my usual berth at The Kilkeney for this week, and with the Easter break this weekend resulting in a lack of hotel rooms, I found myself down in North Cerny at The Bathurst Arms - a nice Pub, with comfortable rooms, and a very decent pint of Guiness! After a quick change after racing, it was a taxi back into Cheltenham to meet up with Alex and Bob, who had booked a table at The Tavern, and kindly inviited me to dinner with them. I knew what to expect, and they didn't let me down, the aforementioned Old Fashioneds, and Whisky Sours flowed freely, the food and company was great, and a good night was had by all! After the lads left to grab their train back to Birmingham, I had a wander up to Montpelier to see who was about and after sampling the Guiness up there - I headed back to The Bathurst - where of course the night continued in the same vein. It was an excellent night - thanks to Alex for solving the 'name game' with Floyd, and thanks for all the whisky based cocktails - even when I said I don't drink whisky! I was bang on when I texted him to tell him ' Bob is a legend, and you are a nuisance'!! He didn't disagree!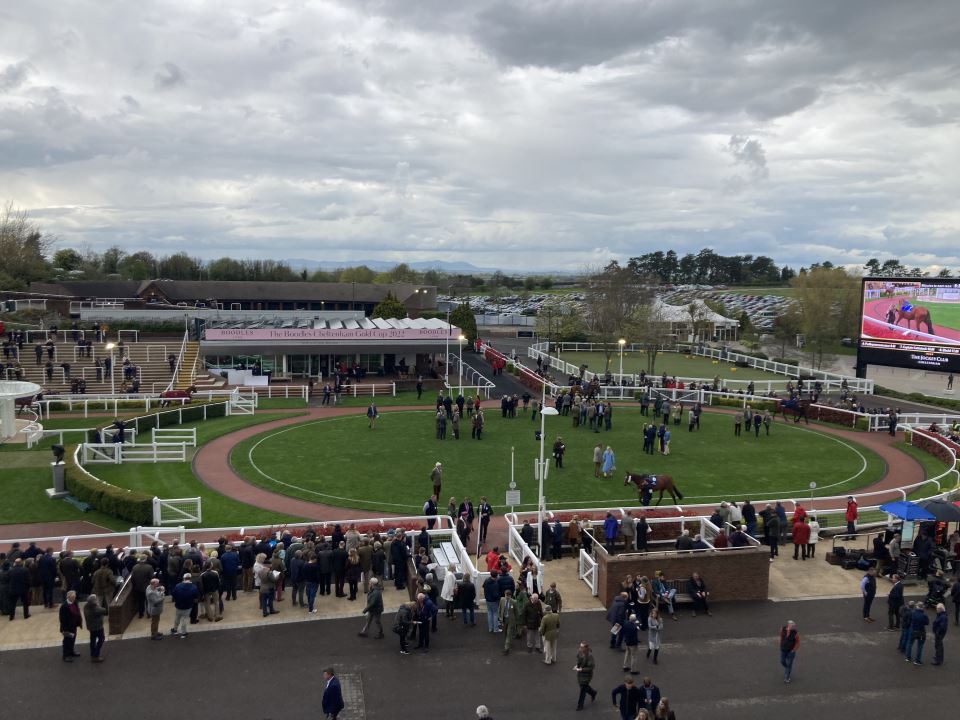 Thursday morning arrived all to quickly, and was greeted with a bit of a sore head! In to Ravenswell before 7.00am, and a bit if fresh air, and coffee did the trick - not to menton Rosies cookies - Rosie had been a semi finalist on the Great British Bakefoff, and won the Christmas Special and she had brought along some home made cookies when she arrived to ride out a couple of lots - I can see why she made the top four in the Bake Off!! It was good to see Steve Holloway (not Paul Hollywodd) who was in to see Blue Bikini, who is now back on track after she struggled to cast off a very nasty respiratory infection over the latter part of the winter, a new regime seems to be really helping her.
A beautiful morning watching Mamoon Star and Fortune Forever do their routine canters, and Blue Bikini have a school over hurdles - they all look really well - and it was good to sit down and discuss options with all three. Mamoon Star getting an entry in Ludlow next week, a race that has been a target for some time for him - a 4 yr old only bumper, and one in which he will have the huge benefit of three runs under his belt against some inexperienced rivals - but he will only take his chance if the ground is suitable. Fortune Forever plans were left fluid, and Blue Bikini will be aimed at a race in early May. Thursday afternoon, Steve and I met up with Paul Wells at the races and had a very enjoyable afternoon. Great to see Alan Gibson and Kevin Copperwheat there, both with a share in Fences Farm runners on the card, and thanks to Olly and Aidan Murphy who were kind enough to take us through to The Cotswold Club for a drink and a bite to eat. A chance meeting with Adrian Heskin at the end of the afternoon put some solidity into the plans for Fortune Forever. Adrian had ridden her in a piece of work last week alongside a nice ex Irish Point to Pointer who was ridden by Paddy Brennan. Both jockeys agreed at the time that it was a good piece fo work and when I spoke to Adrian on Thursday he said that he had really liked Fortune Forever, but that she was a bit weak. He said that she would run well in a bumper this spring should we wish to - but that a break and a summer at grass would do her the world of good and that she would be better again in the Autumn. Thursday night was a more subdued affair - although there was plenty of excitement as West Ham crushed Lyon and reached their first European semi final for 46 years!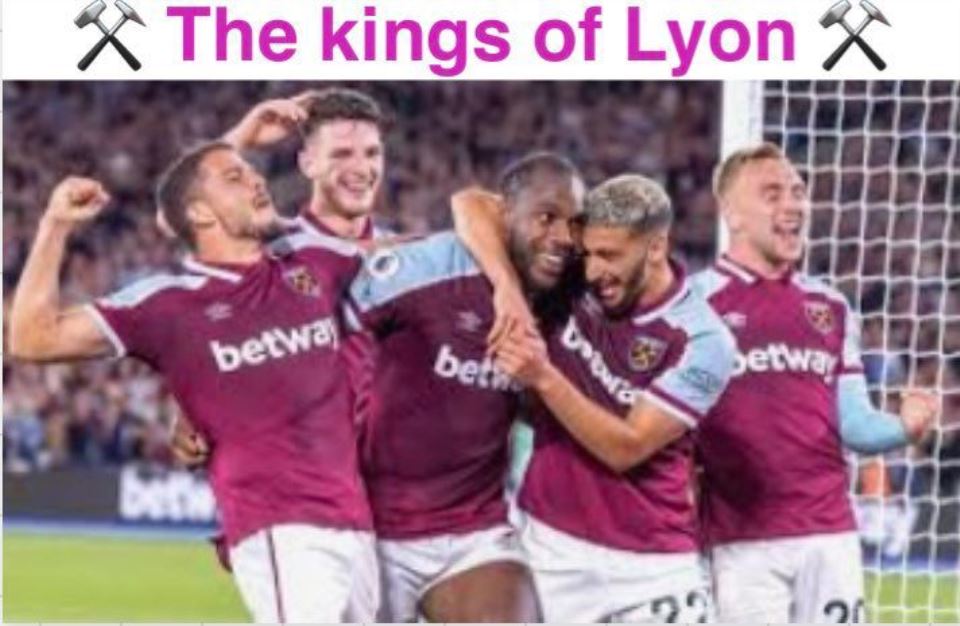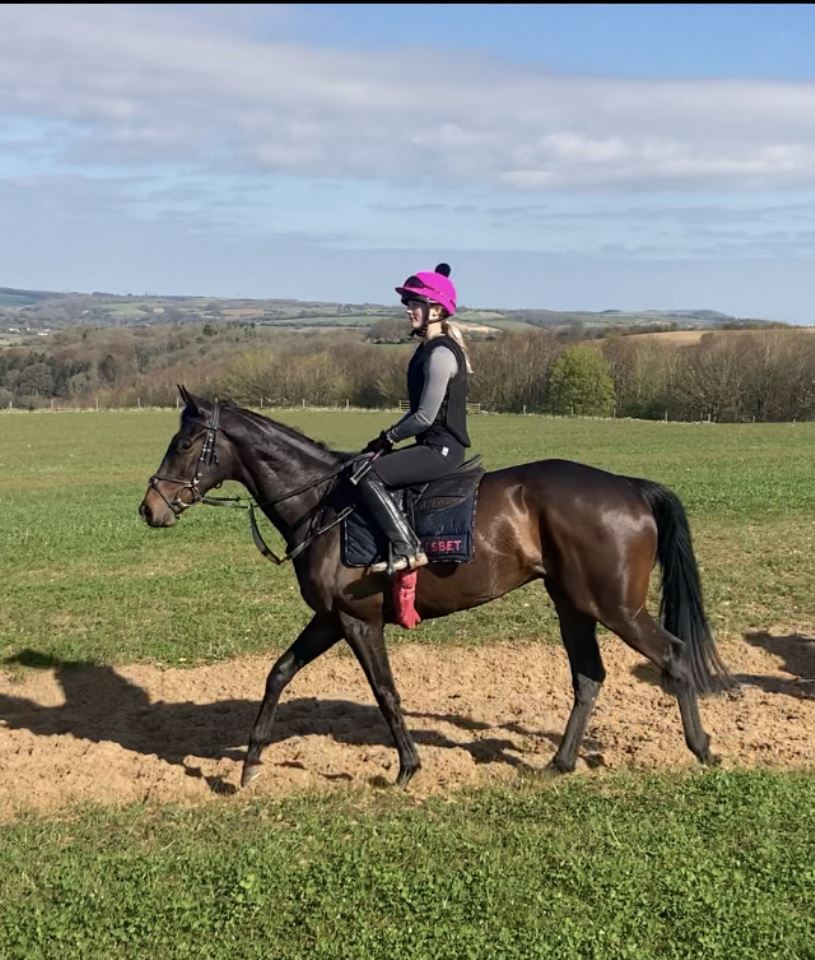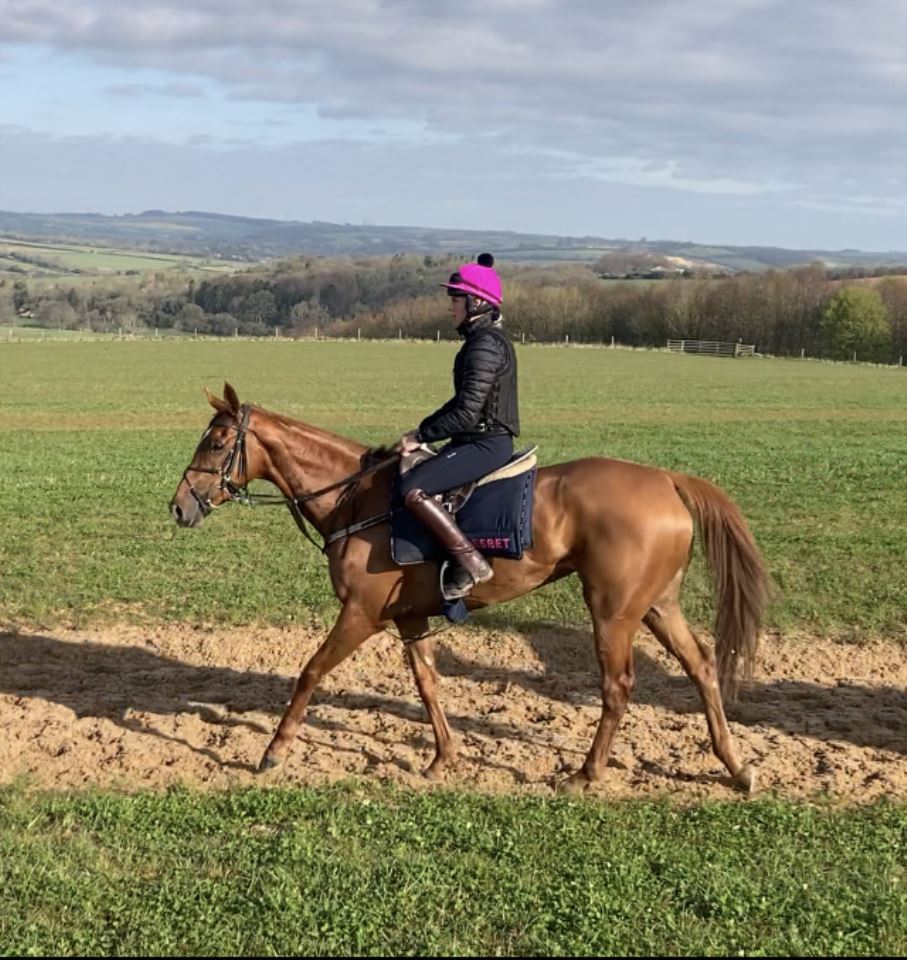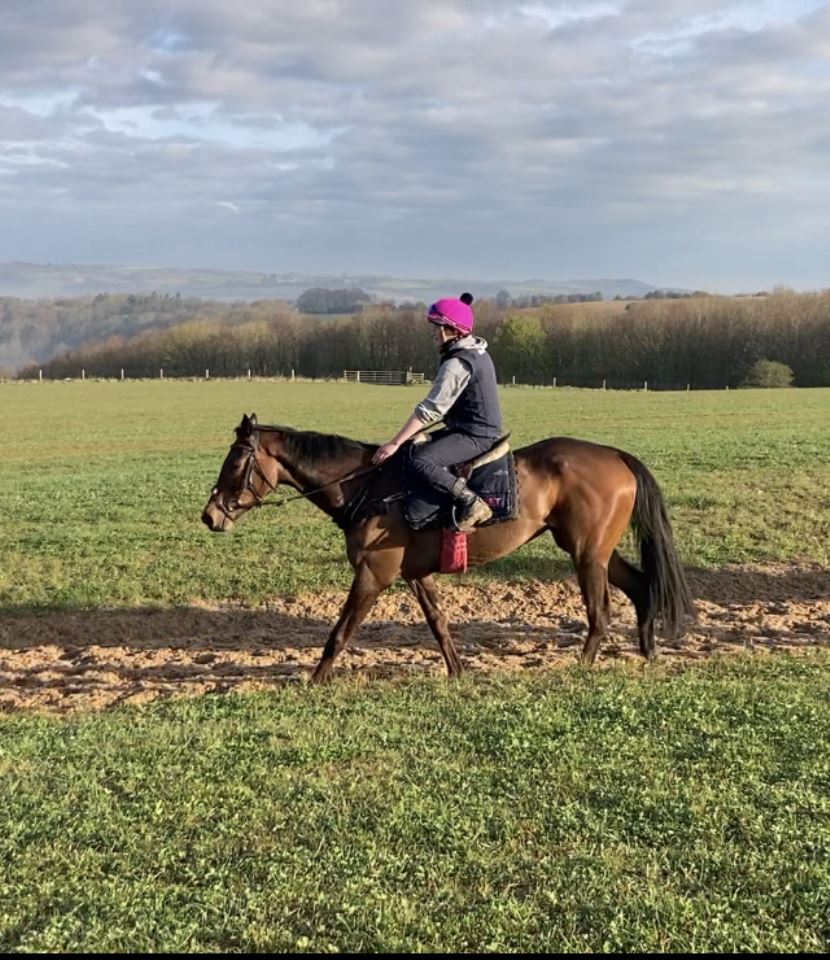 Friday and back to Ravenswell to see all three horses work, and all three went really well. Great to see Jack and Katie - there to see Mamoon Star. After I metioned the chat I had had with AH the day before,myself, Sally and Ferg all agreed that if the syndicate members were happy with the plan, we would wait with FF until the autumn. I put it to the group later in the afternoon, and everyine that got back to me (via Paul), agreed that if Adrian said wait - the best thing was to wait - so she will be let down slowly and head out for a summers grass.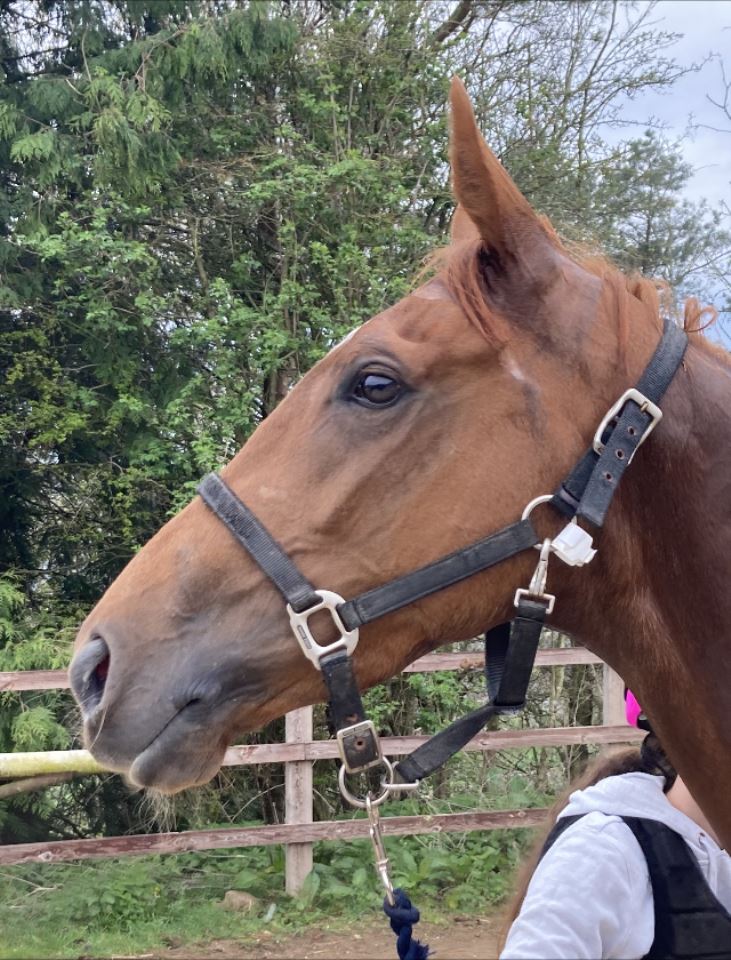 On from Ravenswell to Ivy Lodge Farm to meet up with Chris and Rachel who came to se their new horse - well he wasn;t their new horse when they arrived, but he was when they left. A slight directional issue meant that their arrival was delayed - not their fault, and if we arange to meet at Ivy Lodge Farm in the near future, trust sat nav, not Jasons web site - so they missed him warming up in the new arena, but they did get to see him do plenty of cantering on the round gallop, before being washed off, and enjoying the sunshine in the paddock. Jason likes this young horse very much - he says he is a great mover, and although he is very weak at the moment as you would expect, he is extremely well balanced, and has the right attitude - he will keep going forever for you. Chris and Rachel were equally impressed with him and took a share in him - they were also blown away by the facilities at Ivy Lodge Farm - Jason and Lauren have kept on improving year on year, and now their work is almost done - it is a simply stunning facility, and one we think is vital to our horses well being, right through their careers.
It was good to see Stuart in Cheltenham on Thursday, we had a chat about Classic Ben, and having discussed an entry in the Highland National in Perth next week with Ciaran, they have thankfully decided against it as the track would not suit CB - he excels on big stiff tracks, and he would need 4m6f around Perth! He will be aimed at a Class 2 chase in Uttoxeter at the end of the month, and if the ground isn't soft enough on the day he will head off on holiday.
Go Millie Go left on Thursday afternnon for her new life as a broodmare in Ireland - she arrived at her new home on Friday, and her new owners are delighted with her, and had promised to keep us all up to speed with her progress. We received a lovely email from them, and wish them, and Millie the very best of luck for the future, and hope that their faith in her is repaid.
The rest of the team are all in good order - Yauthym is still up at Martins Hill, and is going very well in her work - she will be out again early next month. At Ivy Lodge Farm, Sunset Melody will be assessed by the vet again next week, and will start back on the walker - after having chatted with Kev the vet on Friday, he suggests that after a spell of controlled exercise on the walker she should have a further period of recuperation in the field, and come back into training in mid summer. Volkovka and Hidden Beauty are both looking great and chilling out in the spring sunshine during the day. They will head back to The Elms with the Jukebox Jury when he has finished his work.
As mentioned it was very kind of Olly and Aidan Murphy to invite us for drinks and food on Thursday afternoon at Cheltenham, and good to get updates about all of the horses there - Auditoria has two entries in Perth next week - they may come a few days too soon, but they were both worth entering and having a look at. She is in great form, and this will be her last run of the season before going chasing in the back end. Tintagel Queen is now back being ridden and all is well with her - he will get her canteirng again, and see where he ends up with her before she heads back for a summers grass. The two horses at Warren Chase owned by clients are really well to, both schooled this week - one over hurdles on the strip, and he was very very good, and will be ready to run in 2/3 weeks - the other was schooled over poles in the arena by Laura Collett, who described it as the best young horse of Olly's she has ever schooled there - we knew the horse was a natural when we started with it last year - but that was very nice to hear from the Olympic Champion!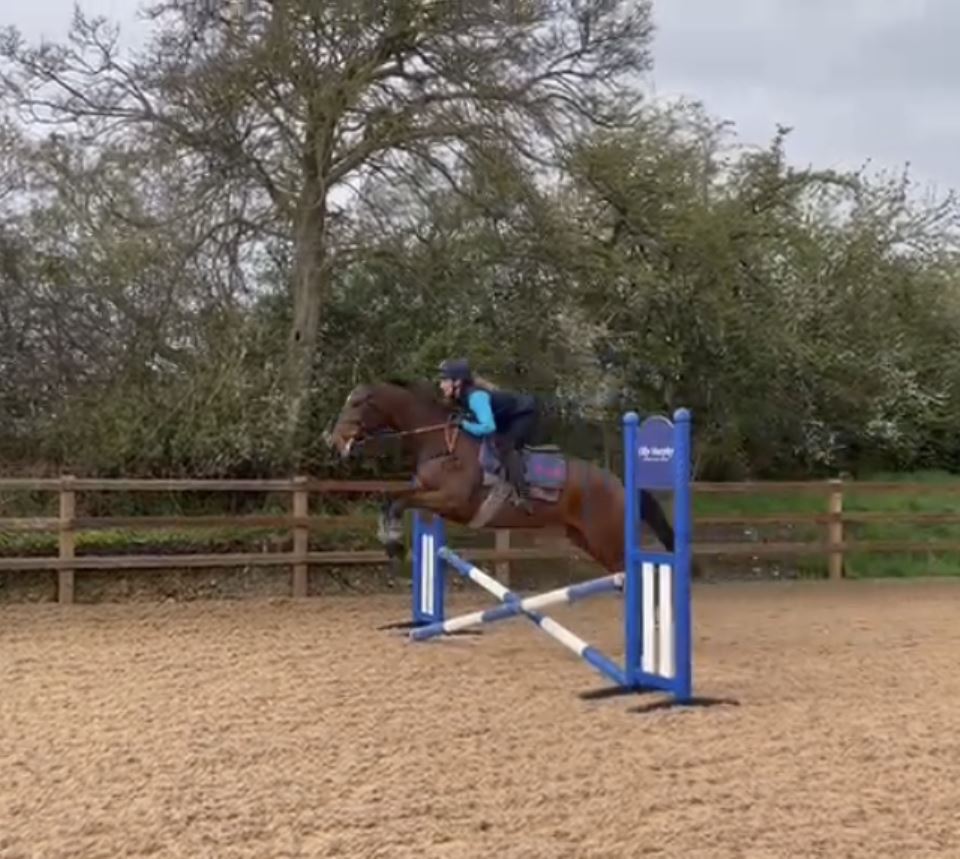 Up at Charlie and Francesca Postes - Dean continues to progress, he will have a few more weeks there, and return to The Elms before heading to Donald McCains. There are now only a handful of shares left in him - please get in touch if you would like to join in with the fun - no capital cost, just an all inclusive £25/week - the start of which we have delayed until he goes into full training on July 1st! nickbrownracing@gmail.com for more details - or call me on 07909 518902.
Depersate to see Josh Moore take another heavy fall yesterday, and this morning we have learned of the extent of his latest injuries - a fractured femur which requires surgery, broken ribs, suspected fractured vertebra and a punctured lung! Having just returned from injury, this is a huge blow for him, and we wish him all the best for a speedy recovery.
Next week looks fun! Tuesday we will be in at The Elms to see Floyd, and the rest of the horses there - we now have Molly Childers left to foal in early May - Savingforvegas and her new foal, Barry the yearling, who has been in for a while with an infected knee, but who is now out in the field with his pals again, Frank the 2 yr old by Blue Bresil, and the Jukebox Jury 2 yr old filly (who is simply stunning, and now a half sister to a black type performer) and the 2 yr old Muhtathir - who looks like being a very special horse for the sales next year! We also have the three year olds there, who will be going to the sales this spring/summer. The filly by Highland Reel has begun her prep, the geldings by Kayf Tara, Youmzain, and Jukebox Jury will begin theirs very soon.
On Wednesday we will be in Ludlow to see Mamoon Star, and from there head up to Doncaster for the Goffs UK Breeze Up Sale on Thursday. After the sale on Thursday I will head back down to Cheltenham Thursday evening, and head to the Tattersalls Ireland Cheltenham Sale at the racecourse on Friday, where we hope to be busy!
Subject to confirmation of arrangments there could also be another yard visit to see some clients on the way home!
Let's hope it's a succesful week!!
Happy Easter everyone!!