Best Laid Plans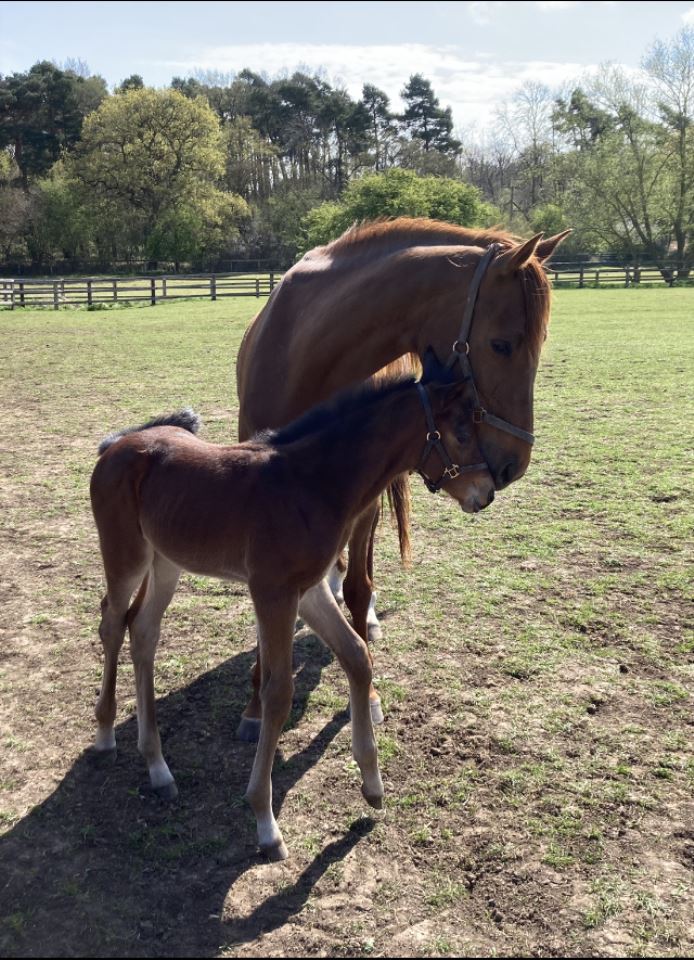 It was all go again this week - horses sold, horses not sold, new owners, non runners, road trips and a bit of bad luck!
Monday was spent finalising a deal to sell Queenohearts - her season had come to an end - and her owners had taken the decsision to sell her as a broodmare - and with the clock ticking on through the breeding season there was no time to lose to arrange a deal that suited all parties. This was finally done early on Tuesday, and with all of the veterinary work done already it was a simple job in the end. Queenohearts left Thorndale Farm on Friday morning, and we wish her new owner the very best of luck with her, and look forward to seeing her foals in the future - who knows we may even get to buy one back! Thanks to Kim and Matt and the team at Thorndale for their work with her this season - we had hoped to et going with her earlier - but that was not to be, and in the end she only got to run on 'her ground' the once - missing out by millimeteres in a bobbing finish in a valuable chase in Lingfield.
Talking of foals - on Tuesday we got to see Floyd for the first time - born the week previously, I had been itching to see him, and he was certainly worth the wait - what a boy he is - by Falco, out of our mare Savingforvegas, he is a big, tall strong lad, and everyone likes him a lot! Mum and son are doing really well - Floyd will either be sold or syndicated at 3 yrs old - so we will get to enjoy seeing him develop over the coming years, and see what he turns out to be! We also got to go round the stud and see the rest of the stock that are there - the three year old geldings will start their preparations for their sales dates tomorrow - they all look great. The Highland Reel filly really is very nice, and she is well on with her prep for her sale in Newmarket next month. The two year olds are all developing very nicely - the Muhtathir looks to be a special boy, Frank - our homebred, by sire of the moment, Blue Bresil is also very much going the right way, as is the Jukebox Jury filly, who of course is now a half sister to a black type horse - so her pedigree just gets better and better all the time. Barry our breeding syndicates yearling by Blue Bresil, out of Savingforvegas had been in for a short spell with an infected knee, but all is well with him again now, and he has been back out in the field for a couple of weeks. Now we are just waiting on Molly Childers to deliver her first foal - due in around a weeks time.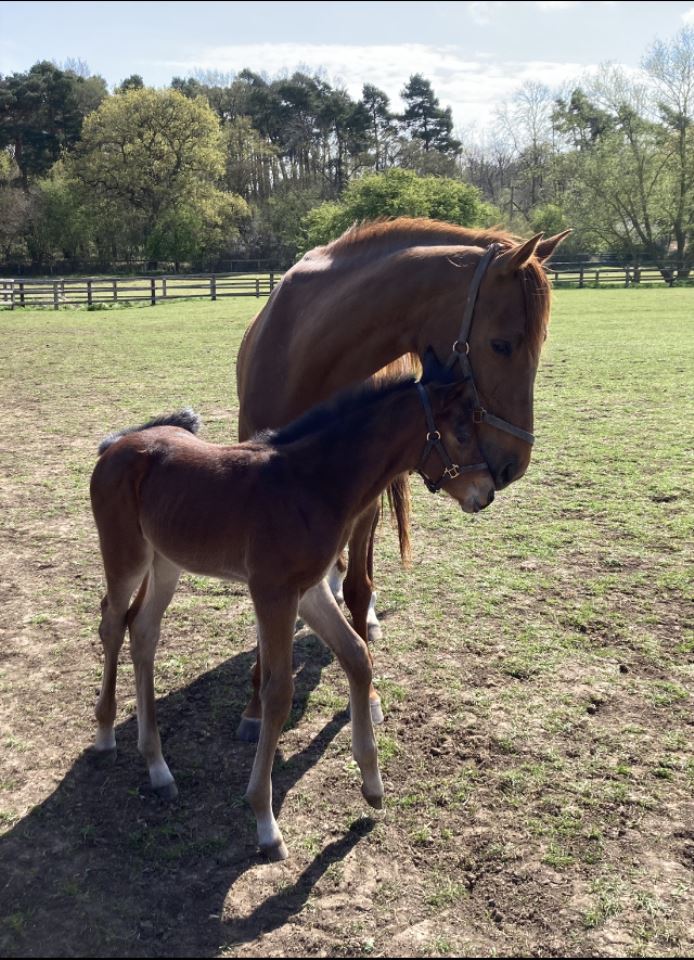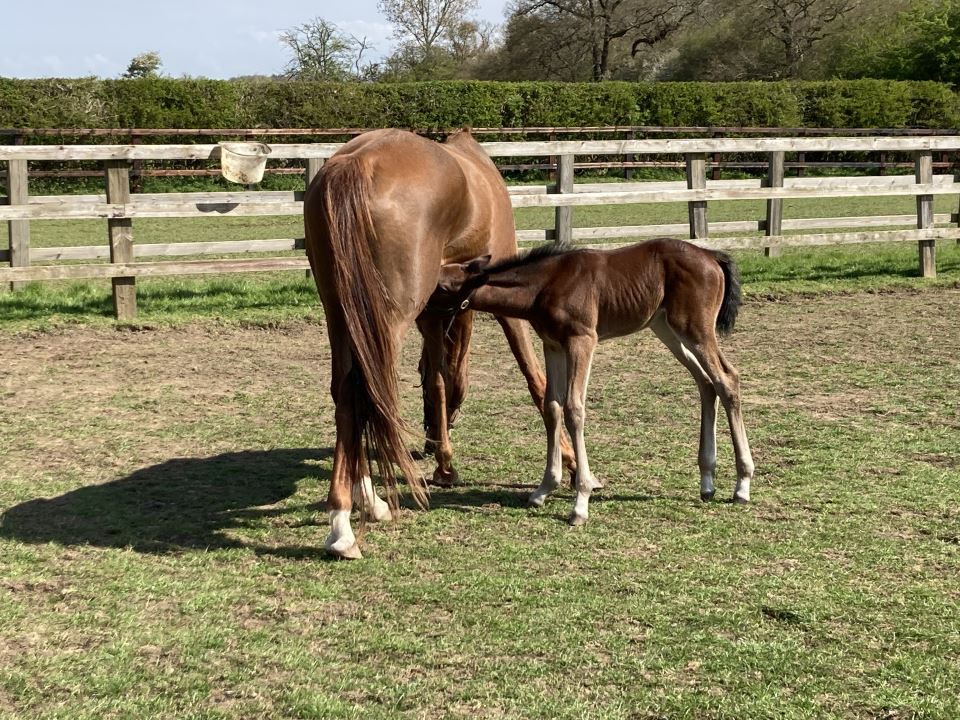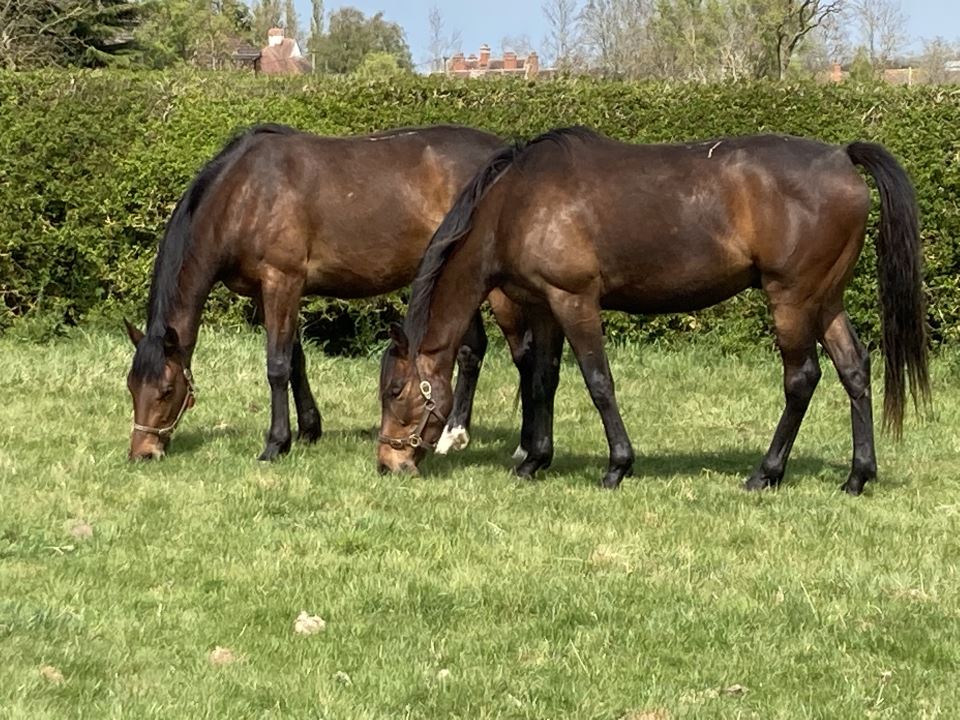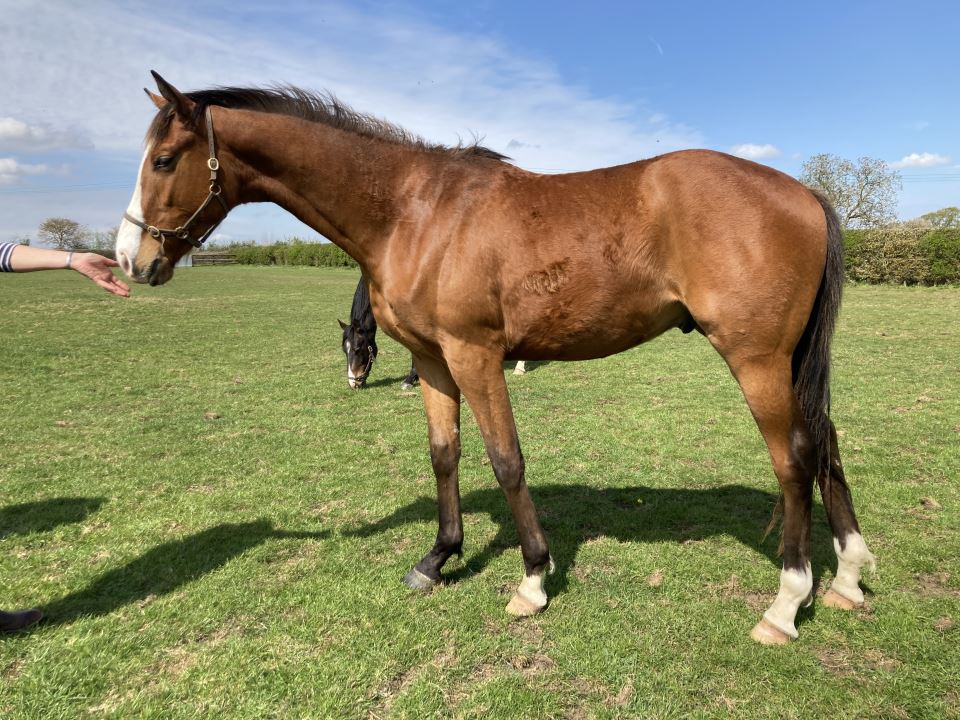 Wednesday had all the makings of a great day - we really were hoping to end the season on a high. Mamoon Star declared to run in his fourth and final bumper, a race that was to round of his season in Ludlow. This was a race for four year olds only, and only two of the declared runners had any bumper experience, he was made a short priced favourite. As you all know, MS is held in high regard, and we believe he has a very nice future. I had said to all of his owners in the run up to the race, that if the ground was quick on the day, as it can get at Ludlow, he would not be risked on it - the sunshine and wind had me worried, but he headed of to Shropshire in the hope that the ground would be juicy enough. On the same day, Auditoria was declared in the final race of the first day of the Perth Festival - an amateur riders race - over three miles - we have always known that she would benefit from stepping up in trip, and when James King felt he had to stay local as his partner was due to give birth any day,Olly had booked a very promising amateur in Jamie Brace who works for Jonjo O'Neill. Auditoria had started over 2 miles at the start of the season, and won well over that trip in Catterick, and also managed to pick up valuable place money all through the spring, but with track form around Perth, and the step up to 3 miles for the first time we were very hopeful of a big run, and with MS a short priced favourite in Ludlow - we really were hoping to end the season with a bit of a bang. Should have known better! I had a very busy morning on Wednesday and was late away - I was heading to Ludlow for MS in the bumper, the plan to see his race, watch Auditoria on the TV in Ludlow, and then head up to Doncaster for the Breeze Up sales on Thursday - I got to Worcester when Fergal rang to say that the ground was a bit on the quick side - no thinking necessary - we declared Mamoon Star a non runner and he went back on the lorry and back home. A real shame for his owners that had made the trip, but he is too nice to risk, and they did get to see him 'parade' in the horsebox park before he headed back to Ravenswell Farm. Having reached Worcester, I turned right and headed up the M5 towards Doncaster, knowing with a clear run I would be there by 4.15pm and in plenty of time to see Auditorias run at 5.16pm - A van fire as I joined the M1 meant that I got to Doncaster sales ground just ahead of the off, but at least I was there - could Auditoria end the day on a high? Travelling and jumping well, Jamie Brace had declined the frenetic early gallop and was riding a perfect race on her, the leaders had gone off far too quickly, and he has cruising into contention on her as they approached three from home. Sadly it was here that the day got worse - Audrey stepping at the flight, clipping the top, and falling. Thankfully both horse and rider were soon up, and although Audrey is a bit stiff and sore she will be none the worse for her capsize. Everyone is fairly certain that she was only in third gear, and if she had stood up she would have gone very close to winning if she hadn't have actually won - but they are there to be jumped, and she didn't - so that's why will never know for sure. A day that started with so much promise ended with a pint in the Doncaster sunshine, and a period of frenetic Whatsapping keeping her owners up to date with her well being.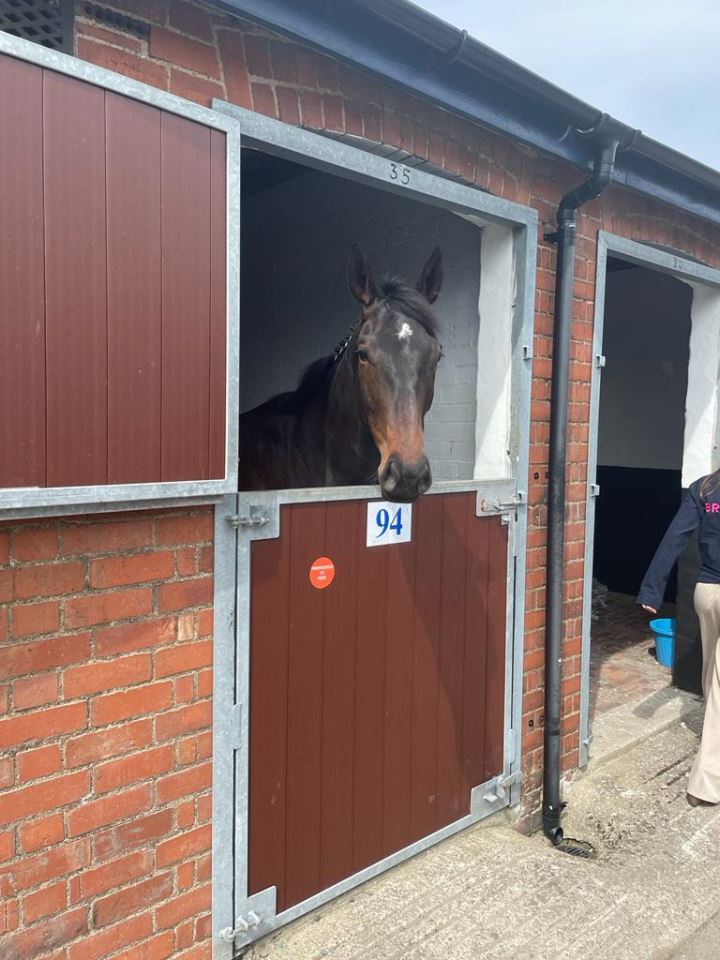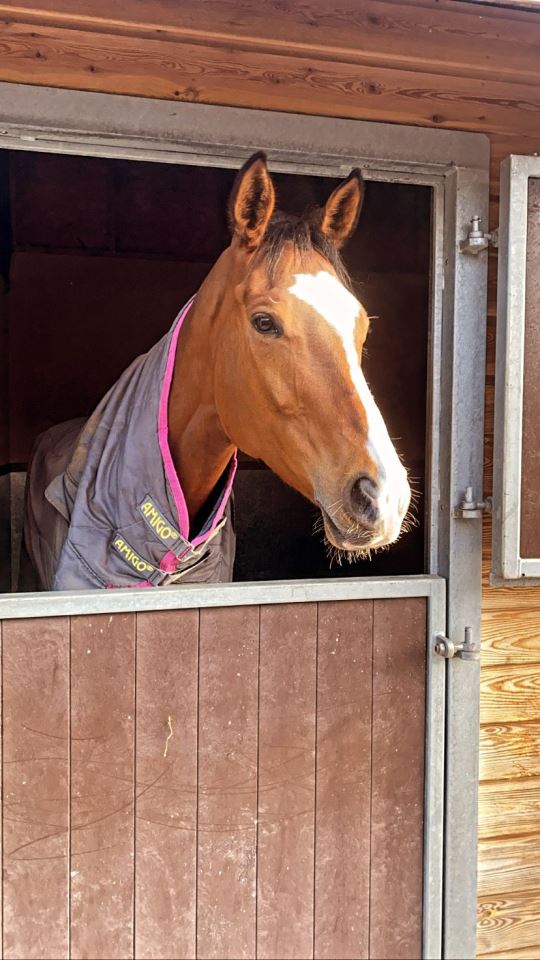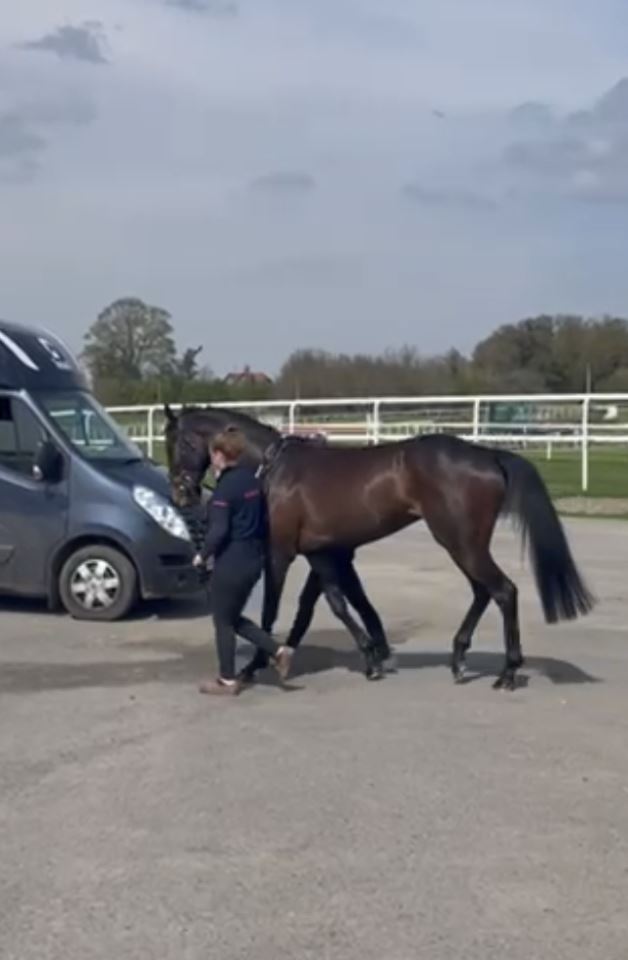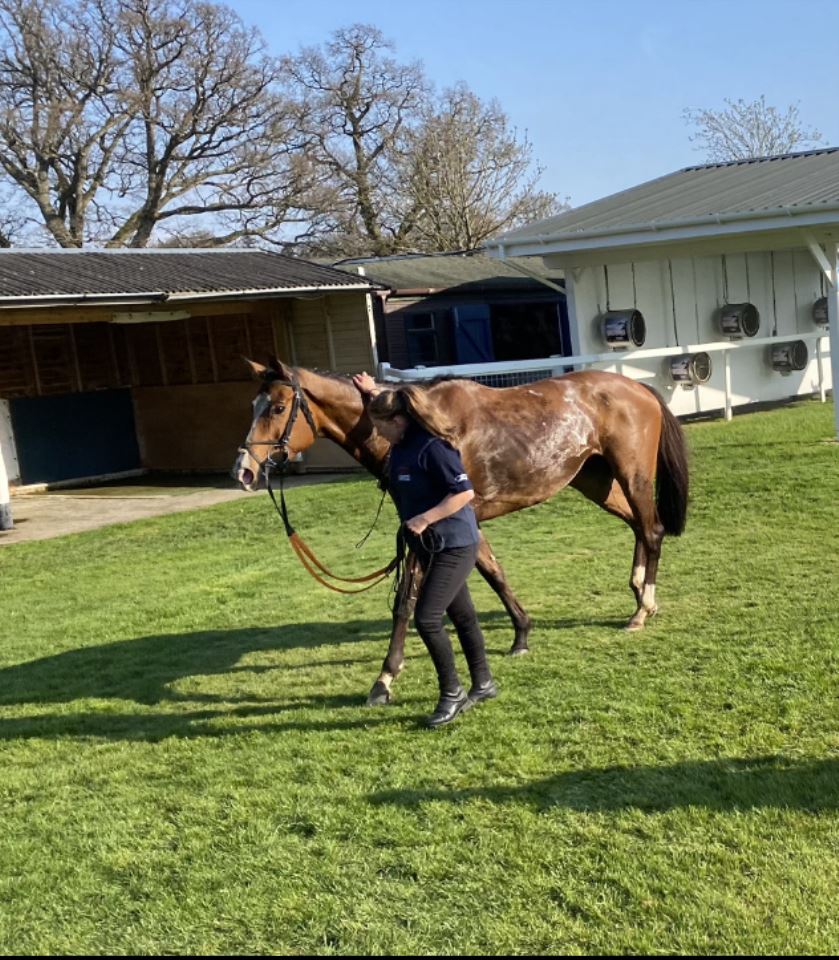 Thursday was the Doncaster Breeze Up sale, a strong trade, and a good clearance rate even though there seemed to be fewer buyers on site. Good to be back among the flat trainers, owners and agents, and see so many people we hadn't caught up with over the winter. This was not a sale that we had intended buying from, but we will be taking a keen interest in some of the remaining breeze ups over the next few weeks.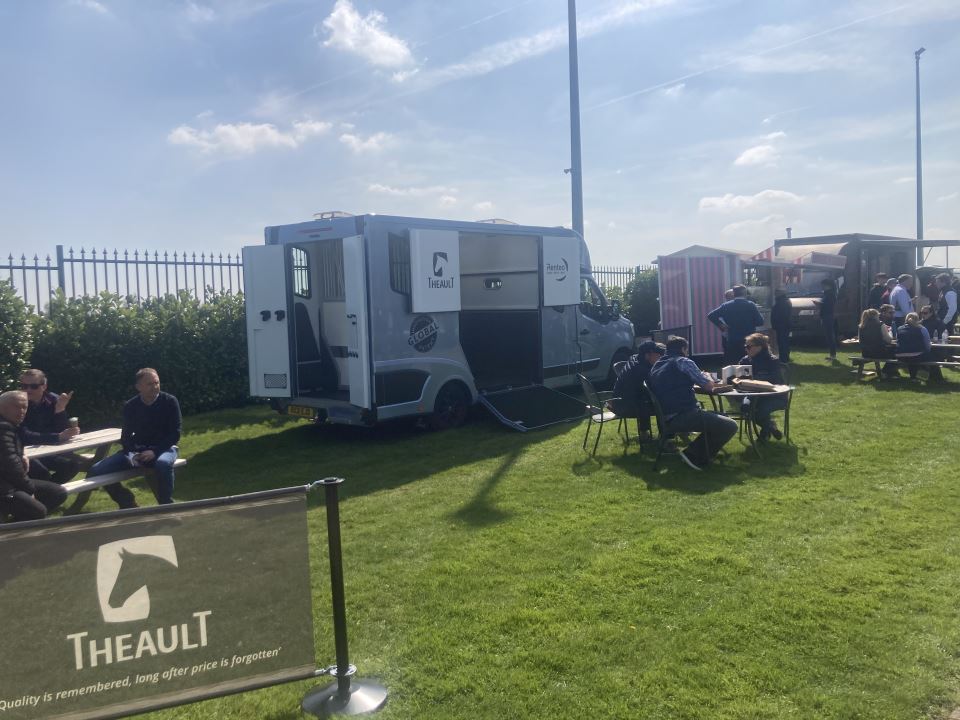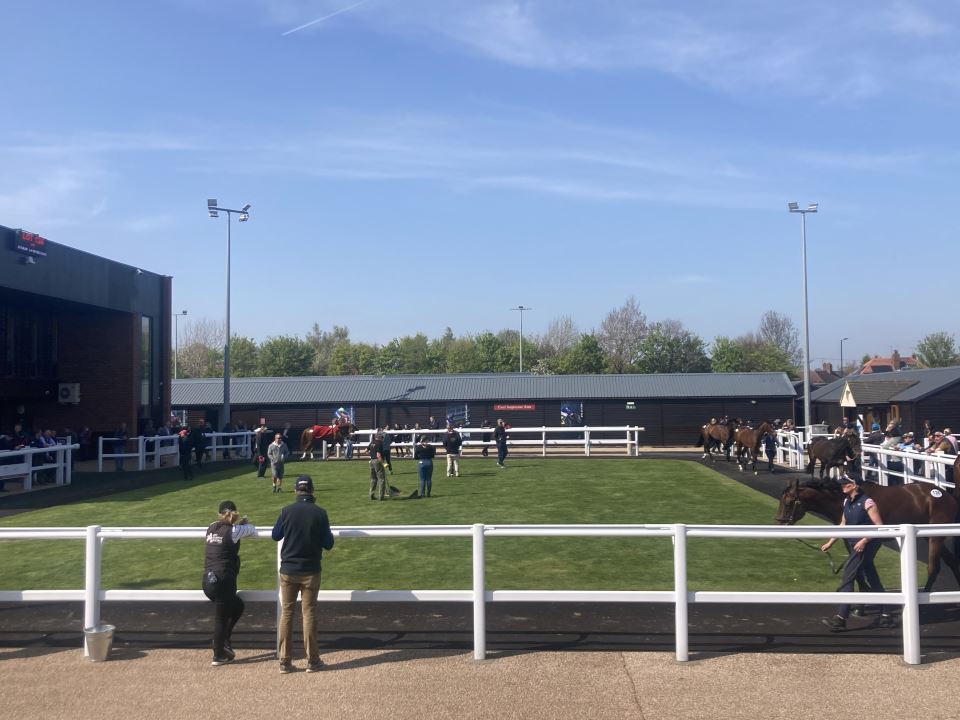 After the sale on Thursday I headed back down the M1/M5 route to Cheltenham. I wasn't able to stay with Kev and Jules at the Kilkeney this time, but did stop off there for a bit of tea and a catch up before checking into the Frogmill, which is just down the hill from them, and ideal for yard visits to Fergs and Kims. I can't review the breakfast as I had left before that started, but in the past it has always been very good.
Into Ravenswell early on Friday - good to see Blue Bikini do a lovely piece of work. She will have an entry in the next few days, having missed all of the spring so far with a nasty infection. Mamoon Star went out in the field as did Fortune Forever, both are due to return to The Elms next week.
From Ravenswell to the sales in Cheltenham - this time for Point to Pointers and Horses in Training. What most thought were a mixed bunch of hores still made for a good trade, although we weren't so lucky.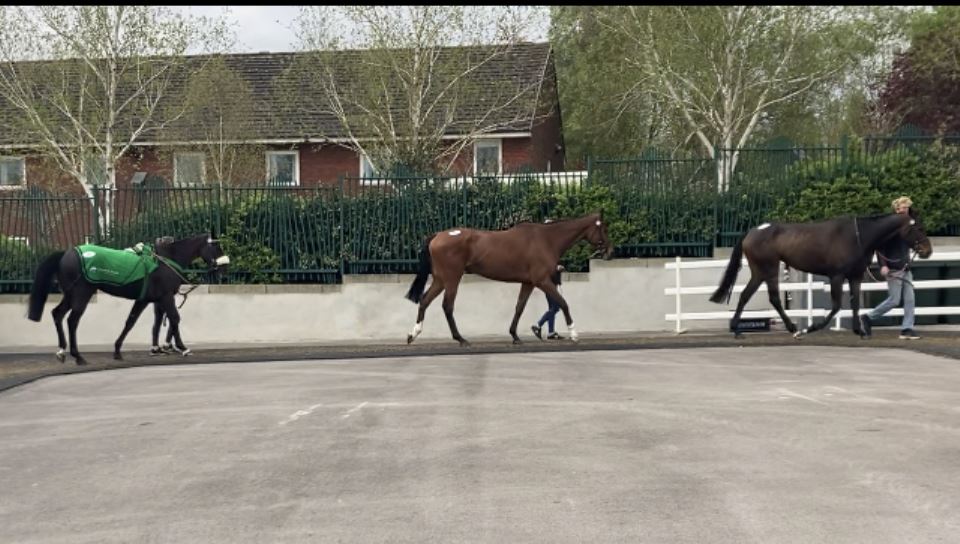 The day was still not over - it was on to The Elms Stud to meet a group of Molly Childers' owners, who were in to see her before she foals in a week or so. Good to see them all, and lovely to see Molly looking so well so far into her pregnancy. Hopefully I will soon be writing about a new son/daughter for her. It was especially good to see Kevin, who had especaillly wanted to see her after a few aborted attempts earlier this spring.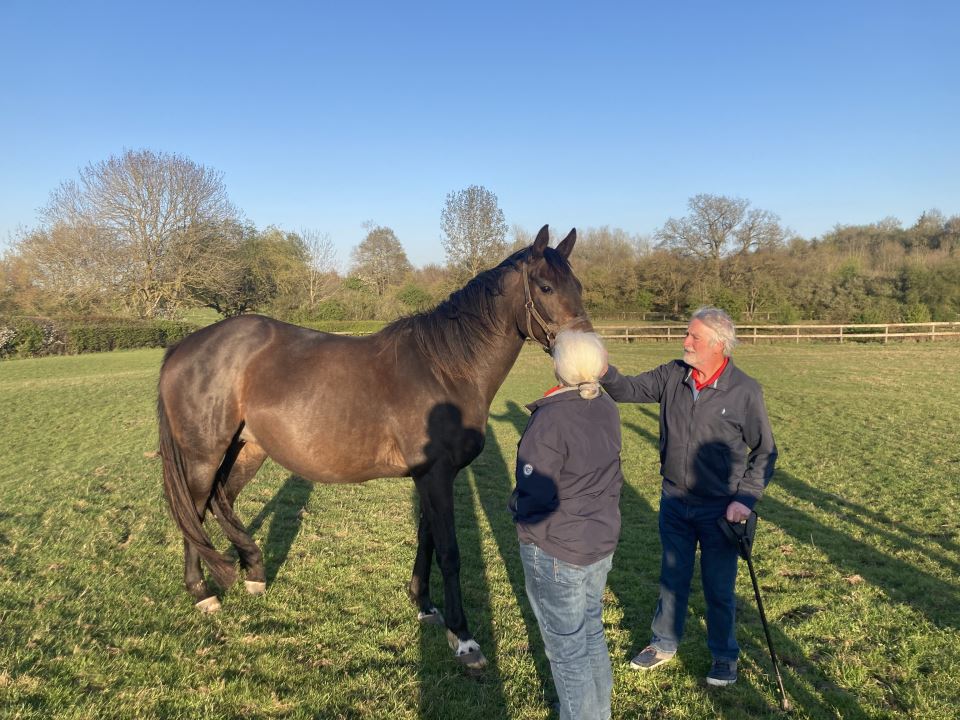 Saturday morning, three of us headed up to Olly Murphys - It was a morning to see clients horses and they all looked great - one will be running through the summer, and one will be heading home in a week or so after spending a month in at Warren Chase for Olly to get a handle on her, and for her to get accustomed to the place and the regime. Olly very much likes what he sees with both of them!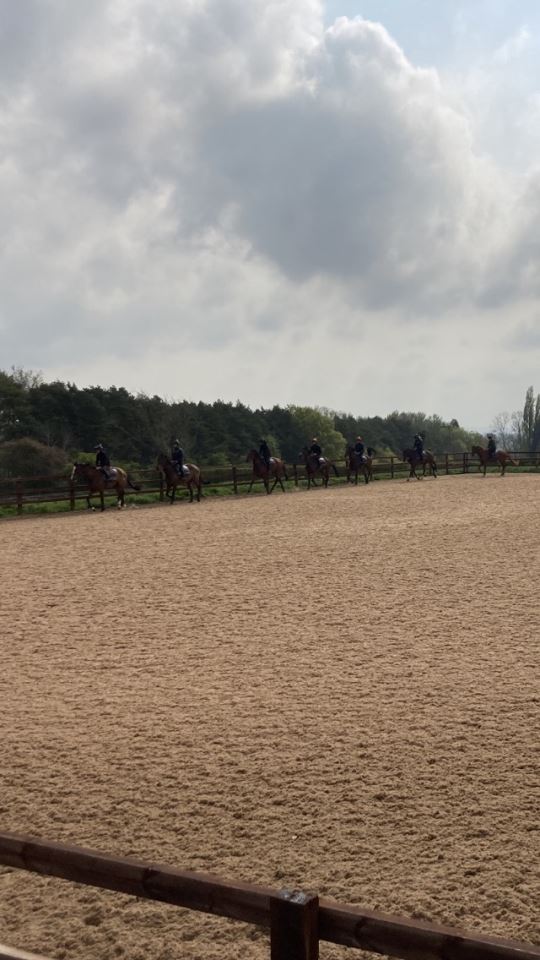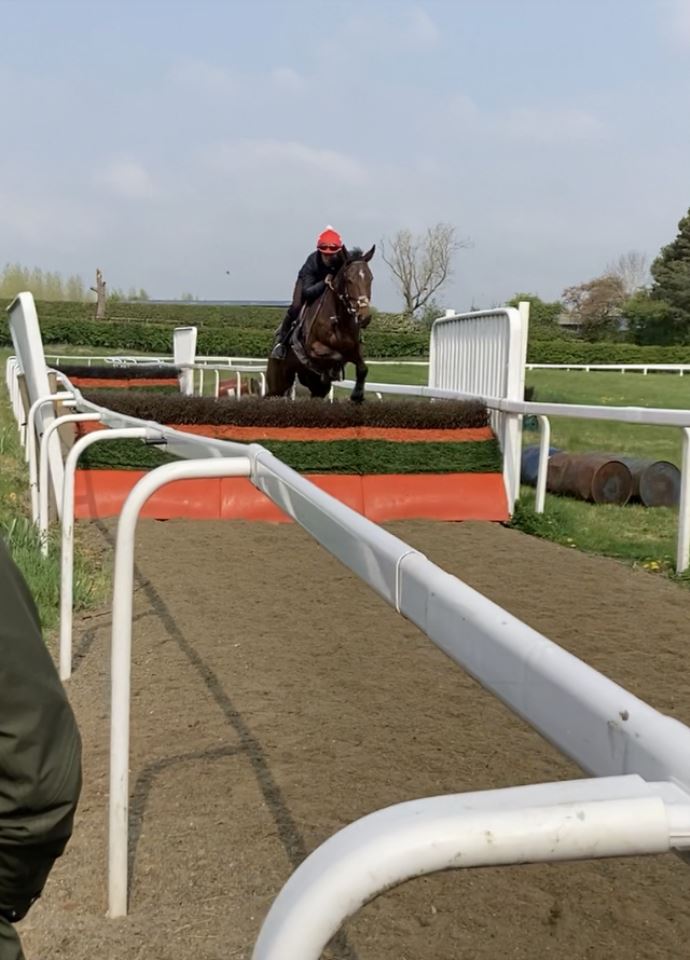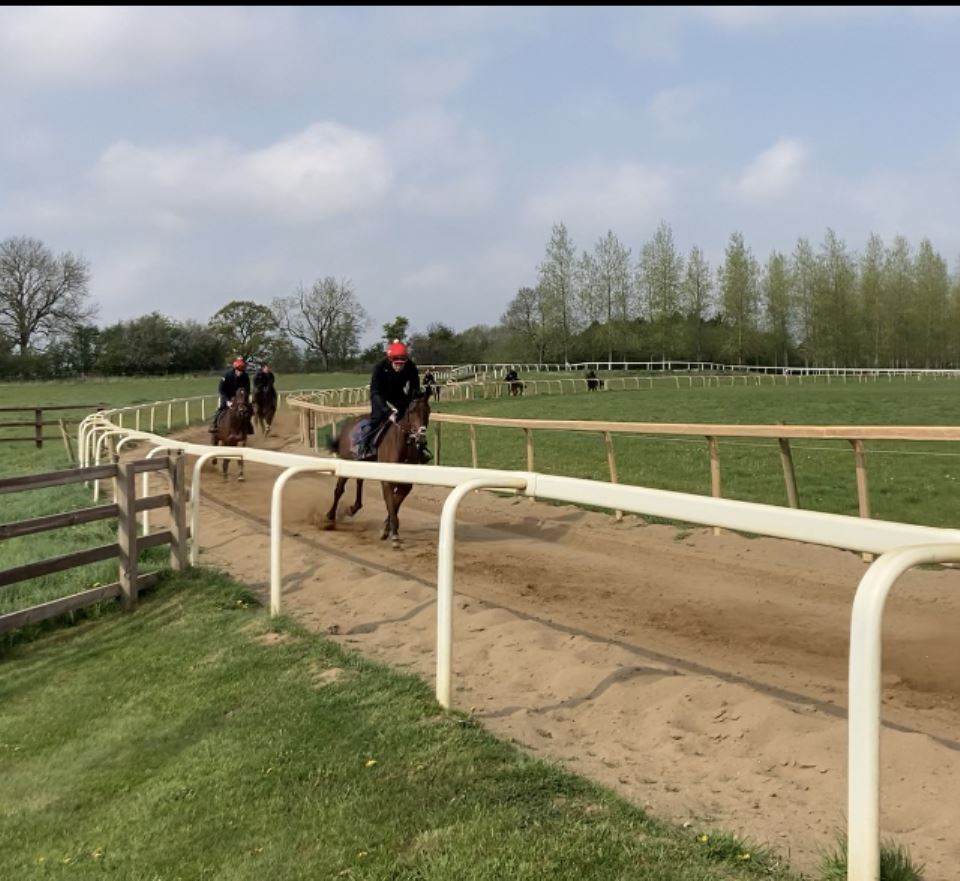 Other news this week - The Jukebox Jury x Donna Graciosa gelding in with Jason Maguire at his Ivy Lodge Farm yard now looks to be sold out - just the i's to dot and the t's to cross in the next couple of weeks - but the newly formed Keysoe Partnership will be up an running very soon - we wish his new owners the very best of luck wth him - he is a very nice horse.
Hidden Beauty and Volkovka are both very close to returning to The Elms for their summer holiday - Betty will start back on the walker this week.
Of the others - Classic Ben is still in full work, and will will have an entry in Uttoxeter, but it will need to be no quicker than Good To Soft for him to run, If that doesn't happen he will head to The Elms for his summer break.
Tintagel Queen will head back to The Elms for a summers break in the next couple of weeks - she is a lovely big filly, and it is a real shame that she didn't get to make her debut this spring, but with a filly of this size and quality, she will only benefit from a summers grass, and be back in stronger and better in July.
Charlie and Fran Poste are both delighted with Dean - he is going great guns up their gallop - which after all of this dry weather is riding quite deep, and is a demanding test for a young horse. He is showing all the characteristics that we know he has - toughness and determination - and he is doing really well - he too will return to The Elms in a couple of weeks, before heading to Donald McCains in July.
Finally we wish Josh Moore all the best for his recovery from horrific injuries suffered in a fall in Haydock last weekend. He has suffered complications, and our thoughts are with him and his family.