Molly's Boy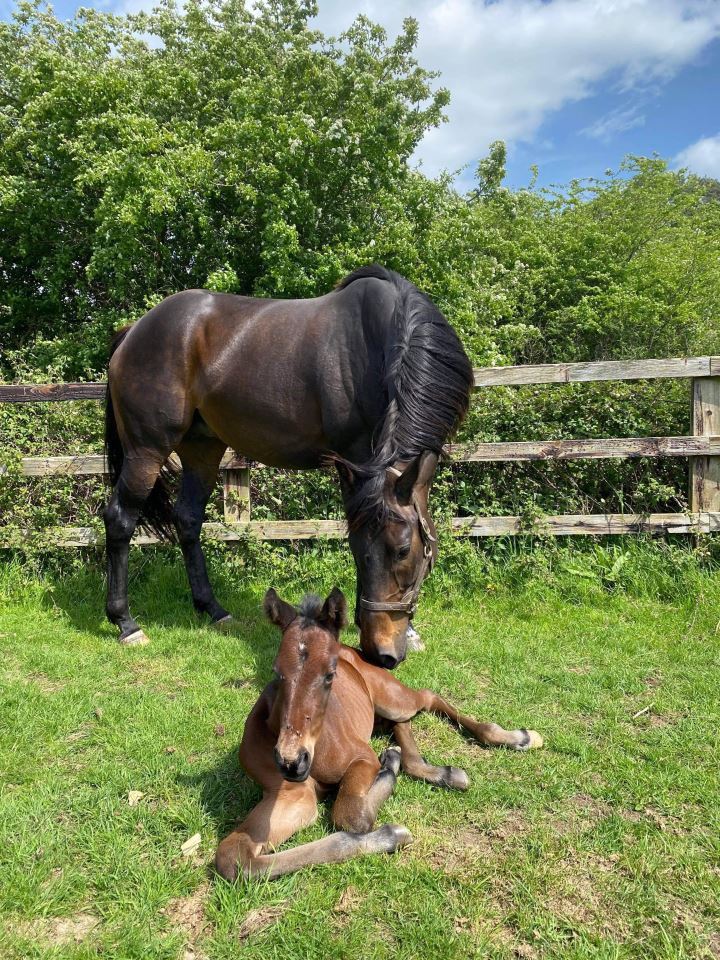 Every Sunday I sit down to write the weekly update - and realise that there is never a dull moment for us! This week no exception.
The week looked like being busy from Tuesday onwards - so Monday was the office day - good to get a couple of syndicates finalised.
On Tuesday it was lovely to sit out in the warm sunshine and have a meeting. Just one thing on the agenda - ideas to make NBR better - Our syndicate business has grown organically since its inception nearly 25 years ago, with just myself at the helm. Just over six tears ago there was an overhaul when the business became less of a hobby and more of a commercial concern with a new business model. There is only so much one person can do - and I certainly do not wish the level of service that I provide to diminish as we continue to grow - Tuesdays meeting will mean that the service will only get better as we continue with growth plans - which is a win win for everyone. We now have the framework and a timescale for this and | am sure that there will be further additional ideas and practices that we will be introducing over the coming months. In the evening it was good to see Dave Yates, 'Newsboy' of the Daily Mirror, and a Bedford native - when he popped in for an hour or two. Dave is a regular on Racing TV and it was an interesting time spent with him before he headed north to York to cover their Dante meeting.
Wednesday I headed over to The Elms - always nice to get across to the stud at this time of year - the farm and the stock always look fabulous! I got to see the two horses that Louise is consigning at the Goffs UK Spring Store Sale next week - and also got to have a chat with Pat Daly the stud vet about a few things. I always try to be one step ahead - and the chat with Pat could well save a good chunk of time in the autumn. It was a damp morning, and Savingforvegas and Floyd stayed in the stable a little longer after breakfast - the little man making the most of his 'duvet day' .Molly was out in the paddock with the small group of mares that are still yet to foal - and she looked very relaxed even though she was now 10 days overdue, and not looking overly imminent.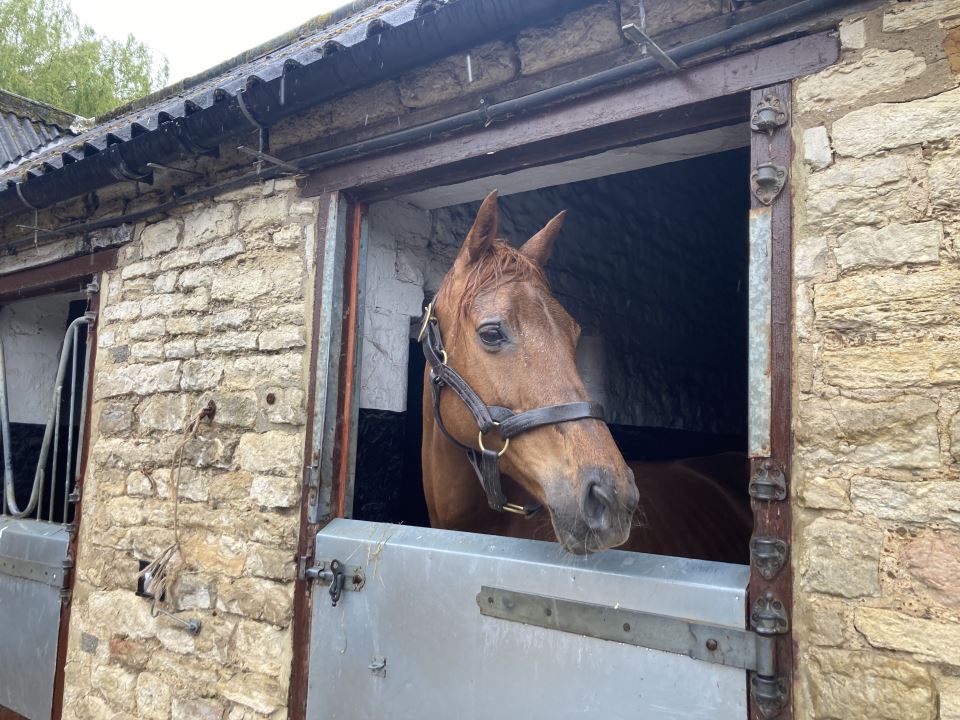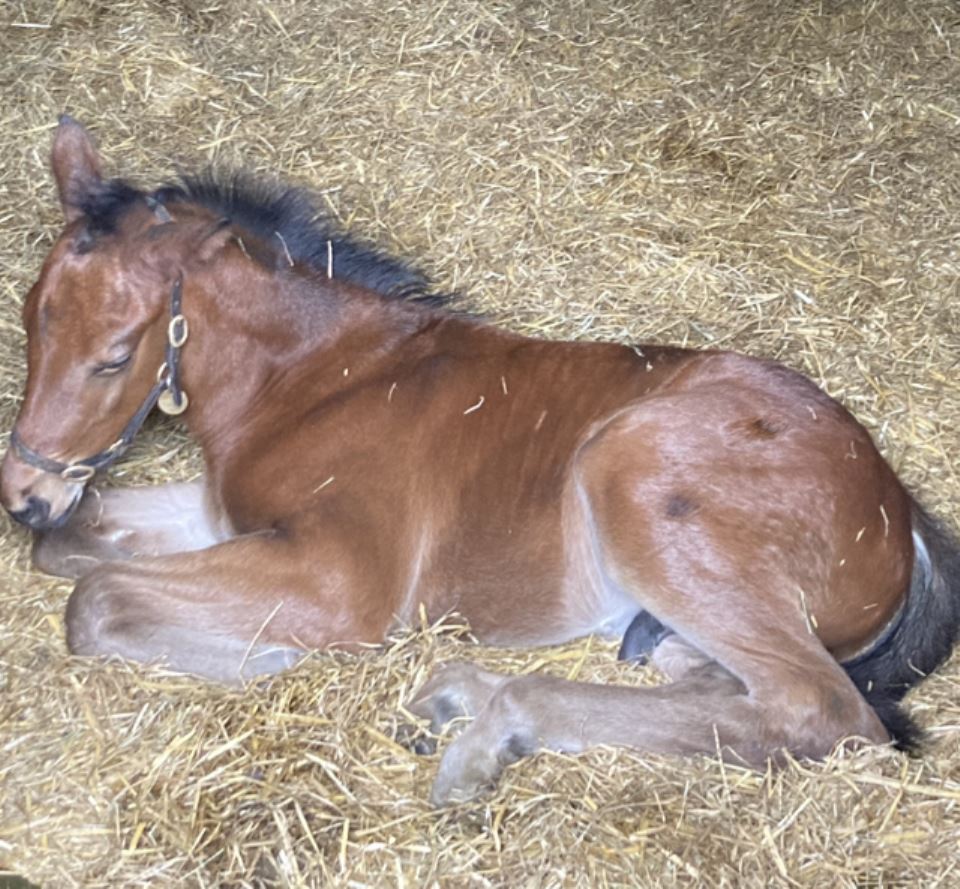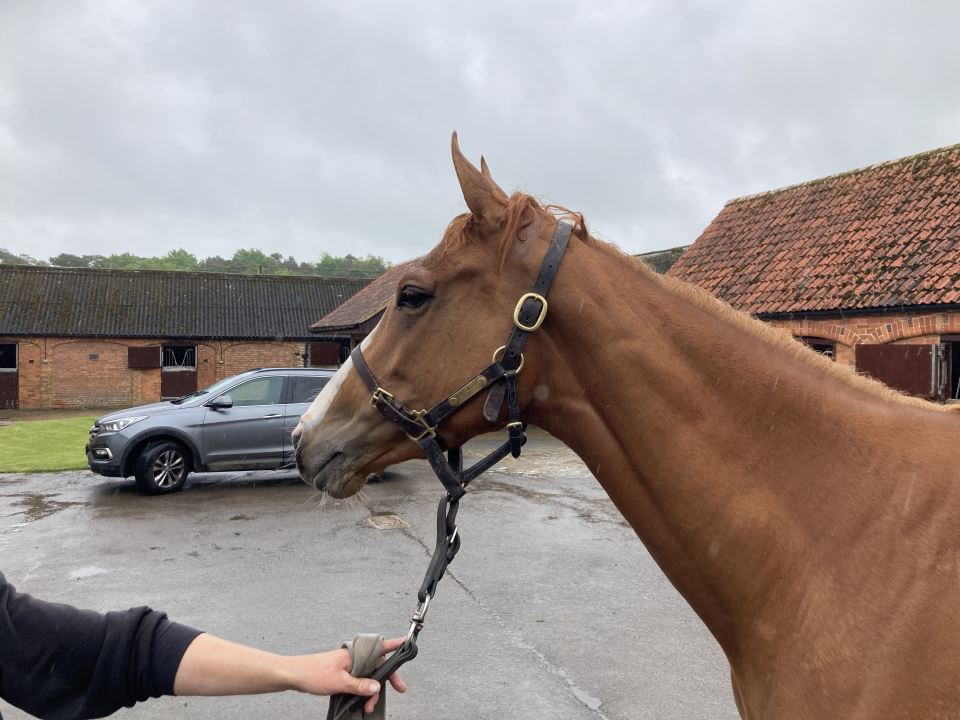 That all changed in the evening as Molly went into labour, eventually giving birth to a lovely bay colt foal (yes, another one), by Falco at 10.30pm. Mum and son both doing well - Molly a little sore but otherwise ok. It is safe to say that Molly Childers is a mare that 'knows her own mind' and isn't scared to express her views - she is in essence a bit of a 'hard nut' and you wonder how she would take to motherhood - safe to say nature 'won', and she has taken to it like a duck to water and is a wonderful Mum!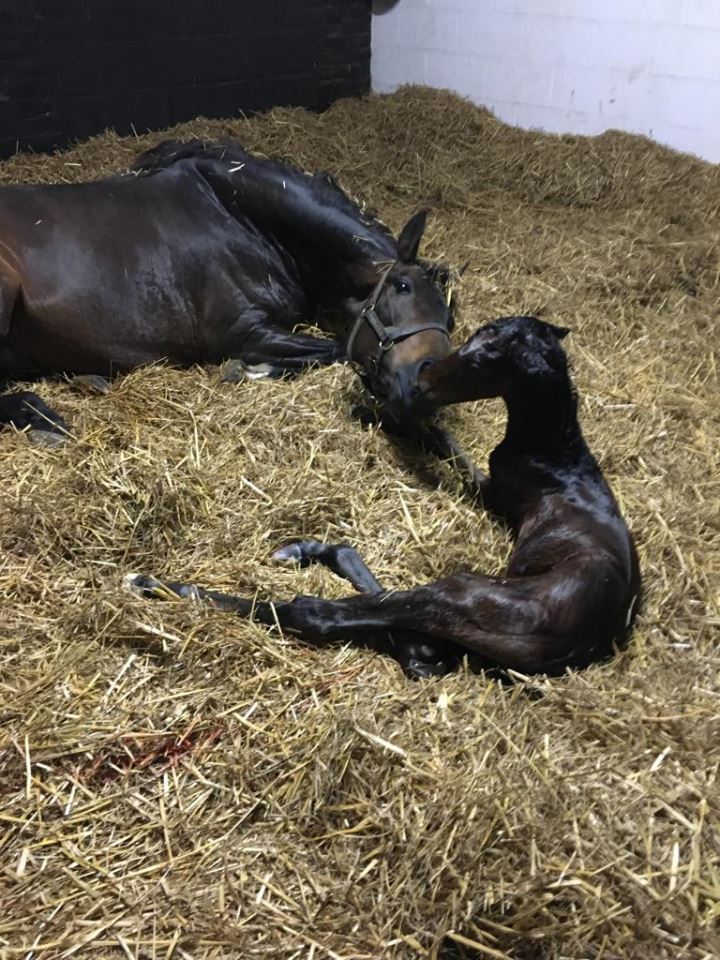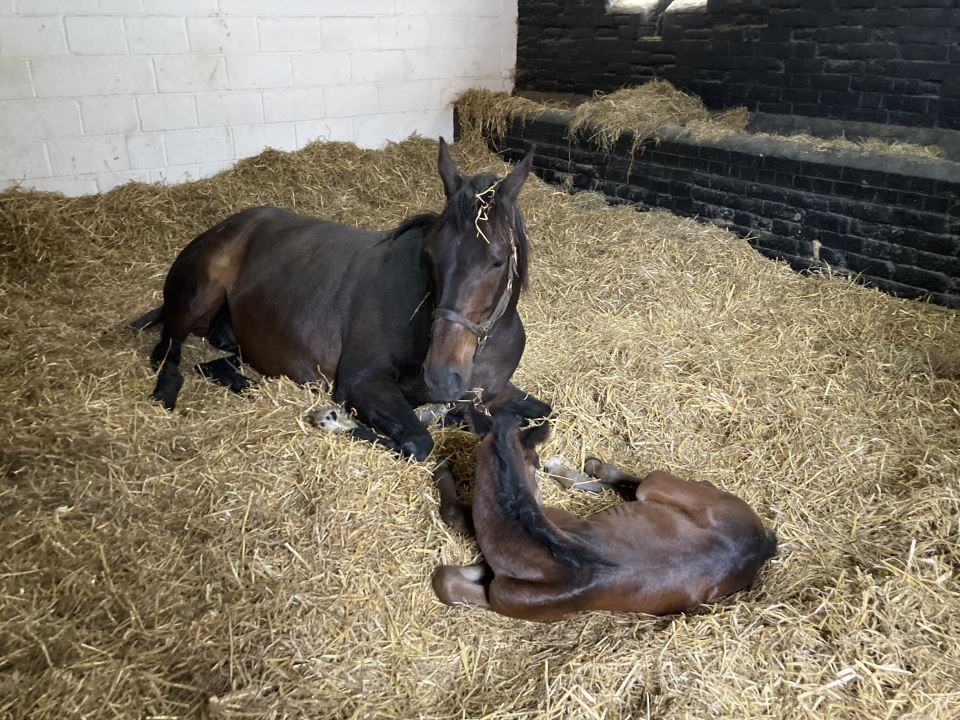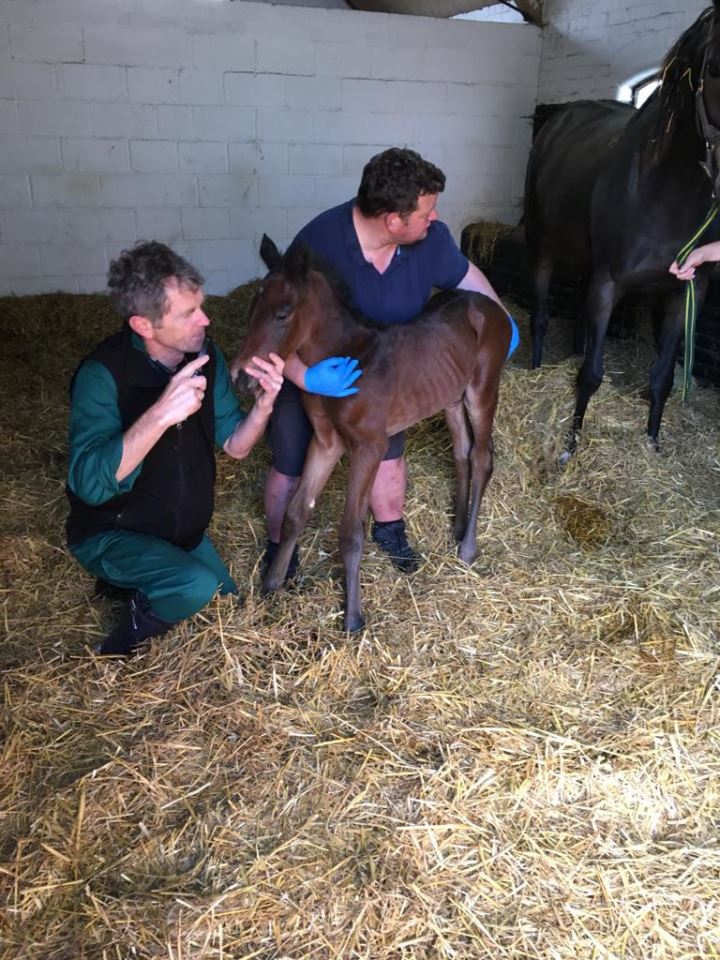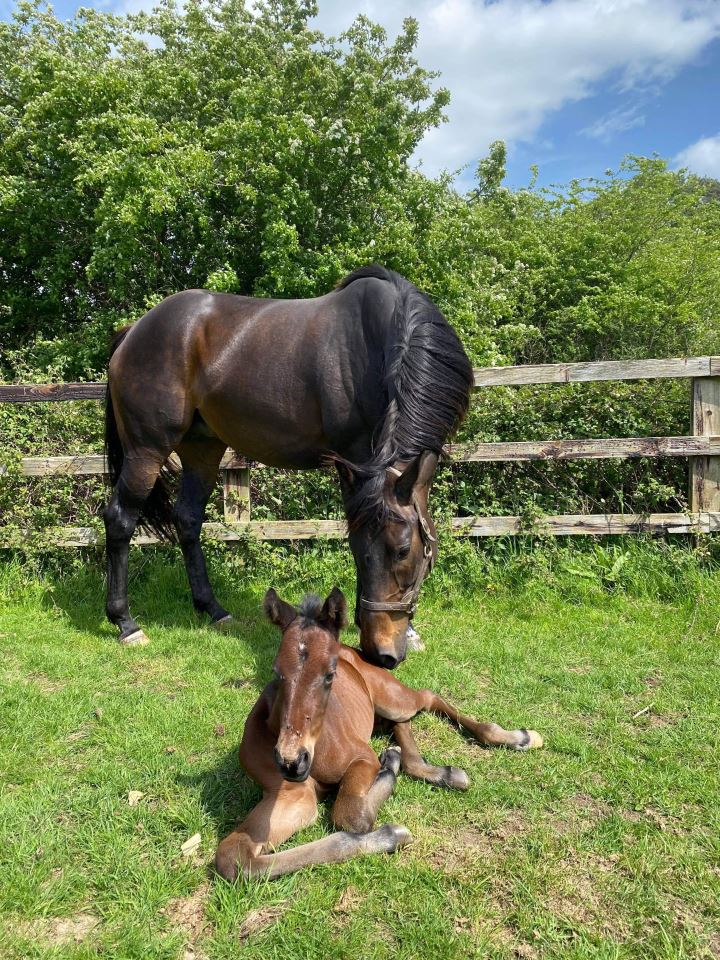 On Thursday, I had planned to be at Manor House Stables in Cheshire, but that visit was rearranged for Saturday, but it was good to get over to The Elms to see the new foal - who by now had been given the name Finbar - it suits him. He is a lovely boy, and a good size for a first foal. we have been involved in small scale breeding for a few years and are yet to have a filly foal - I really thought that this year could be the year - and mating plans were made accordingly, but no, it was two bay colts again! This visit to the stud had been arranged for some time, as it was the evening that a few members of The Denton Partnership made a visit to see their horse 'Barry'. Barry is now a yearling and developing nicely, by Blue Bresil, he was offerd in shares 'in utero' before he was born so that his owners could be part of his story right from the very start, and get to see his development and progression over the early years. His sire has certainly been hitiing the headlines recently with the Grade 1 exploits of his sons Constitution Hill, and Blue Lord, and this young man looks to have a bright future ahead of him. He will be retained to race - and his working life will start in the spring of 2023 when he will be sent away to be broken in. After a lovely evening in the sunshine, when the visitors got to see not only their horse, but this years new arrivals as well, we popped up to The Red Lion in Brafield and grabbed a bit of supper - a Birthday treat for Karen! Good food and service, and great night was had by all!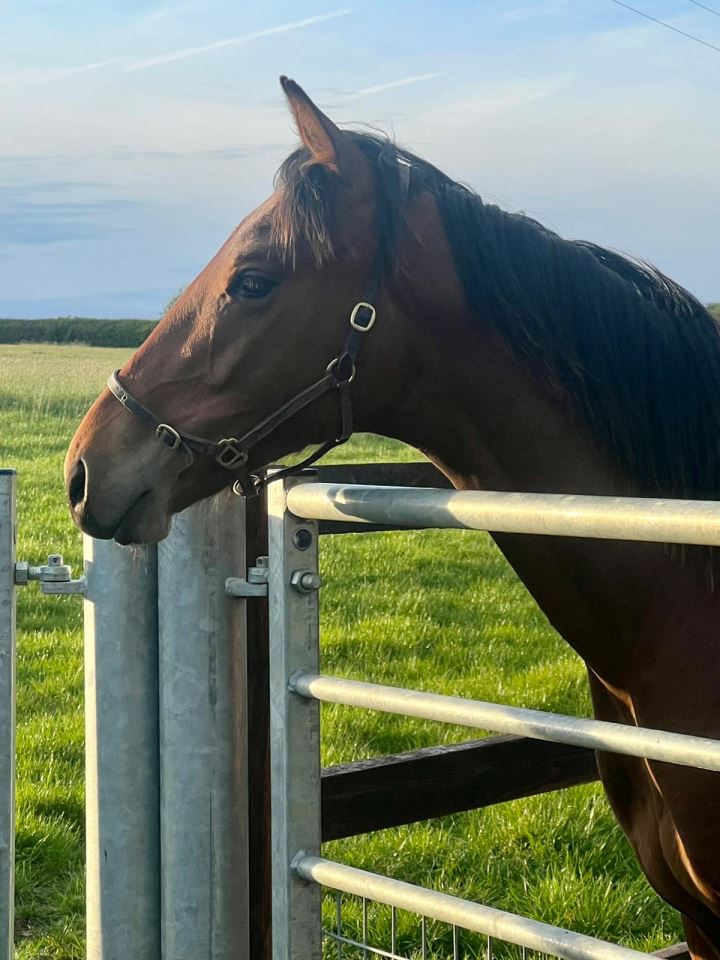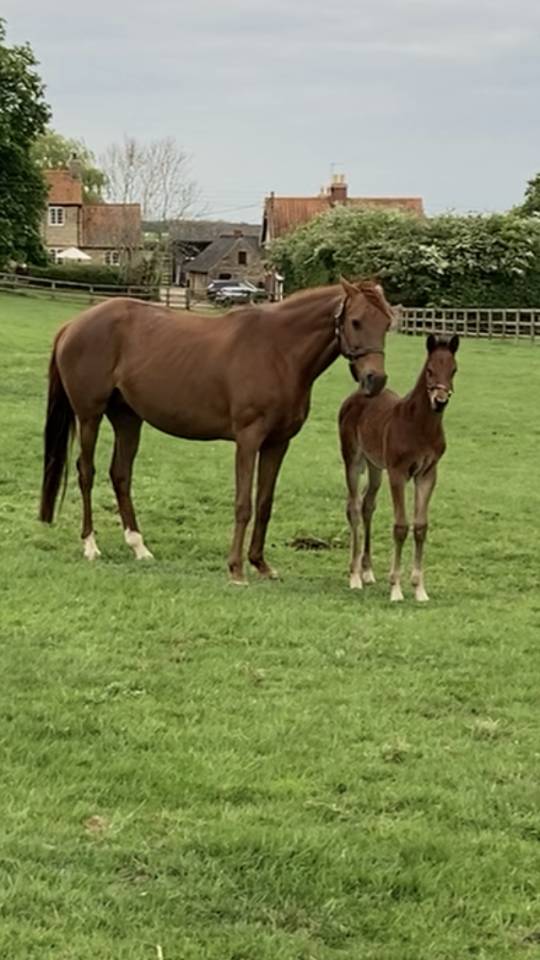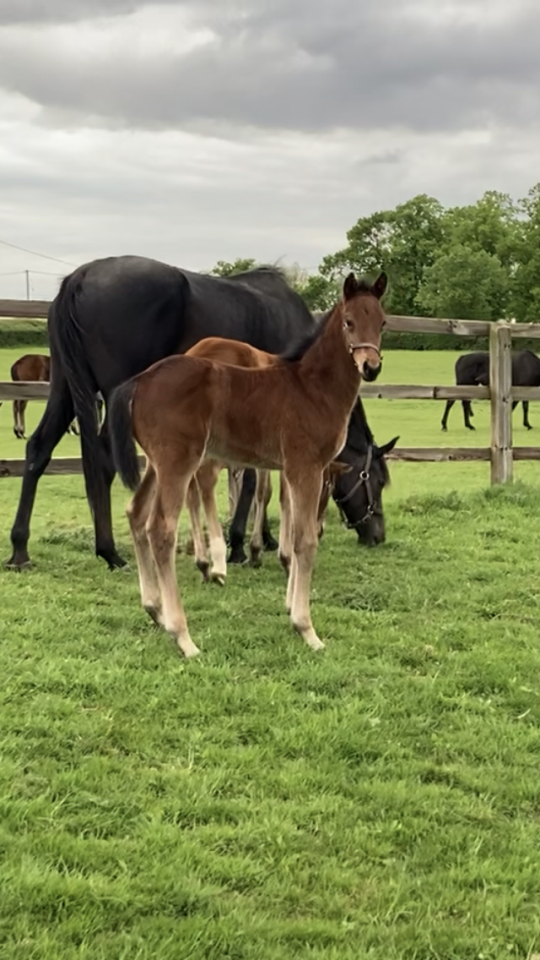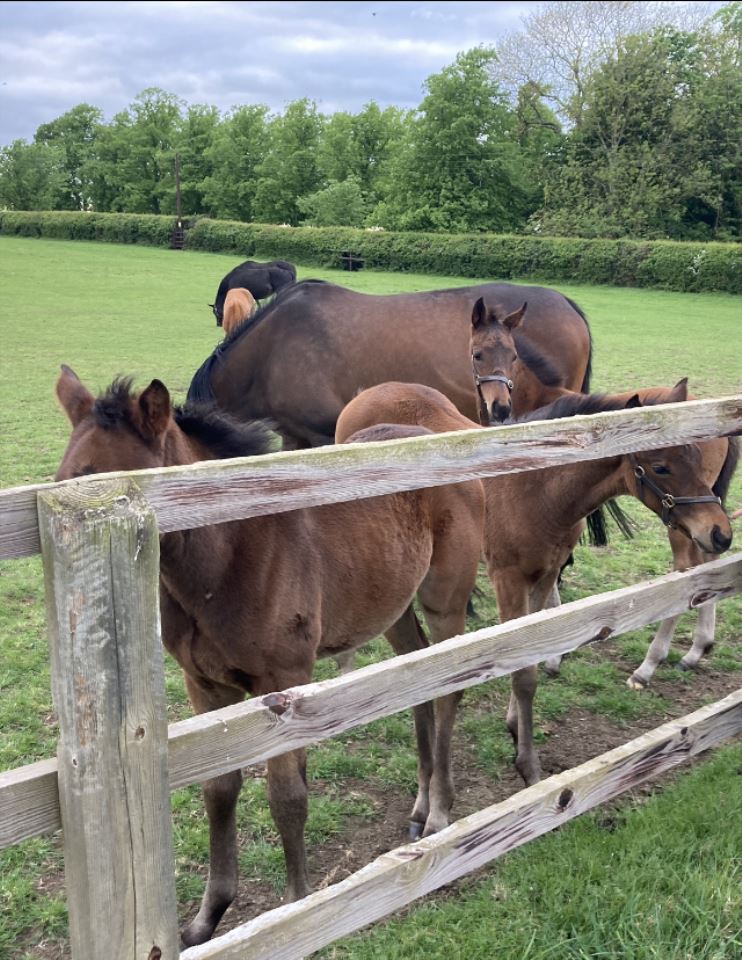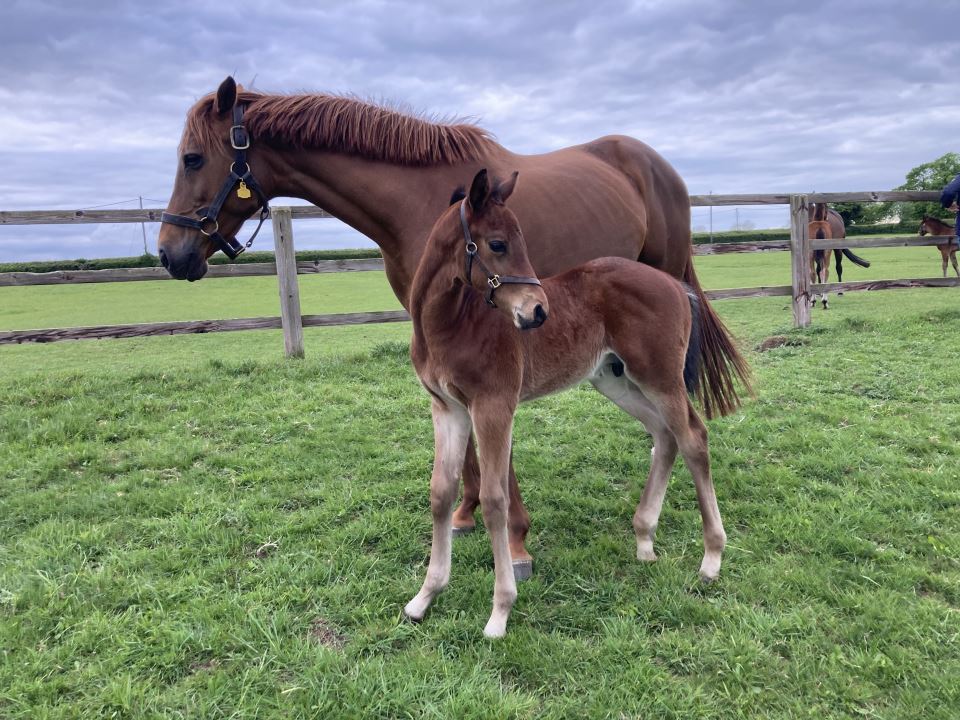 Friday lunchtine I headed up to Liverpool for their evening meeting - with two runners for clients on the card. The trip up there on a Friday is always a sticky one, so I left early and wended my way up avoiding the M6 - it was a really nice trip. As plans had changed at the last minute I quickly decided to stay over in Liverpool for the night, and a rapid Google search pointed me towards the Adelphi - a hotel inextricably linked to the Grand National as it featured in a fly on the wall documentary capturing the day the the bomb scare occured in 1997. My search was rushed and for speed I simlply booked a room. I didn't get to see much of the hotel before I left for the races, as after being held up at check in behind a group of middle aged Welsh lads who had already started their 'Stag Weekend' before arrival, and looked unlikely to 'stay the trip' that night I ordered a cab on checking in - rushed up to the room, quickly changed and dashed down and out to the track - arriving only 20 minutes before the first. Friday evenings in Aintree are always good fun and we have had many good times up there with Kikos and Dawn Commander, and the evening was a fun one. Clients horses running - one placed, and one showing plenty of ability, and answering some important questions.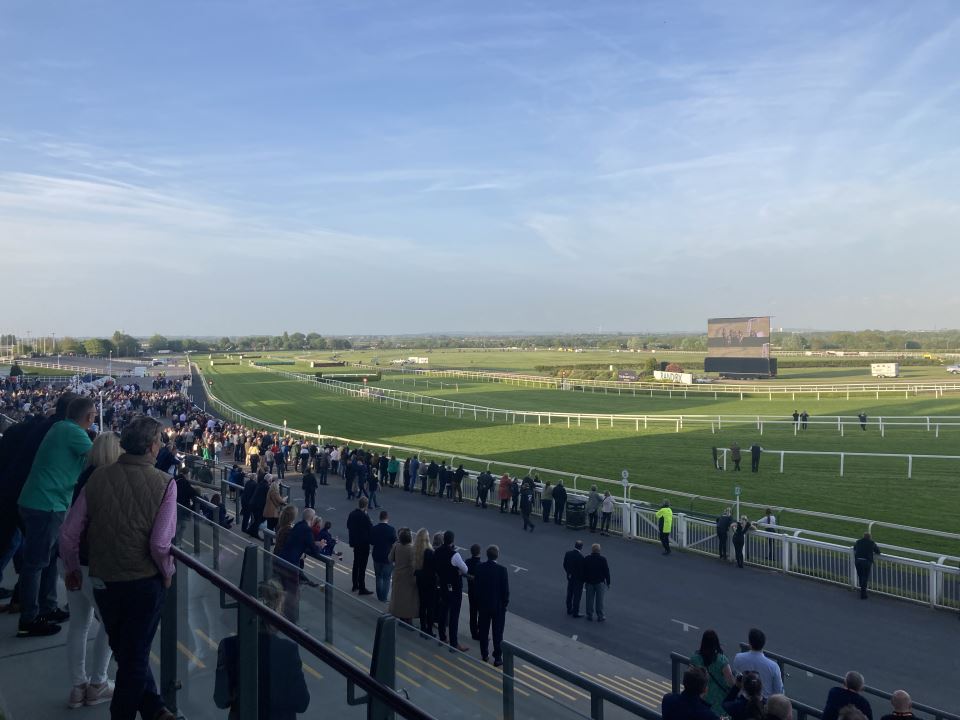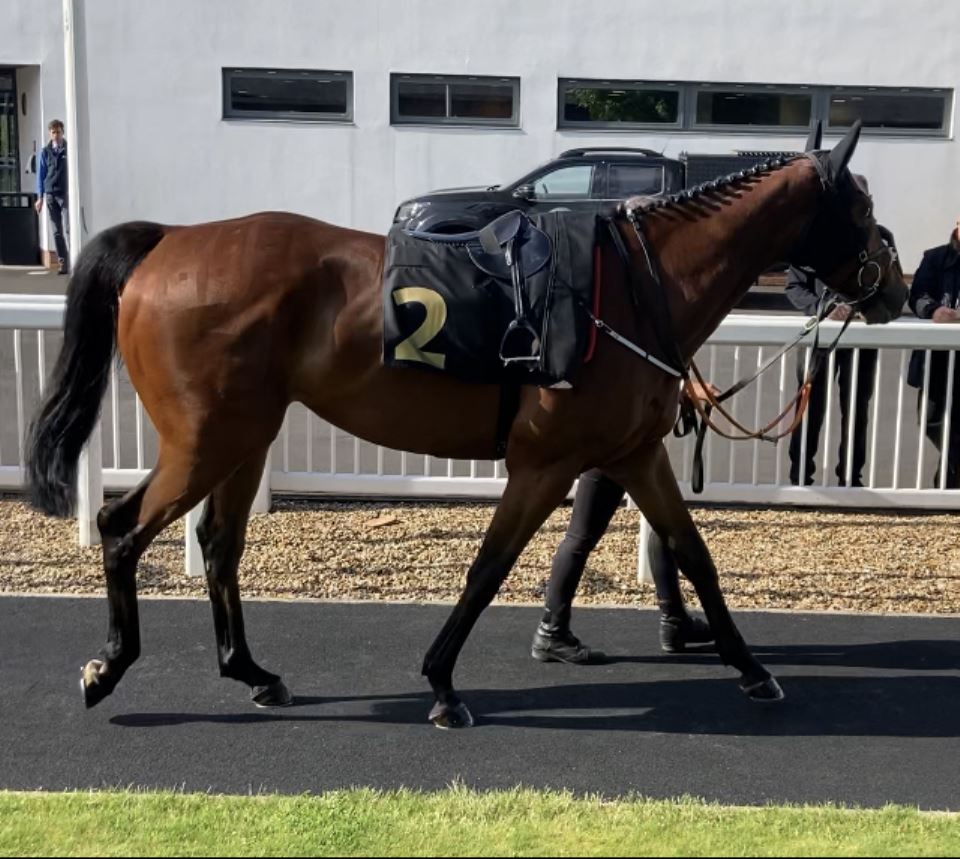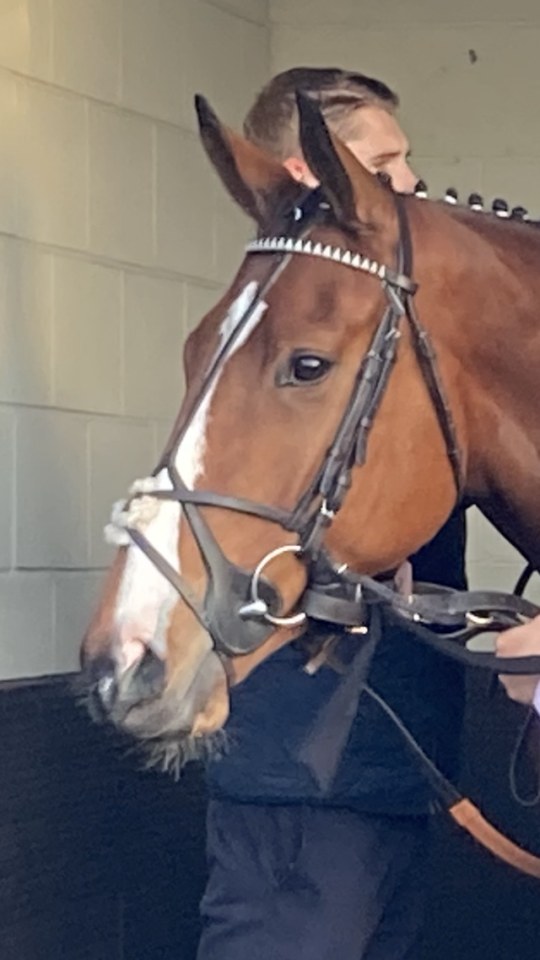 After racing - a pint in the bar, and a cab back to the hotel. I won't go into detail - but just do not EVER book a room at The Adephi - the staff are fine - but the buildng is beyond tired, and the guys that were checking in before me earlier in the afternoon, were indicative of the clientelle that the hotel caters for. Safe to say it was a noisy night - and I know for a fact that the 'group' in the adjoining room were not making a history documentary, but they had to be making some sort of film!!
After very little sleep, I couldn't wait to get out of there, so went down for an early breakfast, thinking that they would at least get one thing right - not so - I really don't know how you can cook an egg so that it is impossibly to cut it!! Not due at Micheal Owens, Manor House Stables until 10.30am I had a bit of time to kill, so I rang Donald McCain and asked him to pop the kettle on and made my first visit to Bankhouse Stables. Set in a beautiful part of the world - it was nice to pop in and see Donald, his sister Jo, and meet a couple of his owners. Last season Donald trained 155 winners at a 23% strike rate - a phenominal tally, and after an across the card treble yesterday he already has 6 winners on the board for the new season - and is matching last seasons strike rate. We are really looking forward to having at least 1 horse trained by him next season - which will of course mean we get to have the services of the dual Champion Jockey Brian Hughes in the plate - we can't wait!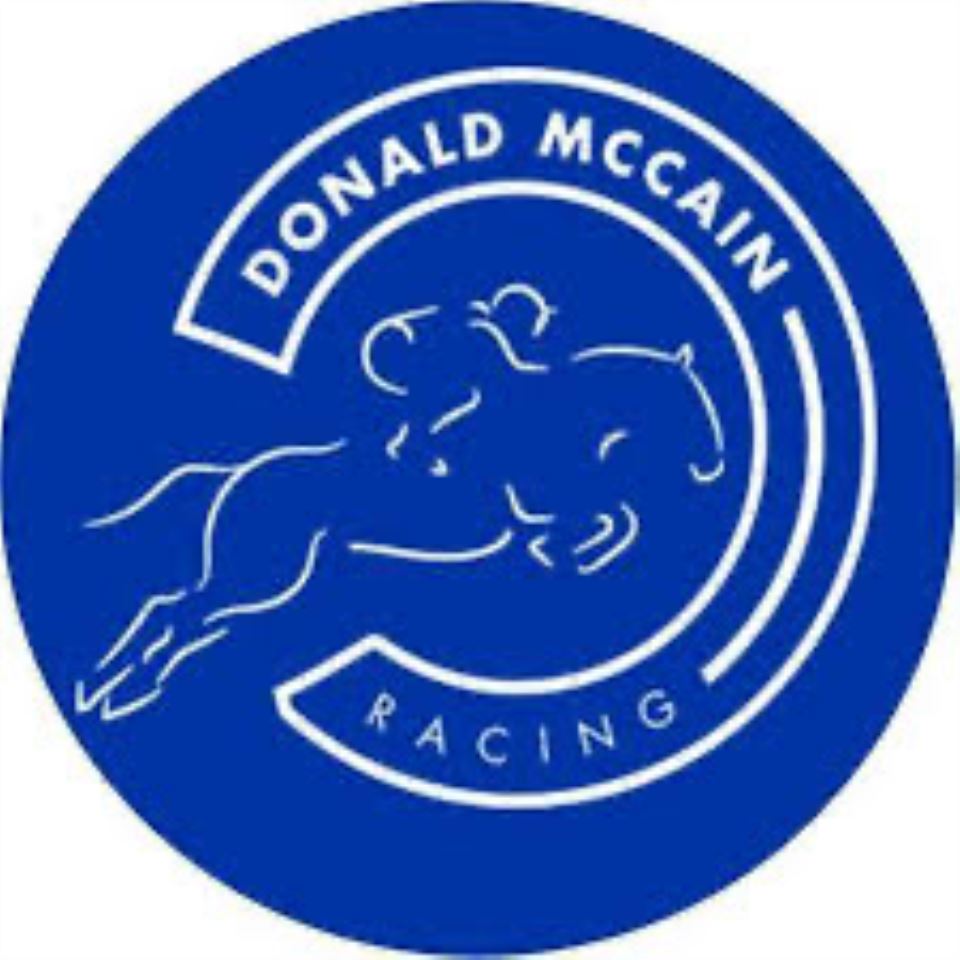 Manor House Stables are just around the corner from Donalds yard, and what a stunning facility that is. Changes in the winter have seen the arrival of Hugo Palmer, and the exit of Tom Dascombe, Michael Owen has bought out his partner Andrew Black, and the team are driving forward. Great to add them to the list of clients, and we look forward to working with them a lot more in the future.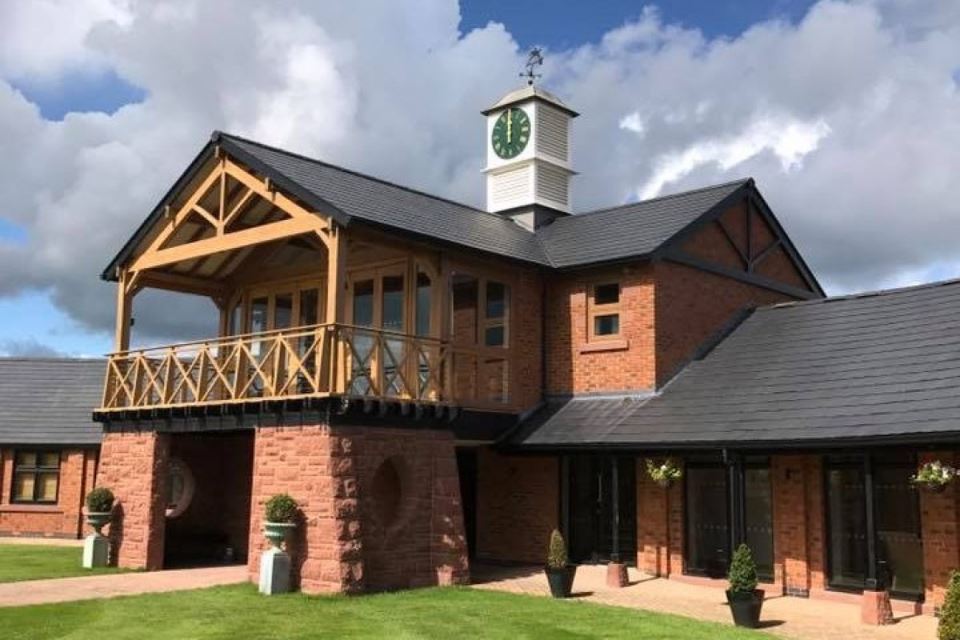 Today I am heading up to Doncaster for the Goffs UK Spring Sale - the largest National Hunt sale of it's kind in the UK, and one that always has a bit of an 'end of term' feel to it. Nothing selling there this year - but it will be a long week, of long days and even longer nights!
Home Thursday night, and on Friday evening it will be the first chance for Mollys owners to get across and see their new foal Finbar for the first time - they are all very excitied, and I am so pleased that Molly has been able to produce a lovely colt for those that decided to stick with her! To have raced her, and now to to have seen her produce the next generation must be very special for them!
Horse updates, Mamoon Star enjoyed getting muddy this week! He loves nothing better!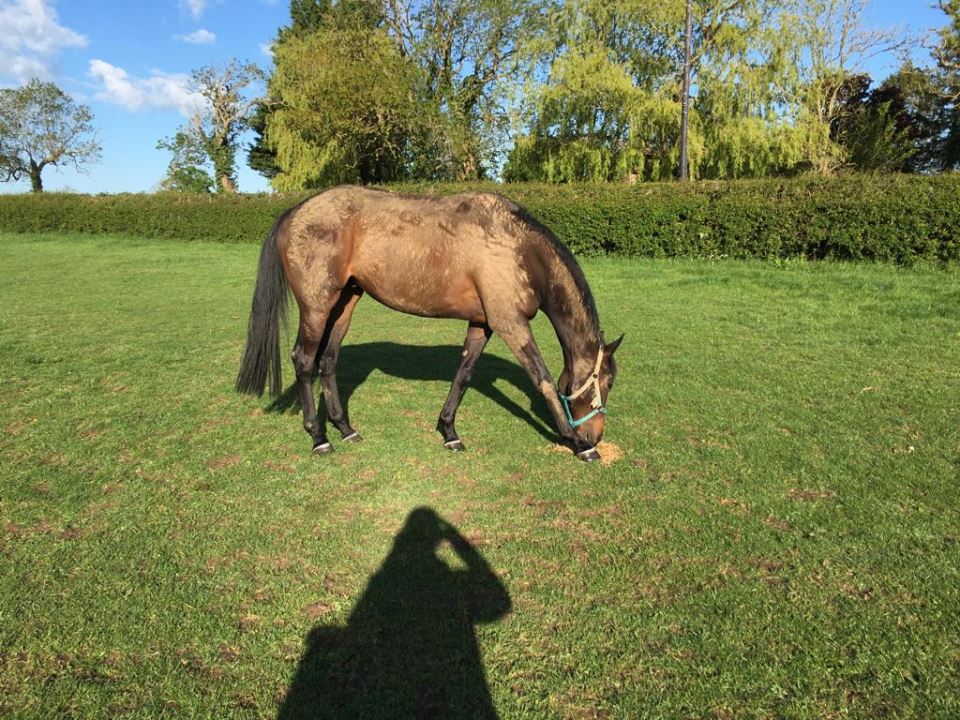 On Monday Tintagel Queen and a clients horse arrived from Olly Murphys to the Elms to start their summer holidays. They join Fortune Forever, Hidden Beauty, Auditoria and Volkovka. Classic Ben is also enjoying his holiday with the boys. Dean arrived back from Charlie And Fran Postes on Friday, and has certainly changed shape since he left - just what we wanted - he has has a great gorunding, and his next journey will be up to Donald McCains in July.
Yauthym remains our only horse in trainng, and she could well have a spin on the flat in a couple of weeks time, before switching back to hurdles later in June.
Down at Jason Maguires - the Jukebox Jury gedling is enjoying his break in the field down there, and Sunset Melody continues her recovery from the pelvic fracture she suffered earlier on in the year - but it will noit be long before she joins the others in the field.
We are unlikely to be adding to to squad at the sales next week ( I said that once before and ended up coming home with Quuenohearts) - but we will be starting a new syndicate - very soon. The trainer is yet to be finalised - but we are delighted to be able to add another stunning horse with a phenominal pedigree to the team - just wait until you see this one!