Unfinished Business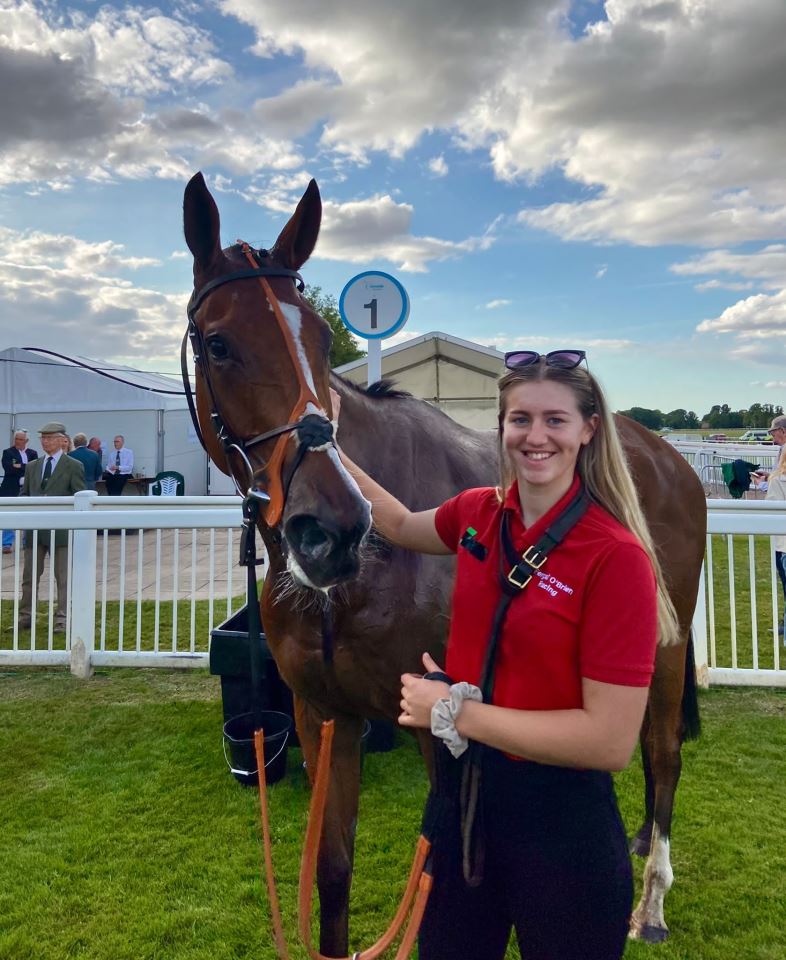 This week was one of those periods when the moon and stars all aligned and things could not have fallen into place better. It had long been in the diary to head to Cheltenham on Wednesday and join Chris Coley and other 'FOB; owners to watch day three of the county championship game between Golucester and Northants in the beautiful setting of Cheltenham College, and a runner in Worcester on Tuesday night and one in Stratford on Thursday afternoon bookended to trip beautifully.
Monday and Tuesday morning were spent in the office, good to sell a new horsebox to one of the newest trainers in the UK, a young man with a fine pedigree who should make a great job of training - like his old boss, very straight forward to deal with, and we wish him all the best with his new career.On Monday I heard news that a certain Ciaran Gethings had been throwing his leg over one of our youngsters - Ciaran lives in the same village as Jason Maguire, and had gone into Ivy Lodge Farm and got to sit on our recently backed 2 yr old Jukebox Jury filly - he told me later in the week that he had liked her.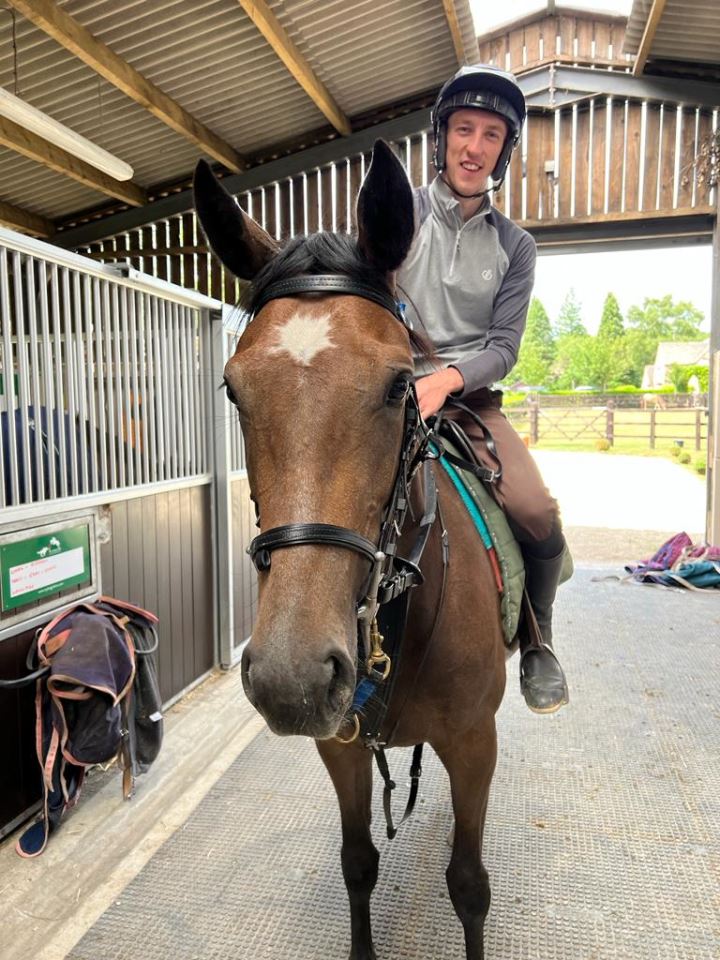 On Tuesday afternoon we headed over to Worcester to see Intrepide Sud make his second start for The Chicheley Partnership. We went their with a bit of a sense of unfinished business, as we had all felt he had been an unlucky loser on his yard debut at the same track earlier in the month. That day Paddy had held his hands up and said that he had left his run too late and asked too much of the horse to reel in the leader, and he was very much out to put the record straight! Some may think it is nice to go to the races as the odds on favourite - I can assure you it is the total opposite. One of the biggest parts of my job is expectation management - to keep all syndicate members calm and level headed, and be the 'voice of reason' pre race. This isn't easy when you are priced up on the tissue at 8/15, and there is still money for your horse. IS had been odds on on his previous start, and he had been beaten, so that helped slightly, but the feeling that day was that we missed a bit of an open goal, and that he should right that wrong this time round. Paddy very much felt the same, and speaking to him before racing he admitted that he had done a lot of thinking about the race, and decided that he would ride IS exaclty as he had done the last day for 3/4 of the race, and simply make his move a bit earlier in the home straight. IS looked a picture in the paddock - he really is the most imposing of individuals, and I know I am biased, but he looked like a 'man against boys'. As always he took the prelims in his stride,and was settled on his way to the start. As planned Paddy settled him in rear and they lobbed round at the back. In a race run at a sedate pace you could say that it is far from ideal to be in rear, but Paddy knew what he had under him, and just asking him for his run a few yards sooner this time, he was scything through the field as the pace quickened. It was very impressive to see him cruising through the field as the pace reached the 39mph mark, with Paddy sat motionless - when the 'elastic bands' get wound up this horse can certainly gallop! Paddy headed to the outside rail and IS powered home for a facile 4 length success. He returned to the winners enclosure, to a very warm welcome from a large number of syndicate members and their famililies and friends, and I must say thank you to the team at the track who were very helpful and accomodating for our large group of owners. There was much celebrating, and we certainly left a dent in the racecourses' Fizz stocks!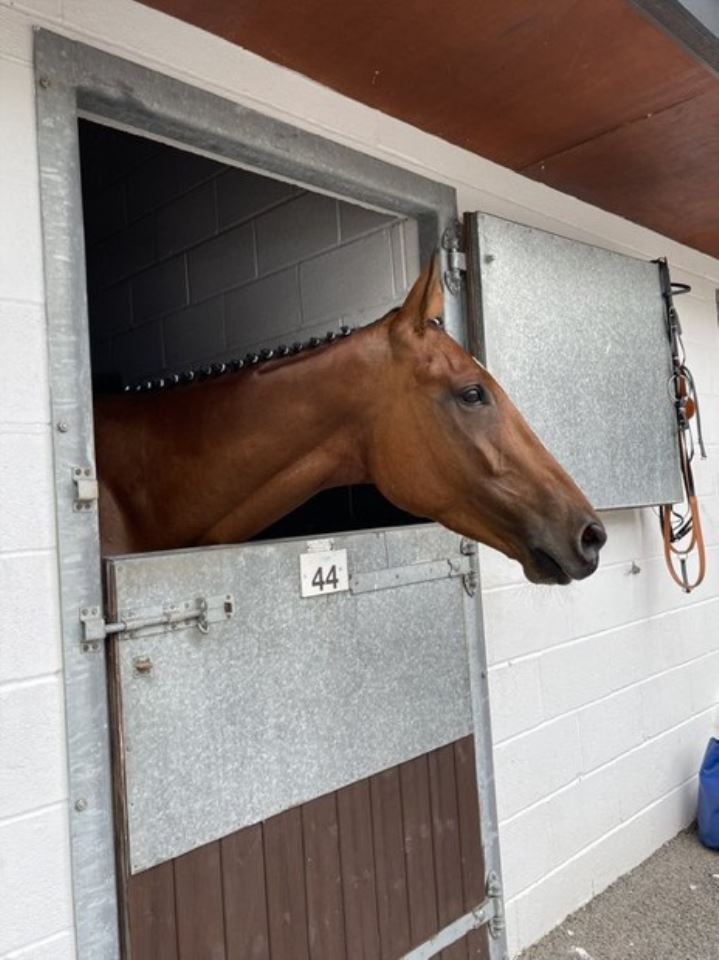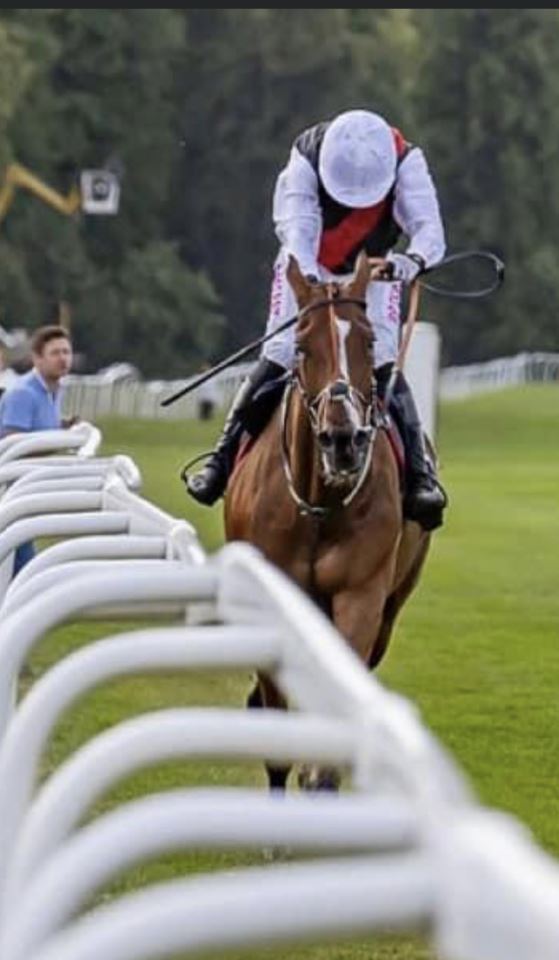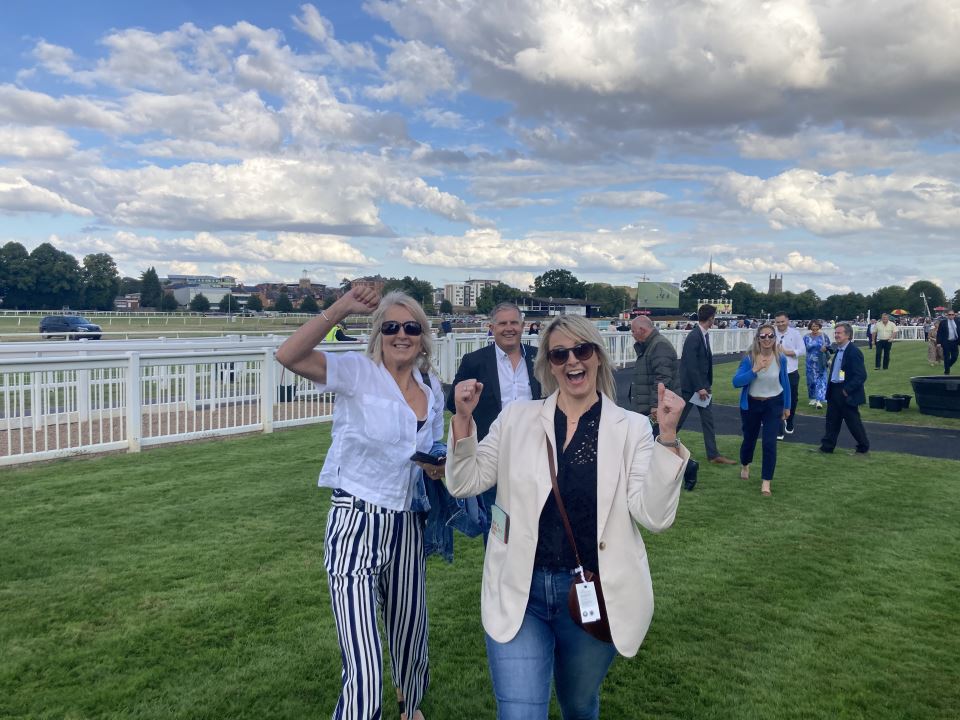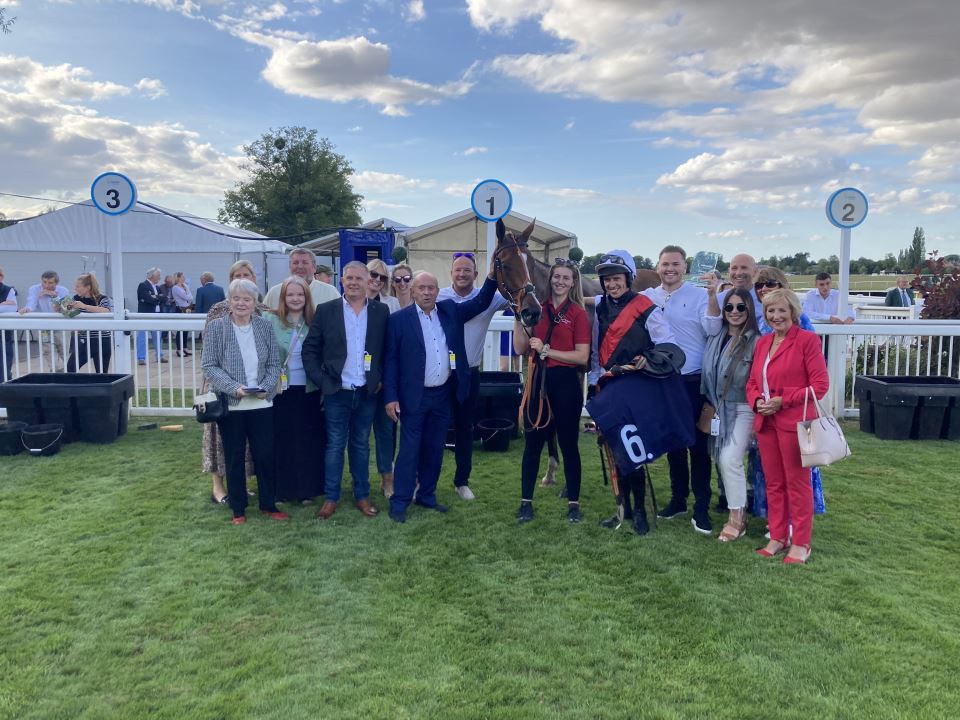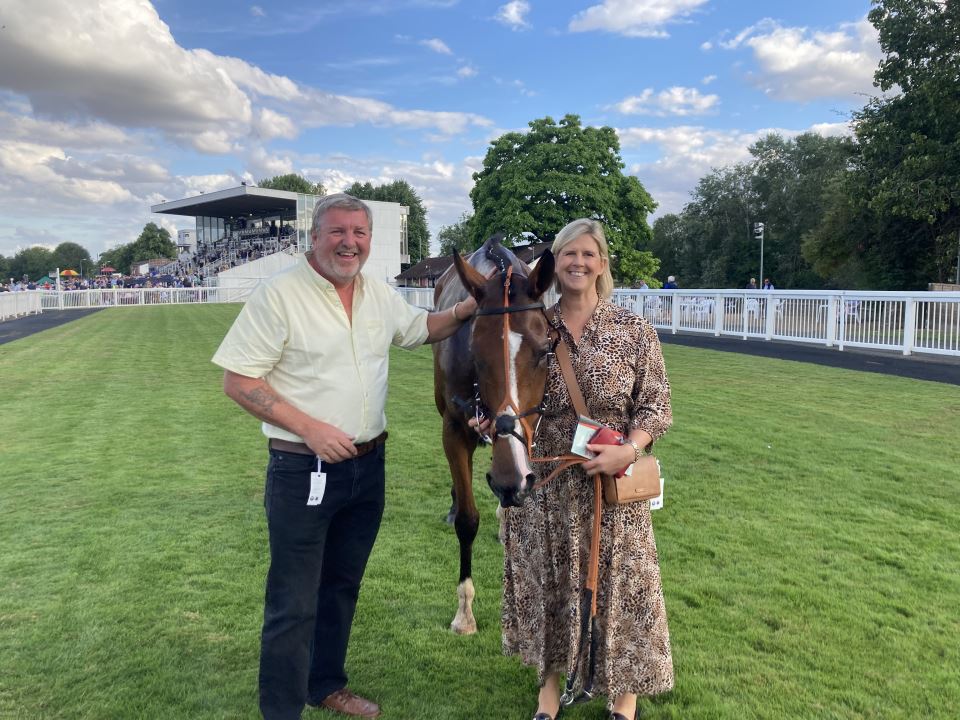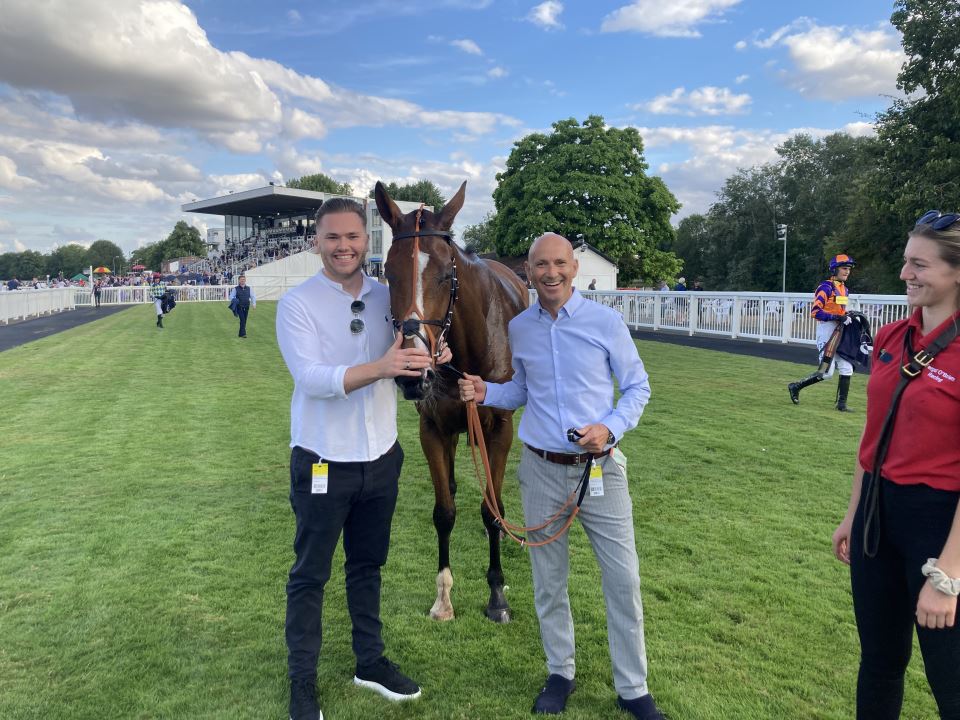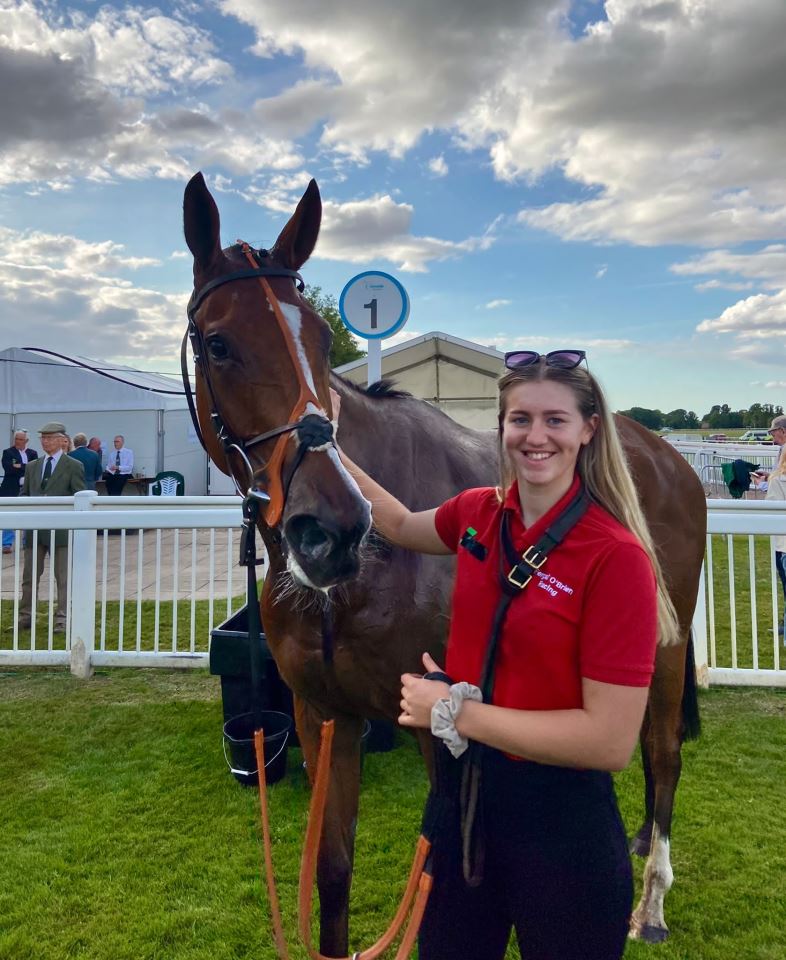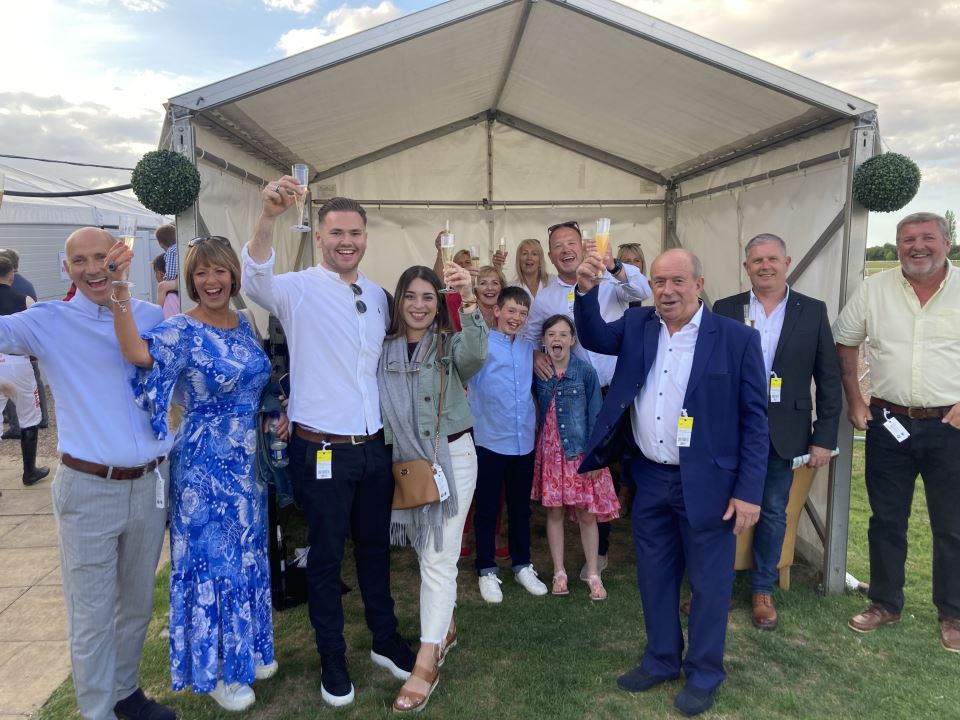 Intrepide Sud came out of the race fine - and altough he won a race that, with all due respect to the other runners, didn't take a lot of winning, he was asked to do it the hard way, and he got it done easily - as Timeform say - 'Class apart'. Fergal, Paddy and I all impressed, and he could well run in another bumper with a penalty next time.
IS was not the only winner for the yard on the night - with 5 runners in Worcester and one in Perth, the team ended the night with 4 winners on the banks of the Severn, and one in Scotland - an unbelievable night, that will last long in the memory, and delighted to have been a part of it! The whole team at Ravenswell and Martinshill Farms are simply superb, they are just the happiest folks to be around, and they really do make being a part of the whole thing so much fun! Congratulations to all - shame Ferg missed it all - he was away in Galway for a few days - he enjoyed it all from afar!
From Worcester we headed down to The Kilkeney to stay with Kev and Jules for a couple of nights - with the pub not open on a Tuesday, he laid on a BBQ, and we sat out on the beautiful patio, enjoyed some great grub and found a home for a few celebratory pints! It was a great way to unwind!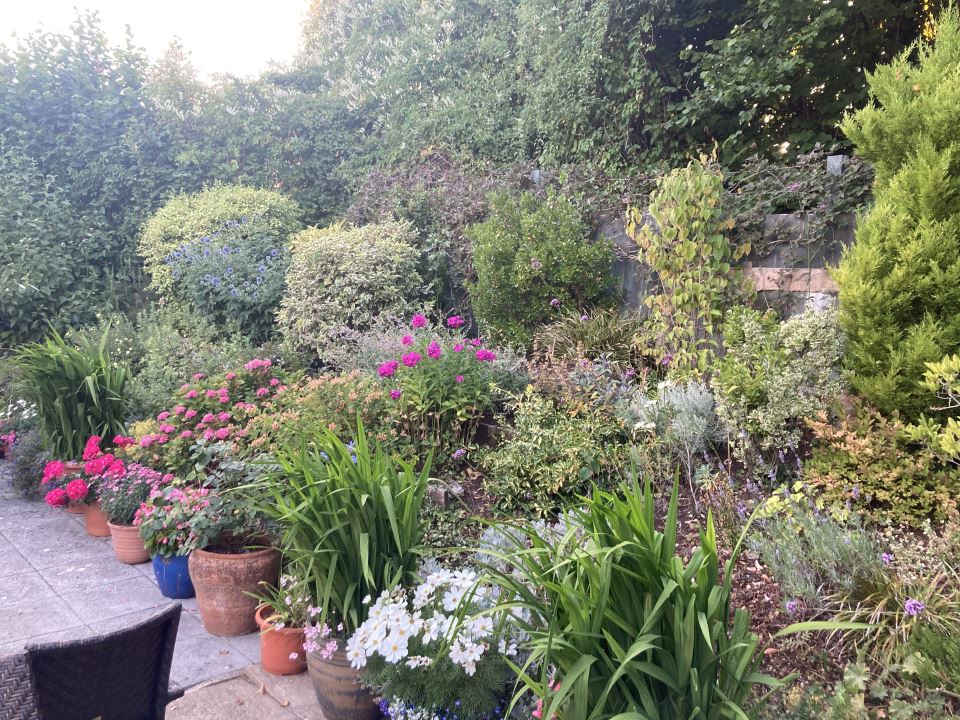 Wednesday morning I popped into Jason Maguires to see the three horses we have there. Sunset Melody looked on great terms with herself out in the paddock - she should get the go ahead to return to work very soon. The Jukebox Jury 3 yr old gelding had a spin round Jasons new lose school before he rode him on the round gallop and once up the new straight gallop. He is going very nicely, Jason really likes him, and he will continue on with him for a few more weeks before he heads off to Gary Moore.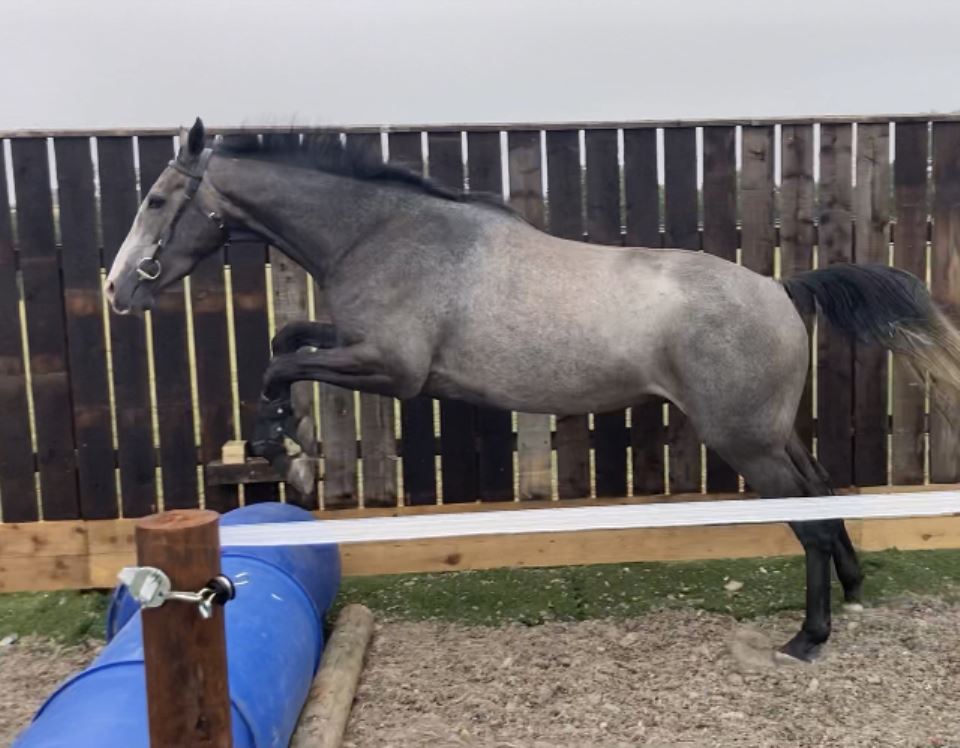 Our 2 yr old Jukebox Jury filly is simply stunning, as metioned Ciaran rode her earlier in the week, and by Saturday she was cantering on her own without a lead horse on the round gallop - not only is she stunning, she has a great attitude as well, and really wants to get on with being a racehorse! We like her a lot, and can't wait to offer shares in her next spring/summer!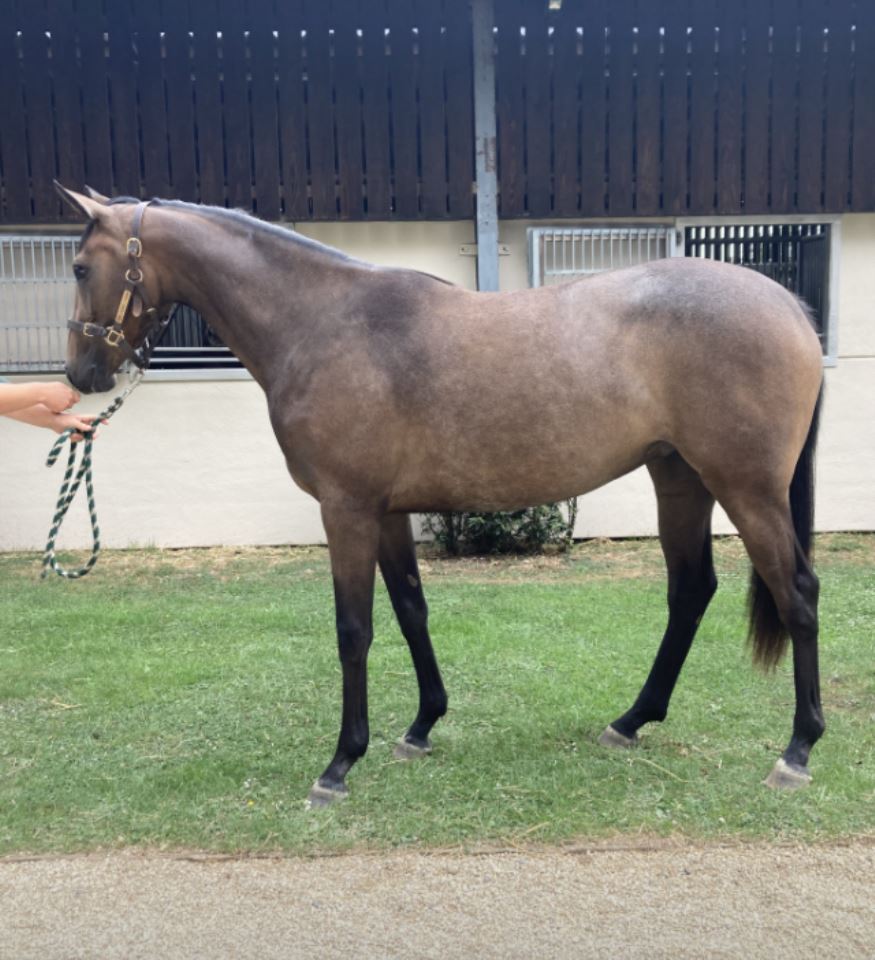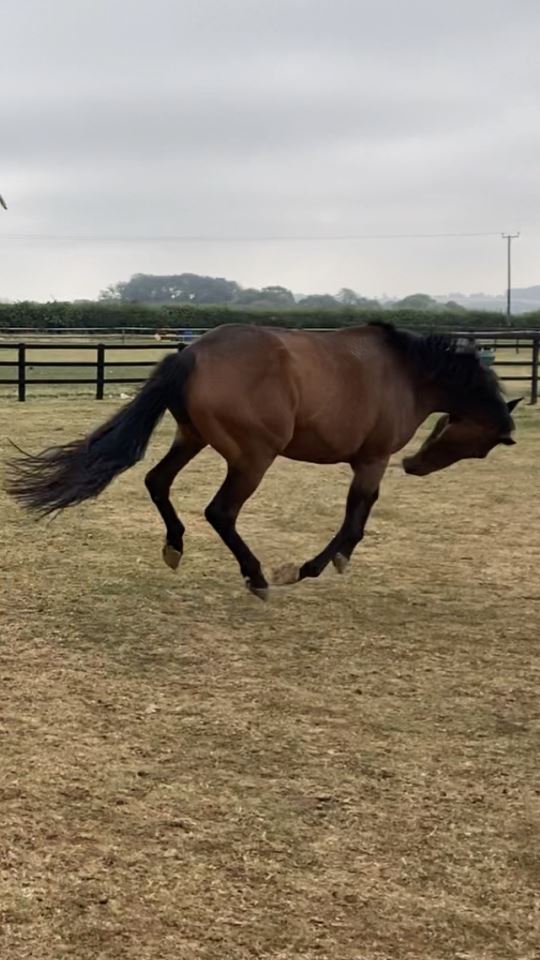 After a couple of hours in at Ivy Lodge Farm I headed into Cheltenham for the cricket - the most glorious setting and, although a slightly cloudy day - it stayed dry. The cricket was a little slow at times, but the company was very good and the afternoon flowed by in handsome fashion. Great to catch up with a few folks I had not seen for a good while, including trainers, a former jockey, a current jockey and a man that has done just about everything! A highly recommended day out if you get the chance to go next year!
Wednesday night Sally and Scamp joined us in the Kilkeney for a bite of supper - great food as always, and the night meandered on to be quite late! I know the 6.30 alarm came around a bit quickly!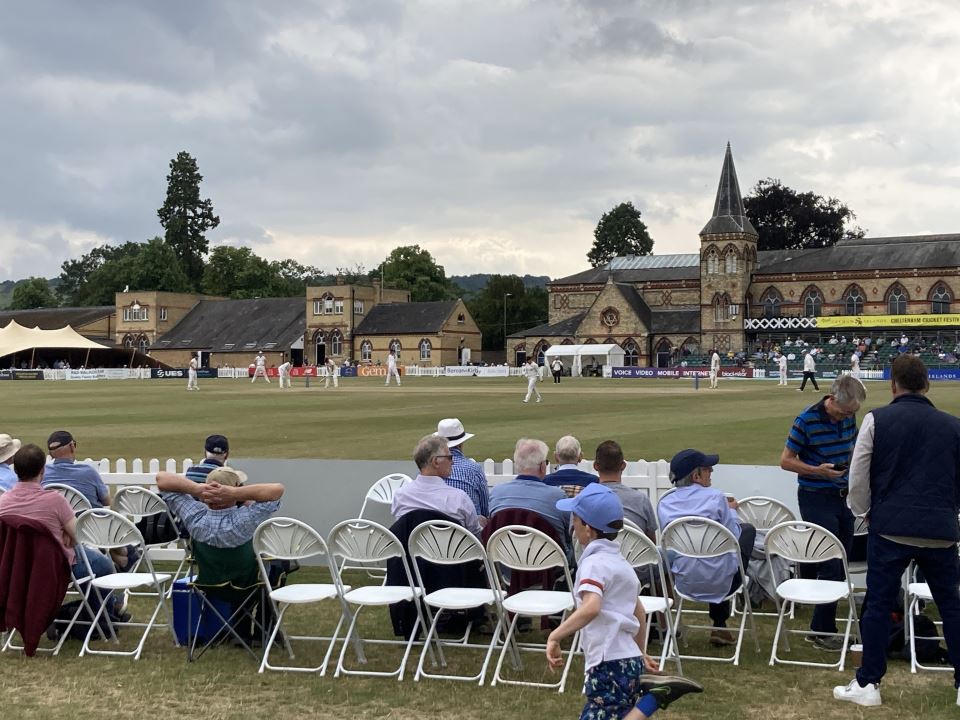 Into Ravenswell on Thursday morning. Great to show Jules around the yard, she was really impressed with how smoothly everything ran, and how quiet everyone was around the horses. We currently have four in at Ravenswell - Intrepide Sud was having a well earned day off after his win on Tuesday. Mamoon Star and Fortune Forever cantered second lot - a breakdown in communication meant that we missed them work, but their riders said that they are both in great order, Fortune Forever has certainly strengthened for her break and is going nicely. Both of them looked really well. Blue Bikini also did two canters third lot, and we didn;t miss her. She has never looked better, and she really is thriving at the moment. Having been held up for the whole of the second half of last season with a respiratory infection she just could't shift, Fergal has changed her lodgings this year, and she is now in one of the 'top six boxes' that are open to the elements, and where she should get all the fresh air that she needs, She has the luxury of going in the stable or standing out in the open should she wish, which should help avoid a repeat of last years hold ups - again - attention to detail, and doing the best for the horse- it's how it is at Ravenwell!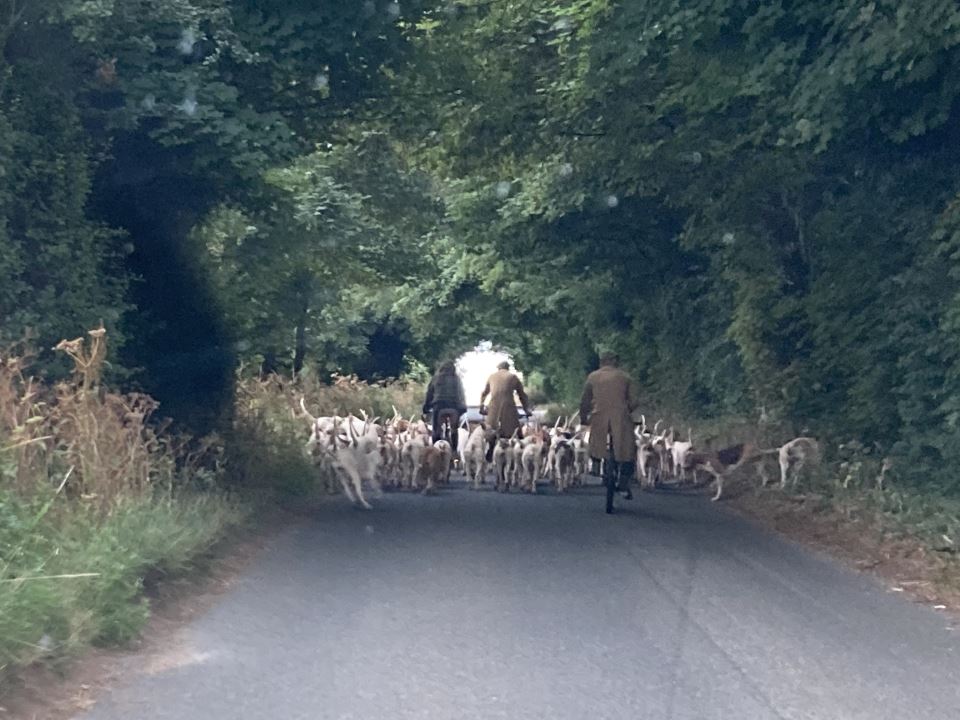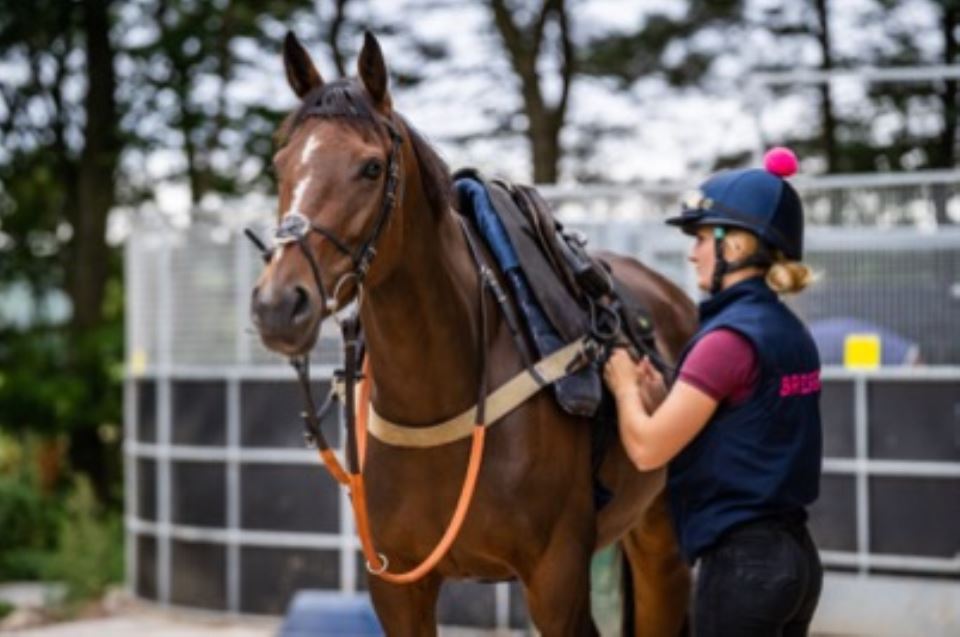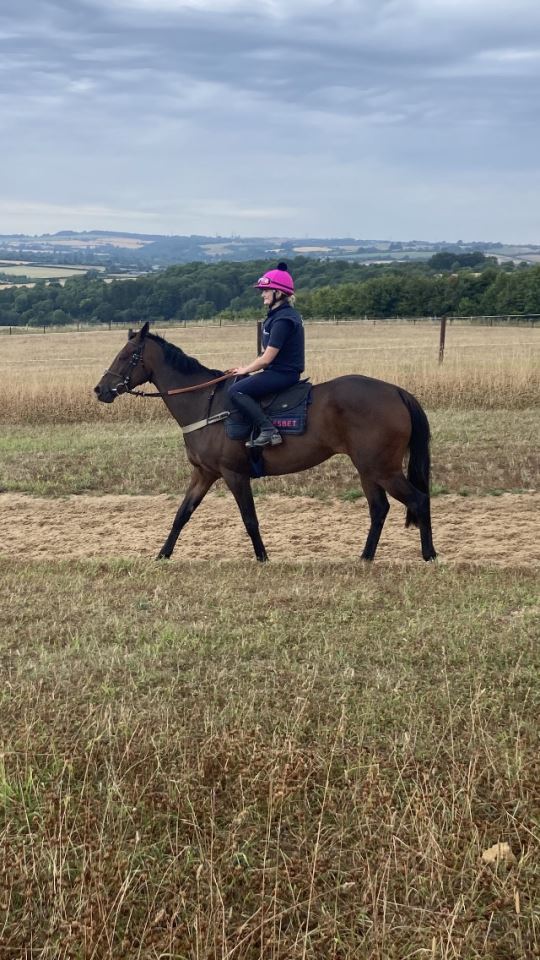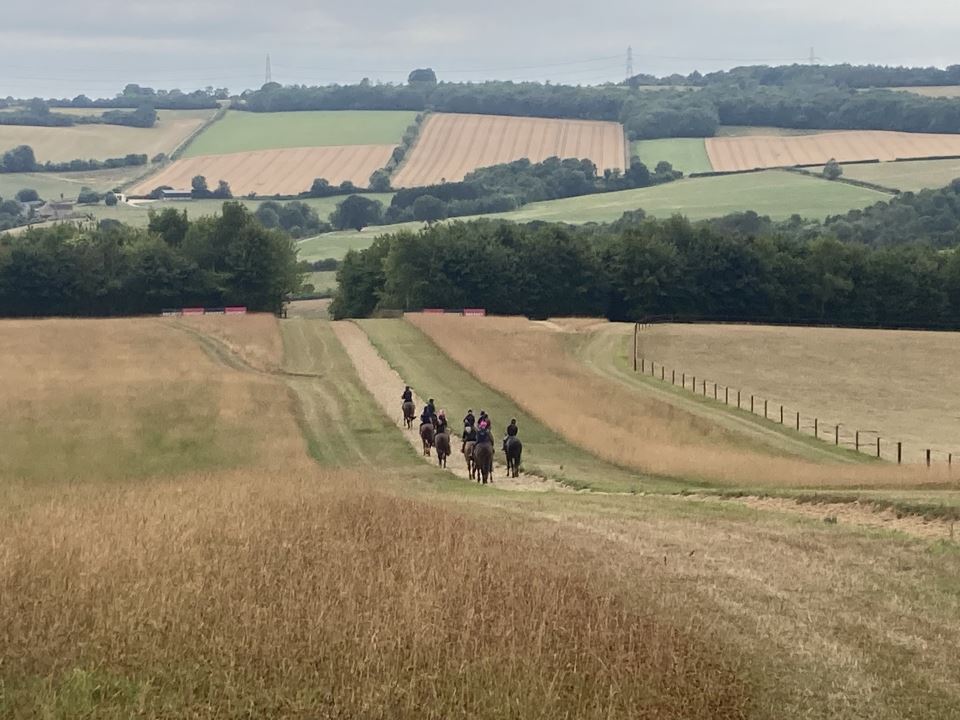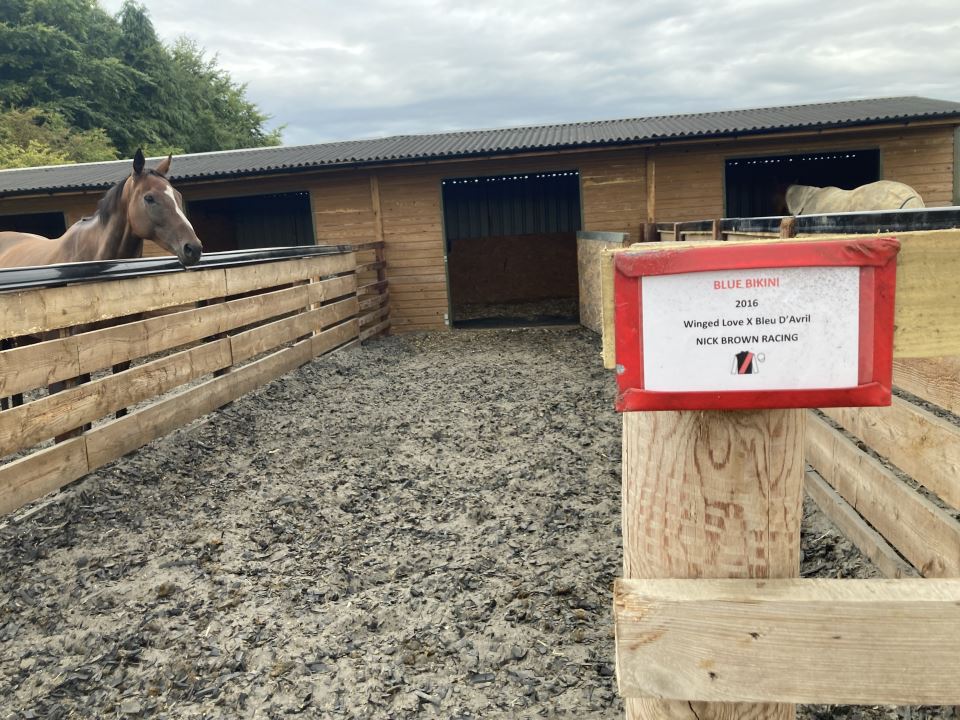 After a good morning at the yard we headed up to Stratford for the last leg of the tour. Yauthym running in the 2m mares handicap hurdle - just 4 runners, but the track very much the wrong way round for her - so no great expectations of troubling the judge. She has to go right handed, but there are just no races for her over hurdles that way round so we thought we would come here - at least if she was beaten she would be dropped in the handicap. She looked amazing in the paddock - a credit to the team, she has been on the go for a fair while and still looks great. She has been in great form at home, but as expected, jumped out to the right the whole way, and was not enjoying the race at all. She finished fourth of four, and wasn't given a hard time by Liam. With no races over hurdles for her she will probably revert to the flat for her next run - she didn't stay the 2m we experimented with on her last venture into that sphere, so she will drop to a fillies handicap over a more suitable trip. She has been a star for her owners, but with her liking for quick ground, and need to go right handed, options over obstacles are limited for her over the summer - and with her being plenty high enough in the weights we could well be entering the final stages of her career as a racehorse. She has the perfect profile to be a broodmare - by Authorized, she is a half sister to a black type flat performer, and to the Cheltenham Festival and Galway Plate winner Early Doors - she has listed placed black type herself, and with her amazingly tough attitude, she will make a wonderful broodmare.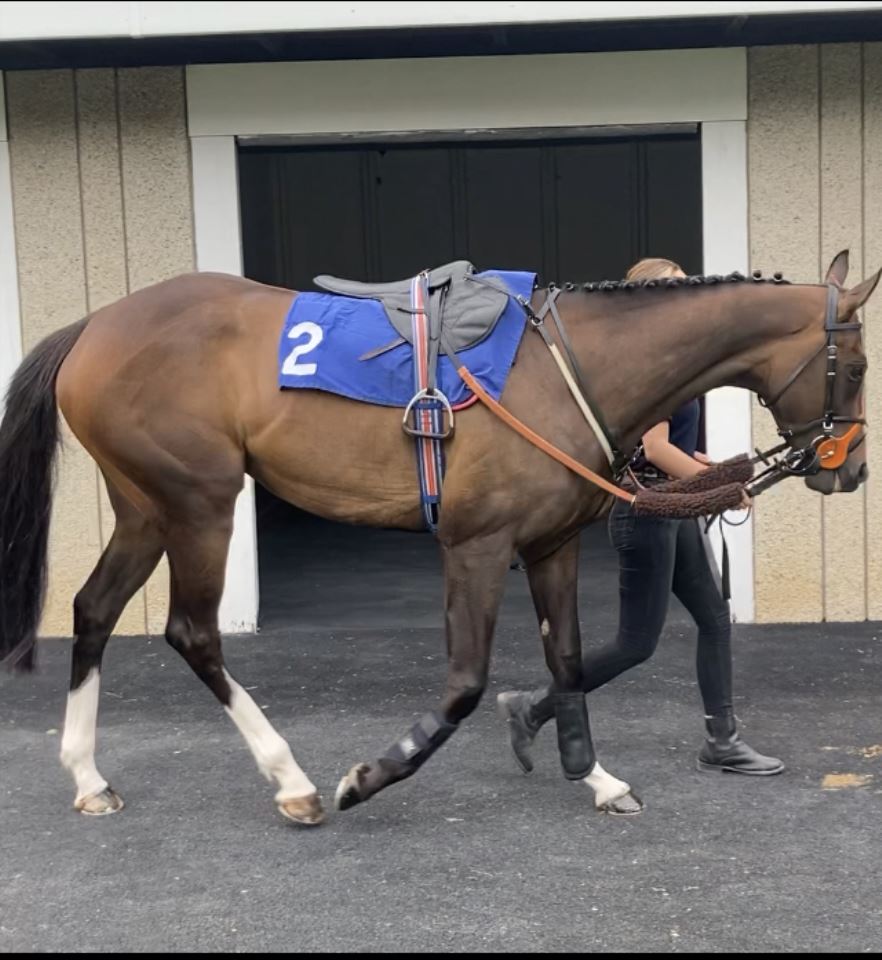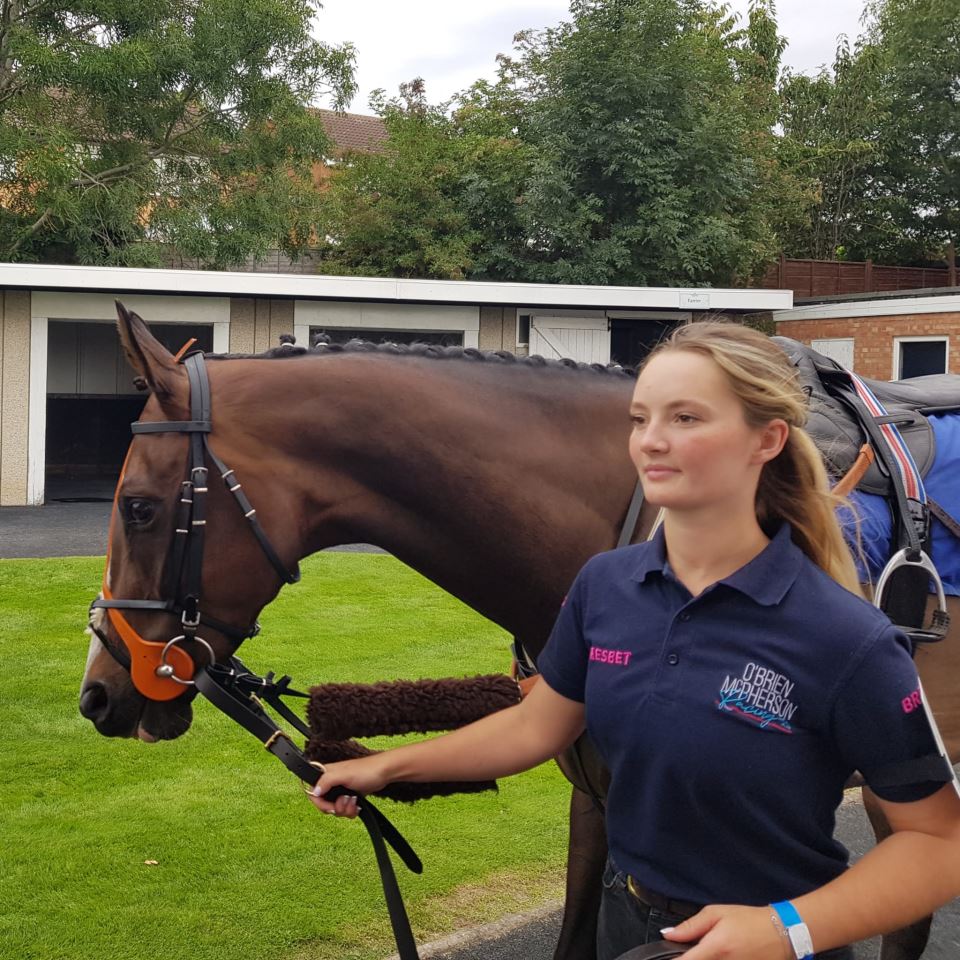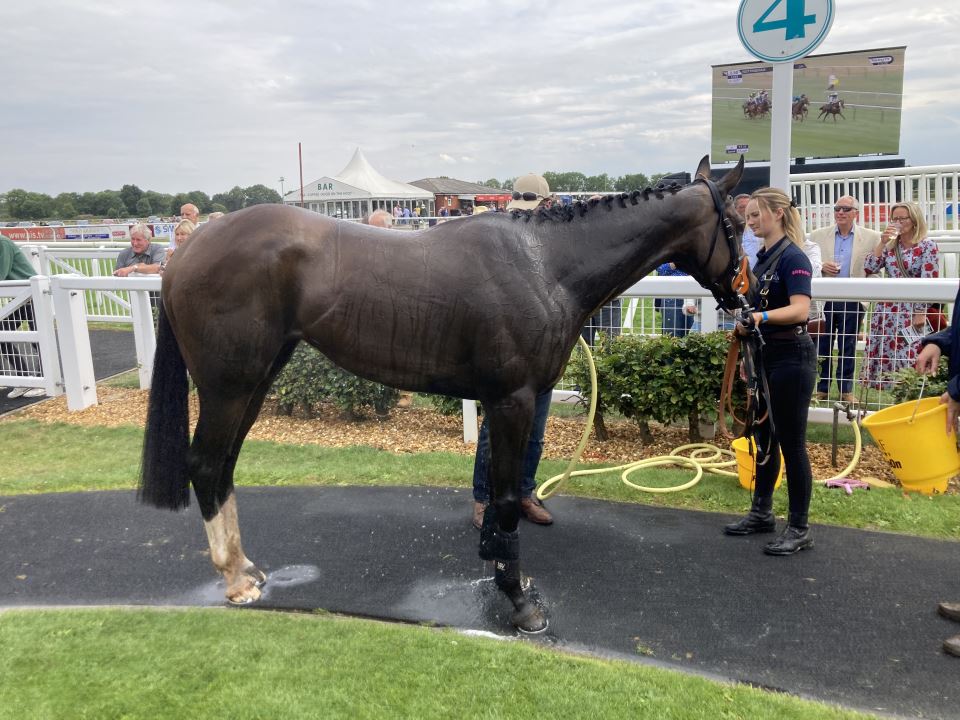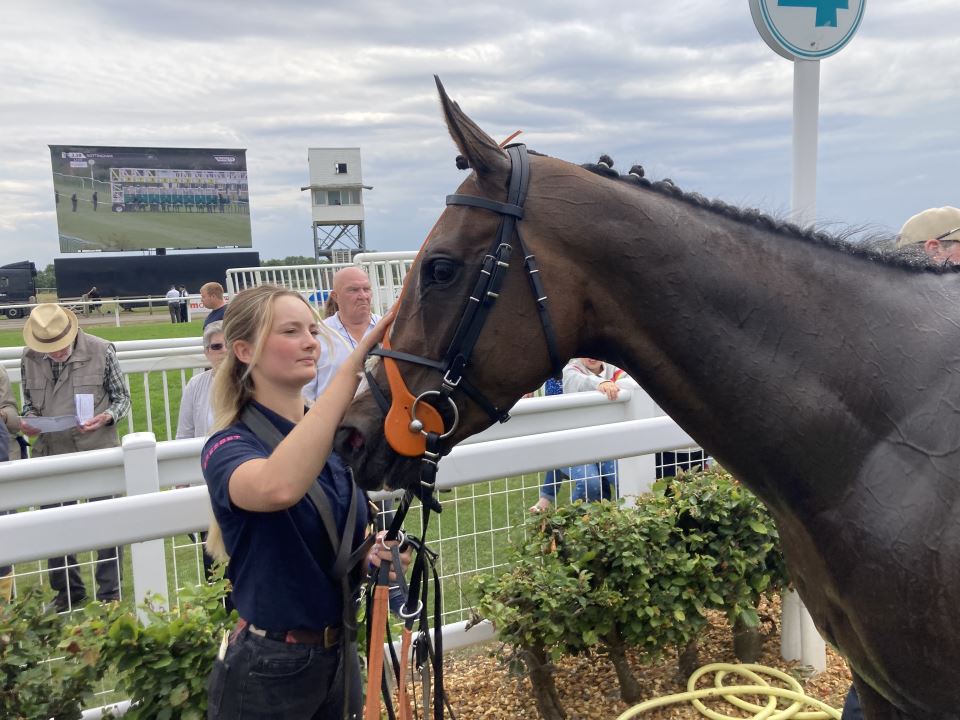 On the way into Stratford we stopped at the Bell in Alderminster - a large, open, and airy gastro pub - it was a great stop for a spot of lunch - and recommended should you find yourself out that way. Just 4 miles from the track, the Bell also has a few rooms and would be a great place to stay for a meeting.
https://www.brunningandprice.co.uk/bell/
Friday - and back to the office to get the monthly accounts weighed in - delighted to welcome two more new faces to the NBR family, Ben and his father in law had done a lot of research to find a syndicate that suited them, and were steered in our direction by plenty of the people whos opinion they sought which is very nice. We wish them the very best of luck with their first horse!
Reports on all the other horses are all good. Tintagel Queen and Auditoria are cantering away the finest with Olly. We will be getting an owners day organised both at Warren Chase and Ravenswell Farm in September - look out for details. Itchy Feet will soon be back to work after his wind op. There is just one share left in him - have a look at his details on the For Sale Page and get in touch - I will be arranging a day for his new owners to get in to see him very shortly - please get in touch and join us if you would like a share in him. All of the other horses owned by clients are in great form too.
Dean has settled in well at Bankhouse Stables with Donald McCain - he is just riding out at the moment but will start cantering in the next few days - all on track with him. Donald says he is just like a lot of the other horses he has had by the sire, and will suit the new national hunt juvenile hurdle programme perfectly.
Next week we have the last of the winter horses heading back into training - Classic Ben returns to Fences Farm on Monday, and Volkovka and Hidden Beauty head back to Ravenswell Farm on Tuesday.
I am heading up to the Goffs UK August sale on Tuesday ready for sale day on Wednseday. Nothing in the catalogue to float the boat for racing, but it is a mixed sale, and there could be something of interest in there - we will wait and see. Although we are unlikely to add to the squad there, we could very well see the team grow this week - pop back this time next week to see if we have another one!
Have a great week - and please pop by next week for all of the latest NBR news!