Better Late Than Never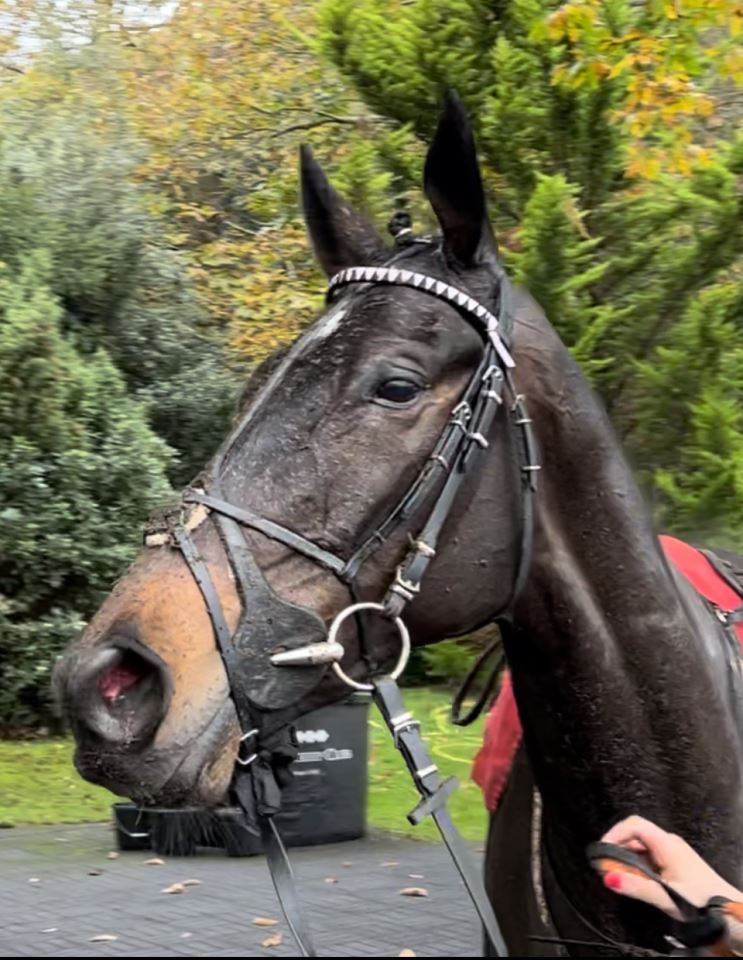 This weeks news comes to you a day late – apologies for that – but we have been on 'annual leave' in the Cotswolds – yes – at Cheltenham – two great days at the races – would have been three – but a bad back on Sunday meant we were home before the first – and watched all the final days action on the TV.
Although a day late, this weeks update starts a day early – last Sunday we were in Sandown to see Mamoon Star make his second start of the season. He had been second over 2 miles on his seasonal debut in Wincanton, and we had been keen to step him up in trip. Race options were limited form him, as he has to go right handed, so Sandown was really the only realistic opportunity for a few weeks. Fergal and I had both been a little bit reluctant to run him on soft ground around there, but as there were no real alternatives for him for the rest of the month – it was the first race on the best of the ground, and he was in such good form – a last minute change of mind saw him declared. In a conditional jockeys race, Liam Harrison riding for the yard, is still entitled to claim 3lbs – so another reason to give it a go. His owners were on to a winner before the off, as they were kindly invited to spend the afternoon in the Royal Box as guests of the racecourse, and they were all treated to fantastic hospitality, and great lunch. Mamoon Star looked an absolute picture in the paddock, but sadly, he didn't perform in the race. He travelled and jumped fine, but as the pace quickened, he just couldn't go with them in the ground and Liam did the right thing and pulled him up. A shame, but he lives to fight another day – he underwent several tests in the days after the race, just to confirm that there was nothing amiss with him, and he is fine – he simply doesn't like that ground – and he will now ply his trade around the likes of Ludlow, Taunton and Huntingdon through the winter months, where the ground is far less testing than at courses such as Sandown. Not our day – but huge thanks to Petra and her team at the track who gave his owners a wonderful experience despite the result.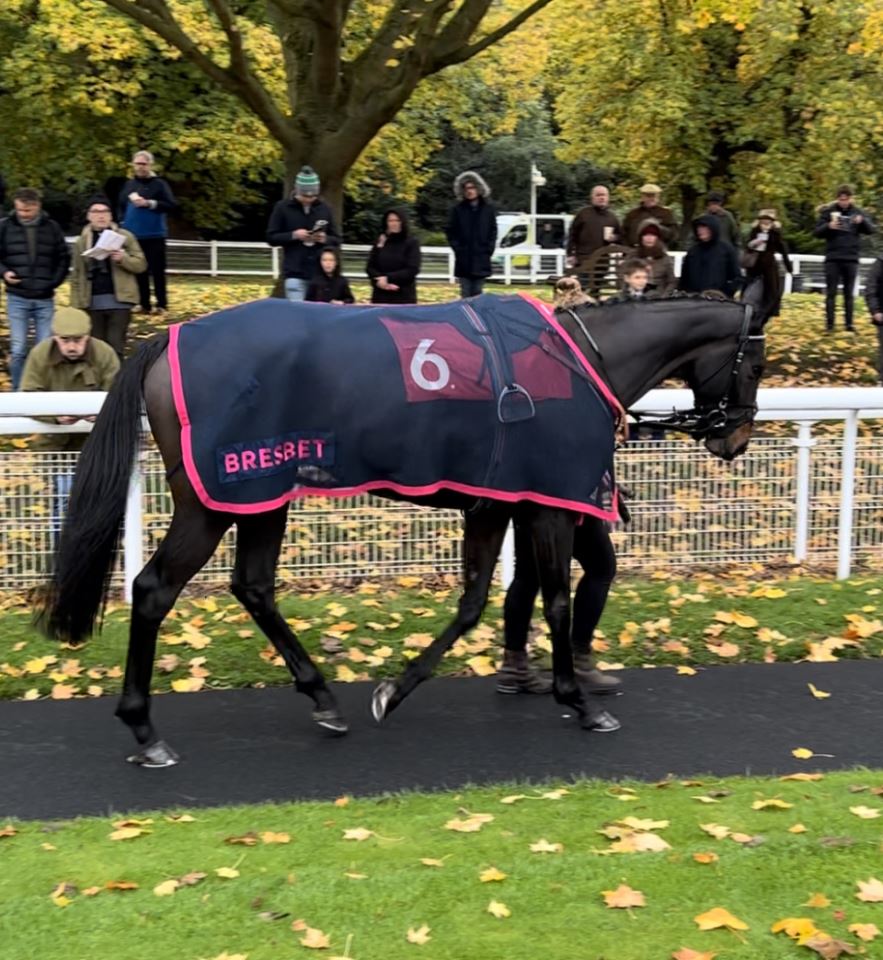 Mamoon Star pre race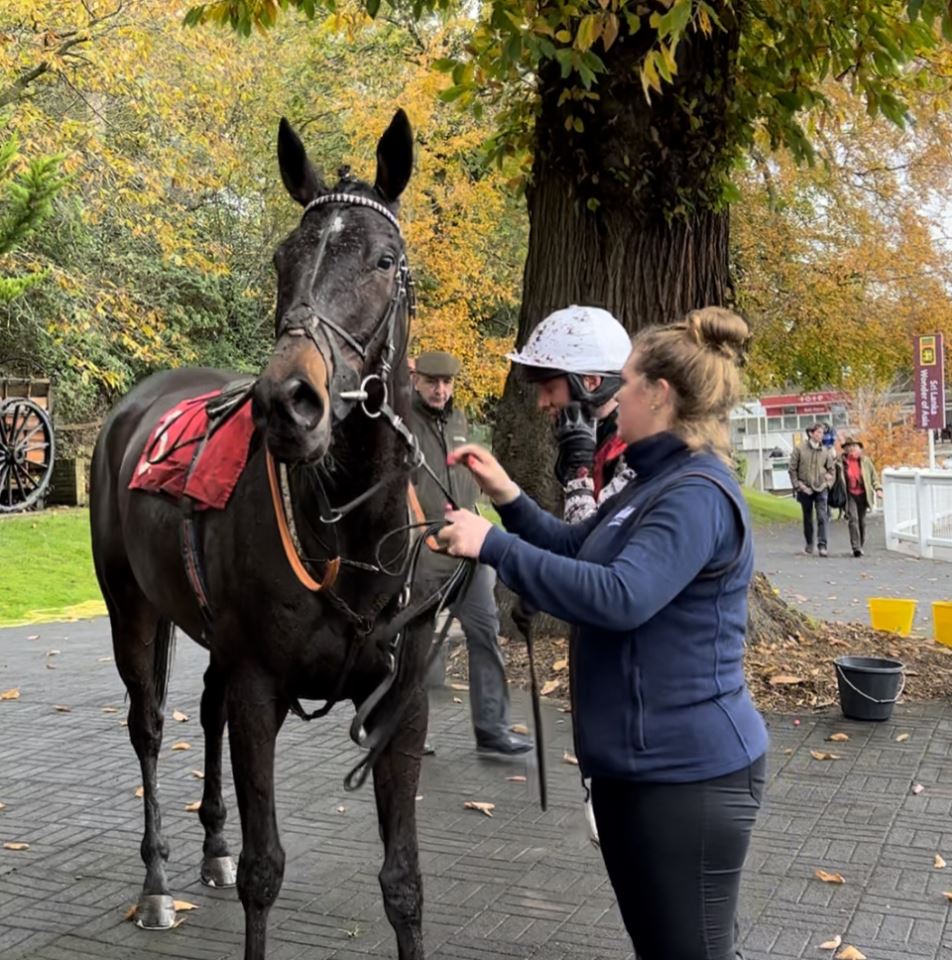 After a below par run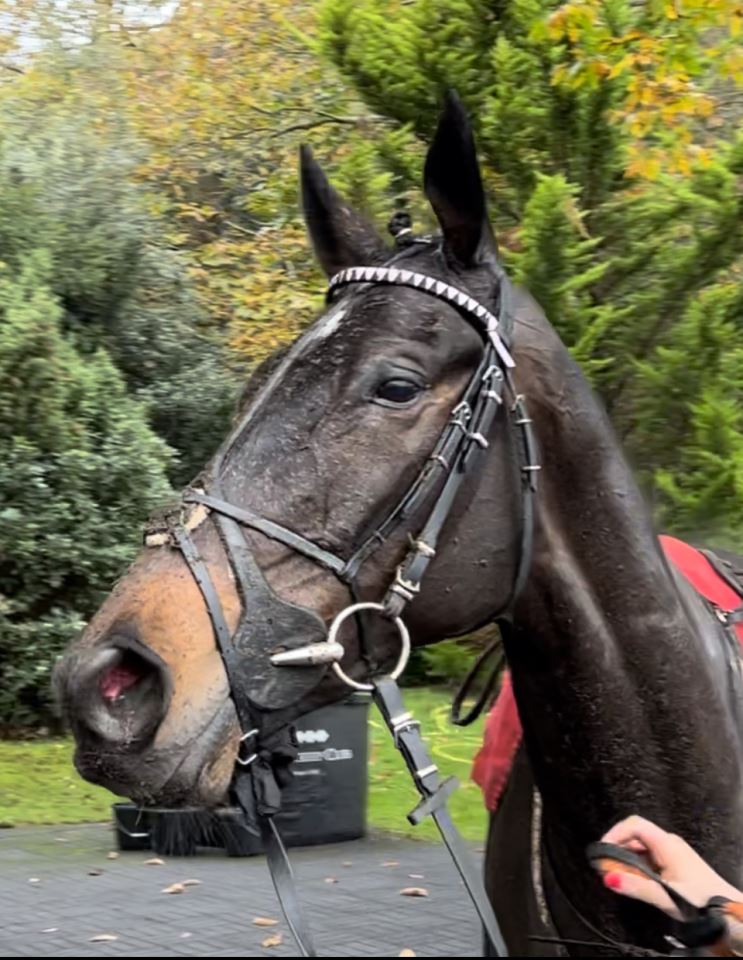 He's still a handsome chap!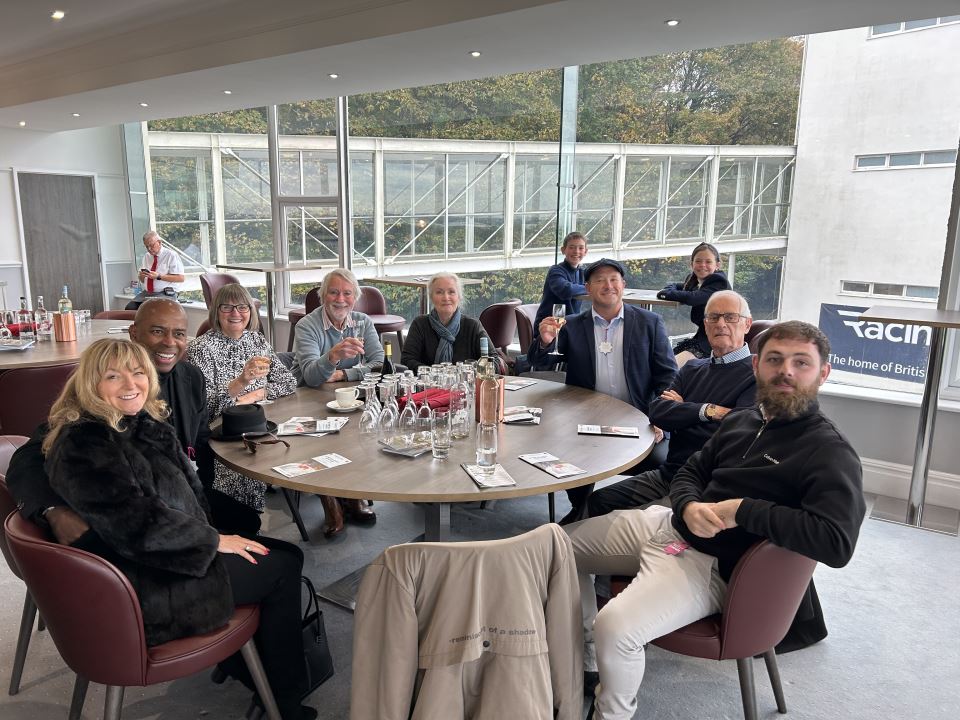 His owners enjoying the Royal Box!
Not a bad view!
Monday was spent in the office, more work finalising a few things with The Red Sash Racing Club – print work arrived, and we spoke to our Club Ambassador, and Betting Partner to dot some I's and cross some T's with them. We should be good to go this time next week! But I have thought that before – I have been a bit ambitious with my timings – I realise websites are like Rome and cannot be built in a day – not the one we need anyway! I did keep an eye on the action from Kempton in the afternoon, and it was good to see Alan King in the winners enclosure – his team are in good form. I had noticed a post by Ascot earlier in the day, congratulating him on his Birthday – so I sent him a text after his winner sending him a 'well done' for his winner, and best wishes for his Birthday. His reply 'Thanks but it's not my Birthday – I'm old enough without having two fxxking birthdays!'. I blamed Ascot – they probably think all 'Kings' have two Birthdays! I did catch up with him later in the week and he reports Rockola to be in fine form, she has just started back doing fast work, and she will be out again in a few weeks. It was very good to see the form of her Stratford debut work out so well last week, when the fifth and second from that heat were first and second in a similar junior bumper in Huntingdon. It was also good to see Jamie Snowden give his winner such a glowing report in his stable tour in the Racing Post – we felt at the time, that the race was a decent little heat, and it appears as though it was. Rockola will improve immensely for the experience, and she is a lovely filly to have – amazingly there is still a share available in her – have a look at her in the For Sale page and get in touch. She will be a fun filly in bumpers and has already shown that she is very accomplished over a hurdle too, so there is plenty of fun to be had with her. Her sire is very popular – a bumper winning daughter of his making £140,000 on Friday evening at The Cheltenham Sales – Rockola has a tremendous pedigree – has a value when her racing days are over and has the ability to be lots of fun in the track! She is outstanding value – get involved!
Tuesday – a last minute trip up to Warren Chase Stables to meet up with John and Tracy, John had planned plenty of racing days on his week off, but the weather was playing havoc with those plans – so a visit to Ollys to see his mare Tintagel Queen was quickly cobbled together. The horses all look great – and we got to see all three of them canter and school over hurdles. Itchy Feet had an entry in Cheltenham on Saturday, but with Sean in Uttoxeter on that day – Olly decided to wait with him, and he will go to Market Rasen on Thursday – right handed will suit him well! Auditoria runs this afternoon and is in great form – she enjoyed her spin up the hurdles, as you can see from the buck that she put in after the last one! She runs this afternoon in Leicester and is sure to run her usual race. This has looked the right race for her for some time, and hopefully she will run a nice race for her owners! Tintagel Queen is also ready to get her hurdling career underway, and she heads down to Lingfield tomorrow for a maiden hurdle. She will be taking on the boys, but we think this is the right place to start her, any further rain this week, could see some tracks get very heavy indeed, and we would rather she had a nice time and started out on ground that was not too deep, even though she likes soft. Tomorrow will be a good education form her, she is sure to come on from it, and it will put her spot on for her next start in around a month.
Itchy Feet (2nd) Tintagel Queen (3rd) Auditoria (4th) - wait for the buck!
Wednesday we didn't get far – caught up with Donald McCain who was in better form – his horses now back firing on all cylinders again after a quiet spell, although his mood was not made any better when our plans to send Dino Bellagio down to Warwick for a school over hurdles on their schooling ground were thwarted by the recent weather – the facility not fit for use after the rain – so we will devise another plan. Dino is in great form and will soon be back on track! Olly took Tintagel Queen away for her final piece of work ahead of her seasonal debut – Lewis Stones was on board, and she went very well – Olly and Lewis both delighted with her work!
Thursday morning – a very productive call with The Tote – who are going to be on board with The Red Sash Racing Club, who's members will be able to take advantage of some very generous offers on signing up! The Tote are very much a 'For Racing' organisation, and as the ethos of The Red Sash Racing Club will be about enjoyment, education and attracting new people to our great sport, they were a natural fit as our betting partner! We are very much looking forward to working with them on this project! In the afternoon we headed down to Broadway, and The Fish Hotel where we base ourselves for both the November and March meetings. We really do like The Fish and look forward to our stays there. The Fish is situated high up on the side of the hill overlooking the village, and this year we decided to change things up slightly and headed down to the The Lygon Arms in the village for dinner on Thursday night. The Lygon Arms is a lovely hotel, and we had a nice meal in there.
Friday, the first day of the November meeting – great weather and a really good buzz around the course. It was good to catch up with a few folks over the course of the two days I was there – my sore back was getting better up until Friday – when it took a turn for the worse – by Saturday night I was in agony again, and I decided that a third day on Sunday may be a bit of a struggle, especially as it looks like being a busy week this week with runners all over the country. Jason Maguire sent a lovely video update on Friday – Intrepide Sud looking great and doing plenty of cantering on his deep sand gallop. He will switch to Ravenswell Farm in the next couple of weeks – the vets are very happy with his progress, and I can't wait to see him over hurdles in the new year!
Intrepide Sud returns after his canter - what a beauty!
Reflexion Faite is still in the field relaxing after her busy summer. She will return to pre training after Christmas. Old Blue Eyes has settled in well at Ivy Lodge Farm, and he is due to be checked by the vets this week, when they will hopefully give him the green light to commence his rehab – which should not be too long, and he will soon be back in his stable at Bankhouse.
Around the remainder – At Ravenswell – Hidden Beauty is fit and raring to go – she will have an entry in Huntingdon next weekend. Fortune Forever has come out of her race in good order, and will be out again in a couple of weeks, as will Greyval who is in rude health – after an interrupted run up to her seasonal bow in a hot handicap in Ascot, she has come on from that, and we are all very much looking forward to running her again soon – she will return to mares company. Maria's Flame has also come out of her debut run in great order, she will have learned so much from that outing and will also head to fillys company in 2/3 weeks – depending on how she fares in that – will decide which route she takes for the rest of the season – she is the most fantastic jumper, so a switch to hurdles would be fine, but there may just be a route for her in bumpers for the time being. Again, we believe the form of her debut run is strong enough, and she is a fun filly to look forward to. The last share in her was snapped up by Nick this week – we wish him the best of luck with her – don't know what took him so long to grab it to be honest! Blue Bikini is back to normal – her tests are now clear – and she has resumed full work. She will have her second start of the season in 2/3 weeks. Volkovka will undergo a few further tests this week, after her bloods were found to be far from ideal after her run – her scopes are good, so there is something underlying elsewhere, and further tests should find the issue. Down at Gary Moores Cloud Dancer is very well – he did have an entry in Wetherby last Saturday, but Gary felt that he just needed another week with him – he has an entry in a similar race, a £30,000 introductory hurdle in Ascot on Friday.
This week looks busy if all goes to plan – Leicester this afternoon with Auditoria, Tintagel Queen in the first in Lingfield tomorrow – I may just pop into Gary Moores early to see Clod Dancer before heading to the races. On Thursday we have Itchy Feet in at Market Rasen, Cloud Dancer in Ascot on Friday and Hidden Beauty is down to go in Huntingdon on Saturday – should be a fun week – plenty of miles in the car – the heated seats will be on – try and help the back!!