Breadth Of The Nation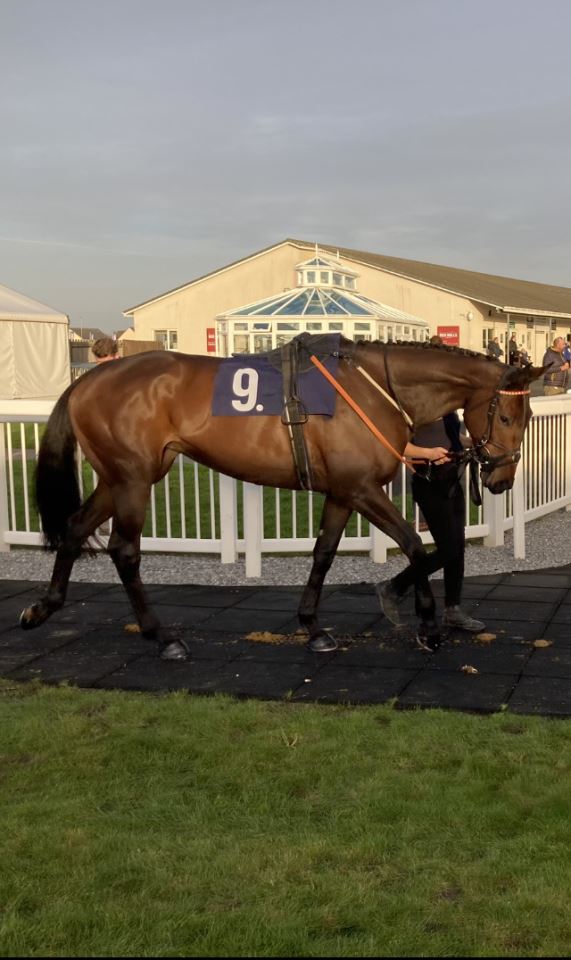 We just about travelled the entire breadth of the nation in search of winners in the past week.
After a great weekend in Cheltenham last weekend, Monday was spent in the office catching up with the admin, sorting out the new share holders in The Lavendon Patnership, and sending out further details to new clients. Talking of the Lavendon Partnership, the vet was in to check out Classic Ben, just to make sure that he was 100% happy with him before he started to go a stride quicker. Delighted to report that all was well, and CB was able to step up a gear this week. His return to the track has been a long process, but we are getting ever closer.
Tuesday we went east - out to Fakenham for Auditoria's second start of the season. She has been in fantastic form at home, and Olly had been delighted with her. The race was a mares' novices' hurdle, with just four runners, including a debutant, and a filly that had finished second to Blue Bikini last time out in Plumpton. Auditoria had had a short course of ulcer treatment since her seasonal debut at the same track, and had improved for it, and the run - she looked a picture in the paddock. The race looked like a gilt edged chance for Audrey to break her duck, and we travelled there with a degree of confidence. We by no means felt she was a certainty, but we felt it was a great chance for her, but how many times have we seen it - just when everything seems to be in place, something unexpeted comes to bite you! We had enjoyed three winners from three runners up to that point in November, so I suppose we were due a reverse. We got it - Auditoria has never made a mistake either on the track or at home, and she picked her moment to make her first one! She was travelling very sweetly in second gear, and jumping great until four out, when she hit the flght, sprawled on landing, and unseated Aidan. Thankfully both horse and jockey were 100% afterwards and live to fight another day.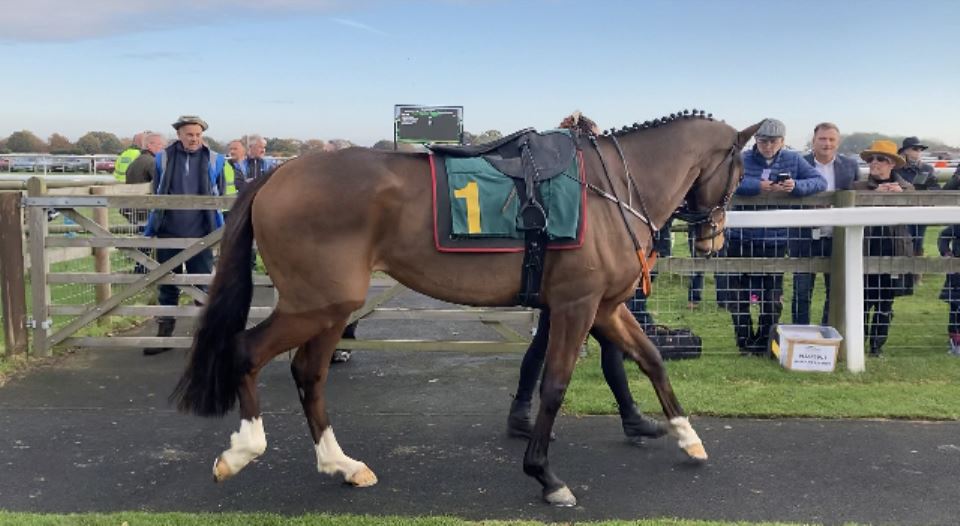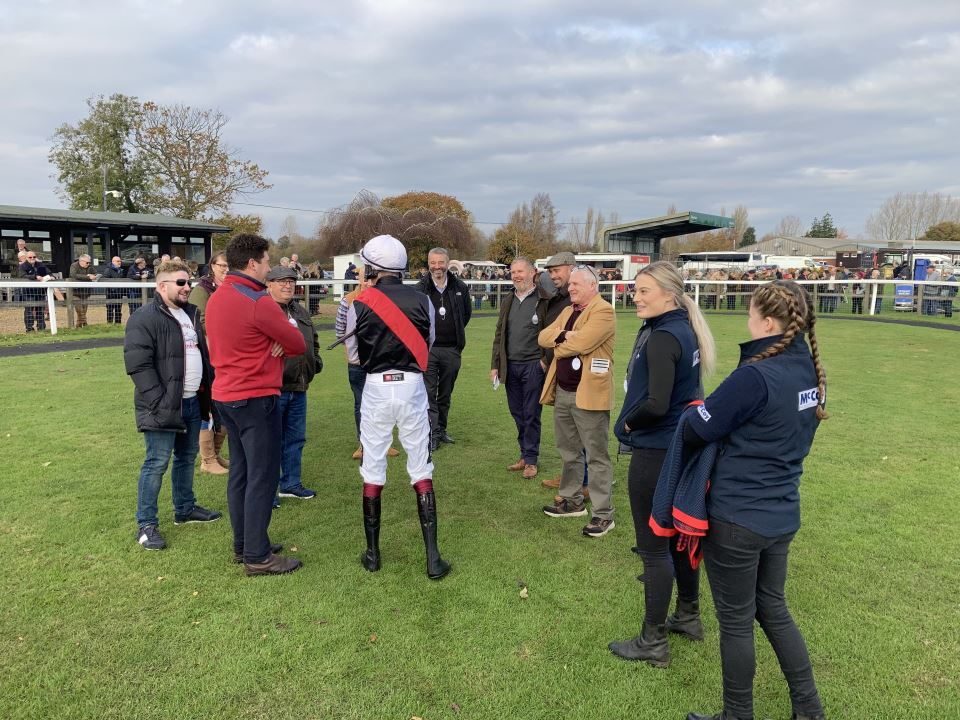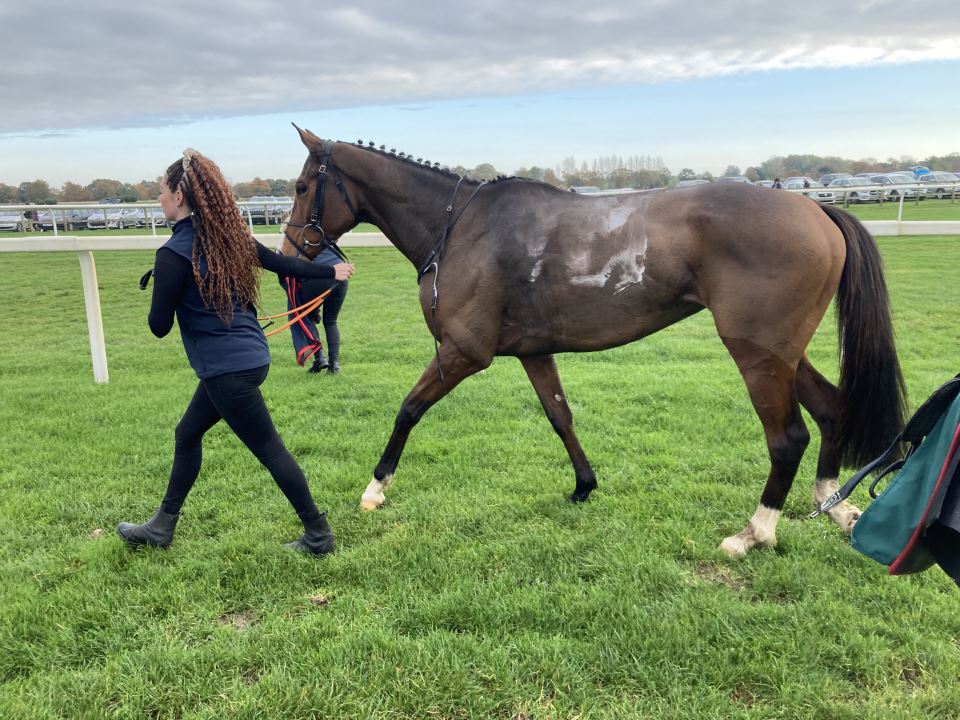 I left soon after the race and headed home to pick up Cheryl and the cases, and we headed off again, this time westwards - and down to Cheltenham.
The recent dry spell is playing havoc with trainers plans to run their horses. Tracks having to water to maintain good ground in November is most unusual to say the least. The plan for Hidden Beauty's debut was made around six weeks ago, and as she is such a big, powerful mare, she really needed to race on a soft surface - so Ffos Las had been the plan, and thankfully it was the only place in the nation with a going description of soft. So Ffos Las it was, and the day of her long awaited debut had arrived. We were staying with friends Kev and Jules at The Kilkeney Inn which just happens to be on the doorstep of Kim Baileys and Fergal O'Brien - so I took the chance to pop into both yards. On Wednesday morning I nipped over to KIm Baileys to see Queenohearts. She is looking superb. She has had a very intensive course of treatment for some very bad ulcers, and the difference in her is astounding - we have also reached the stage of her return to racing where she can begin to stride on a fraction, and everyone is really pleased with her progress. After watching her strut her stuff it was off to Ffos Las. We picked up syndicate member, Karen on the way, as her lift had let her down, and it was nice to get to know her on our travels along the M4, and we really appreciated her buying dinner for us when we got back to the Kilkeney in the evening, as a thank you for her lift. It was my first visit to Ffos Las, and great to see a 'local there' - Paul is a former syndicate member, who now spends much of his time in the FFos Las area, and was enjoying a day out. To say that Hidden Beauty has always been held in high regard is an understatment - since one piece of work in the spring we have always felt she was a bit special, but she still had to go out and prove it on the track. It was to be her first time away from the yard, and her first time galloping on turf, so there was bound to be lots more to come whatever she did. Liam Harrison rode, and the plan, like all of Fergals bumper horses on debut, was to ride her very cold sit out the back and let her come through horses, and enjoy her first day at the races. She did just that. Liam was so cool on her I now call him the 'Ice Man'. It's all very well knowing the plan, but that did not stop me from getting very nervous with about three furlongs to run, when she was still second last with 14 mares ahead of her. At this point, calller John Hunt announced that 'she would have to be very good to win from there' but Liam just gave her a flick down the shoulder and she began to move stylishly up on the outside. Hitting the front in a matter of strides, and going away for an easy 2 length success. A great start with her, and she really does look like a mare of considerable quality. A Racing Post Rating of 115 on debut is eyecatching, the highest RPR for any mare in a bumper this season, and she looks to have a very bright future. HB Is such a pro - she looked like a Queen in the paddock, and came home, ate up and trotted out on Thursday morning like she hadn't left the yard. She didn't know she had had a run! Like Mamoon Star after his debut, she has now gone to Jason Maguires for a spell of R&R, and we will sit down and discuss where she goes next, as the only firm plan at present is the mares listed bumper in Sandown in March. She made it 4 winners from our last 5 runners in November.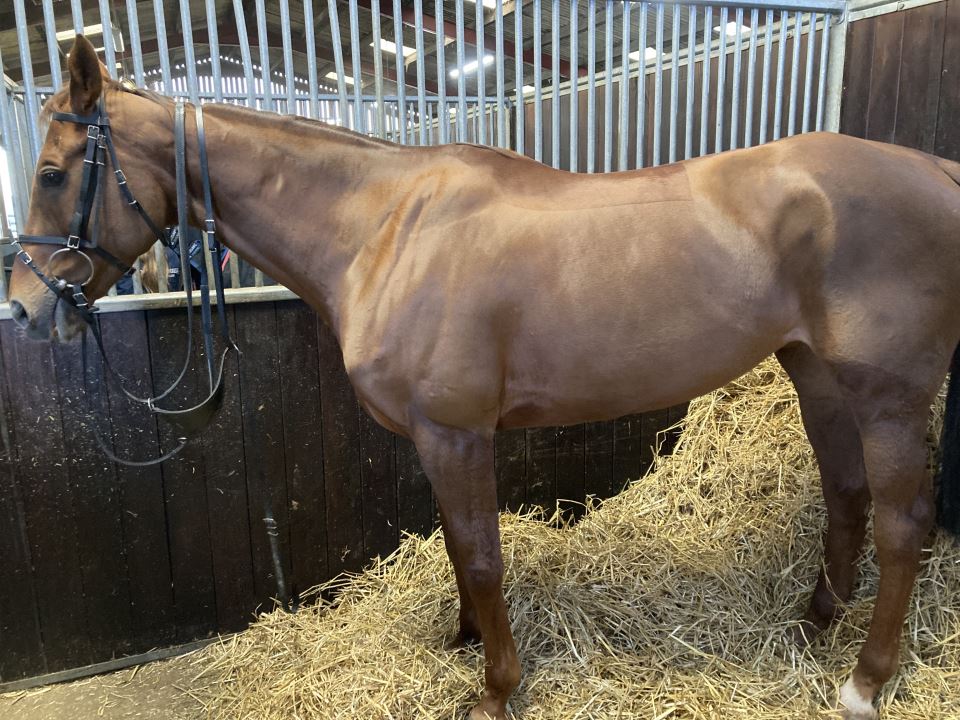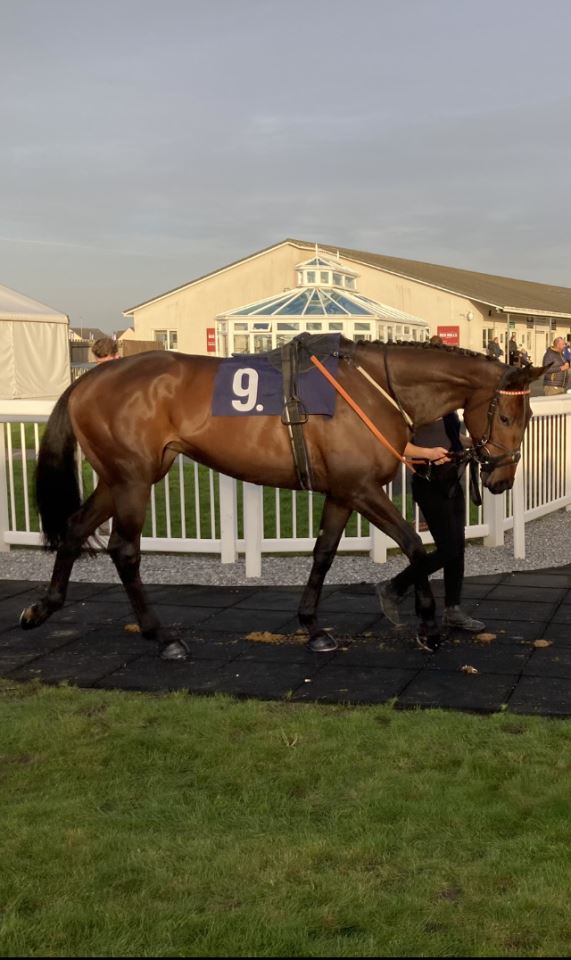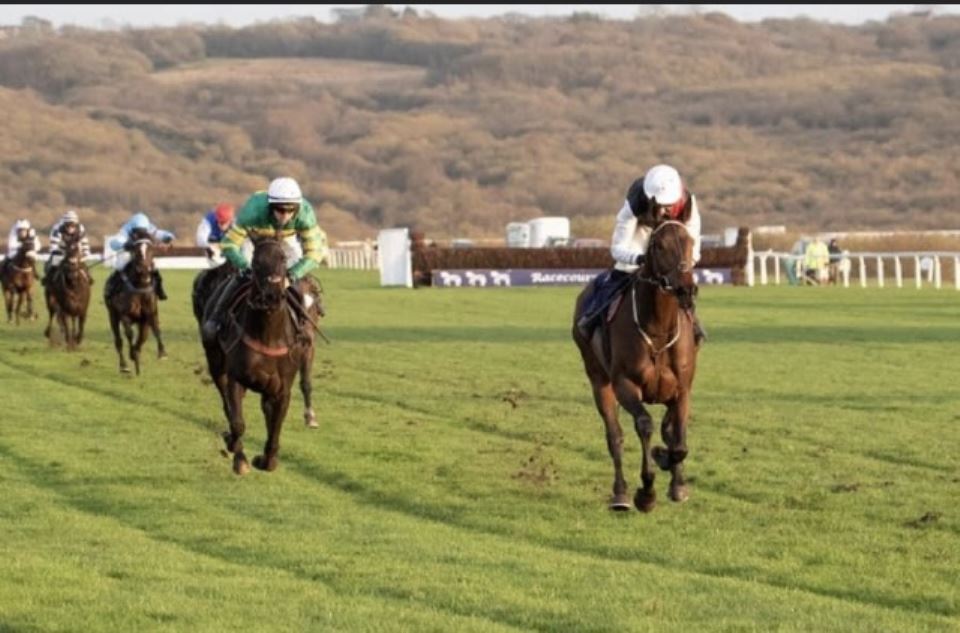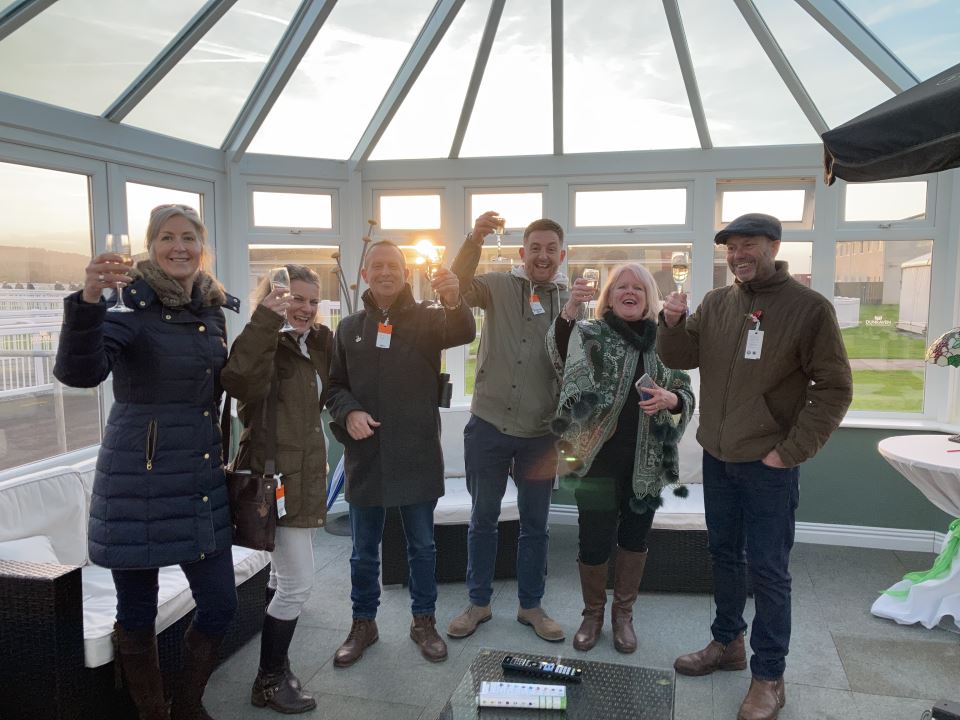 Staying at The Kilkeney on Wednesday night, I was in Ravenswell Farm before 7 on Thursday morning. Mamoon Star had a canter. Yauthym and Volkovka also cantered early as they were due to be clipped that day. All are in great form, and looked really well. Betty, the Westerner filly is also going well, she is starting to get her figure, and is pleasing everyone that deals with her. Blue Bikini schooled over hurdles and was in great form. She had been pencilled in for a run this weekend in Uttoxeter, but that had to be shelved when she picked up a very minor cut last week and she will now be seen again in a couple of weeks.
Back in the office Friday - and race reports to write, and finalise plans for The Chicheley Partnership to go to Ascot to see their horse Go Millie Go run in the mares handicap hurdle there yesterday. Hannah and her team at Ascot were simply brilliant to deal with. We have always had a good realtionship with the track, and when all bar one of the members said they wanted to go to see Millie run, along with their guests, they were simply superb in allocating them their own lounge overlooking the pre parade ring. They were treated so well, the facility having it's own bar, and a very enjoyable three course lunch. It was great to be abe to spend the afternoon there, and fantastic that Ascot were able to host the largest group of owners we have ever taken there so well!
Go Millie Go was back over hurdles after a chasing debut in Fakenham that lacked fluency. This was the right race to get her back on track, and it did just that. She travelled and jumped in her usual front running style, and really enjoyed herself back over the smaller obsatcles. there were five in line jumpjng the second last, but she kept toughing it out, beaten just 5 lengths in a bunch finish for the minors. Ciaran was happy with her. and she will be out again next month.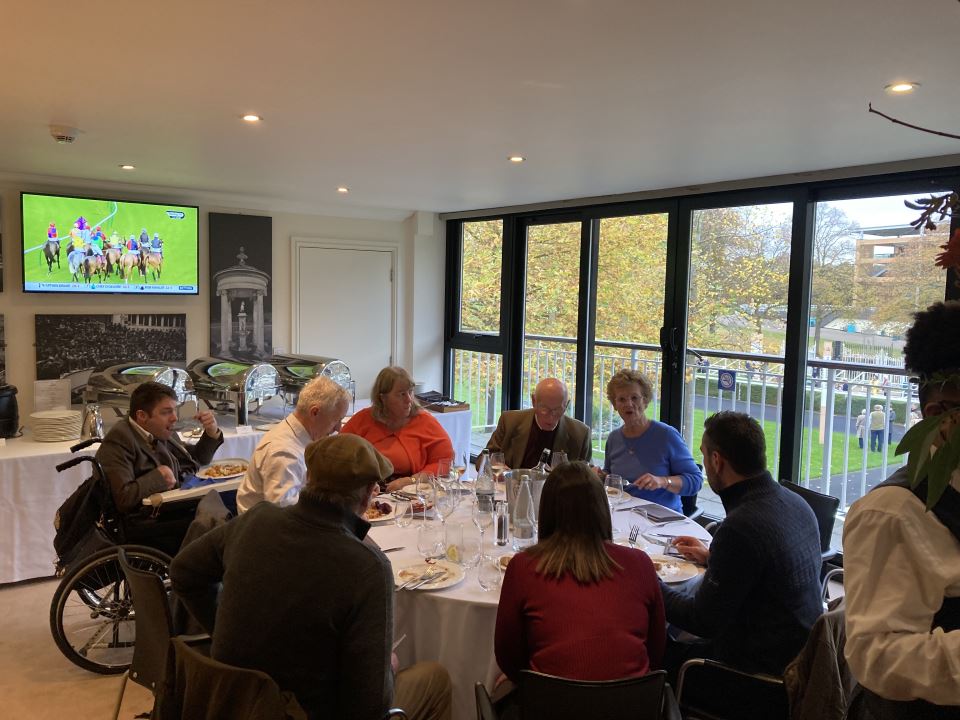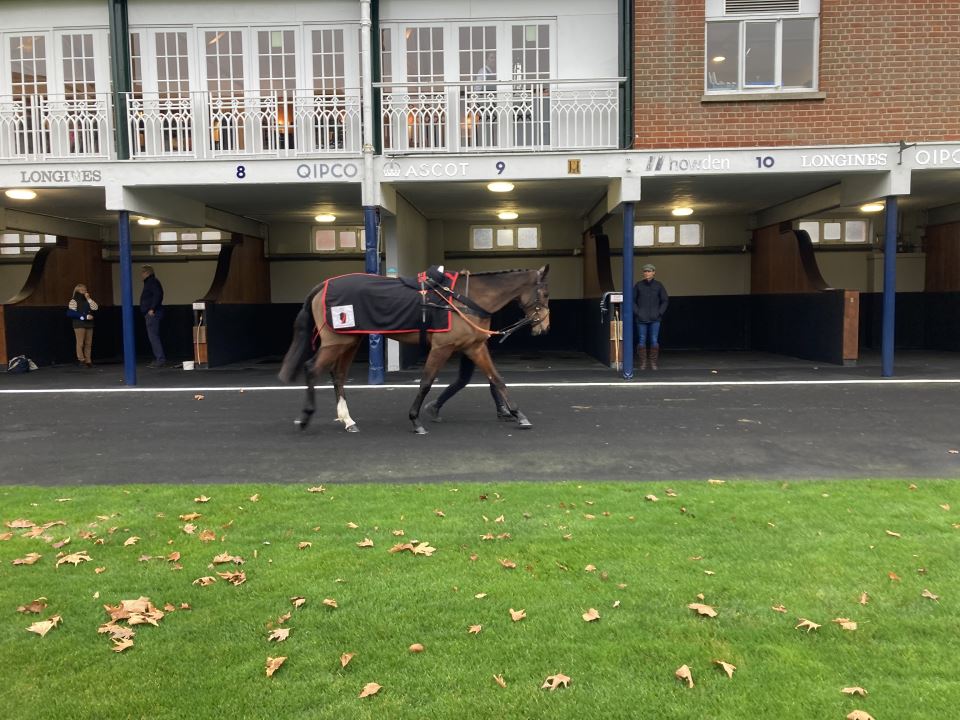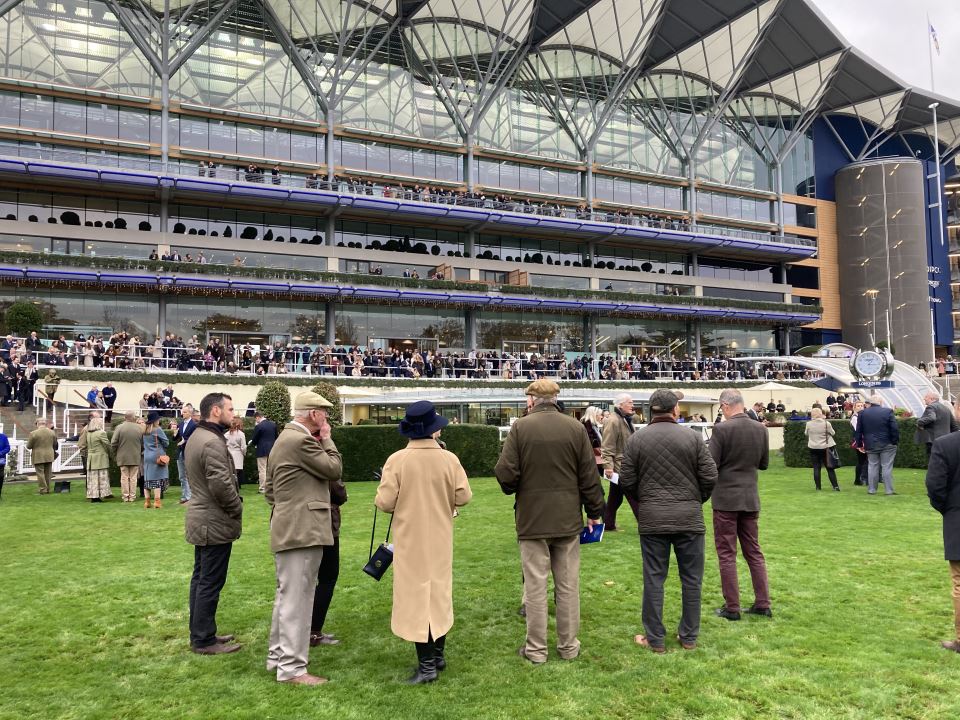 This weeks handicap marks were amended as follows - Yauthym + 11 (ridiculous) Volkovka + 9 ( just about fair, but only just)
We have had a busy time of it over the first three weeks of November - four winners from six runners, the form figures read 111U15. The season statistics are 5 winners from 14 runners at a 36% strike rate - all completed runners (2 unseats) have finished in the first 5!
We now have a quiet couple of weeks on the racing front - with stud and yard visits planned instead. The next runners will be is 2 weeks time - and the way we are going we can't wait!
Please get in touch if you would like details of any shares that we currently have available - they are very few and far between - but you will be joining a Winning Team!! Drop me a line on nickbrownracing@gmail.com or call/message me on 07909 518902 - or call the office on 01234 771940.