Border Raider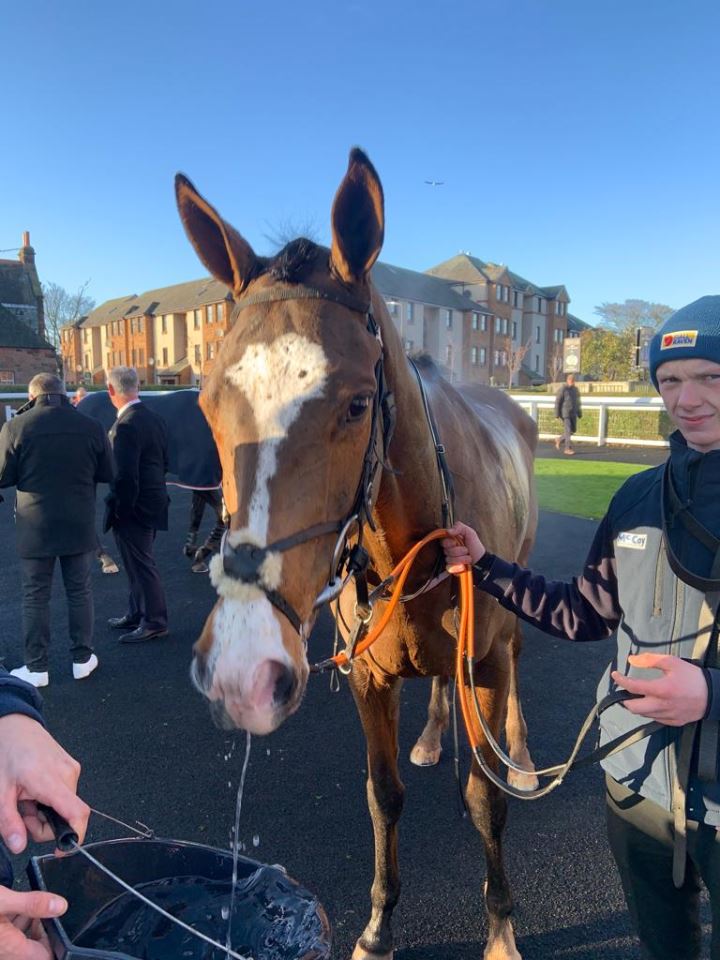 Last week started well - Auditoria made the trip up to Musselburgh to take her place in a 0-140 handicap hurdle for four year olds only, that carried a total prize fund of £17,000. She had been in great form since she unfortuantely unshipped Aidan Coleman in Fakenham, and this race was a great spot from Olly. Tracking entries 6 days earlier - with a couple of miniutes remaining before entries closed, he saw there were only 6 horses entered and that the top rated was 127, and added to that,two of the six entered could be running from 'out of the weights' so at 11.59 he popped her in. Aidan sadly took a heavy fall in Huntingdon the day before, and feeling a bit sore he didn;t make the trip north, so Adrian Heskin stepped in to deputise. Auditoria once again looked great, and ran a super race to finish second - picking up more prize money for doing so than she woud had she have won elsewhere. We learned a bit more about her, and although this was her fourth runner up finish in five starts over hurdles - Adrian was delighted with her, and said that he was shocked she hadn't won already, and that a stiffer test at 2 miles or a step up in trip would see her break her maiden tag very soon. She seems fine after the race - and will be out again in 3/4 weeks - possibly over the busy Christmas/New Year period.
Tuesday, and the eagerly awaited publication of the official handicappers weekly adjustments - to see who has gone up and who has come down! This week it was all about Volkovka - to see what he had made of her second place in Sandown last Saturday. A rise of 5lbs to a new rating of 132. I knew she would be going up, as they won't let you finish second in a decent handicap at a Grade 1 track on a Grade 1 day without finding you a couple of pounds for your efforts, but I felt 5lbs was a bit harsh (I would wouldn't I). We knew she would improve for her summer break, and as a result her whole campaign last season was carefully choreographed, but didn't expect to be a stone higher in the ratings after just 2 runs! She is an exciting filly, and as there are no opportunities for a 132 mare in handicaps against her own sex, she will now head back into Pattern company, with a run back over course and distance at Sandown in January.
Ciaran was in Fences Farm this week to school Classic Ben - it has been a long road back for him after complex remedial treatment to a joint in the spring led to a complication that resulted in a lengthy spell of recuperation and a long and carefully managed work regime to get him back. All has gone well - and Edmunds reports him to be in fine form. He has an entry in a 3m handicap chase in Exeter on Thursday, and hopefully he will get there with no problems, and we will get to see him back on track.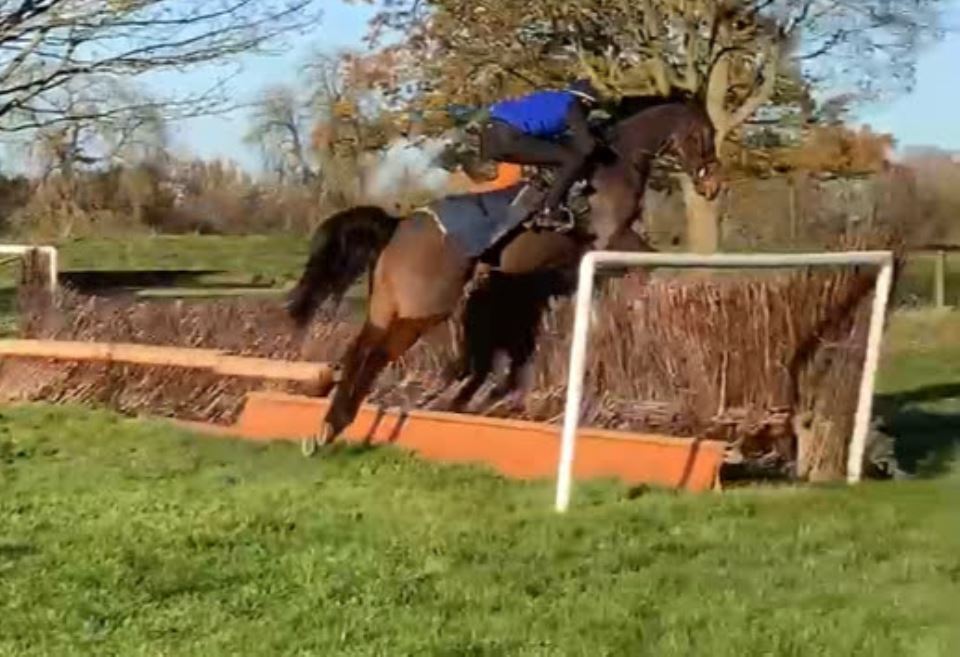 An entry was considered for Go Millie Go in Ffos Las on the same day, but she had a cut to her gum a few days ago, and had a few easy days to recover - so misses that, but will instead head for Kempton on the 27th, and a mares' handicap hurdle there.
On Friday morning I headed down to Cheltenham for their two day International meeting. It had been planned as a trip with Cheryl, but sadly she has not been well for a few days (Not Covid), and something we had hoped would be cleared up by Friday just wasn't - so she was declared a non runner. Friday was a glorious day - there was some great racing and it was good to share a drink with folks that I had not seen for a very long time, and catch up on all the news and views - a lot has changed!! It is amazing what you can pick up just chatting to the right people, and you never stop learning, one little nugget of info that was gleaned on Friday could have very exciting conitations for one of the team going forward! Watch this space!!
Friday night was spent with friends Kev and Jules at their pub/restaurant, the Kilkeney Inn. Always good to see them, and for me it serves at a great spot to base myself when I am down for the racing and yard visits.
An early start Saturday, and I was in with Fergal before seven. It was just a flying visit, and great to meet Cameron and his Dad for the first time - they were in to see Betty. First lot I got to see Hidden Beauty, Blue Bikini and Mamoon Star do two canters, and Volkovka do the one. Volkovka looked in great heart after her Sandown run. Blue Bikini was back on song, and looked really happy and chilled out - she had had a few days on the easy list after a dirty trach wash, but looked back in fine fettle, and she should be out again over the holiday period. Sadly Betty also had a dirty scope on Friday, so she was off games on Saturday, so the lads just got to see her in her box. Hidden Beauty is in great order, but will not be running until at least February, as we are carefully managing her spring campaign. Mamoon Star is very much on course for Cheltenham on New Years Day, and a crack at the Listed bumper there. Yauthym did not go out as she has been a bit stiff and sore for a few days, and until she is moving better she misses out.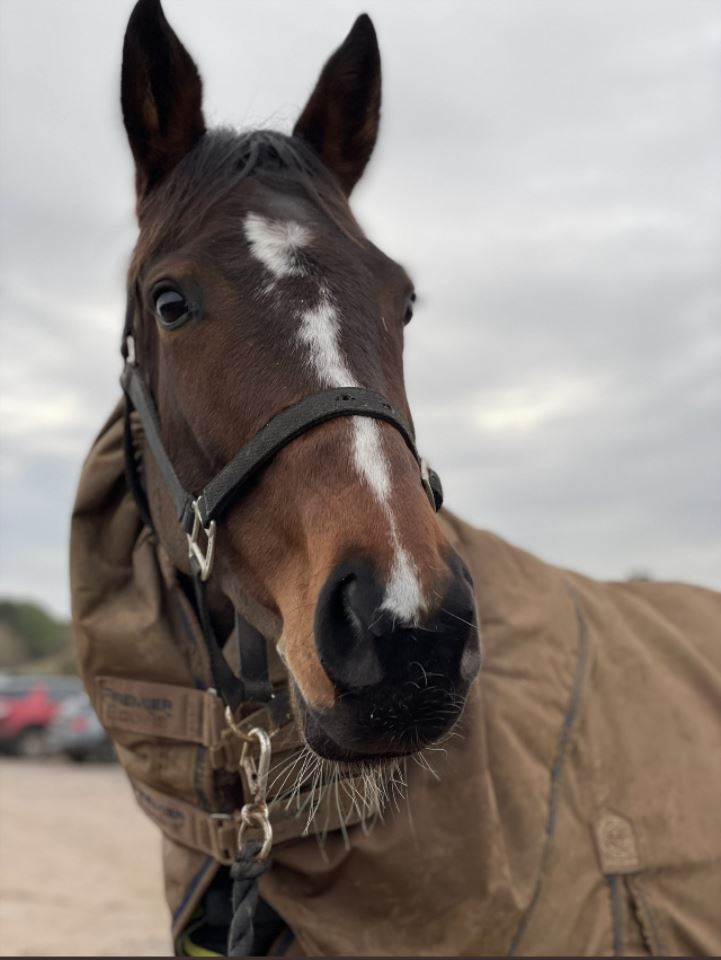 I was only in at Ravenswell for a couple of hours, as I had to fit in a visit to Jason Maguires to see the two fillys there, before getting to the racecourse for 11.30. The Soldier O Fortune Filly and Tintagel Queen did a couple of good steady canters around Jasons' circular gallop. The SOF had been on an away day to Tom Georges gallop in the week, and had gone really nicely. Tintagel Queen will visit the same gallop this next week. Both looked in great heart, and are two very exciting prospects. Chats with both Olly Murphy, who will train TQ, and Fergal who gets the SOF, has resulted in a firming up of plans for both - with them going into full training in the seciond week in January, after they have had their flu vaccinations around the turn of the new year. Great to see Soldier Of Fortune having such a good run with his bumper horses recently - 3 winners in the last few days - so all is looking very positive for our young lady! There is just a single share left - so get in touch if you would like to join in the fun - details are on our For Sale Page. Tintagel Queen is just a monster of a filly - and with a superb pedigree - the early signs with her are very encouraging - and hopefully she can get to show us what she has under the bonnet in the spring.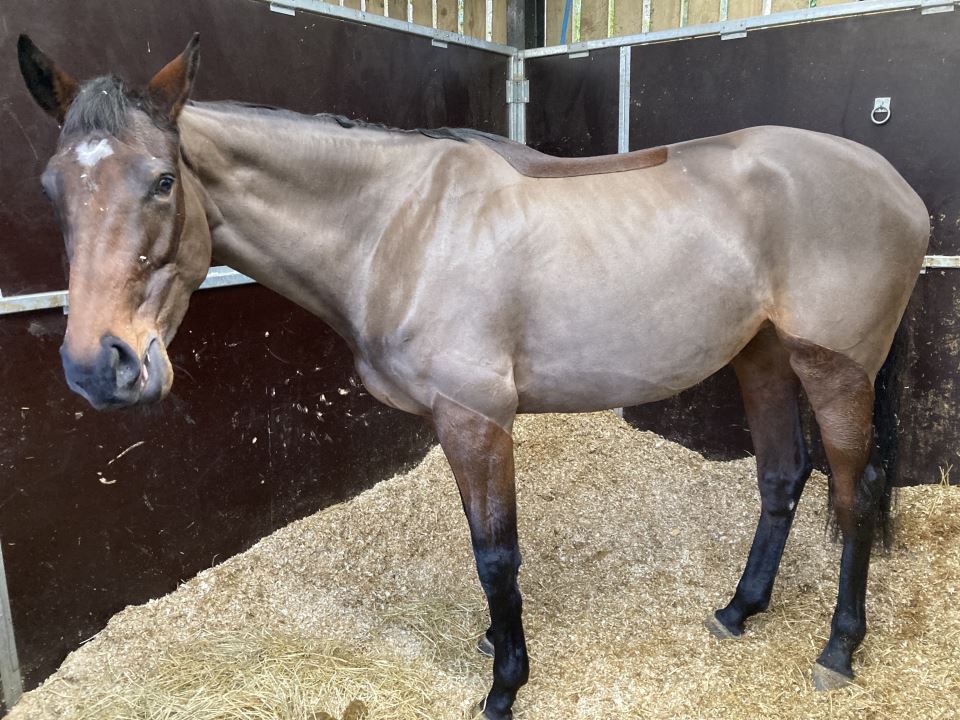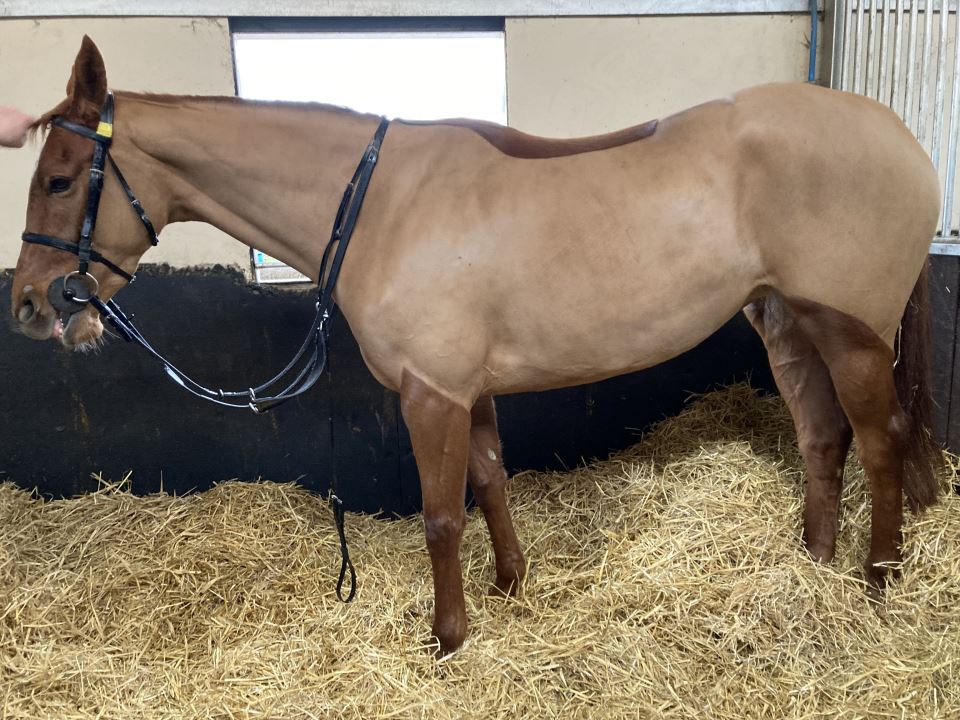 I had to be at the racecourse by 11.30 as I was very lucky to be invited by Louise Kemble as a guest to The Royal Box for the afternoon, and the racecourse chairman would be hosting a drinks reception at that time. I was only a couple of minutes late! But did manage to sneak in at the back! A superb afternoon, with some great company, and thrilling racing. Cheryl more than a little gutted to have missed out! It was an added bonus to be able to be with Louise as the horse that she co owns with Mr Richards, Midnight Mary won the mares staying handicap hurdle in Doncaster - a real buzz, - congratulations to all involved! We cheered her home with a fair bit of pacing and raised voices - but our urgings were nothing in comparison to those of Kim Baileys later in the afternoon, as he roared on his horse in the last in Doncaster. The urging started about half a mile out, and continued through the thrilling finish to the line, with Kim practically riding a finish on his seat in the dying strides! After so many years in the sport - such enthusiasm! But I did have him checking his twitter feed for the rest of the afternoon, after jokingly telling him I had recorded his brilliant driving finsh and posting it for all to see!! Sadly I hadn't, he would be a social media sensation by now - his style in a finish lacked a bit of finesse!
Later in the afternoon Kim sidled up and whispered that Queenohearts had done her first piece fo proper work that morning, and had done it very well, and that he was delighted with her. He had sent a video for her owners that morning, and Ciaran had had the pleasure of riding her, and he was delighted too! Fingers crossed that the wheels stay on for her!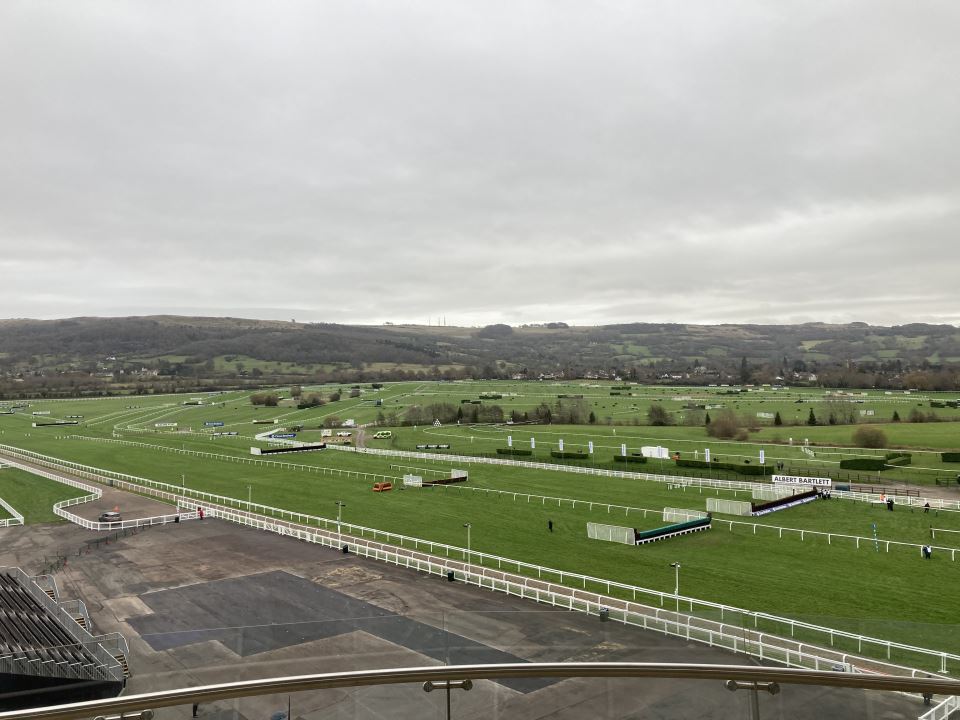 The plan had been to for Cheryl and I to stay at the Kilkeney on Saturday evening and then head up to Olly Murphys on Sunday - when he was hosting a Christmas/ mid season reception for his owners. With Cheryl a non runner, I had still planned to go myself, but instead I came home after racing.
This week, apart from Classic Bens entry in Exeter on Thursday things are a bit more quiet - Should he run there - I will probably head down to the cotswolds again and pop in to see QOH at Kims on the way down, and on Sunday it will be great to catch up with the owners of Molly Childers, when we finally get the chance to get together after far too long, for a Molly, mince pie and mulled wine hour! Molly is in great form, and looks fantastic - as I have said before - motherhood really suits her. Savingforvegas is in great heart too, although there is a bit of a clash of personalities with MC, as both consider themselves 'top dog'!
More strong trade at the December National Hunt sale in Goffs this week - and continued support for the progeny of Blue Bresil. Barry the 2021 foal out of Savingforvegas is a really nice example a foal by the sire, and he is really going the right way. He is sporting the latest in Duct Tape Wellies, as the wet weather has just resulted in him (like so many) getting a slight foot abcess. Standard at this time of year!