Millie To Malcolm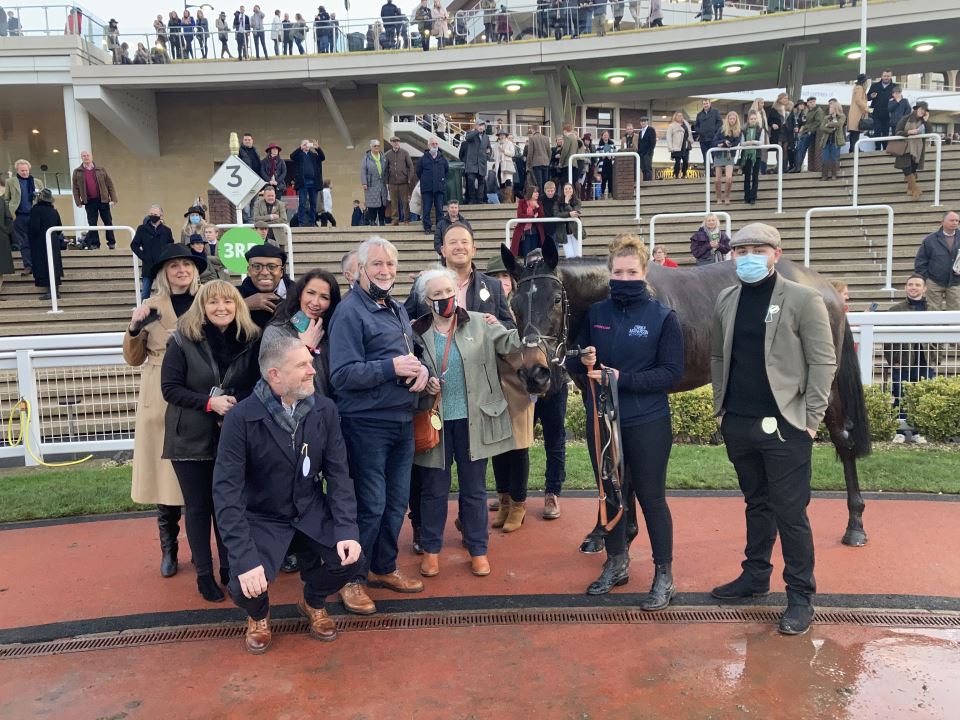 After our quiet Christmas (thanks Covid)! We certainly made up for it this week.
Monday morning Mamoon Star got his entry in the Listed bumper in Cheltenham - he has always been held in high regard and after a very decent Huntingdon debut, this race had always been the plan.
Monday afternoon in Kempton to see Go Millie Go take on a few mares she knows well in the 3m handicap hurdle. After a decent fifth in Ascot on her return to hurdling we were looking forward to seeing her out again. She is a tough girl, and never lets her owners, The Chicheley Partnership, down, but on this occasion she put in a rare, below par effort. Held up in a race where there looked to be plenty of pace, and at a track where no winners had gone from the front on the previous day, she was held up off the pace, and after a mistake mid race, she was never really travelling and failed to pick up when the pace quickened, in the end finishing up well beaten. Ciaran reported that she just didn't feel right, and that he felt there was something amiss with her. She returned to Fences Farm and was found to be lame behind - the vet will investigate further next week.

Tuesday and a trip up the A1 to Catterick for Auditoria. This ultra consistant filly had finished second in four of her five starts. Her previous run had been up in Musselburgh where she went for some incredible prize money, picking up more for second up there than she would have done winning a novice down south. We know what she requires, and we have been trying to be a bit cute with her, in that we felt there was the opportunity to pick up a little race, under non optimum conditions without damaging her handicap mark. Catterick worked out perfectly. She was given a peach of a ride by Fergus Gregory, who simply tracked former champion jockey Brian Hughes into the straight, and delivered her with perfect timing at the last to pounce and win a shade snugly! A great ride, and a fantastic result for her owners, a large number of which had travelled up to the track. So many of them are first time syndicate members, and it was great to get her off the mark for them! There is plenty of fun to be had with her! Huge thanks to Fiona and her team at Catterick for making it possible for so many of her owners to be there to see her debut win - another track that are a joy to work with!
Thursday we headed to Taunton to see Blue Bikini contest the Listed mares hurdle there. A winner last time out - this was a big step up for her, but Fergal thought that her homework had improved so much since Plumpton that it was worth a shot. She had looked like a real stayer when winning her race, and her pedigree is very much stamina laden, so the minimum trip around a sharp track was far from ideal, but there are not too many opportunities for black type with these fillies so it was worth a crack with little to lose. She looked incredible in the paddock before hand, she looked great in her coat, and has strengthened so much she was nearly unrecognisable! In the end though, she found everything in the race happening a tad too quick for her, and Connor looked after her. We will discuss the next step with her - with a couple of routes open to her - but I am sure this is not the last you will see of her in pattern company. She is fine after her run, and will be out again in January.
Saturday we headed to Cheltenham for Mamoon Star. We came at it from a different direction as after a very nice New Years Eve in Padstow, we headed north in the morning! A great day for his owners - as metioned he is a horse that everyone that has had anything to do with him really likes, but this was very much a litmus test to see where he ranked among the bumper horses of his genertion. He looked absolutely fantastic in the paddock, his coat was gleaming, and he had defintely strengthened over the near three months since his Huntingdon debut. He is such a laid back character that he took all the prelims in his stride, but for one so young he is so professional as he just switches on when the jockey gets the leg up. As with the vast majority of the O'Brien bumper horses Connor Brace had him settled in rear, and he 'went to sleep' so nicely for him tht he even had to give him a slap down the shoulder at the top of the hill to wake him up a bit. Still third last at the foot of the hill, he started to make his way through horses, and after his first reminder, he simply flew up the hill to finish a very eye catching third. In the end giving a 7lb sex allowance to two very decent fillies, in what was the strongest ever renewal of the race was a bit much for him, but he comes out as the best horse in the race at the weights, and has a very very nice future. There is more to come from him too! I had a chat with Paddy and Connor at the track after racing, and we all agree on a plan with him, and it is very exciting one for his owners, who had such a good day at the track. Thanks so much the the course for working with us to get so many of his owners there to see him, it is very much appreciated.
Next week is quieter - with just Volkovka down to run. She will have an entry in the Mares Listed Hurdle in Sandown on Saturday 8th. The form of her second in a handicap at the track last month is working out well, and with a rating of 132 we are really keen to dip this fast improving mare back into pattern company.
Of those that have not run over the Christmas and New Year period - Classic Ben is in good order and will be out again around the middle of the month. Yauthym was off games for a while with an infection, but is very much on song again and will be out towards the end of the month in a mares handicap hurdle. Hidden Beauty is ticking over nicely, with her big race targets in mind. Betty will be named this week - and after a spell on the easy list with a few mucky scopes she is now back cantering, and it will not be long before she makes her debut in a bumper. Due to sad and unforeseen circumstances a couple of shares have become available in her so get in touch if you would like join in with her group.
Queenohearts continues on the long road back to the track - but this week took a massive step forward on that path. On Thursday she headed off to Lambourn, for an away day gallop and a school on the all weather schooling strip there. Ciaran rode, and was very impressed with her. Her piece of work with a very capable work mate was very good, and her schooling over fences was impeccable. Her legs were great at evening stables, and in the morning, and she even schooled again at home on Friday - equally well. There is an exciting plan in place for her, and if all goes well she will be running around the middle of the month.
At Jasons - the Soldier Of Fortune Filly and Tintagel Queen are both in great order - TQ goes to Olly Murphy tomorrow, and the SOF filly will head to Fergal in a couple of weeks. TQ is fully subscribed, and by the end of next week the SOF will be sold out too - it is time to get out and find another one!
Happy New Year to all!