Three Filly Friday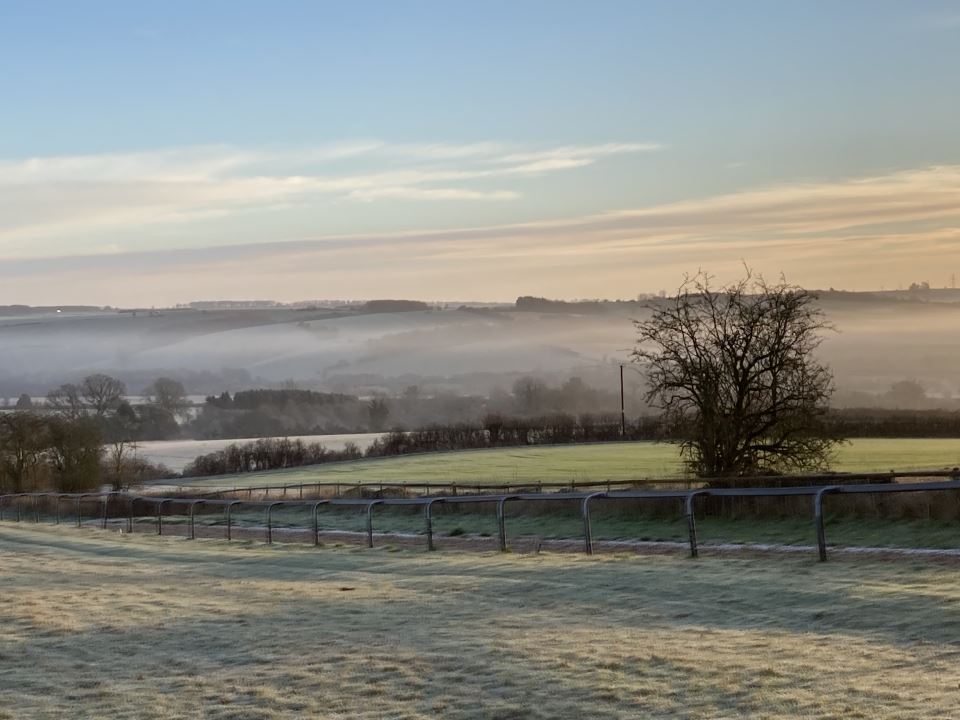 A road trip to start the week, and some exciting entries to end it.
Monday morning started full throttle - the racing and stud worlds seemed to wake up after Christmas with horse boxes on their minds. Three enquiries for new boxes before 10.00am - and all from three new clients.
Monday afternoon I hit the road and headed down to Cheltenham to spend a couple of nights at The Kilkeney with Kev and Jules, who were kindly putting me up even though the pub/restaurant is closed at the start of the week. Great to see them again - and a nice meal out in Cheltenham on Monday night.
Tuesday morning is a work morning in Ravenswell Farm, so it was the ideal day to drop in there before heading down to Exeter later in the day. I like to get to the yard early and sit and chat away with Fergal for half an hour before first lot pull out - a chance to grab a coffee and discuss the horses, and plenty of other things as well.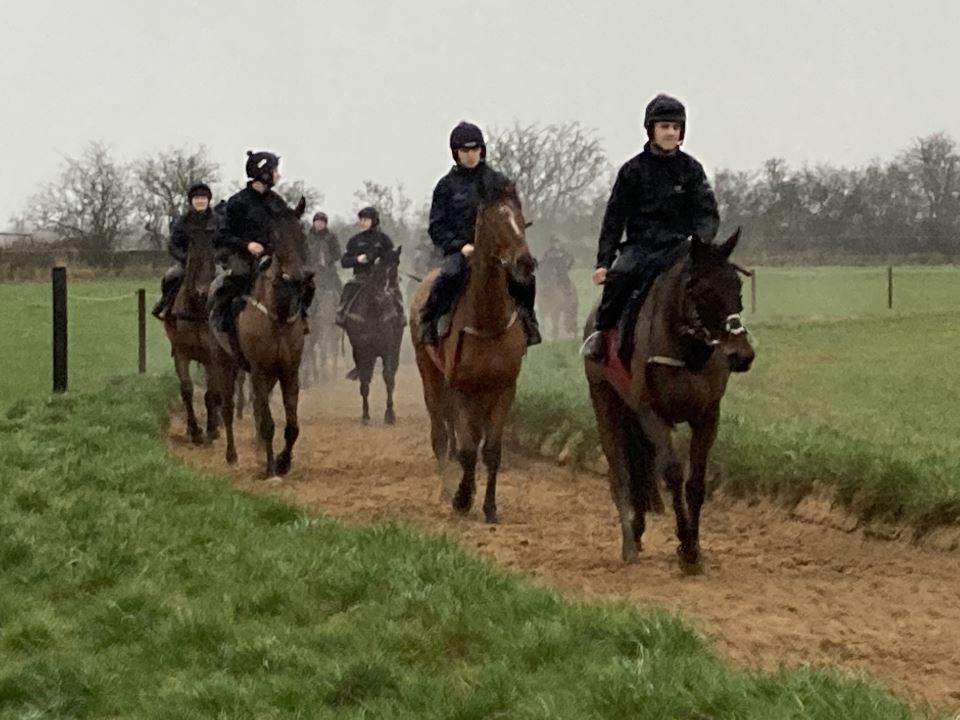 With 86 horses in training at Ravenswell, Fergal takes a small leaf out of the Clive Brittain book of training (Clive would have first lot pull out before 4.00am in Newmarket), and has an 'early lot', which at this time of year requires the use of some very impressive head torches. A handful of horses were coming back in when I arrived at 6.45 - among them was the Soldier Of Fortune Filly, who had eveidently gone nicely - she has settled in well.
It was still pretty dark when first lot pulled out at 7.30, but it was soon light and Hidden Beauty was there to see in all her glory. She really is an impressive filly, and really catches the eye as she glides around the round gallop. She also worked up the hill, and worked well, in preparation for her next run which is very imminent.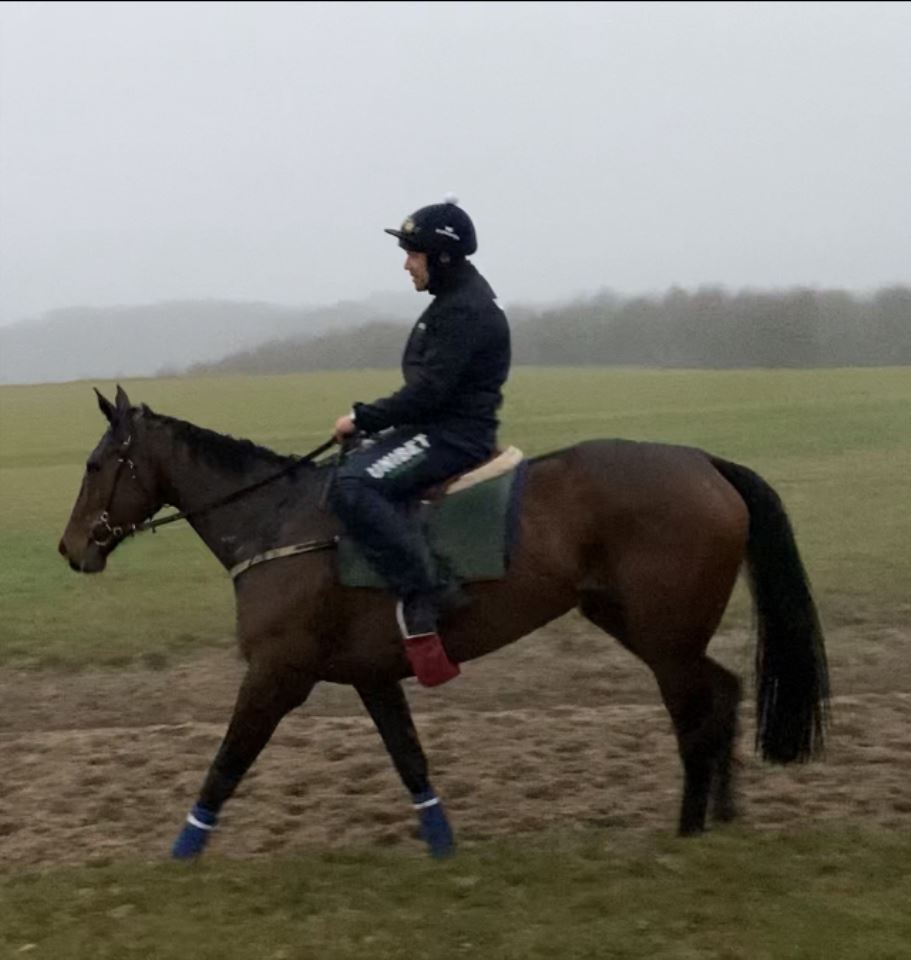 Second lot saw plenty of ours out - Blue Bikini has come out of her Taunton run in great order and worked well - she will have entires in a couple of weeks and will step up in trip. Volkovka did one canter after her outing in Sandown the previous weekend. She too is fine and we are hoping to get her back into mares company when she runs next, although that isn't as simple as it sounds. Mamoon Star also did just the single canter up the hill, after three times around the round. He is bouncing after his run, and the plan is to reappear in a Listed Bumper in Newbury with him in February, a race in which he will be in receipt of a significant weight for age allowance, and over a trip that looks like it will suit him perfectly. Yauthym is back on song and was moving great - she has her aches and pains, and is one very tough mare! She will be brought along steadliy, with a race in mid Feb looking likely for her - a little mid winter break is not the worst thing for her, as her season is lilely to be extended well into the early summer.
Third lot, and Rob, the yards new conditional jockey got to sit on Sunset Melody, who is going well again after her respiratory infection. We had hoped to have had her out on track by now, but the dirty scopes and trach washes kept her on the easy list for a significant period, and her debut has been delayed for a few weeks. With luck, and a clear run, she should be making her debut towards the end of next month.
After a really enjoyable if a bit damp and misty morning in at Ravenswell, it was off to Exteter to see Classic Ben make his secoind start of the season. After a prolonged preparation, his seasonal debut at the track in December had gone well, and he had shown no ill effects from the outing. Sure to have come on for it, and in a race that looked less competitve than the previous one, I was really looking forward to seeing how he performed. CB looked fantastic in the paddock, and had the very testing ground very much in his favour. Ben travelled and jumped great - watching him is never a very pleasurable experience, as he seems to make such hard work of things - even when he is winning, but on Tuesday it was very much the opposite - he was a joy to watch, and as they straightened for home, and he took up the running going really nicely, it looked as though we were in for a good day. Sadly Ben misread the script, and getting in tight to three out he failed to get his landing gear out in time and took a nasty fall. Thankfully he and Ciaran were both up quikly, and seemed fine. A strange feeling after the race - real mixed emotions - so gutting to see him fall, particularly after Ciaran had said he had never had a better feel off of him in his life, and that he would definitely have won, but absolutely thrilled to see him back to his old self in the race, and really enjoying himself. We covered the whole range of emotions in one fell swoop - a real baptism of fire for one of his new owners, Jason who had travelled down to see his first runner. On the plus side - if Ciaran is right, and he would have won he would have gone up in the weights, and as he will be back to Exeter next month for his main target race, we will take it as a positive.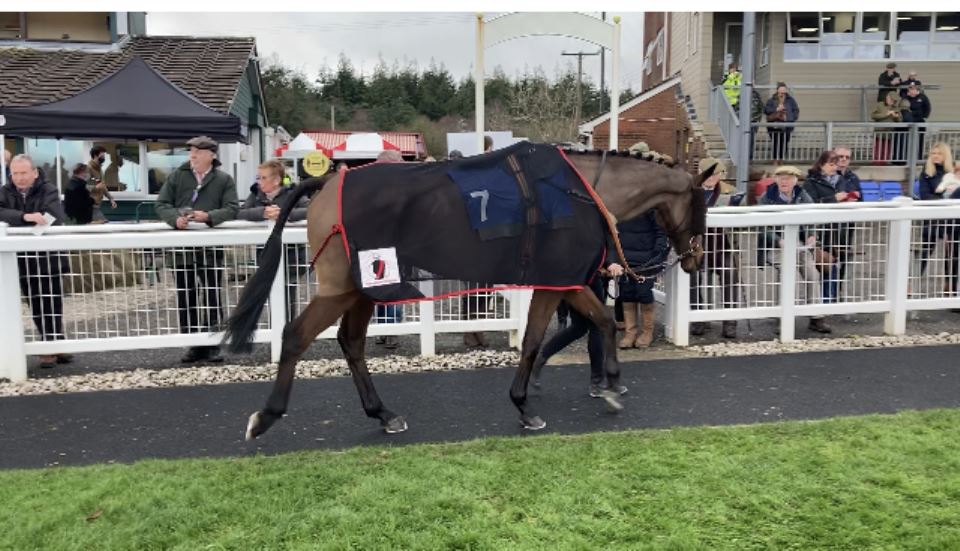 Back to The Kilkeney Tuesday night - and a visit to Thorndale Farm on Wednesday morning. A beautiful morning, Good To see Paul Wells who had come down to see Queenohearts as Kim and the team put the final touches to her preparation in readiness for her return to the track. She looks fantastic - and Kim, Matt and all the team are very very happy with her. She did two routine canters under Will as she was off for another away day the day after.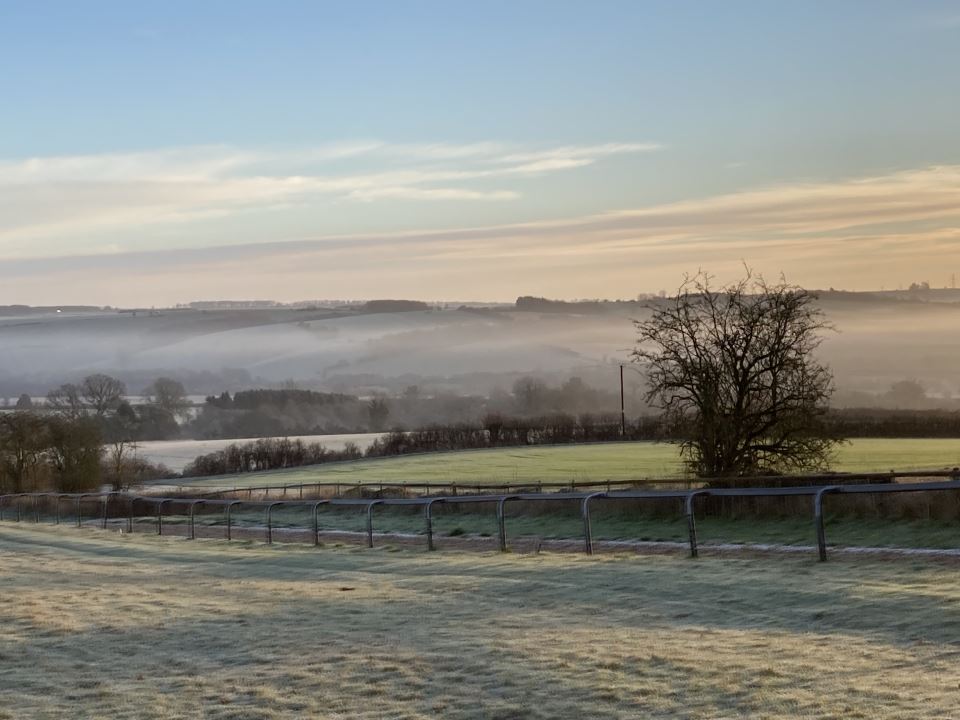 On Thursday Ciaran met QOH in Lambourn for her final piece of work before her comeback. The work was very very good - QOH pulling well clear of her workmate in eyecatching fashion on the back of the hill gallop. Ciaran was delighted - her recovery was good, and all was well with her at evening stables. She will have one more trip to Laura Colllett, for a refresher course over poles - and then she will be ready.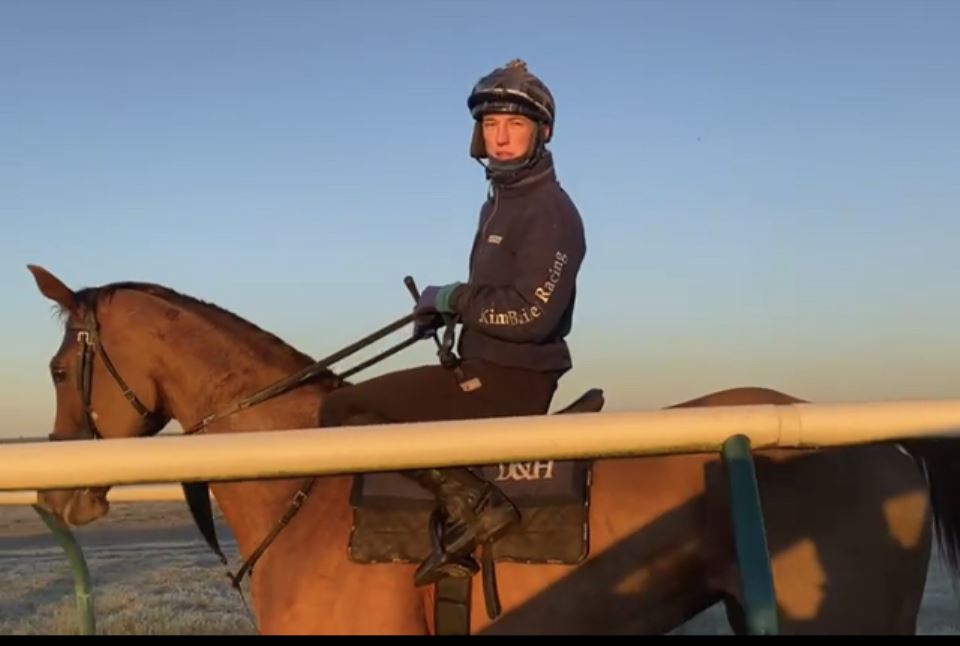 So a quiet enough week - with just the one runner - but next week looks fun - on Saturday entries were made for what we can call 'Three Filly Friday'. Three filliys entered from three different yards. Queenohearts got two entries in Lingfield at their Million Pound Meeting. Due to us misinterpreting the conditions of the mares race (we were not alone), QOH along with two oher mares do not qualify, so if she goes to Lingfield, she will contest the Novices Chase over 3 miles - a race in which has actually worked out in her favour. The track, ground, and trip will suit - so we can't wait to see her out again. Hopefully she can repay the patience of her remainng owners! There are also two with entries in Market Rasen. Hidden Beauty in the Listed mares bumper. As mentioned earlier she's in great nick,and although the track is probably not ideal for her, the plan is to run her en route to the Listed Bumper in Sandown in March. Olly Murphy has also entered Auditoria in the 2m handicap hurdle on the card. A winner last time out - she is in great form - a bit like her trainer, who is on a mid season break in Dubai. I will speak to him on his return, and see if she takes up the engagement.
The remainder of the horses are all fine too. Tintagel Queen has settled in well at Olly's. Go Millie Go is improving after having some treatment after her disappointing run in Kempton over Christmas - one day at a time with her - but hopefully we will see her out again in a few weeks.
Next week I am hoping to get to the stud to see the stock there.
A new sale announced this week for National Hunt horses in Newmarket - very interesting - we will support it if we can.
Next week I hope to have news on the new flat syndicate - and by the end of the month there will be news of two new syndicates - with 3 yr olds that will run in Junior Bumpers, or the new National Hunt Juvenile hurdles. Mamoon Star has shown us the way - and we believe we have another couple just like him!
There looks like there will be a massive turn out of members in Market Rasen on Friday - so I am looking forward to seeing plenty of you up there!!
Have a great week!