Fairytale Ending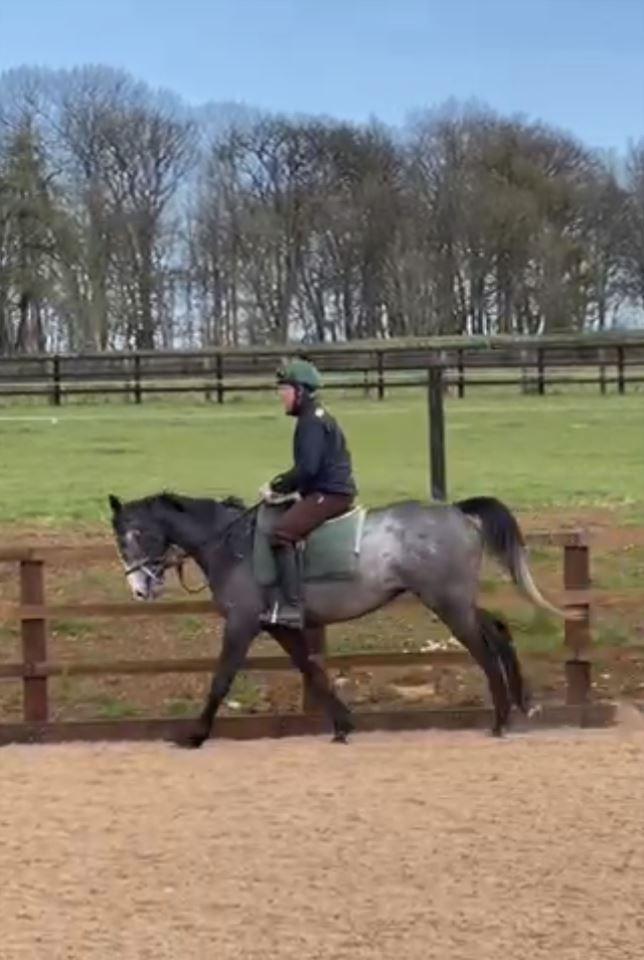 Yesterday's Grand National provided the fairytale ending to the riding career of Sam Waley-Cohen, with victory on what he had already announced as his final ride, Noble Yeats in the iconic steeplechase. A fantastic result for him, and his father Robert - a victory made more the remarkable as it was achieved by a horse with just 12 previous career starts under his belt and who just 14 months ago was still running in bumpers. Congratulations to all involved!
Last week we managed to get around a few yards - not as many as we had hoped - but there is always next week. Monday was spent in the office - so it was good to get out and about on Tuesday and get into a couple of yards to see the horses. First stop - Olly Murphy's Warren Chase Stables to see the four horses there. We have Auditoria and Tintagel Queen, and there are another couple of clients horses there too. One just there for a few weeks to give her a view of the yard, gallop and the regime before a summer break and a return there in July, the other a new horse for a new client that will be making his debut shortly, and who has a summer campaign planned for him. Auditoria is in great order, and she will run once more this spring before a well earned summer break. She will run in a mares hurdle towards the end of the month. Tintagel Queen has had an easy week, as she seems to have pulled a musle in her hind quarters. The plan is to give her an outing in a schooling race before a summeer break, and Olly will assess if that is still a possibilty when she retruns to work next week. She is a fine big filly, with a big frame to fill, and she looks to have a very bright future - the physical difference in her since she has been at Warren Chase is amazing and patience is always rewarded.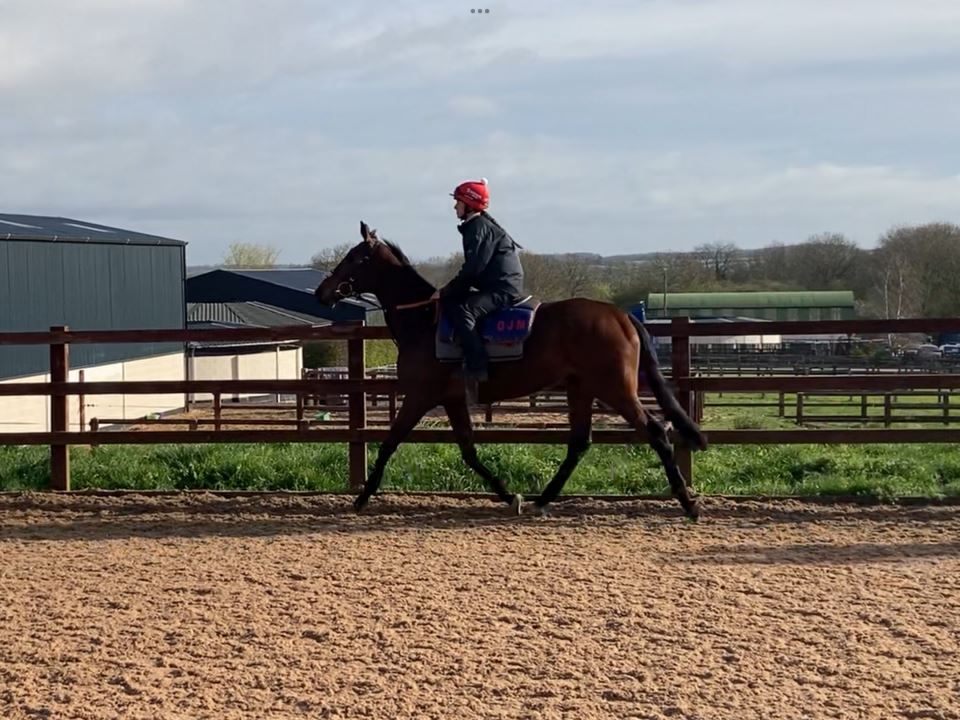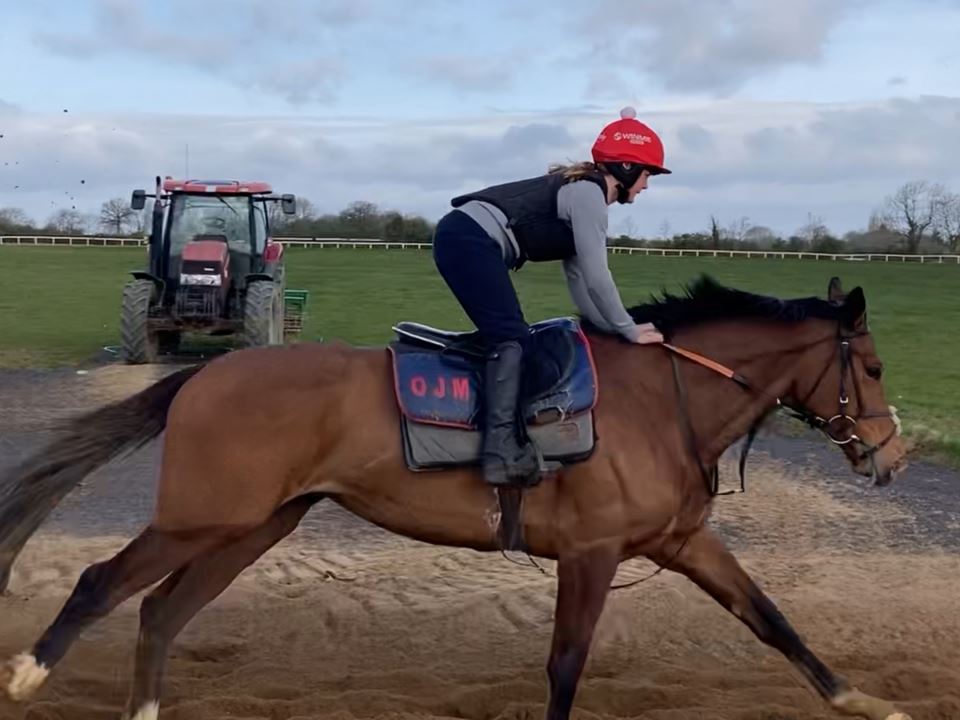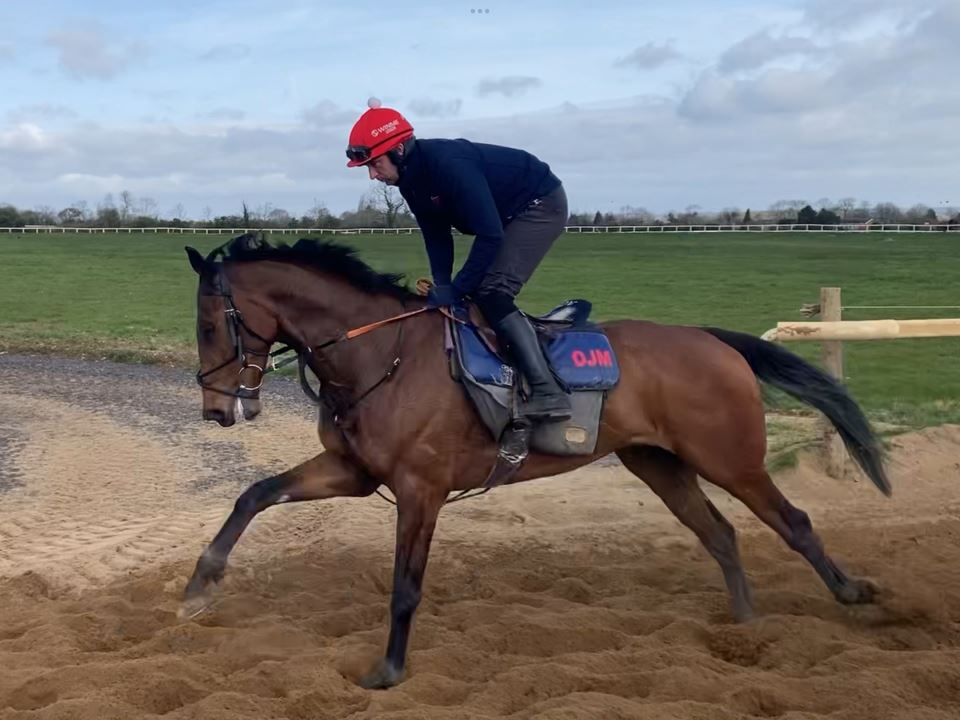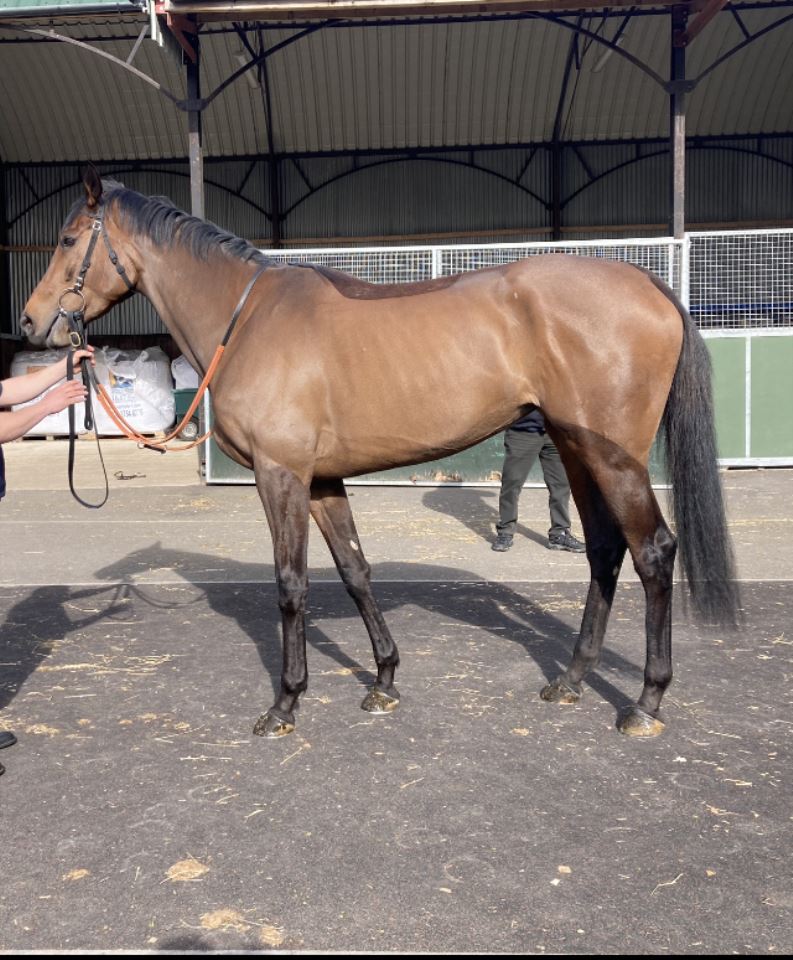 On a gloriously sunny morning we left Olly's and made the short trip down the road to Chalrie and Francesca Poste's Station Yard to see 'Dean' our hombred gelding who is in pre training there. Dean is going well, and thriving on is work. He is a three year old by Doyen, out of Savingforvegas. He isn't the biggest, but he is very very tough, and form what Charlie has seen of him so far he agrees that he is ideally suited to the new National Hunt Juvenile Hurdle series the BHA have announced for next season. Dean is doing two canters, and doing them easily, and has already had plenty of practice up the schooling lane. There are shares availabe in this well bred gelding - all the work will have been done with him - and with no capital cost, and a simple all inclusive fee of £25/week - he is superb value - he goes into training with Donald McCain who had been on the look out for a horse or two for the new series and who, like me thinks he will be ideally suited to it, and is really looking forward to cracking on with him from July 1st. Yesterday Donald smashed through the 150 winner mark for the season - a fantastic achievement, and we are really looking forward to having a horse in training with him - who will of course be ridden by Champion Jockey, Brian Hughes - what a team to work with! Remember - there is always an Owners Badge when he runs, you will recieve 100% of your share of the Owners Prizemoney and stable visits can be arranged at your convenience. Get in touch for further details - also, as we appreciate, the cost of living is going up just now, so we have deciuded to defer the first payment that had been sheduled from April 1st to July 1st when he enters full training - so all of his pre training will be done FOC! (nickbrownracing@gmail.com for more).
Wednesday - the end of an era, when her owners took the decision to retire Queenohearts. She has been a fantastic mare for them, winning 5 of her 10 races including a Listed bumper, and a Listed and Grade 2 hurdle. She will now be sold to continue her life as a broodmare.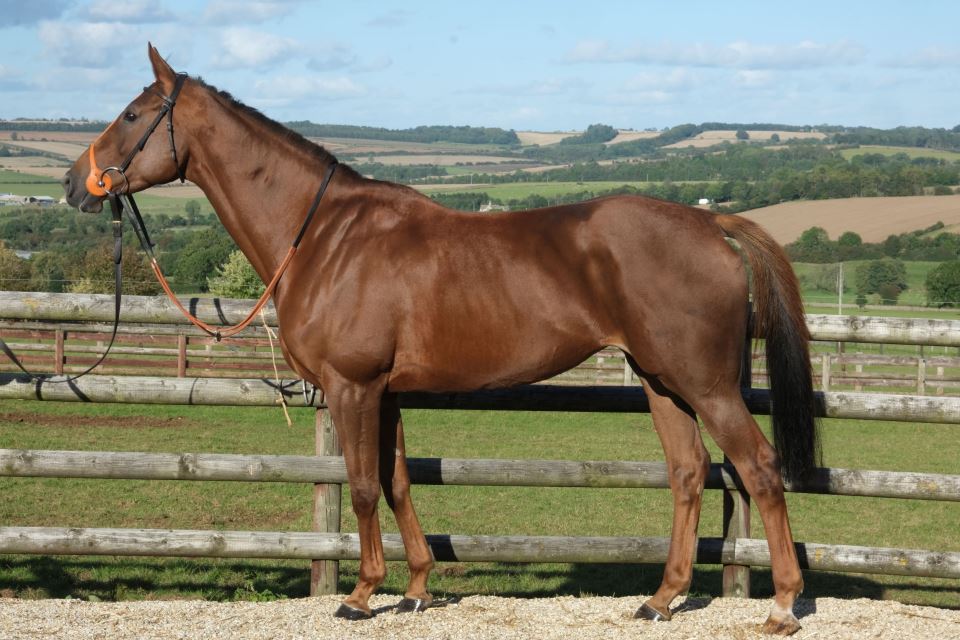 Thursday, a windy visit to The Elms Stud to see the stock there. The first of the 3 yr olds now in to begin her preparation for her sales date in Newmarket next month. A gorgeous filly, by the ultra tough globe trotter, Highland Reel, out of a half sister to another superstar, Big Orange. She is a lovely big filly, with plenty of substance, and we can't wait to offer her at this new sale. The geldings are still in the field but will soon start the prep for their sales dates in Ireland. They will be prepped at The Elms, but travel over to Ireland well in advance of the sales and be consigned by a couple of leading consigners at the sales where they are due to sell. It is always nice to see the foals at the stud, but we still await one of our own. Savingforvegas was due a couple of weeks ago, but she always makes us wait. She is due to Falco, and this is one time when, after her giving us four bay colts, I actually hope that she produces a filly - those bonuses in the future are very tempting - either for us or for whoever may buy her if she is offered for sale. Molly Childers is not due for another few weeks. She too due to Falco.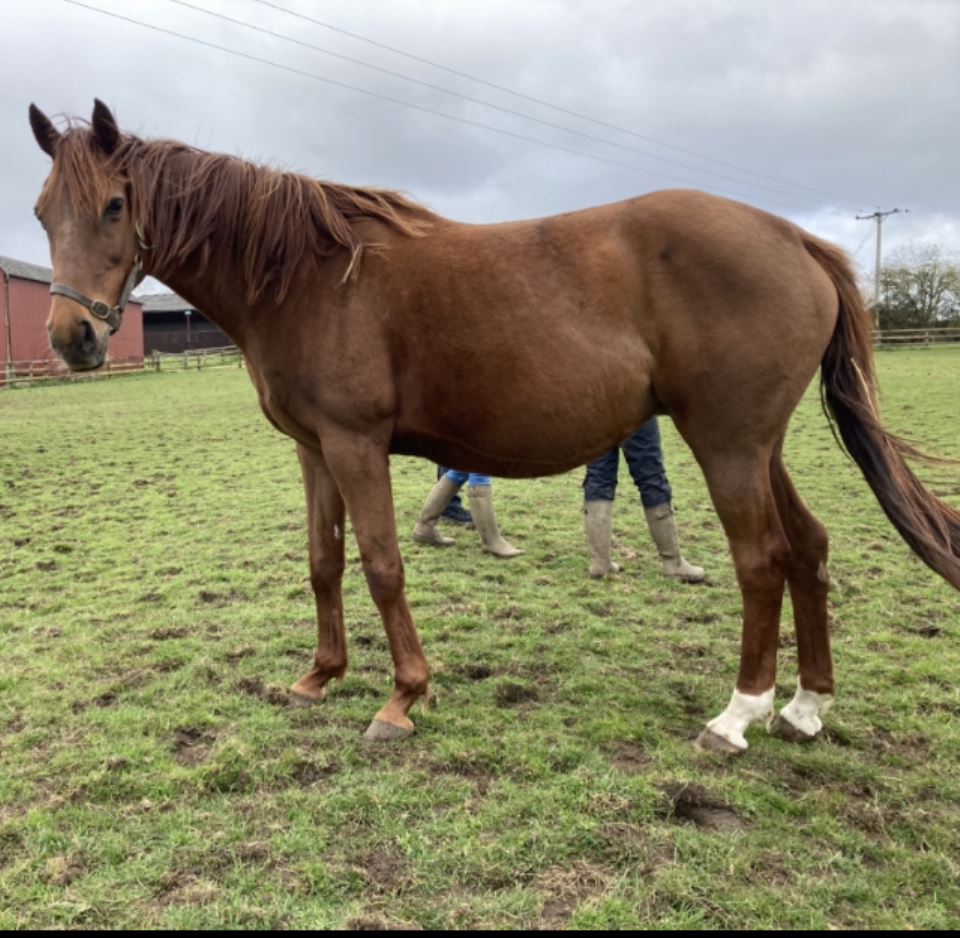 Thursday night - good to see Matt and Sarah - a takeaway and a few beers watching West Ham in the Europa League quarter final. 1-1 a result we woud have taken after being harshy reduced to 10 men - good grub and a really good night. We are all looking forward to the road trip later this month!
Friday I had hoped to get down to Ravenswell and Ivy Lodge, but that sadly didn't happen this week. We will be down there next week for yard visits and racing. The horses that remain in Ravenswell are all in full work. Blue Bikini is being trained slightly differently now, and appears well, a change of regime, and medication should see her out later this month - another who will step up in trip. Fortune Forever continues to strengthen and find life a little easier - she will make her racecourse debut in May. Fergal reports Mamoon Star to be in fantastic form, and he will have an entry in a bumper in the next few days. This will be his final start of the season before he heads back to The Elms for a summer break. He has a very bright future. Yauthym is at Martins Hill, and has come out of her Wincanton run well. She had a long break over the depths of the winter and will continue to run, and will have an entry in early May.
At Ivy Lodge Farm, Jason is very impressed with the 3 yr old Jukebox Jury gelding that he has broken and is now pre training. He descibes him as a 'very nice horse' and he is a fair judge! This lad will head to Gary Moore in July and be aimed at Junior Bumpers/Juvenile Hurdles. Volkovka and Hidden Beauty are both spending their days in the paddock and nights in their stables in preparation for their summer holidays. Sunset Melody has another week on box rest, before resuming exercise on the walker.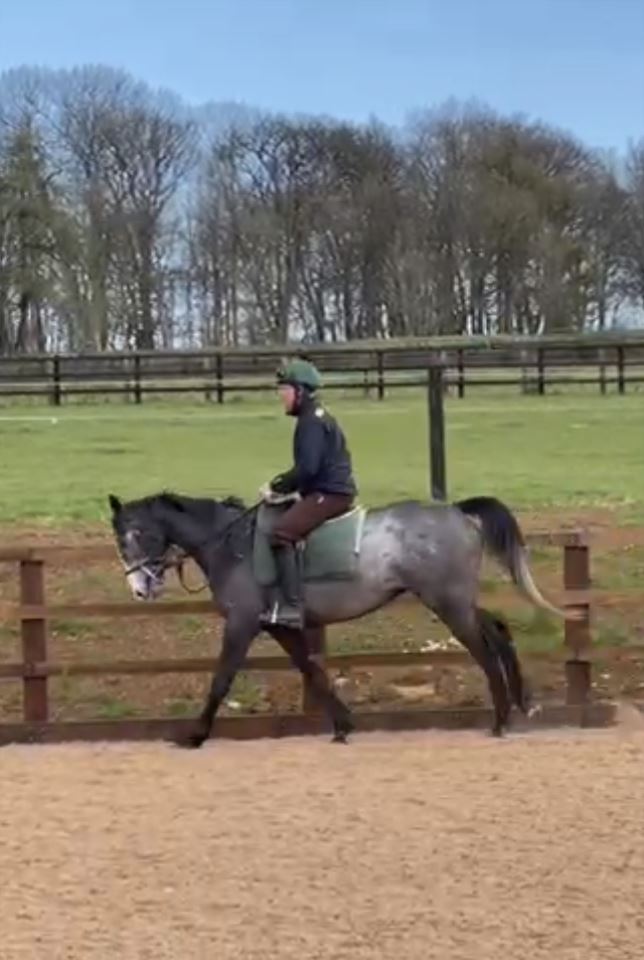 At Fences Farm, the deal for Go Millie Go should be completed this week, and her transfer to Ireland all booked. Classic Ben was considered for the 3m2f handicap in Cheltenham on Wednesday, but a lack of rain, and a strong field made us wait a little longer with him.
Next week we will be in Cheltenham for a few days - plans to meet up with some clients at the races, and yard visits in the mornings.