Brotherly Love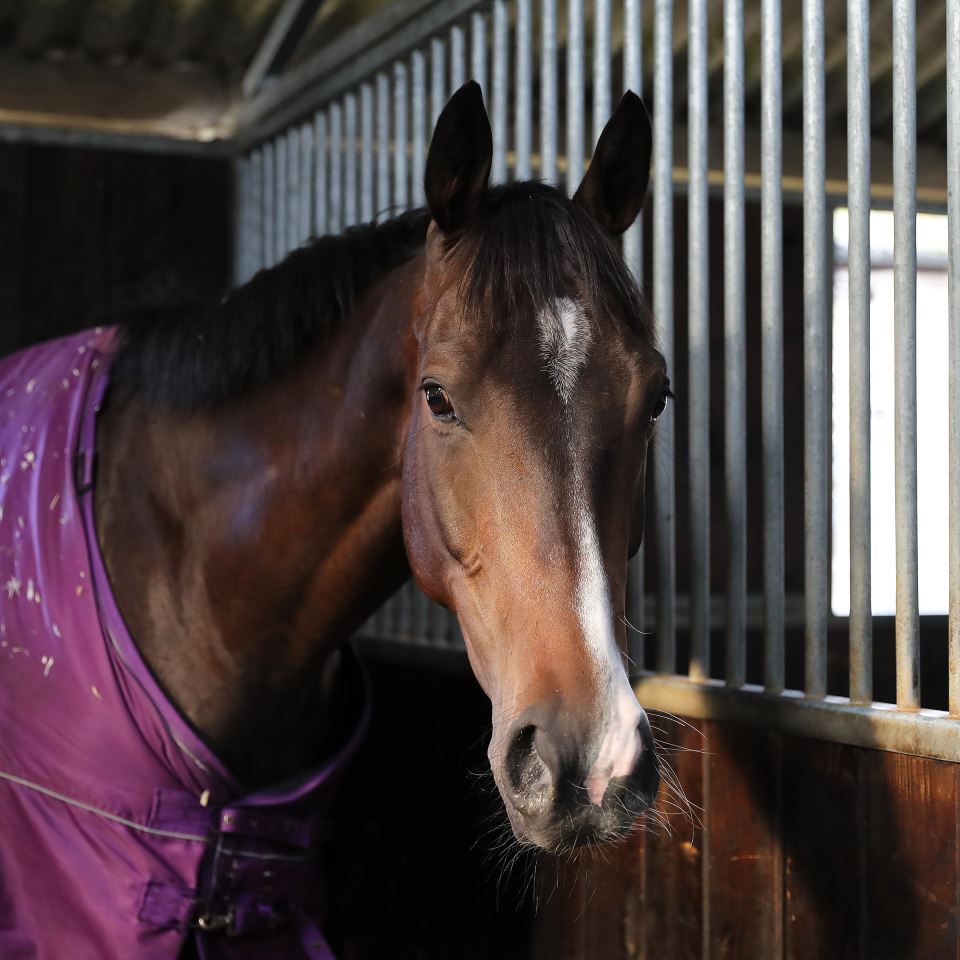 We rewind a little bit farther than usual to start this week's news. After last week's ramblings had been published on the site, we concluded the competition for the free share in Auditoria. Through our social media channels, Twitter (X), Facebook – and yes, we are even on Instagram (give us a follow if you are not yet doing so!), I had announced that anyone liking and following one of our posts would automatically have an entry in a draw to win the share. On Sunday at 6.00pm we did the draw, and it was won by Jayne Lockett! Congratulations Jayne! It was good to chat with an understandably excited Jayne on Monday evening, and she was over the moon! Jane is a real racing enthusiast, and it has been a dream of hers to own a racehorse – we are thrilled to have made that happen, in an even greater stroke of luck, Jayne is not too far from Olly Murphys yard, and we are very much looking forward to introducing her to her new horse very soon!
Jayne and the rest of Auditoria's owners did not have to wait long for their first update. On Monday Olly rang to say that Auditoria had done her first piece of work for the season and had gone very well. Since she returned to Warren Chase, it has been in the back of our minds to press on with her, and have her out early, and Olly believes that one more proper piece of work this week will be enough to see her make her seasonal debut in the near future. She will have an away day next week, and we will go from there! As we bear down on the start of October, things are really hotting up now, and there are plenty of horses across the squad that are getting very close to being ready to have their first runs of the season. Greyval is one, and she is being aimed at a race in the middle of October, a race that Paddy was adamant that we should target immediately after her final run of last season in Aintree. She is in fantastic form at home, and it was good to see her schooling so well on Monday!
As Gary Moore has many of his 100 stables filled with flat runners in July and August, after chatting with Gray, Jamie and Josh at the end of last season, we took the decision to pre train Cloud Dancer at Ivy Lodge Farm with Jason Maguire. He summered well down there and returned to Cisswood Stables at the end of August looking really well. I had a catch up with Jamie on Monday, and he was delighted with CD – he is certainly bigger and stronger than last year and has slotted right back into his work routine very well. A winner of his only start in a Newbury National Hunt Juvenile Hurdle, he remains a novice for the entirety of the 2023/24 season, and we are very much looking forward to seeing how far up the ladder he can climb. In fairness, as I have said in the past, it was not a great race he won in Newbury, but it was more of the way that he did it that impressed – it was just his second start, and his first over obstacles, and he was clueless for 90% of the race. Given a beautiful ride by Nial Houlihan, the penny finally dropped between the last two flights where he changed gear and effortlessly drew away from his nearest rival. He looks to have a really nice future, and amazingly there is still a share for sale in him. It is only for sale due to a change of circumstances for his overseas owner, and CD is a horse that will give anyone getting involved in him a great deal of fun! Have a look at him on the For Sale Page! Another share that came available on Monday was one in Tintagel Queen, but that was soon snapped up by Neil and we wish him the best of luck with his latest addition to his NBR squad. Tintagel Queen is in great form, but she is one of two (Volkovka the other) that headed back into training a month after the remainder, as they both prefer soft ground. TQ will be out when we get some proper juicy ground in November, although the way the weather has been this week there is plenty of that around now! TQ schooled really well in the spring and will head down the hurdling route when she reappears. She will be a mare to follow in that sphere, starting off over 2 miles, I am sure she will come into her own given a good test of stamina on a big galloping track. Volkovka, will resume over fences in November, she is in amazing order, and is ripping up the gallop at Ravenswell Farm, she does a lot of her work on her own, as she can just get too competitive when upsides a workmate, but we are all thrilled with what she is doing at present, and her schooling has been excellent too – the lessons of last season very much learnt! She is on a very nice mark, and it should be a really fun season with her! It is good to see the Fergal O'Brien team in such good form – in fairness they are rarely out of form! But they continue to fire in the winners! A couple this week caught the eye – Stung By The Master winning his bumper on debut in Worcester, was of considerable interest, as he had worked with Fortune Forever on our syndicate morning at the yard last Saturday. FF had worked really well with him and is in fine form. She will be ready to run early next month, and having had four runs in bumpers will now switch to hurdles. It was always the plan to remain in bumpers last season, as she was quite a light framed, weak filly, and as you will all know by now, we do like to take the patient approach with horses like her! She will have benefitted hugely from the extra time to mature and the experience gained while doing so, and having been in the system since she was purchased as a store at 3 yrs old, she had already done plenty of schooling with Jason Maguire before she saw her first schooling hurdle at Ravenswell Farm this term. She schools very well, and we are all looking forward to seeing her over hurdles this season. The other was Isabella Bee, who I'm sure was tipped up by the trainer at last weeks syndicate morning – a rare winning tip from the maestro who can't usually tip a wheelbarrow – note she was odds on!
Tuesday – more prep for our new venture – things finally coming into place, just another couple of parts of the jigsaw to put in place. It never ceases to amaze me how we have all this technology with everything being done at the push of a button, and yet some of the most basic things we have been doing for years appear to have got SO much more difficult and time consuming! Things that could once be done and dusted in a couple of phone calls now require dozens of emails, days and days of correspondence and huge amounts of frustration! Anyway – rant over – I'm just getting old obviously! One that is also getting older, although at the start of his journey through life is our foal by Golden Horn – George, who on Tuesday made the transition from foal to weanling when he was weaned from his mum Savingforvegas. This is done by removing the mare from the herd, leaving her foal with his/her mates – as you would expect, George, still being with all his mates has not batted an eye lid – SFV is a little more aggrieved, but this is not her first time, and she will soon adjust. They are all different, and SFV, when she has a foal at foot, is very maternal. Sadly for her, she will not have a foal to nurture next year, as she is empty this time after initially scanning in foal to Golden Horn again, but this means that we can aim her at an early cover next season, and as she is not in foal this time round we may look at sending her abroad to one of the very best stallions in Europe. We have options for her, although George is such a nice boy, it would make a lot of sense to return to Golden Horn once again! A decision will be made in the next couple of months. Another day and another schooling update from Ravenswell Farm – Hidden Beauty this time – schooling up the chase fences. She has been really good over the larger obstacles – and is likely to make the switch to them this season after an opening run over hurdles next month. The aim would be to gain some valuable black type with her, and on what she has shown this season at home that is an entirely realistic plan. Last season was its usual roller coaster with her, ups and downs all the way – and she was still regaining her confidence after suffering the atrial fibrillation the season before. She did win in very impressive style in Doncaster and seems to be working even better again this time around. Hopefully it will be a fun and more straightforward season for her and her syndicate this term! Many did a double take when watching racing from the Listowel Harvest Festival on Tuesday – Oisin Murphy – riding a winner over there – a few messages about him riding for us! Don't believe everything you see on the TV! There seems to be two sets of colours in Ireland that are Black, Red Sash, but have different caps – this is one of them!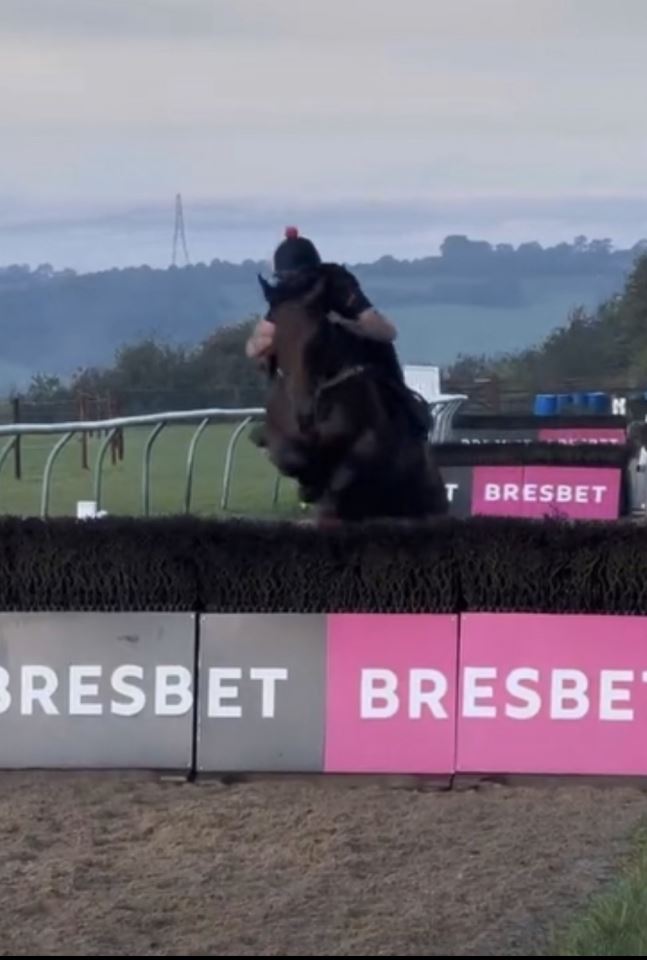 Hidden Beauty and Jack Hogan schooling over fences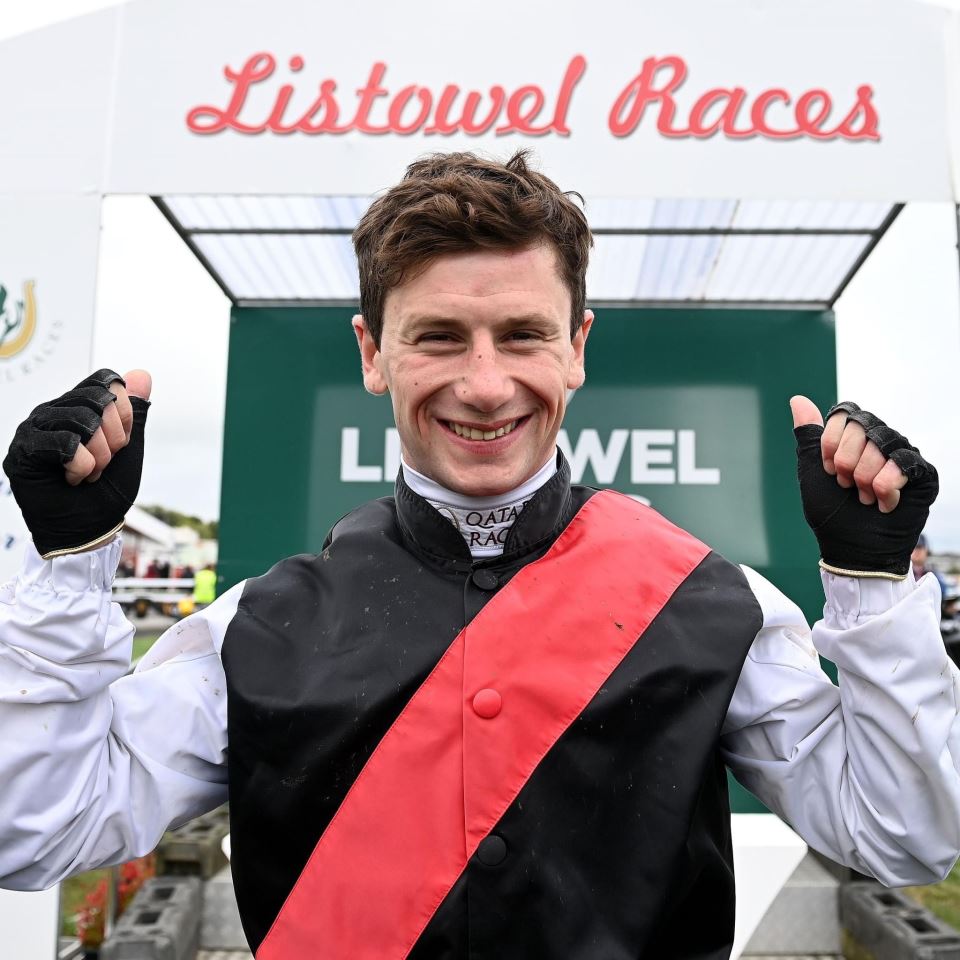 Don't believe everything that your eyes see!!
Wednesday, we welcomed another new owner to the NBR family, Jake took one of the remaining shares in Maria's Flame, At one stage last month all of the shares on MF were spoken for, but I should know better than to take a person's word for it, when they say they will have multiple shares! After nearly 25 years syndicating you would think I would have learned by now! Anyway – long story short, there is still a share available in her should you wish to join in the fun! Her bumper debut is planned for next month, and should she show in that, what she shows at home, there is no reason to think that she could not follow the path taken by other juvenile bumper horses we have had, and head to Cheltenham on New Years Day! Shares are leased, so there is no capital cost, and just £30/wk (all inc) covers the training/keep fees for each shareholding! Get in touch if you would like to be part of her syndicate. She does everything right at home and has a very very nice pedigree so she should be able to do it on the track too! Each year Paul Ferguson publishes his Jumpers To Follow book through Weatherbys, and every year it is a fantastic read and reference tool. Paul is very knowledgeable and well connected and highlights the horses he thinks will feature in the higher echelons of national hunt racing throughout the up coming season. This year we have two youngsters featured – Dino Bellagio and Tintagel Queen. Hopefully he is right! Dino also gets a very glowing report from Champion Jockey, Brian Hughes who describes him as 'one of the hurdlers he is most looking forward to'. This years edition landed on the desk on Wednesday – and if you do not have one I would recommend forking out the £12.95 and getting it ordered. It is an excellent work and will prove great value as you will return to it time and time again throughout the season as a point of reference.
Thursday started off in good style – remember the yearling we purchased last week in Newmarket – well the phone and emails had been busy about him, and we have sold our first shares. He is a very nice horse, and although we published details of his syndicate structure on this page last week – we will officially launch his syndicate later today. He will be owned by The Astwood Partnership, in which there will be 10 shares. As it stands, we appear to have already got 5 reserved, and those that have reserved shares will be contacted tomorrow when the bank account is opened for the syndicate. His details will be on the For Sale Page later today, and he is something a little different, offering syndicate members the 'best of both worlds' – a share in a stunning horse with the chance of earning a few quid too! Drop by his For Sale Page later and have a look! Will Kinsey called in to Ravenswell Farm on Thursday morning, Will, who started Peel Bloodstock Ltd at his family farm in Cheshire a few years ago is one of the leading lights in British National Hunt Breeding circles, and is the breeder of Hidden Beauty, who he sold as a foal. As it has turned out – he has ended up owning her again, and we lease her from him. Will got to see HB school over fences and was delighted with the way she looked and how she schooled. I hope she has a successful season for him – and when the time is right she can return to his stud farm in Cheshire and breed some wonderful foals.
Friday, and Debbie, who many of you will have met at the yard visits, was, in her capacity as official NBR photographer given the assignment of popping into Ivy Lodge Farm and photographing the The Grey Gatsby yearling for his section on the For Sale Page. It was an early morning, as she was up before dawn to head to the coast for an even bigger gig – snapping one of the leading lights for this years Arc, on his trip to the seaside for a national newspaper. We have worked with Debbie for the past few years, and she has become a good friend – she does a fantastic job of photographing our syndicate mornings at the yards, and I am sure we will be finding her a lot more jobs to do in the coming months! Jason had turned the horse out looking fantastic as always – and he has been really pleased with him since he arrived from the sales. He has noticed that he (the horse) has quite a heightened libido shall we say (he called him a horny Bastard), but thankfully our plans for him will alleviate that problem soon enough. They call it the 'unkindest cut of all' – gents – you will concur!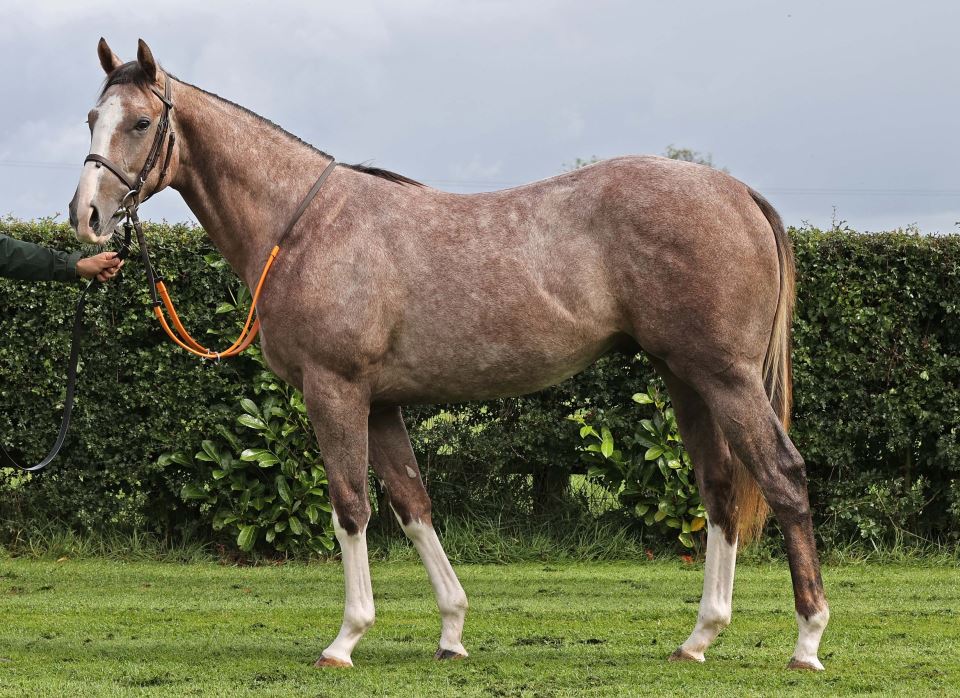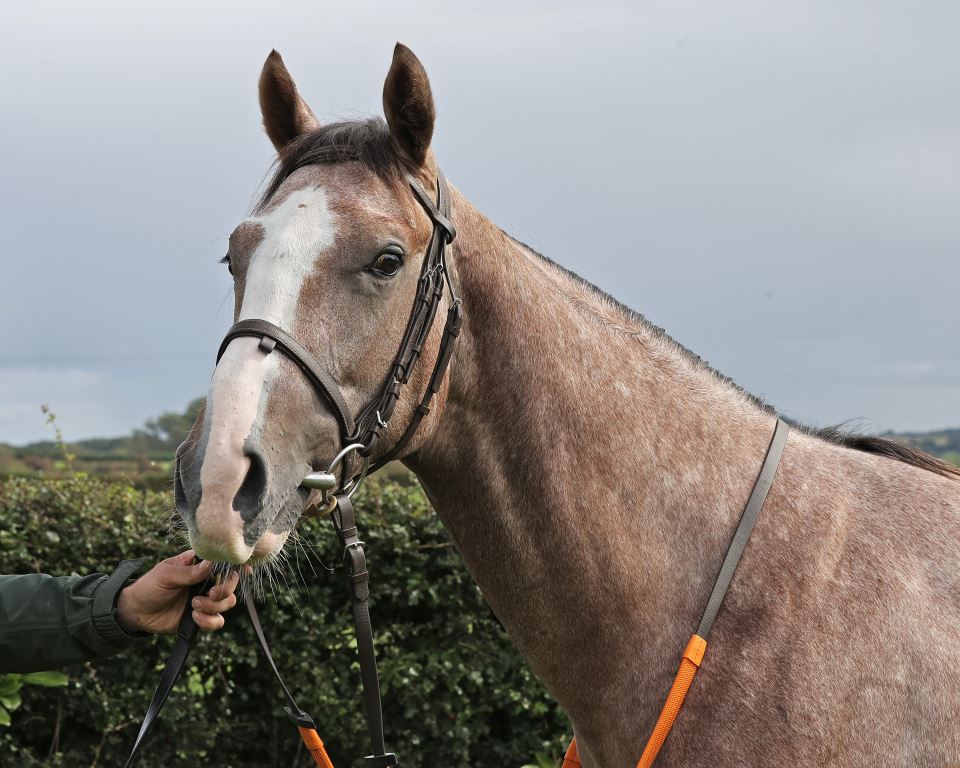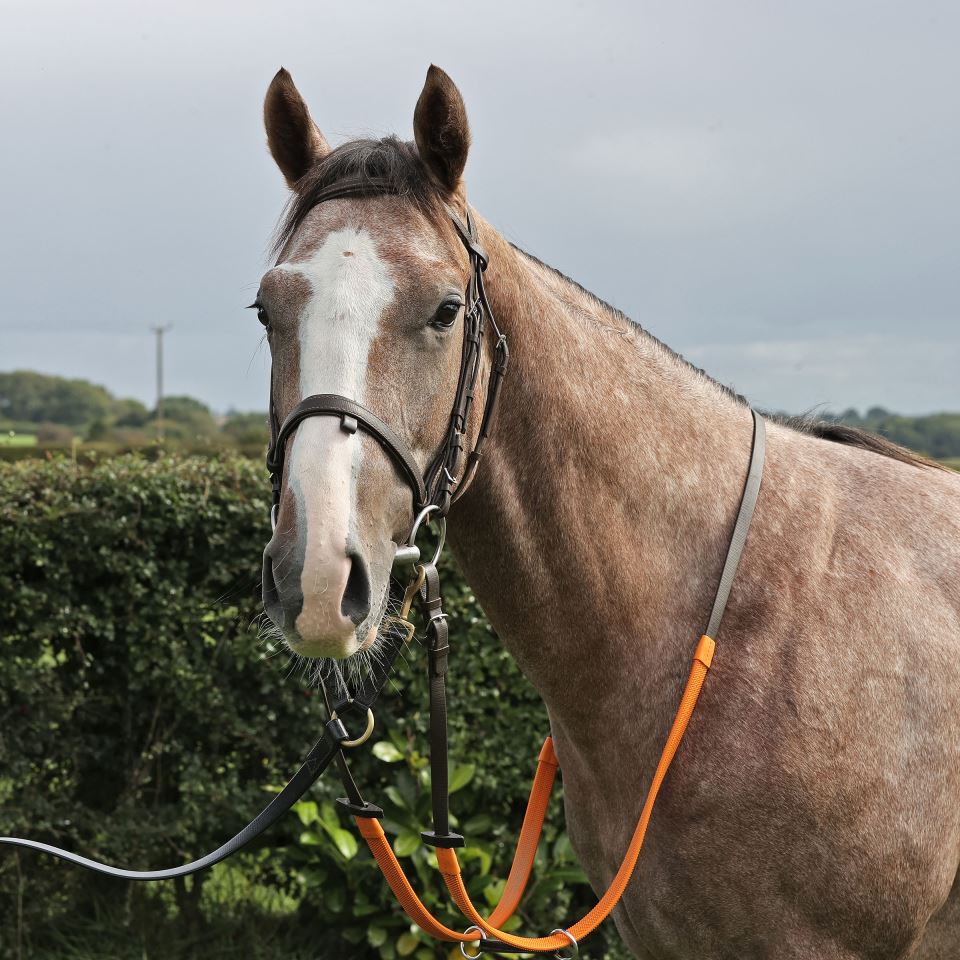 New addition - the The Grey Gatsby Yearling - simply stunning - and beautifully potographed by Debbie Burt
Reflexion Faite syndicate members got a lovely video update from Kevin Philippart de Foy on Thursday – she was flying along his woodchip gallop and has a few entries next week – sadly Leicester has gone soft, and she won't run there on Monday, but she has options in Redcar and Southwell later in the week – we would all prefer not to go to Redcar – that is a long way!
Saturday – and an early leave. The alarm going off at 4.30am and we were on our way up to Donald McCains Bankhouse yard in Cheshire. A glorious morning, and good turn out of owners and syndicate members to see the two horses in training there. We arrived at 7.30am, shortly before Reg arrived with his coffee 'pod'. Those that have been to Doncaster Sales will know Reg, he has his little trailer selling teas, coffees and snacks by the parade ring. As we are always parked close by with the horseboxes on the stand, we have got to know each other well, and when I needed a man to supply the much needed morning coffees I rang Reg to see if he would come up and supply the caffeine. His coffee is excellent and was very much appreciated by the group – If ever you need coffees at an event, give Reg a call (Silverpod Coffee). On a beautiful sunny morning, (very welcome after a week of monsoon like rain at the yard) owners and syndicate members started arriving just before 8.30, and after one of Reg's liveners, we all walked up to the gallop where we could see the next lot warm up and work up the hill. Dino Bellagio in this group, and he looked fantastic. Ridden as usual by Charlie Maggs, he was full of himself as usual, but it is safe to say, after 3 times up the hill gallop he had less energy for his bucking and kicking! Donald is really happy with Dino, and he is very close to getting his first entry of the season. Back down to the yard, round two for Reg – more coffee, and then the short walk back up to the top of the gallop to see Old Blue Eyes warm up on the loop and do two up the hill. Ridden as usual by Peter Kavangh he too looked really well, his skin shining like a seal! Peter has ridden him almost every day since he arrived, apart from a couple of days when Donalds Assistant, and former jockey Adrian Lane wanted to have a go – and has been very impressed with him. Only 3, he does everything right, and those that got to see him move yesterday were impressed. There are 3 shares remaining in him – I don't think they will be around long after the group saw him yesterday. He is on course to follow the same path as Dino Bellagio for the first part of the season at least, and if he does what Dino does, he could be another one that will be heading to Cheltenham on new Years Day. After Dino had cooled off on the walker and Old Blue Eyes had been showered off, Donald paraded both horses in front of the house, where plenty of great horses have been photographed in years gone by. It was a proud moment for me – seeing two homebred half brothers looking stunning in the late summer sunshine – one with known ability, and plenty of it, the other looking as though he will follow in his big brothers' footsteps. It pays to have your own pro photographer, as it was Debbie that suggested that Donald and I should stand between both horses for a picture, it is one that will go up in the office for sure – a bit of a 'proud Dad' moment. Thanks to everyone that came, it was a fun morning, and got everyone excited for the season ahead.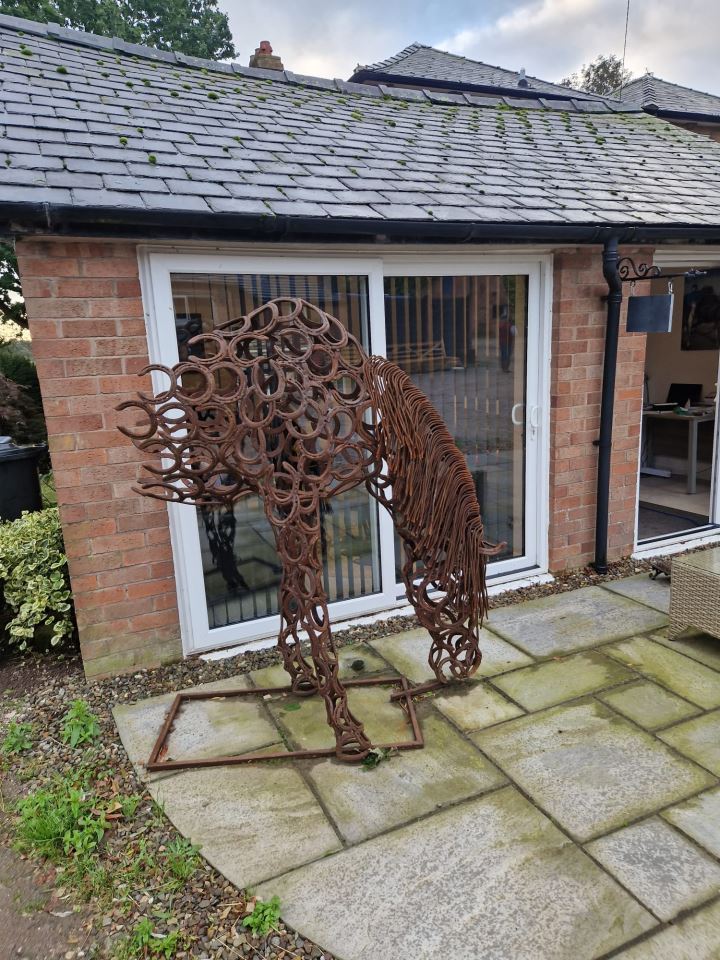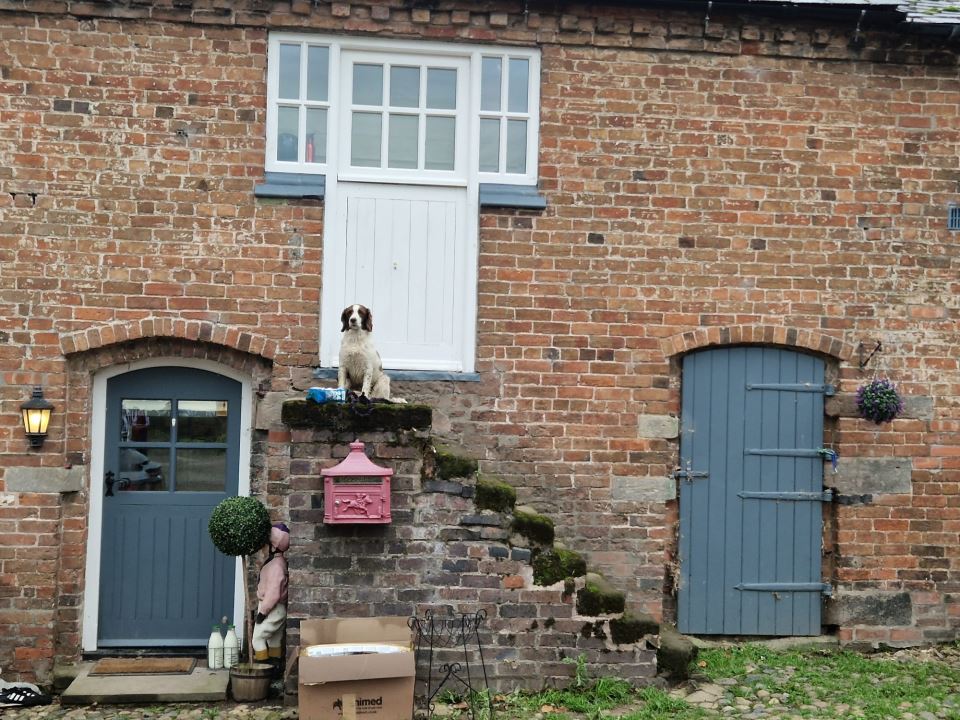 Stan - the real boss!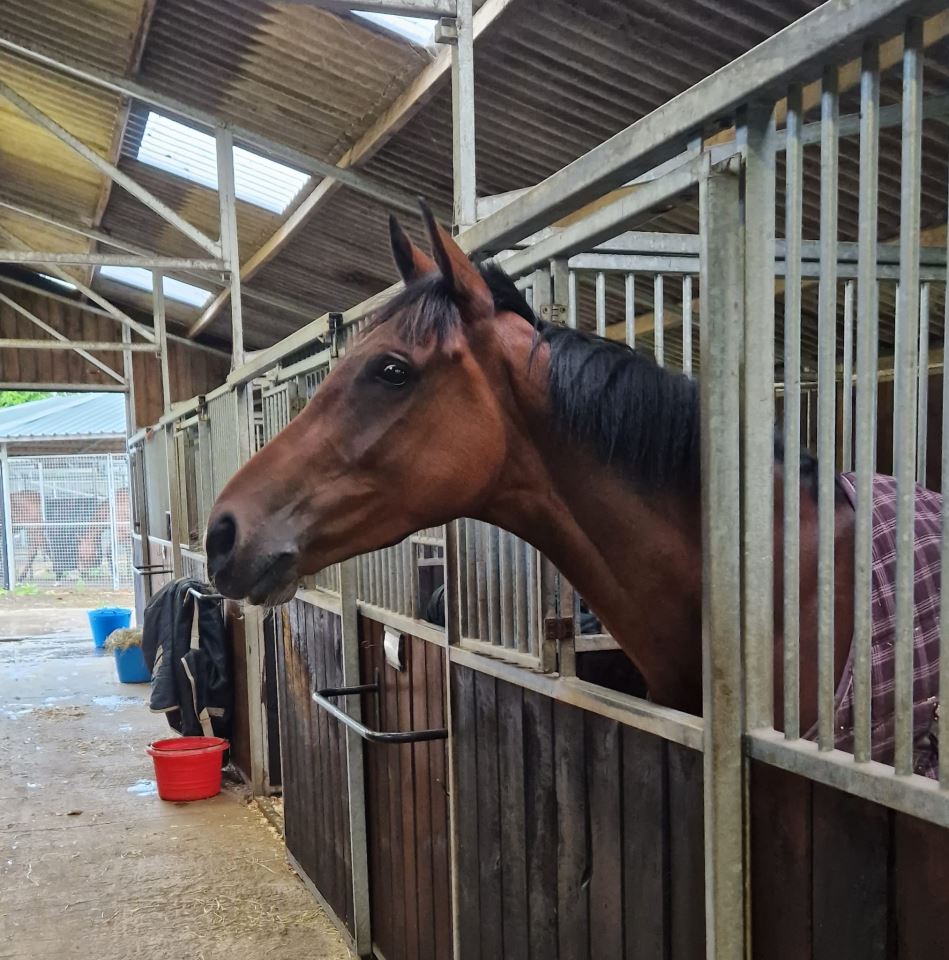 Dino Bellagio before work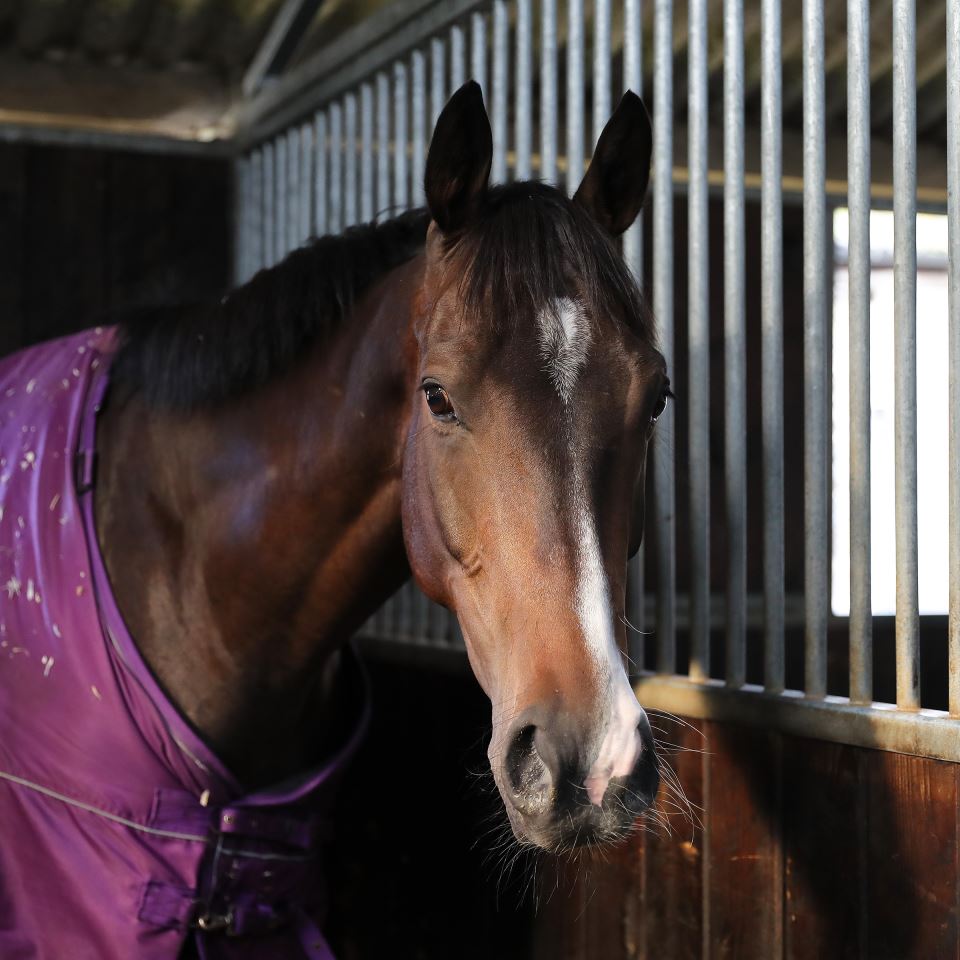 Old Blue Eyes before work - what a good looking boy!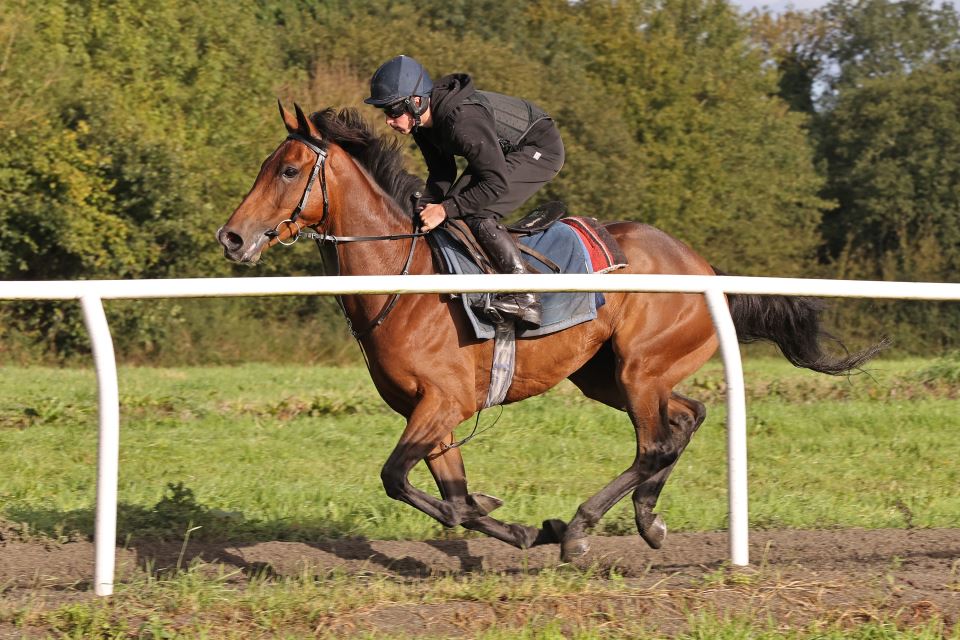 Dino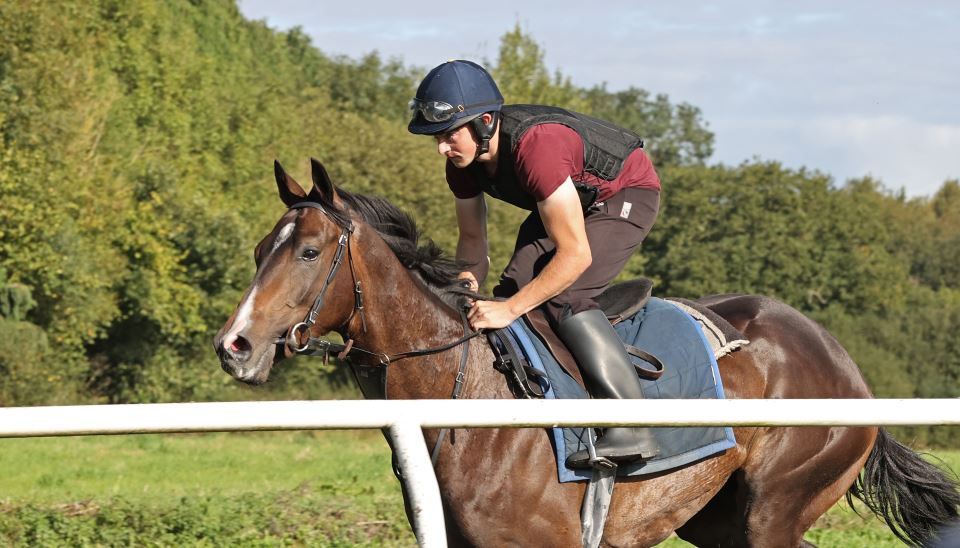 Old Blue Eyes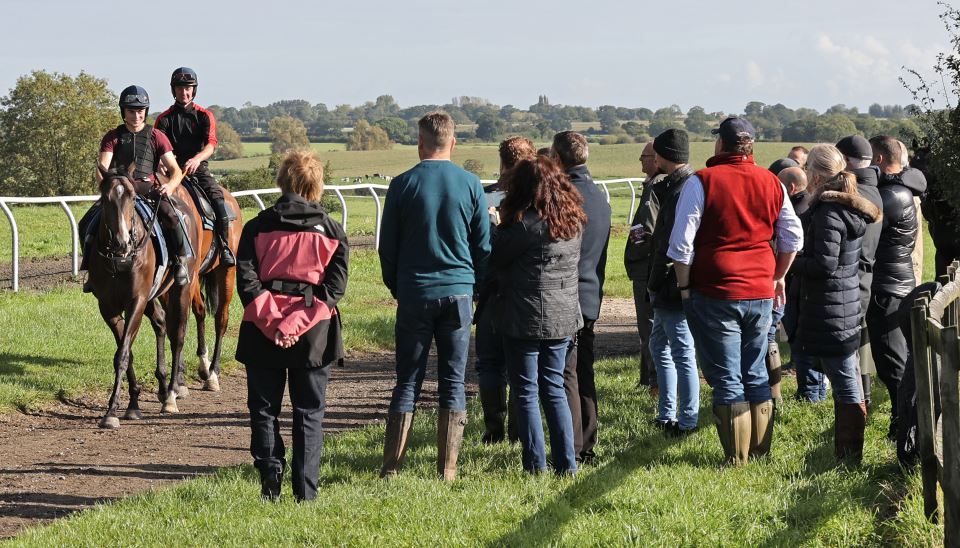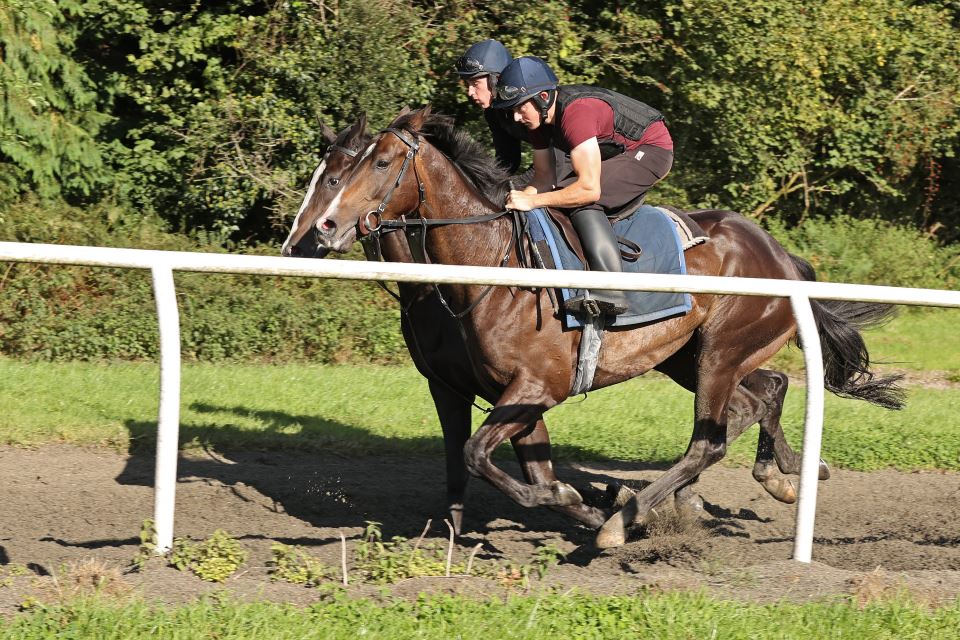 Old Blue Eyes nearside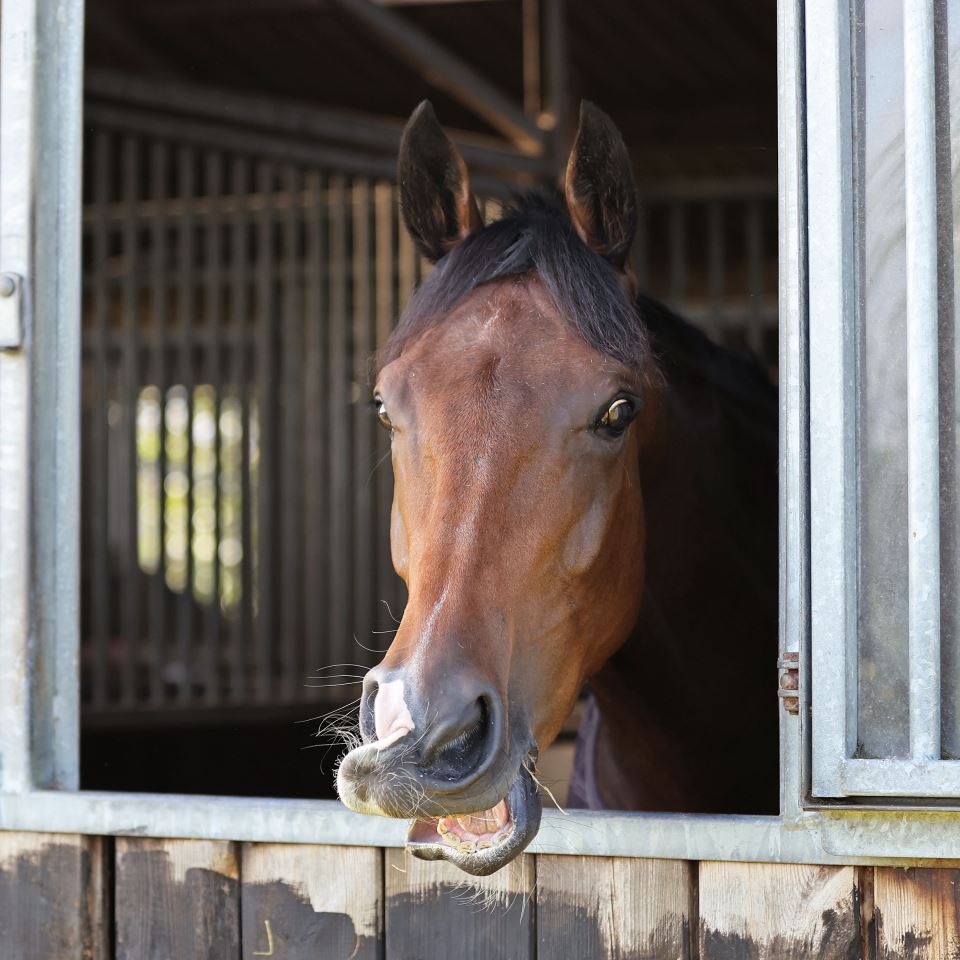 Typical Dino - he is some character!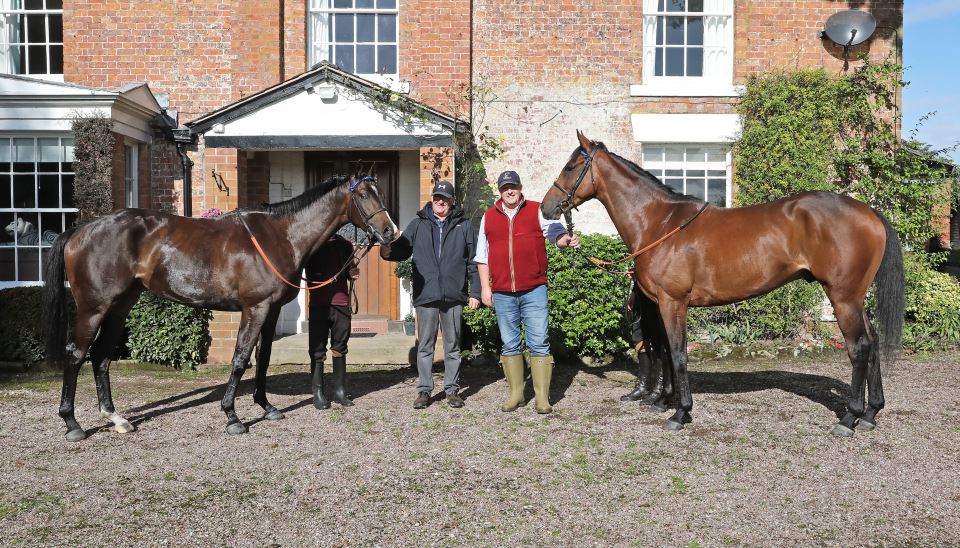 Two stunning boys - not the ones in the middle - my 'proud Dad' moment!
September is syndicate morning month, and with one Saturday left – we have another syndicate morning planned for next Saturday down at Barbury Castle with Alan King. A smaller group in to see the Jukebox Jury 3 yur old filly that is in training there. There are a few shares left in her, and anyone that is interested in a share is more than welcome to join us – look upon it as a 'try before you buy' morning. Please let me know if you would like to come along and see her work on the gallop at Alan's and hear his opinion of her. She is a very well bred filly, and half sister to a black type performer, and she goes very nicely at home. She is another that is very much on course to make her debut in a bumper next month – and remember, when her racing days are over, with her pedigree, she certainly has a value as a broodmare! Come and see her – she is recommended – just get in touch to book your place, and I will give you details of the morning.
Around the remainder – Blue Bikini is on courses for her seasonal bow next month, not sure where or when yet, but it will be over hurdles, after which we have the option of switching to fences – 3 miles on her dance card sooner rather than later. Mamoon Star is another who will be ready to go in a few weeks. He remains over hurdles, to see if we can get him to stay straighter this season. He will definitely start off on right handed tracks! Itchy Feet is in tremendous shape, everyone at Warren Chase is delighted how he summered and how he looks now. He is on target to get his season underway in late October – with the West Yorkshire Hurdle an option. Jason and I had a chat about Intrepide Sud this week and the plan is to get him back to work on October 1st. He will do a few weeks of road work, walking and trotting along the lanes, before starting to canter on the sand gallop. The vet will check him again before he starts to do anything too strenuous, and all being well he should be back at Ravenswell some time around mid to late November. He is a stunning horse, a really big boy – the time off he has had will have done him no harm, and I can't wait to see him over an obstacle. He is an amazing jumper, leading amateur Jack Andrews who did all of the schooling with him as a 3 yr old said he had never jumped a 3 yr old like him – he has so much scope! He could be anything!
As the nights draw in – there is a growing sense of anticipation for the season ahead. I was sure that we were in for a very good season last year at this stage, as we were just finding out that our newest recruits to the team were looking to be above average, this season is no different, given the squad that we have assembled there should be lots of fun to be had, and I can't wait to get them all going again! Please drop me a line if you like the look of any of the shares that we have available! There isn't one horse that I would not recommend, and I believe that they are all outstanding value if you compare them to other syndicate offerings. One thing you will be guaranteed is communication – it has been really nice to meet up with so many members and owners at our September Syndicate Saturdays and to hear them say how impressed they are with the updates that they receive! We work very hard at keeping everyone in the loop and like to think that updating this page every weekend means that we can all get behind each other's horses and garner a real team feeling throughout NBR – yes – the NBR Family!
One little thing we found funny yesterday was when young Ryan went to say hello to three horses stabled in the yard next to Donalds house. two came to the door and 'said hello', but one stayed at the back of his box. Ryan, who is a proud Celtic supporter, and who was wearning his teams shirt under a hoody, came back to ask Donald why Nayati would not come to the door - Donald, momentarily stuck for an answer, explained that Nayati was a Rangers fan, and he didn't like Ryans Celtic shirt. Not to be defeated, Ryan zipped up his jacket and headed back over to the horses door. Donald must have been right - Nayati is a Ranger Fan - he came straight to the door!! Safe to say - there was plenty of laughter!!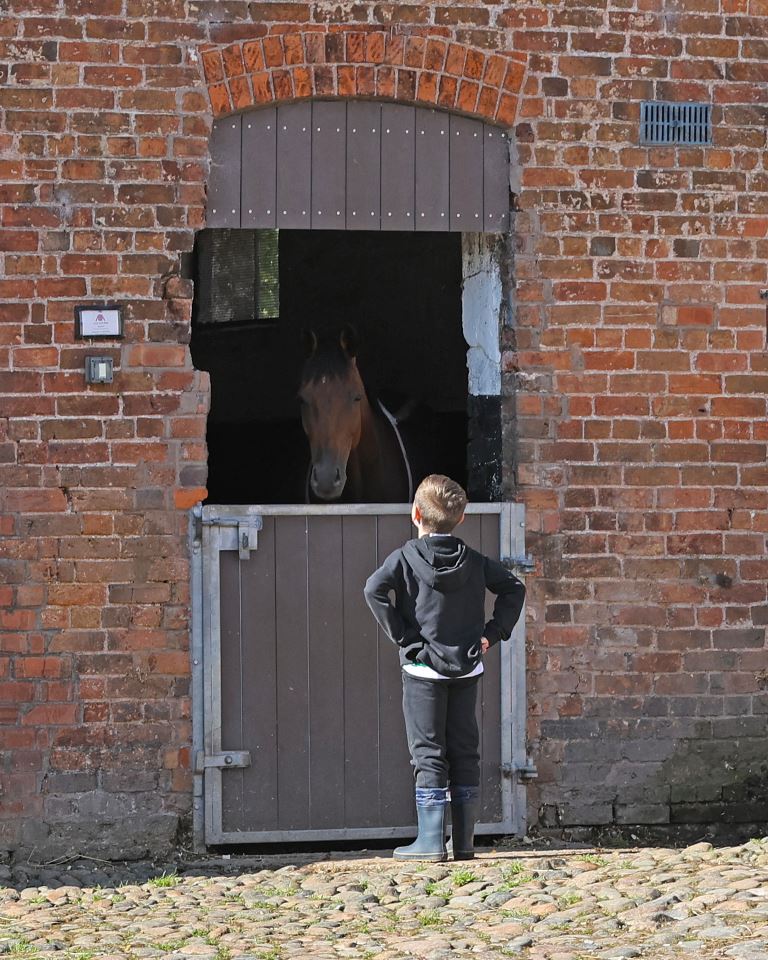 Ryan and Rangers fan Nayati
Enough waffle from me – I need to get a new For Sale Page sorted for the yearling – that will be up later! Until next week – have a fun few days and check in next Sunday!
Real friends are those, that when you have made a fool of yourself, don't think you've done a permanent job!