First Entries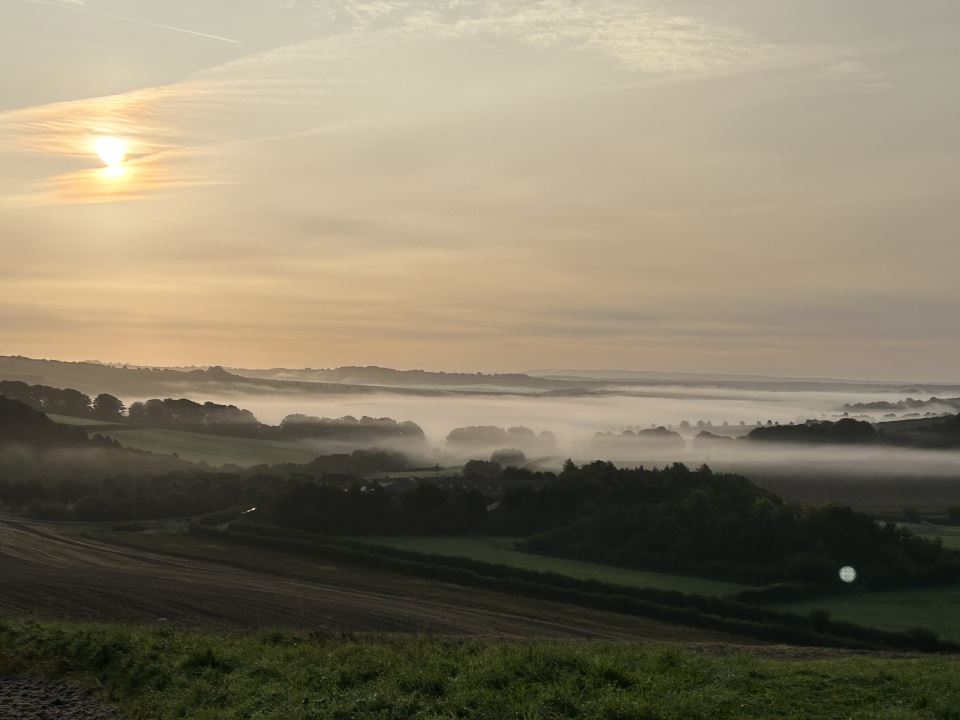 The countdown is well and truly on! This week saw the first entries for a couple of the jumps team, and with the start of October today it means that we are finally into the month when we get back to racing over obstacles.
This year we made the decision to turn all our horses away for a well earned break. Summer jumping is fun, but we made the decision only to run horses on quick summer ground if there was absolutely no chance of them showing their best form on juicy winter going, and we have not had many of those for the last 4 years. Not only do we avoid running the wrong horses on the wrong ground, they get a good summers break which is is vital, and by a good summer break I don't mean three weeks here, and three weeks there, they need a proper break – to let little niggles they may be carrying settle down and heal, let their systems relax, and most importantly let their minds chill out. It is my view that they all need a full reset, and so as part of our system, all the horses spend their summer holidays away from the yards where they are trained. If we humans head off on holiday, we don't go to the end of the garden, do we? We head away to new places, to see new things and meet new people – it is my view that horses need the same. Our horses are transferred to summer grazing on different properties across the country depending on where they are trained – with The Elms Stud receiving the bulk of them through the summer, where they go out in a herd with their mates, and revert to being just horses, not the finely tuned athletes we have asked them to be for the past 9 months. As a result, we have a period between May and October when we have no runners – in May it feels like it will be an age before we will see them out again but it soon rolls round and we find ourselves where we are now – the first of October and the winter jumps season proper about to kick into gear. This year we have a very exciting squad, and I can't wait to get going with them!
On Monday we were in the office, and it was great to get a video update from Olly Murphy – this one featuring Itchy Feet having a school on the loop. Itchy has summered very well and Olly is delighted with him. He will remain over hurdles this season, and rated 140, he will be aimed at valuable handicaps and small field graded races throughout the winter. He will be lots of fun and will be taking his owners to some of the biggest meetings throughout the winter. Since we acquired him last summer, he has done exactly what we wanted of him, and there is no reason to believe that will not continue this season.
Monday also saw us put the final touches to setting up our latest syndicate – The Astwood Partnership, the group that will own the new yearling colt by The Grey Gatsby. We have 7 of the 10 shares reserved in him now, and everyone is excited by the plan we have in place for him. He is still being educated with Jason Maguire, and he is very happy with him. He's a lovely horse! It was also good to get an update from Donald McCain after our syndicate morning at Bankhouse the previous weekend. He is very happy with both Dino Bellagio and Old Blue Eyes. Dino has an entry in Bangor On Dee this week, in a 2 mile maiden hurdle, a race that has attracted 32 entries, and looks likely to split into two divisions. Donald was happy with Dino's work last week, but there is a possibility that the race could come a week too soon for him, and he may just wait with him for a week or two. He is also delighted with Old Blue Eyes – who he said works to a very similar level to Dino Bellagio! Praise indeed, as we are all aware what Dino did on the track last year in winning two bumpers, and we all know how highly Donald and Brian Hughes regard him – to have his year younger half brother show the same sort of ability in his home work is very exciting. Despite being half brothers, the two are quite different horses, Old Blue Eyes is by Blue Bresil and is a different type of horse to Dino Bellagio, he is going to be slightly slower maturing, and Donald has just eased up on his work for a week or two. As ever, patience is the key, it will mean that OBE will just make his debut in November and not late October – whenever you see him, I promise you he will be worth the wait! There are now only a couple of the 10 shares remaining I him – he is fantastic value – and shows plenty of ability – get in touch to grab yourself a 10% share in him!
Tuesday and it was the day for the monthly admin – great to have some sort of order back now that we have the office back up and running, and I'm not trying to run the business off of a dining room table in the middle of what seemed like a building site. On the same day Reflexion Faite was declared in Southwell, a 5f nursery on the all weather – the first time she would have run on the surface, and something we were keen to try. She would be carrying top weight, and the trip would be too short for her, but there were no options for her in the short term, and it was important to get her out and try her on the surface. She has been entered in the Autumn Horses in Training Sale in Newmarket – like so many of the 1750 horses entered in the sale – she only holds an entry there as an option, and a decision will be made as to her future later in October. I will talk it through with Kevin and her syndicate and we will make a plan – we popped her in the sale before the entries closed, to keep all avenues open to us – syndicate management is a lot like plate spinning, and this keeps all the 'crockery revolving'. It has been another busy week on the syndicate front, we have welcomed a number of new members to various groups and wish them the very best of luck with their new horses!
Wednesday was a quiet day – Matt in to finish the wardrobes his team had fitted – great job, now we wait for carpets – and after that the house should be back to normal! Even though the house seems to be in a state of permanent upheaval it was great to see Julie who was staying for a few days on a visit from Norway – all ways good to catch up and have a good giggle!
Thursday – an early visitor to the yard to view and test drive a new horse box. They very much liked it and hopefully they will be Theault drivers in a matter of weeks! Fortune Forever had an away day gallop up the road at Martin Keighleys. She was ridden by Connor Brace and worked really well. This was the final touches to her fitness, and she has an entry in a mares National Hunt Novices' Hurdle in Warwick next Thursday. We will just keep an eye on the ground there, as she would not want it any quicker than good, and with a long season ahead of her, she will wait for juicier ground should Warwick be deemed unsuitable. She is in great form, she has schooled well – she is another one that has come through the system and did plenty of jumping before she made her racecourse debut this time last year. She was kept to bumpers last year to give her time to develop, strengthen and mature, and will be a lot of fun over trips of 2m4f plus this season. The family all improve with age if given the chance to do so – so starting her off over 2 miles around Warwick will give her a good taste of what is to come (if the conditions are suitable). We set off for Southwell mid afternoon, to see Reflexion Faite in the 5.30pm. A good trip up, and really good to see a few faces that I had not seen for a good while. A nice turn out of syndicate members, who, thanks to the generosity of the team at Southwell were all accommodated in the Owners Lounge. As mentioned, the 5f trip was always going to be on the short side for RF, but with no alternative targets on the all weather it was the right place to come – David Allan took the ride, and I warned him he would be pushing her along from the moment the stalls opened. He was in for a workout, as it was clear that RF was going to be flat out for the entire way. She jumped well, and got a good position in the front rank, but as predicted David was always just 'at' her to keep her place. At the 2 pole she was engulfed on either side, and carried off her line, and at this stage I expected her to be swamped and finish a tired 10th or so – but in fairness to her she stuck her head down and really battled on, and under her top weight she managed to rally and cling in for 5th place. What she lacks in height and substance, she more than makes up for in her toughness, she is one hardy little lady! David reported that she was sure to win her races, and that, as we all know, she desperately needs to step back up to 6f. She has come out of her race as she usually does, a little stiff and sore as she gives it 100%, but she will be fine in a few days and is likely to head to Newcastle in a couple of weeks. It was a fun visit to Southwell, a track that is dear to me as it is where I had my first ever winner – and I always like to get back there when I can. The racecourse is managed superbly by Mark Clayton, who has done a great job since he has been there, and it was good to catch up with Mark when I was there.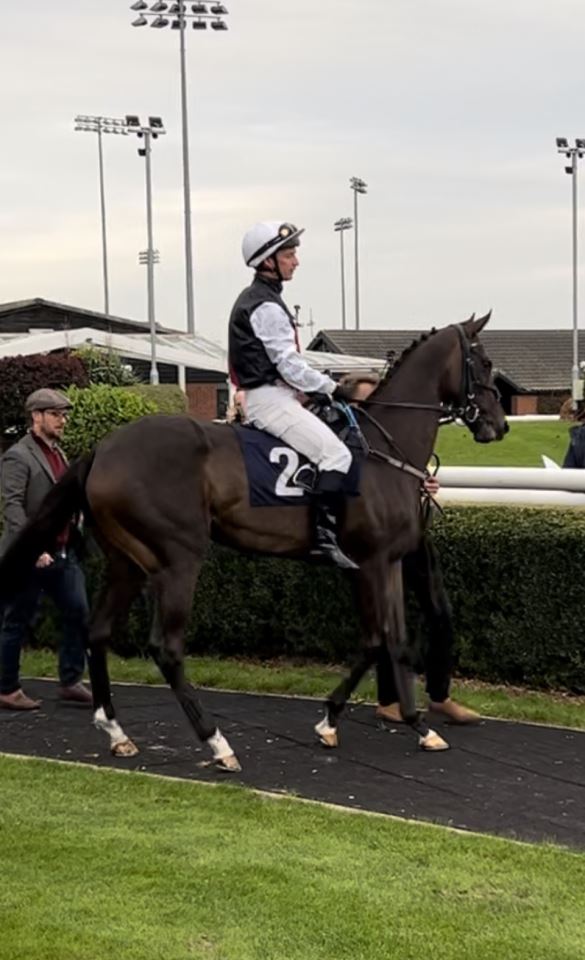 Reflexion Faite leaves the paddock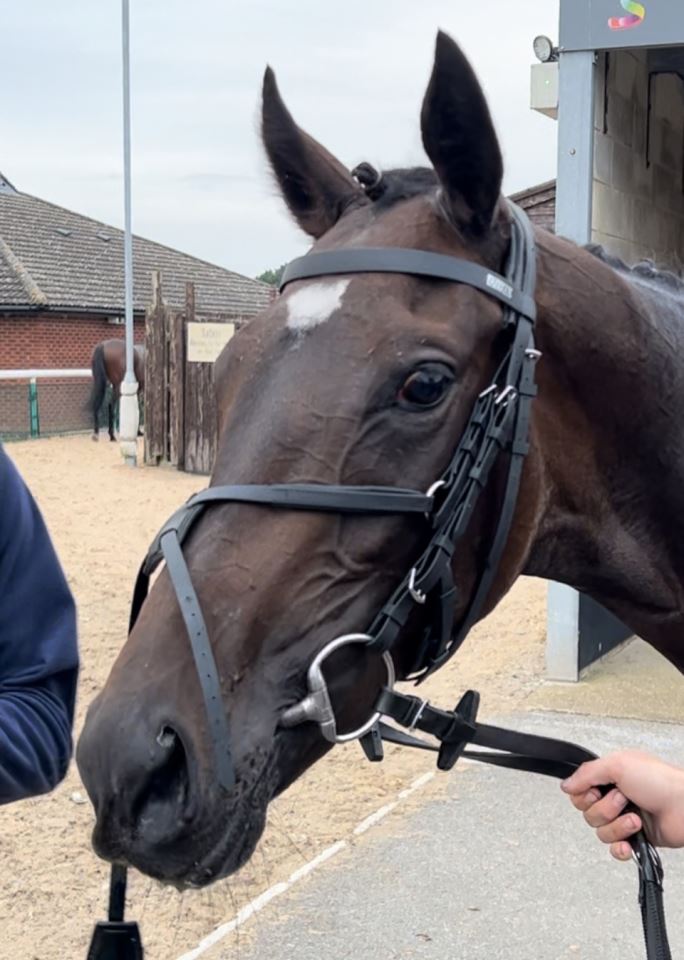 After the race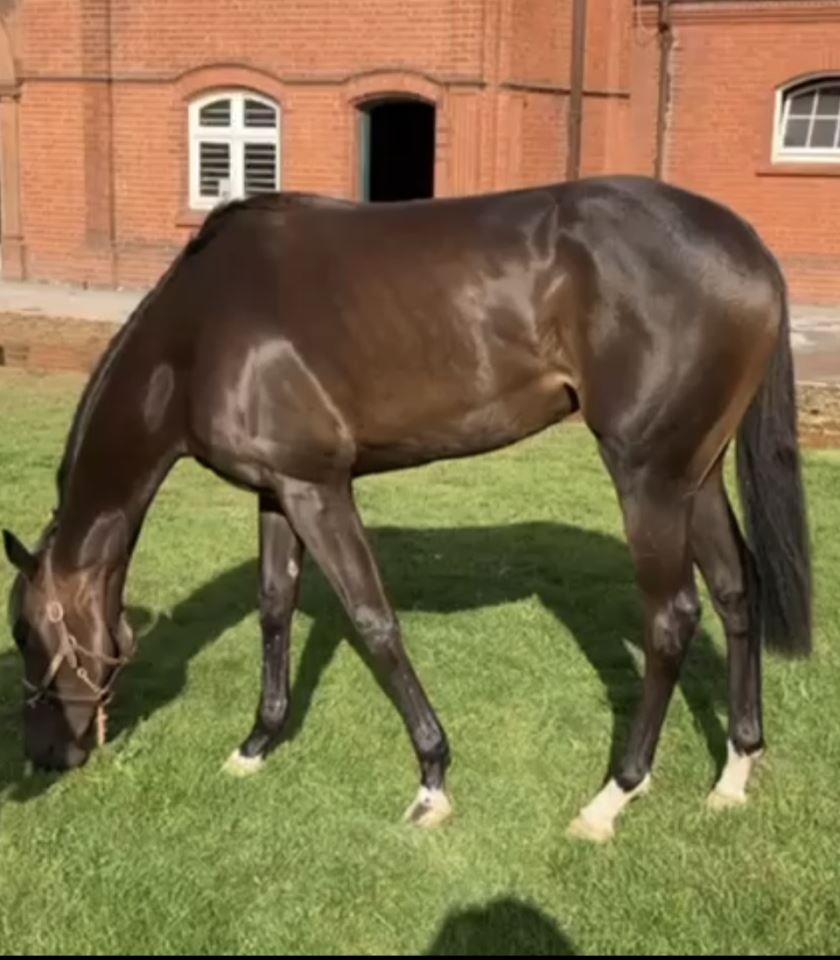 The morning after
Friday – and a flying visit to The Elms. The purpose of the visit was to collect some horse hair, which will be used to create pottery. The ancient Japanese method of Raku pottery involves placing things like leaves and horse hairs on the red hot objects as they are removed from the kiln, leaving a pattern in the glaze. Horse hair has been used for centuries, and our house guest, Julie had asked if I could get her some tail hairs so that she could try it out. While at the stud, I had a quick look at the now weaned, George. He is chilled out with his friends and has not missed his mum at all. He has adjusted very well and looks great. We also popped up to see Barry (2 yr old Blue Bresil x Savingforvegas), Floyd (yearling by Falco x Savingforvegas) and Finbar (Falco x Molly Childers), who all look fantastic. Barry is a most imposing individual, and he is developing into a fine specimen – having been broken in and had 6 weeks of education, which included plenty of schooling, with Jason Maguire he is well set for the career ahead of him. I cannot tell you how much Jason likes this horse – he believes he has a huge future! Floyd is another one who just about has it all, he is a very nice yearling, and another one that has all the attributes to be a very nice racehorse. Finbar is the first foal from Molly Childers, and like a lot of first foals he is on the small side, but saying that, he improves every time I see him, and is really going the right way now. The Savingforvegas family, which is already stacked full of black type got another boost on Friday when Say Goodbye was third in the Listed Chase in Gowran Park. We have been very lucky to have Savingforvegas, she has produced 5 bay colts from 5 foals for us, and they are all very correct, good looking boys, with no small measure of ability – what a mare to start our breeding 'journey' with! She is very special!
The boys!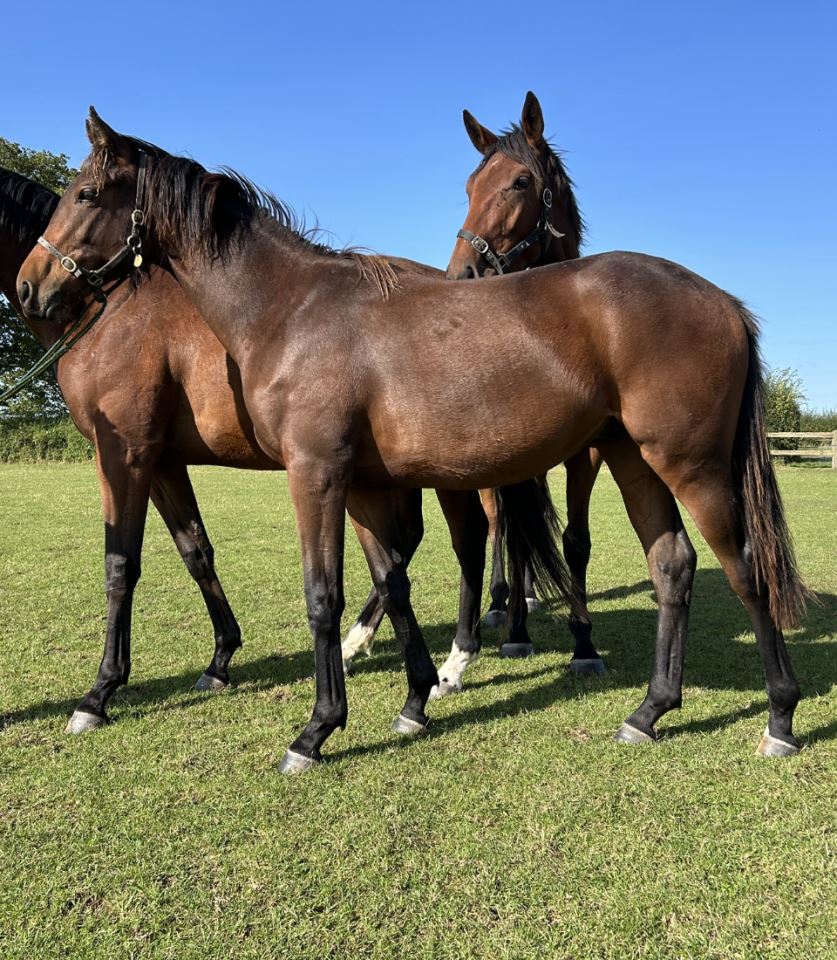 Finbar - Falco x Molly Childers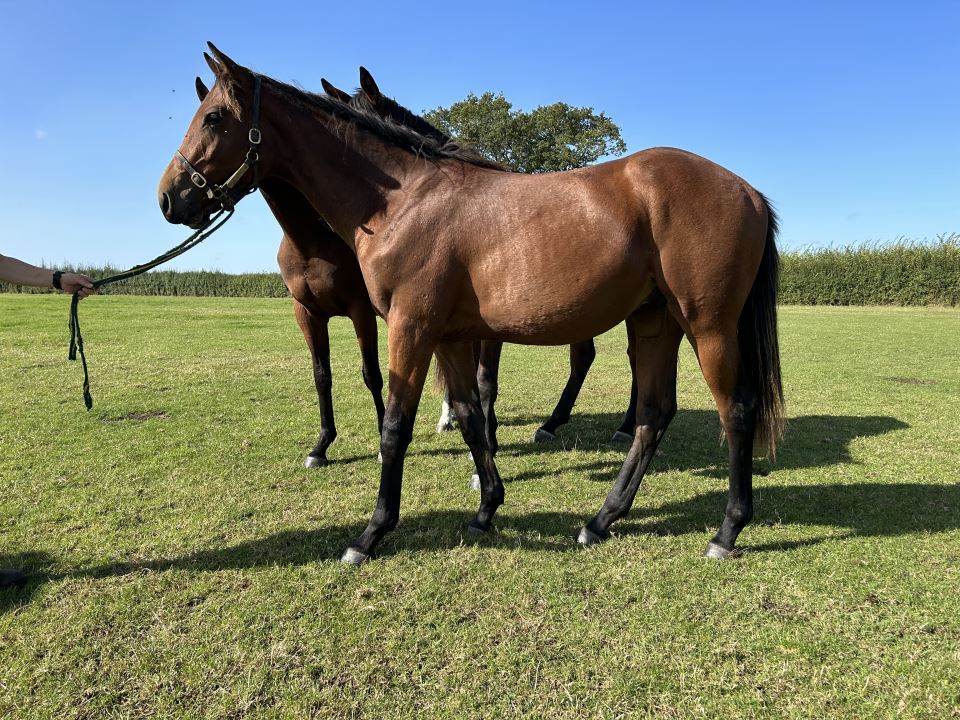 Floyd - Falco x Savingforvegas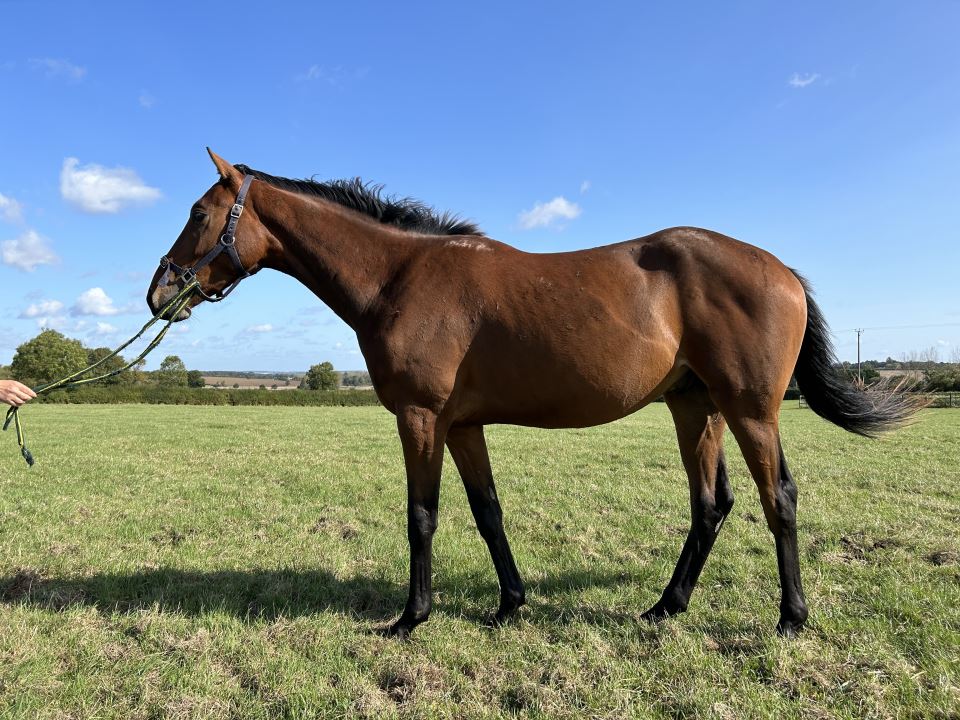 Barry - Blue Bresil x Savingforvegas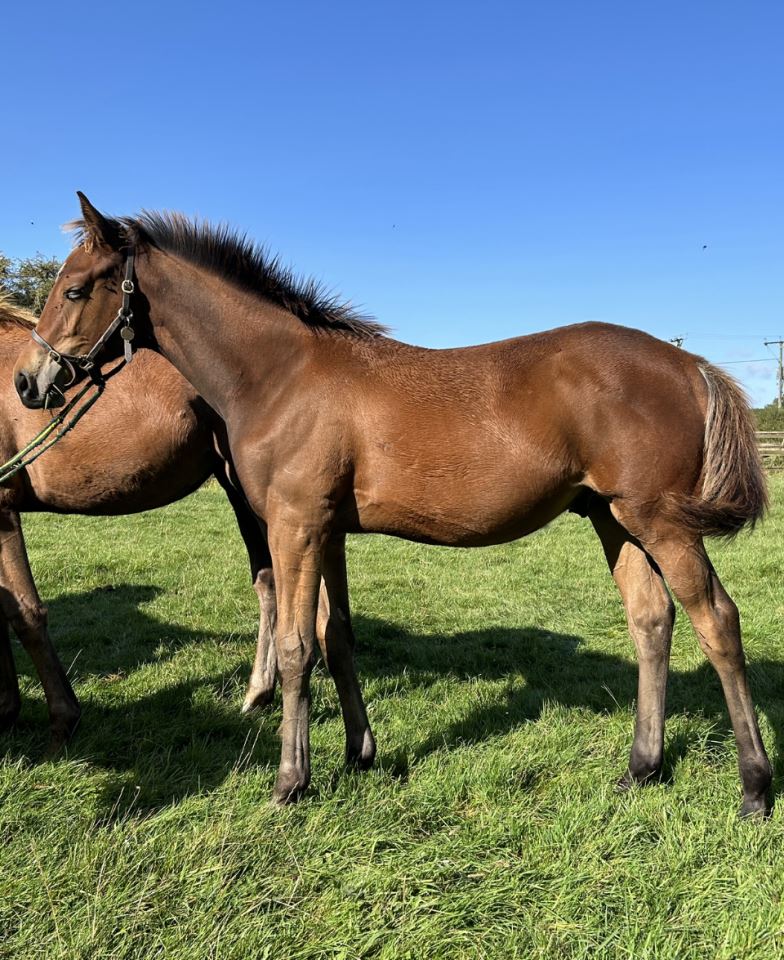 George Golden Horn x Savingforvegas
Good to catch up with Marc Blackford of Venatour on Friday. Venatour organise group trips to all manner of sporting events all over the world, and Marc takes care of the racing side of the business. We have long talked of teaming up on a few trips, and as a taster to that, Marc has kindly offered our syndicate members and owners the chance to go racing in Chepstow on the 13th of October where Venatour are sponsoring a race. Theor offer includes discounted entry to the meeting, and access to the Venatour Marquee attached to the Owners and Trainers suite. Please email Marc (marc@venatour.co.uk) to book your spot. Over the coming months we will be working closely with Venatour and will be offering all NBR members, owners and clients the chance to go to some great race days all over the world – stay tuned!
In preparation for her seasonal debut in Chepstow – Greyval had an away day with a few others in Lambourn on Friday. They all worked up the back of the hill and all went very well. Greyval, ridden by Liam Harrison in her work, went really well, she had a good blow afterwards, and the work will put her spot on for Chepstow. On the way back I had a good chat with Fergal and he gave an update on the whole team. Hidden Beauty looks and feels very well. She did a blistering piece of work with Listed bumper winner Poetic Music this week, and he is delighted with her. I think she looks back to where she was before she suffered her atrial fibrillation in January 2022, her confidence seems to be back to where it was, of course, she has to do it on the racecourse, but at this stage she is looking great. She will start over hurdles this month but is likely to switch to fences quite quickly. Always with an eye on detail, Fergal has noticed that she is far happier to go out very early, with a smaller lot, so she has been going out just after 6.00am and she seems much happier doing so. So, on work mornings, Tuesday and Friday she will go out very early. Those who come in to see her would be better off planning to visit the yard on a Monday, Thursday or Saturday, when they will see her either on the round gallop or schooling. Blue Bikini is another one to get a very positive report, she is working well, and has schooled great, Connor Brace delighted with how she schooled over hurdles this week. She has schooled over fences, but will start off over hurdles, before stepping up to 3m either over fences or hurdles. Fortune Forever, as mentioned is ready to run, and has her entry, but will only run if the ground is suitable. Fergal is absolutely thrilled with Volkovka, who although behind the remainder of our 7 at Ravenswell Farm appears to be in the form of her life. He says she is in a different place to last year and although he doesn't want to get ahead of himself, he is very excited about the season ahead with her. Greyval had just galloped and as reported she went great. He is very happy with her, and it is fair to say she is the apple of her trainers eye! Maria's Flame is in great order, she is deceptive, as although she looks a strong young filly, Fergal is having to mind her slightly as she is showing in her work that she isn't actually as strong as she looks. She is not being asked to undertake the same level of work as some of her classmates, but what she does is good. She will continue to improve as the season goes on, although still on the weak side, she is still on course to make her debut this month. Finally, Mamoon Star is working very well and schooling great. He has had his wind tinkered with recently and will have an entry over hurdles this month. All in all, a very positive report form the 'headmaster' – lets hope they all end up graduating with A grades this term!
Saturday we headed out early to Alan Kings Barbury Castle yard. Kind of Alan to host the members of the Jukebox Jury x La Pelodette filly that we have in training there. Especially as it was a big day for him, with Trueshan contesting the Group 1 Prix Du Cadran in Parislongchamp, and also a runner in the Cambridgshire in Newmarket. It was a simply stunning morning at a beautiful yard, and those that made the trip really enjoyed themselves! Second lot, they saw the filly work very well with three older workmates, two of them are very exciting bumper winners, who look like they have very nice futures and are mares that Alan holds in high regard, the other a 6 yr old gelding who he also thinks is very nice. To have a 3 yr old filly work with this calibre of horse is very exciting and bodes very well for the future. She does go very nicely, and as you can see, she really gets her head down and works well. There are still a handful of shares available in her. She has a lovely pedigree, in fact her full brother, Off The Jury, who was sold in the spring for 170,000 has now joined Alan King too and it was good to see him up the hill gallop yesterday. We purchased him as a foal, and it was nice to see him and get up close to him again yesterday – he is a lovely horse. A fantastic run from Trueshan in France! Massive congratulations to Alan and all the team!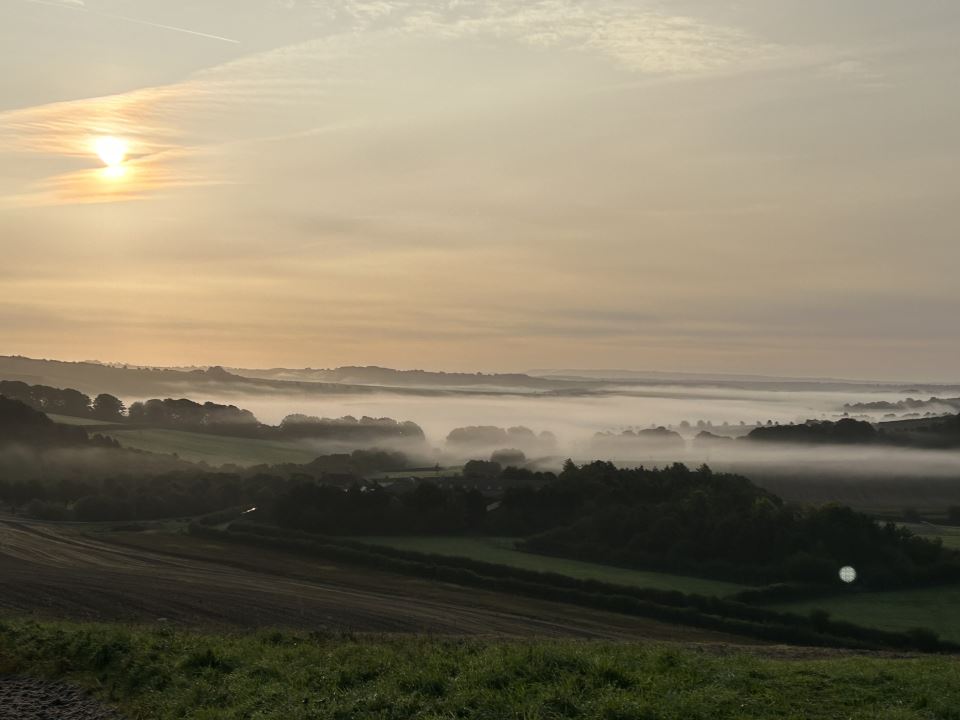 What a view - early morning over the Barbury Castle Estate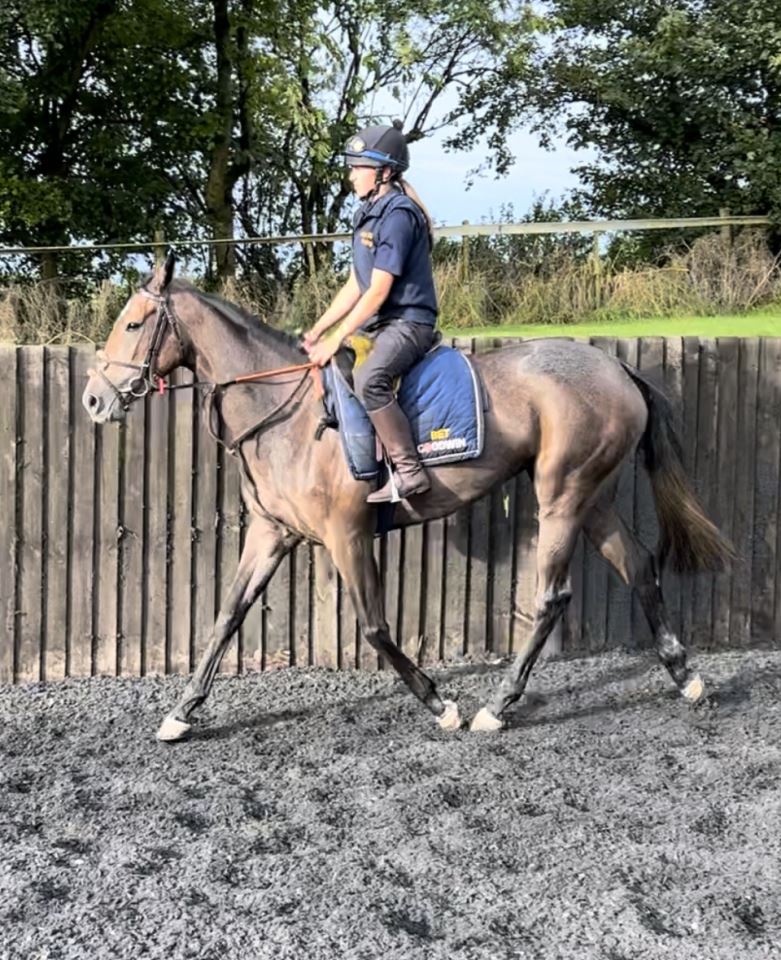 Jukebox Jury filly warms up with Chloe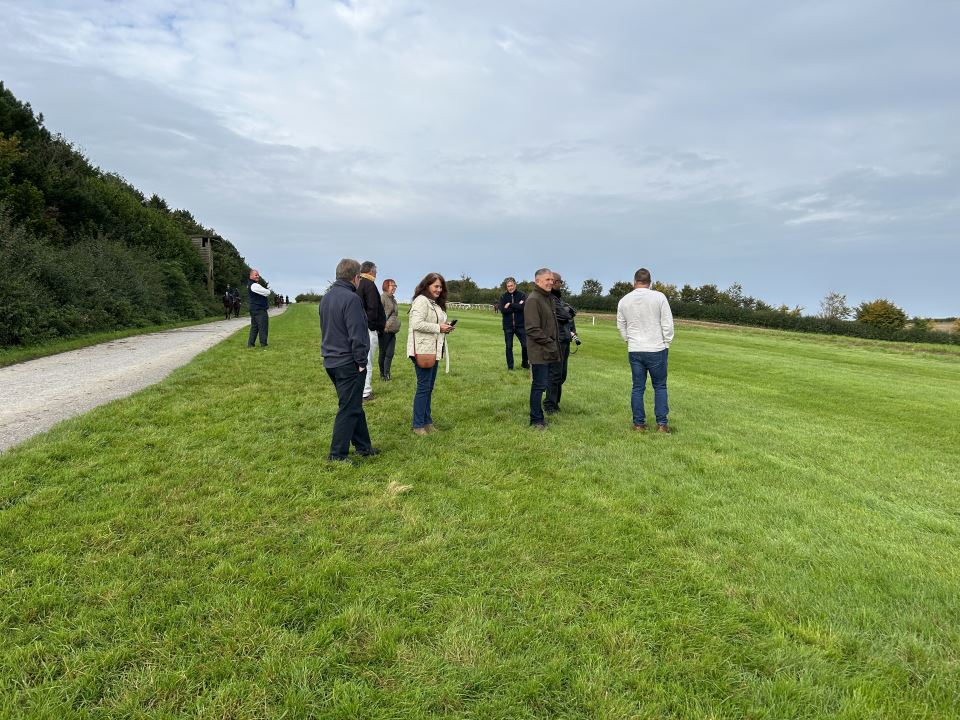 On The Hill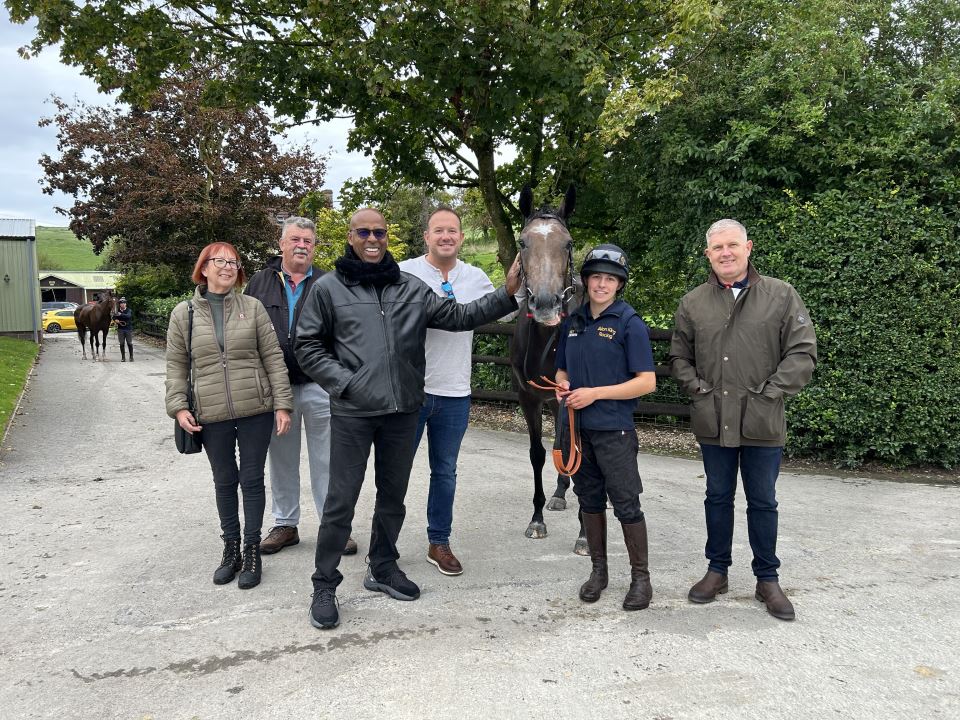 Happy Owners
It was good to get this years copy of Mark Howards One Jump Ahead through the post on Saturday, and even better to see plenty of our horses mentioned, as well as seeing the unraced horses that our team are working with getting mentioned by their trainers too.
Elsewhere around the team – Tintagel Queen is going really nicely and will be ready to run when she gets her favoured soft ground in November. In Mark Howards book, Olly states that she will contest mares novice hurdles this winter and will be winning races. Auditoria will be the first of ours in Warren Chase to see the track, and is in great shape, she should be out in the next couple of weeks. Down at Ivy Lodge Farm – Intrepide Sud comes back into work tomorrow – it has been a long wait for him – he sustained a leg injury in winning his bumper in Worcester last summer, and has been given plenty of time to recover. Although he won a bumper it is over obstacles where he will be seen at his best – he is an astonishing jumper, and I can't wait to see him over hurdles!
Next week we could have a couple of runners if the ground is suitable for them, and I hope to get into a yard and see a few horses.
Flattery is something nice someone tells you about yourself that you wish were true!