A Racing Club - but not as you know it!

As you know – Nick Brown Racing prides itself on giving members and owners the very best possible value. In nearly 25 years of syndication we have also learned that communication is vitally important, and we work very hard to update members and owners with the very latest news on the horses that they are involved in. . These are the two key ingredients in establishing, developing and maintaining a successful syndication business, along with a great deal of hard work to source the very best value horses out there (sounds easy, doesn't it? – it's not – trust me!) With 25 years of syndications behind us – it is time to branch out slightly, and offer a new model – something we have been working on for quite a while – The Red Sash Racing Club – a new Racing Club, that will offer members, not only the chance to own a share in a quality racehorse, but will also give them an in depth insight into what goes into 'making a racehorse', and getting it to the racecourse. We have also teamed up with several companies and racing 'celebs' that will be working with us, including leading bookmakers offering free bets, and tour companies who will be offering significant concessions on their sporting breaks all over the world. We want to offer far more than just a small share in a racehorse, and good luck in a ballot for badges – we want The Red Sash Racing Club to be more than that - to highlight, through video presentations, written columns , and photos, all aspects of the Racing and Bloodstock industries, along with all of the other professions that work around both industries to produce the 'end product' – a racehorse! It will be both entertaining and educational – and will offer something that has never been seen before – a real behind the scenes look at every aspect of racing, breeding, and sales. Membership will be priced at £100, which will include the purchase of a share in our first horse and all inclusive training and keep fees until May 31st 2024 – after which, renewal of the annual subscription will fall to just £50/yr. Full details will be released over the course of the next couple of weeks, membership will be restricted to 1000 and we have been blown away by the level of interest that we have already generated – with over 250 applications for shares already received (and we haven't even launched it properly yet!) A share will make a fantastic Christmas present for any racing fan – and I hope many of you will take up the chance of getting involved and supporting us in this venture.

I mention this now, as it has been something that we have been busy with for the last week and will feature in this weeks news.
Last Sunday, I finished the weekly news bulletin, and a race report, and we headed up to Villa Park by kind invitation of Olly Murphy to see Villa host West Ham. Last season it was a dire match between two struggling sides – but this time round, both were in good form, and it had the makings of a good game! Olly's kind invitation included pre match lunch in the Directors Club, and great seats right by the Directors' Box. It was a good lunch – the game – good for Murphy – not so for me – no fear of jumping up and celebrating inappropriately – a 4-1 Villa scoreline flattered them slightly, but West Ham not really at the races with just one heavily deflected Jarrod Bowen goal in the credit column for West Ham. Despite the scoreline, it was a really good afternoon out with Olly and his father Aidan – thanks very much – until next season!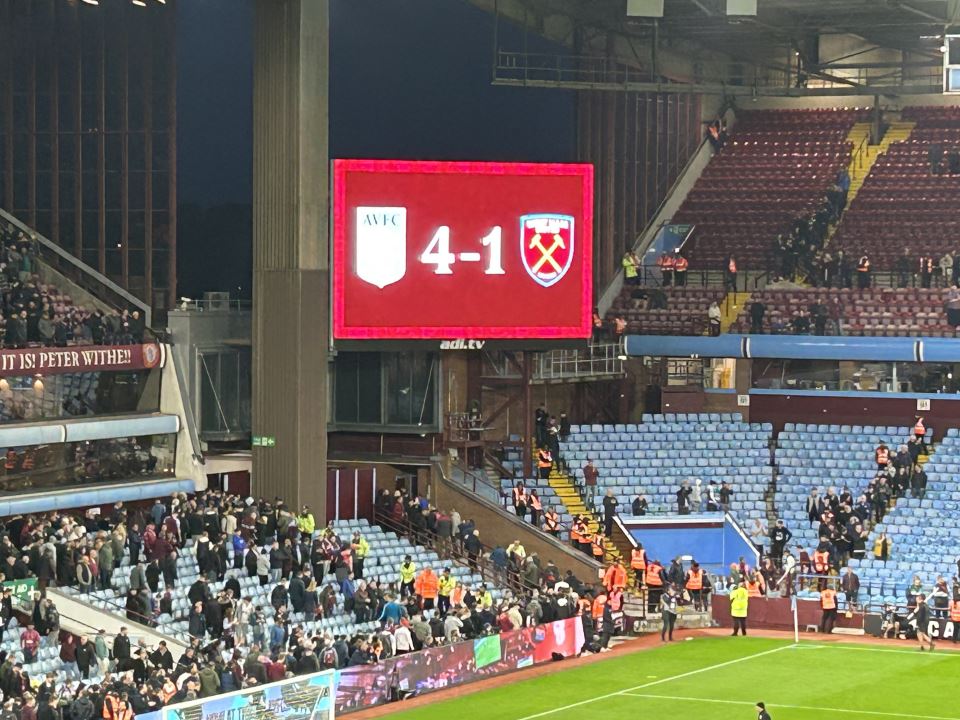 Monday was decision day – Greyval – where would she make her seasonal debut – she had been prepared to run in Chepstow a couple of weeks ago – but a dirty scope had put the mockers on a plan that had been hatched way back in April. As it turned out she would not have run there anyway, as their ground became very testing after heavy rain. We had to search for plan B – Paddy keen to go to Cheltenham's Showcase meeting for the 4 yr old hurdle there, entries for which closed last Monday – Fergal and I less keen to run there, as it was a conditions race, and we felt that it was the wrong race to run in at this stage – she would also have to carry an 8lb penalty for winning her Listed Hurdle in Doncaster in January, which therefore made it an easy decision not to enter her. Thankfully there are a number of options for her going forward at some very nice tracks with some very appealing prize money – Greyval herself is back in fine fettle, and you will see her out again very soon! I had a chat with Donald McCain on Monday, he and his staff have had to work doubly hard over the course of the last few weeks as the yard seems to have received most of the rain that has fallen! If there was heavy rain around – it seems to have fallen on Bankhouse, and it has made life really tough for them to keep the show on the road, the good news is that they are back to normal now, and he reports Dino Bellagio to be in great form! He is back to his bouncing self and started his intensive round of schooling in the last couple of days. It had been planned to start his schooling earlier in the week – but the heavy rain put the mockers on that! There is no rush with him - he will repay patience, we know how much raw ability he has, we just need him to focus a little more on the hurdles in front of him. Nothing came to light after his woeful hurdles debut, apart from him giving himself a sore back by leaping hurdles as if they were on fire! The thoughts are that he simply gave himself a massive shock and frightened himself very badly at the first two hurdles, and it is as simple as that. Donald and the team will work very hard on his hurdling and he will be back! Old Blue Eyes remains on the easy list, he is really well in himself, but is off games for a short while after giving himself a little injury behind the saddle. It is planned for him to travel down to Ivy Lodge Farm in the next few days, where he will complete his convalescence with the aid of all of the rehabilitation equipment that Jason Maguire has in place down there. He will be back to Bankhouse in no time and has already shown that he is a horse to very much look forward to – he is still only 3, and being by Blue Bresil, he looks to have a very nice future. It was nice to see another talented son of Blue Bresil win the bumper in Cheltenham yesterday – BB really is a fantastic sire and we are very lucky to have a few of them!
Tuesday – due to declare Hidden Beauty for her seasonal debut in Ludlow on Thursday, but typically for her, she managed to find a way of getting out of a planned engagement, we had hoped to start her the week before in Huntingdon – but quick ground there meant that she bypassed that, on to Ludlow – perfect ground – this time a couple of coughs after a canter, and a mucky scope! Nothing major, just another one of the ups and downs we go through with her! She really does have a habit of keeping us all on our toes! She will have a week of light exercise, a course of antibiotics and should then be back on track! I then headed over to Newmarket for day 2 of their Horses In Training Sale. It was good to catch up with plenty of people, Olly Murphy and his father Aidan were there buying a few off of the flat, Fergal O'Brien there also adding to his squad, and it was good to sit down for long chats with both to discuss a few options for horses with them. Blue Bikini had an entry in Wincanton today – but I have been really keen to step her up to 3 miles, ever since her hurdling debut to be fair, and it has been a very good effort of both training and placement to see her win four races including three of her last four starts over trips which I believe are short of her optimum. The Wincanton race over 2m5f in open company – was discussed, and we decided instead to head for a 3m mares handicap hurdle in Chepstow. It was a case of weighing up a race on her preferred right handed track, over a shorter distance against geldings, or going left handed over a trip that we think will see her in an even better light – against her own sex. She had won at left handed Warwick last time out – so Chepstow it is – she heads there on Tuesday! We finalised plans for Greyal, discussed options for Mamoon Star – who has come out of his run last week in good order. He is one that does have to go right handed, and the programme book is light of options for him – so much so that Fergal had considered swapping him to novice chases. That still remains an option, but we both agreed that it would be good to see him over a more suitable 2m4f over hurdles before switching to fences. It never pays to change to many things at the same time, as you cloud the 'cause and effect' of any result – keep things simple! With racing at Uttoxeter abandoned, and their meetings switched to Ffos Las – Fortune Forever has been entered in a mares maiden hurdle there, she worked well on Friday morning, and we are very much looking forward to seeing her out again – she will have learned a great deal from her hurdles debut in Warwick where she was second, despite putting in a very novicey round of jumping! Maria's Flame is another one in good form, and we discussed entries for her. She has been given an entry in a fillys 3 yr old bumper in Stratford on Thursday, but Fergal has an inkling that the 2m there on soft ground may not be ideal, and she is likely not to be declared, there are options at slightly shorter on tracks that usually offer better ground in the next couple of weeks. Alan King has also entered Rockola in the same race in Stratford, and he believes that the conditions will suit her, so she is likely to run there. Should she not make it, and the race cut up, it is not impossible for Maria to take her place, but that would be a very last minute call!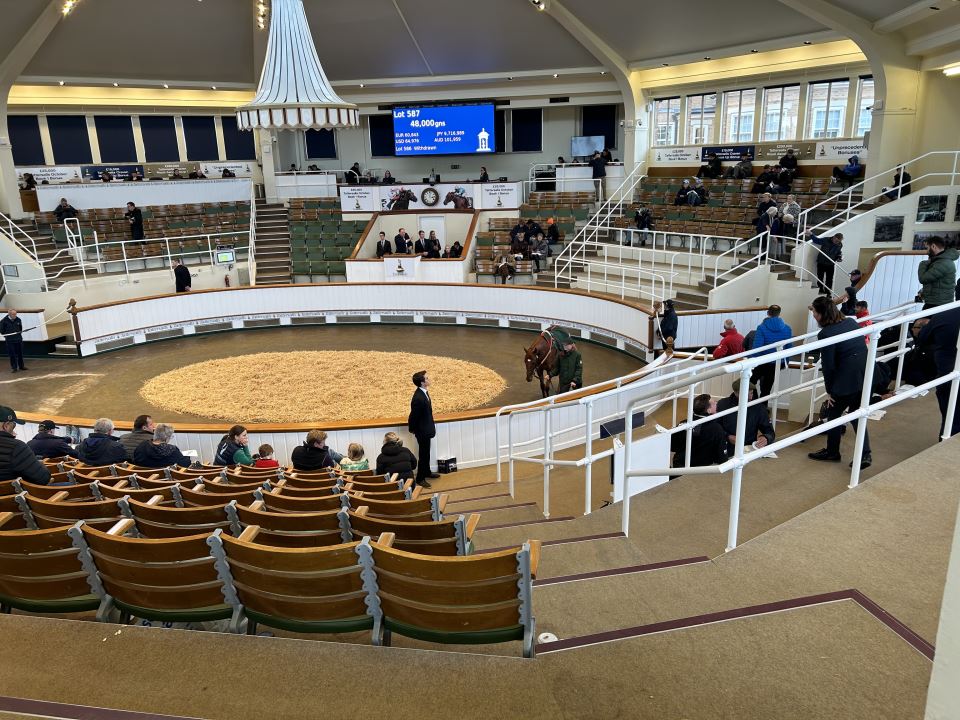 Tattersalls Sales in full swing.
Wednesday – a bit delayed, but I got the race report for Mamoon Star out to his owners. Watching the race again a few days later, I was even more pleased with his run – I hope he gets the right trip on some decent ground next time out – it will answer so many questions! I had a good chat with Olly Murphy and he is chuffed with how things are going with Tintagel Queen, she is now getting very close to making her hurdling debut, and the recent rain and soft ground is ideal for her! She has schooled well, and it will not be long before we see her out – can't wait to see what she can do over obstacles – she has the size and scope for them and has a very tough and resolute outlook to life – she should be suited very well by the switch! Itchy Feet is fine after pulling up under a big weight in Newton Abbot last weekend. Just one of those runs he can throw in – he will be back I'm sure! Auditoria is in great form, and she too will have an entry very soon – not many options against her own sex which would be preferable, but she will go where she stands the best chance of picking up a nice bit of prizemoney! Every little helps!
Thursday was an early start – woken at 3.00am – couldn't get back to sleep – so decided to use the time wisely and headed to the office to put the finishing touches to The Red Sash Racing Club website, which should be going live around this time next week. I am very much looking forward to getting this club off the ground – a lot of work has gone into it – and it will be something a little different in the larger syndicate market place – we believe that the content that we publish in the members area, will lift the lid on so many aspects of the racing and bloodstock industries, that any racing fan would find it worth the subscription costs alone – along with a number of free bet offers throughout the season, and discounts on all sorts of racing related products and services – you could almost get the share for free!! Again – get in touch to add yourself to the list! 07909 518902 – nickbrownracing@gmail.com
Friday was the first Cheltenham meeting of the season – and that means a healthy turnout of syndicate members heading to the Cotswolds. Those with horses in training at Ravenswell always make the early start and pop in there on their way through. Friday is work morning, so there was plenty to see. A few of Volkovka's owners in to see her work – she is in fantastic form and did two up the hill after warming up on the round. We will all get to see her back on the track very soon! A couple of Maria's Flame's syndicate members also popped in to see her, and she looked in rude health! Greyval went really nicely, as did Fortune Forever upsides Blue Bikini.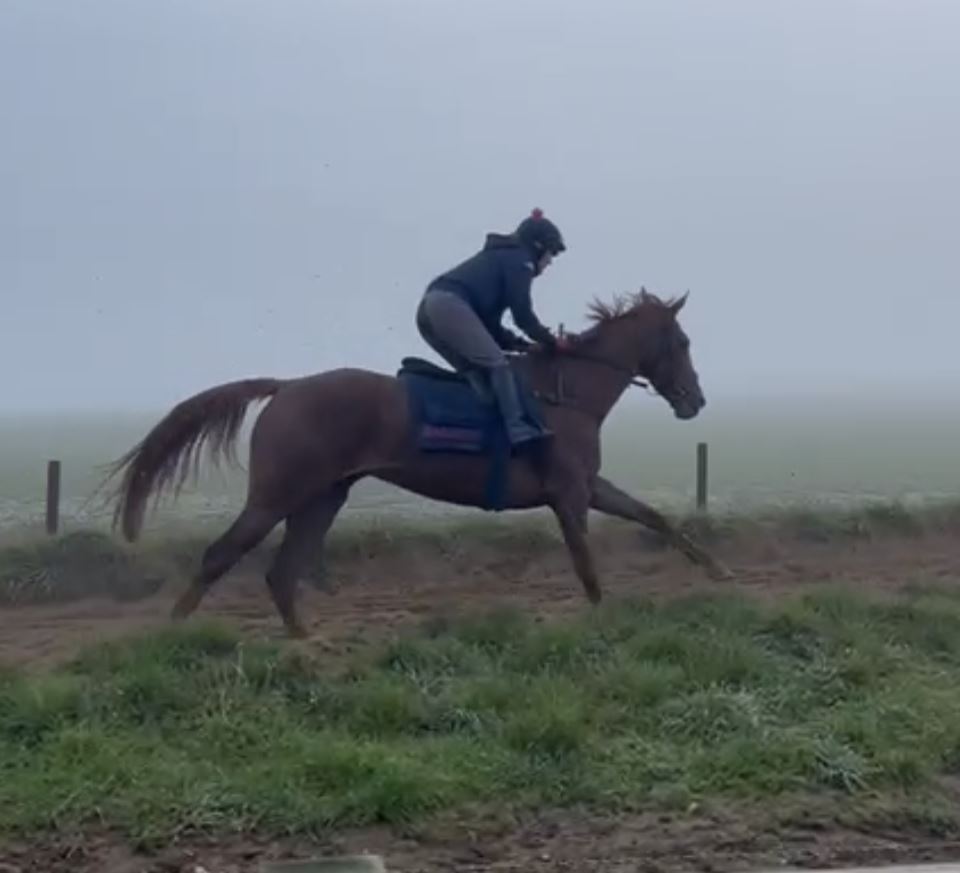 Fortune Forever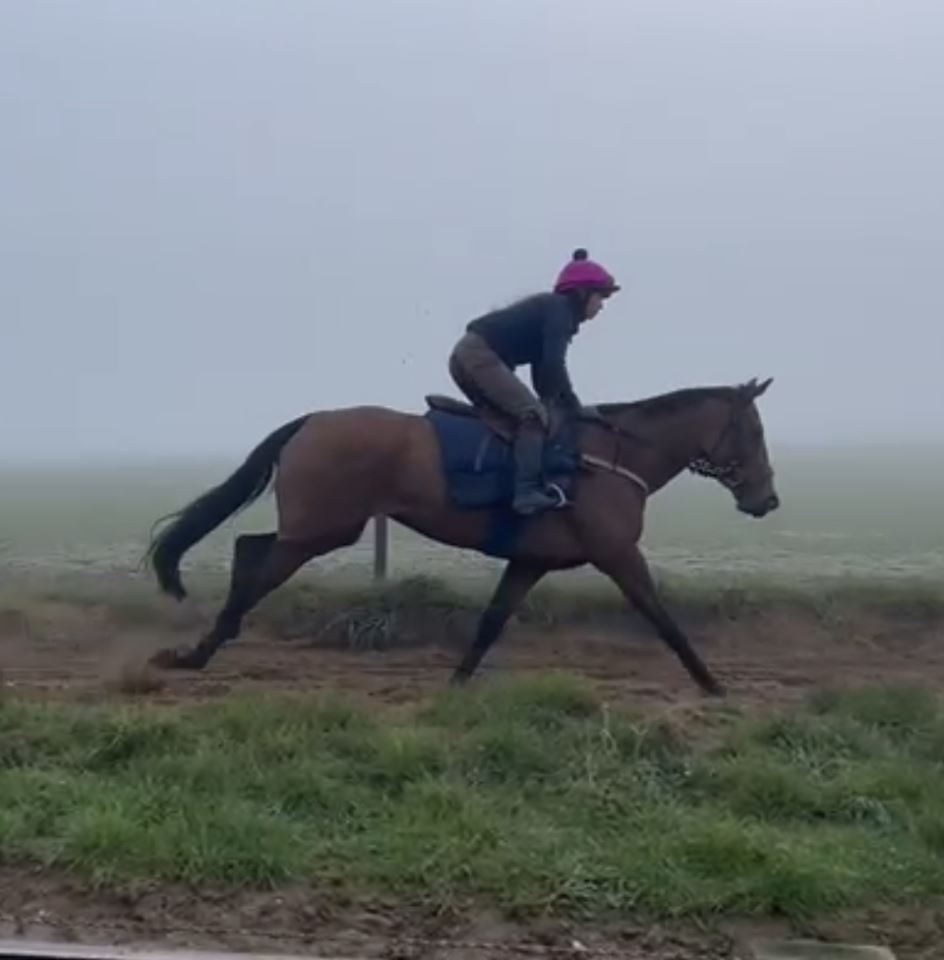 Maria's Flame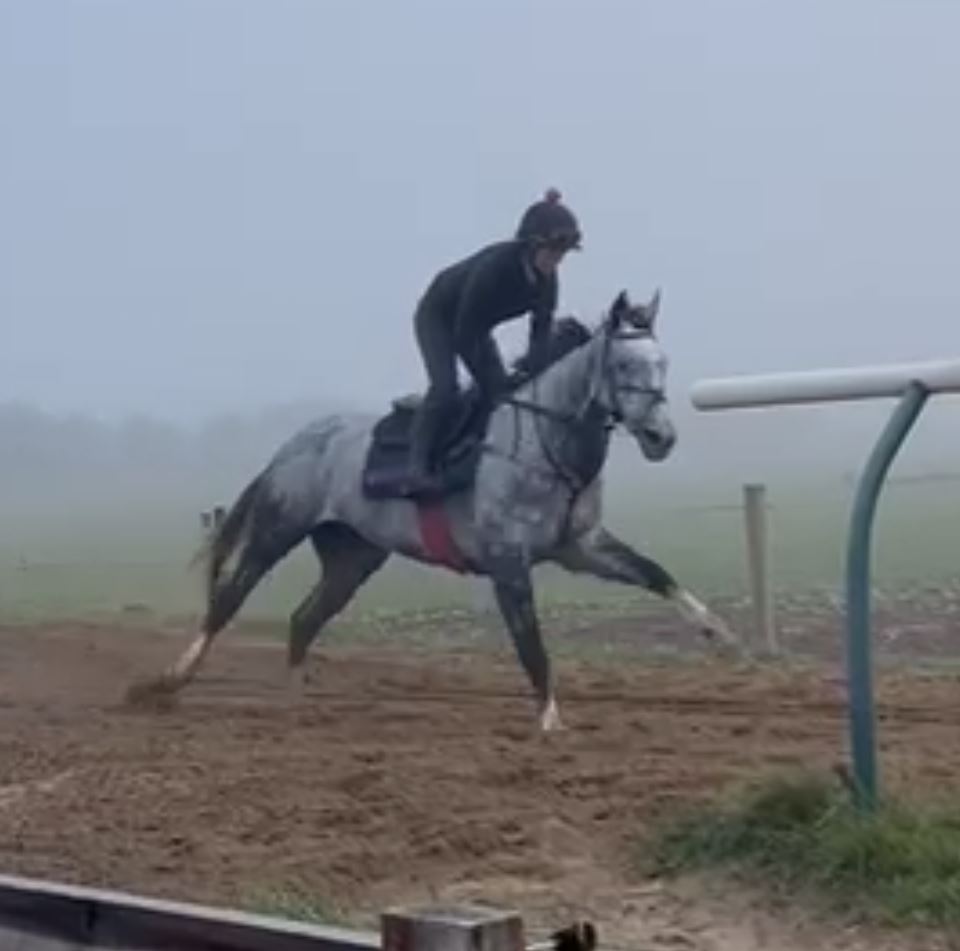 Greyval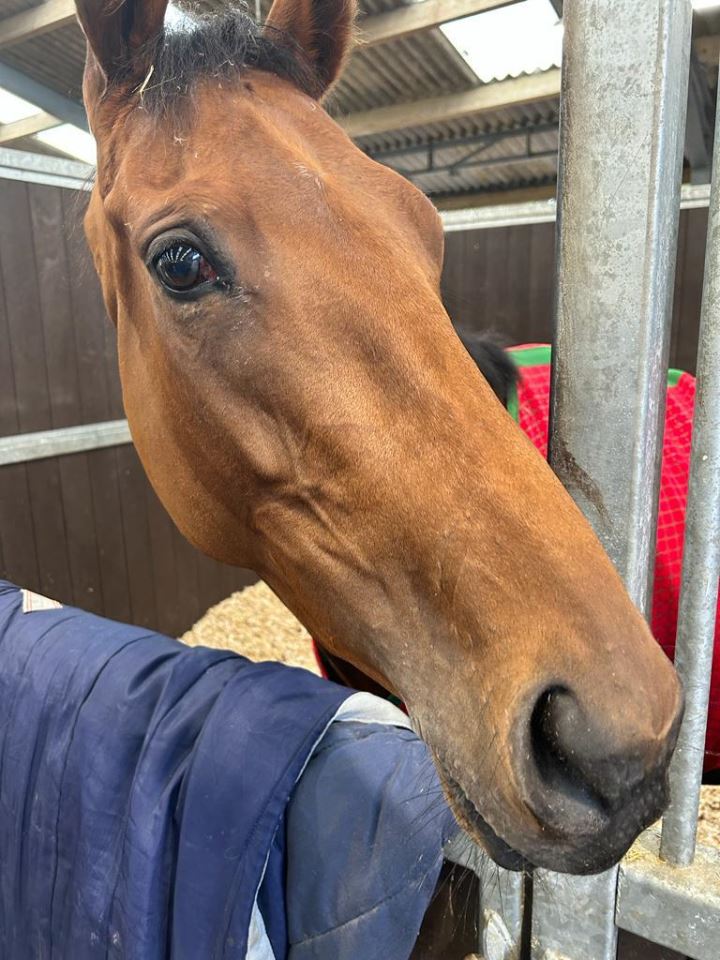 Maria's Flame back in her box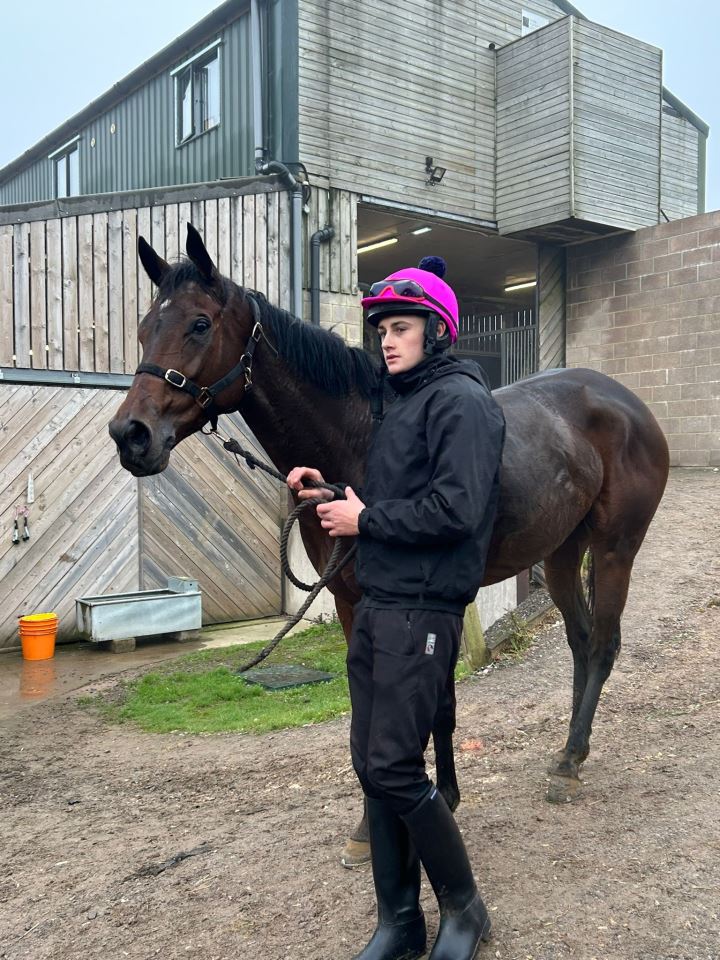 Volkovka waits for her shower
This was the first time I had missed this day in Cheltenham in years – but we were booked to be out early evening – and I couldn't be in two places at once! Four of us were booked for a bite of tea in Nuovo in Northampton before seeing Tom Davis at The Royal. Sadly it ended up just the two of us which was a real shame (Get well soon Lewis), but I have to say that we have unearthed a little gem in Nuovo. An Italian restaurant with a twist, Italian small plates inspired by Venetian small plates, cicchetti. Think Italian Tapas! The dining area is very nice, the staff very helpful, and having explained that we had tried to alter our booking from 4 to 2, the owner was really kind and refunded all the deposit at the end of the meal – as a thank you for trying to alert them of the change! He also ensured that the waiting staff were aware that we had seats at the theatre which ensured that we were served in good time – although never rushed! The food was excellent, and we will definitely be back – how this one had escaped us for 8 years I will never know – perhaps everyone that knows about it keeps it quiet! It is fantastic – well worth a visit! https://nuovo-restaurant.co.uk/
After being very well fed and 'watered' we made the short walk from the restaurant to the theatre. Tom Davis was superb – a very funny man – the first time we had seen him live, and his show was right up there with the funniest I have seen! I just wish our friends could have joined us!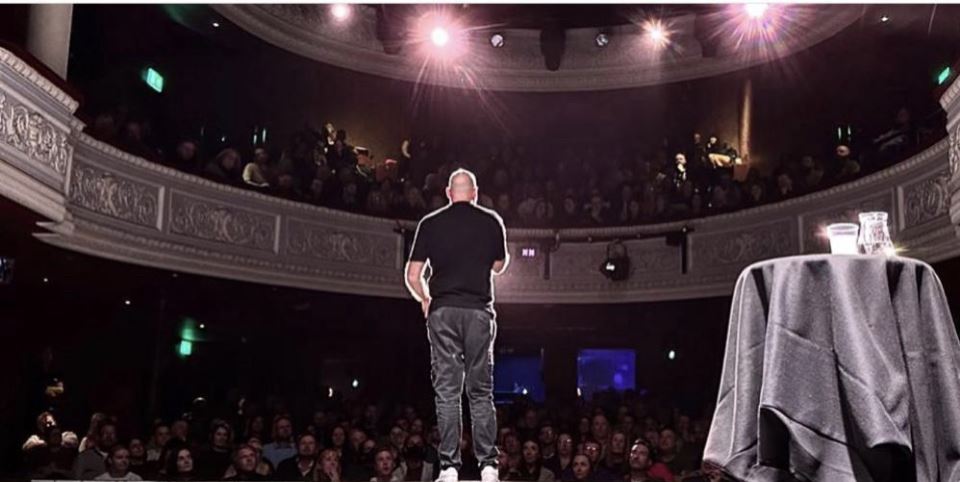 Catch this show if you can - very funny!
Saturday and the usual Saturday morning update from Alan King, It had been quite the day for Rockola on Friday – she had her first entry in Stratford next Thursday, and she gained a new owner when Niall took one of the remaining shares in her! We wish him luck with his new horse. Just one more chance to get involved in her before she runs on Thursday! On Saturday she worked up the Barbury Mile on turf for the first time, having just cantered up it on Thursday – she went really well, leading her group. Alan called afterwards to say how pleased he was with her – and she looked to go really nicely on the turf! Looking forward to seeing her out on Thursday! I missed my second day in Cheltenham – just too much to do! Not sure if I can remember the last time I missed both days of the October meeting! Never mind – will make up for it in November!
At Gary Moore's Cloud Dancer nears full fitness, and he will have an entry for his seasonal debut very soon. I am due to chat with Gary tomorrow and will update his owners. At Jason Maguires – Intrepide Sud is looking fantastic and his pre training is going great – I am sure he knows when there is a meeting on in Cheltenham on a Saturday as he usually gets some visitors – a few of the lads in to see him yesterday. They also got to see Reflexion Faite who is on her break there, along with the The Grey Gatsby yearling who has not taken a backward step since his gelding operation which has done him the world of good, and he has, if anything grown again! He is a very impressive individual and looks ideal for the plan that we have in place for him!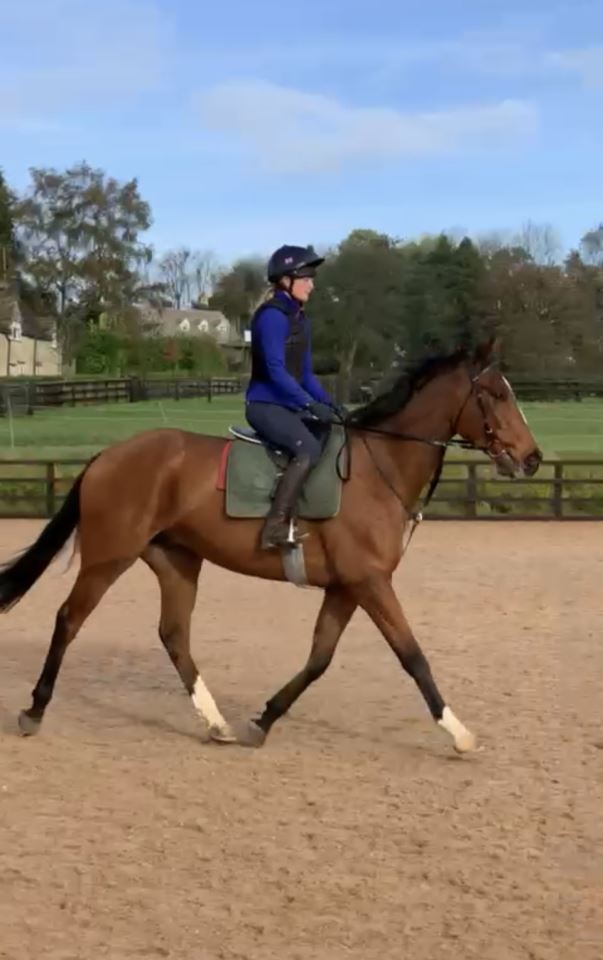 Intrepide Sud - pre training going great!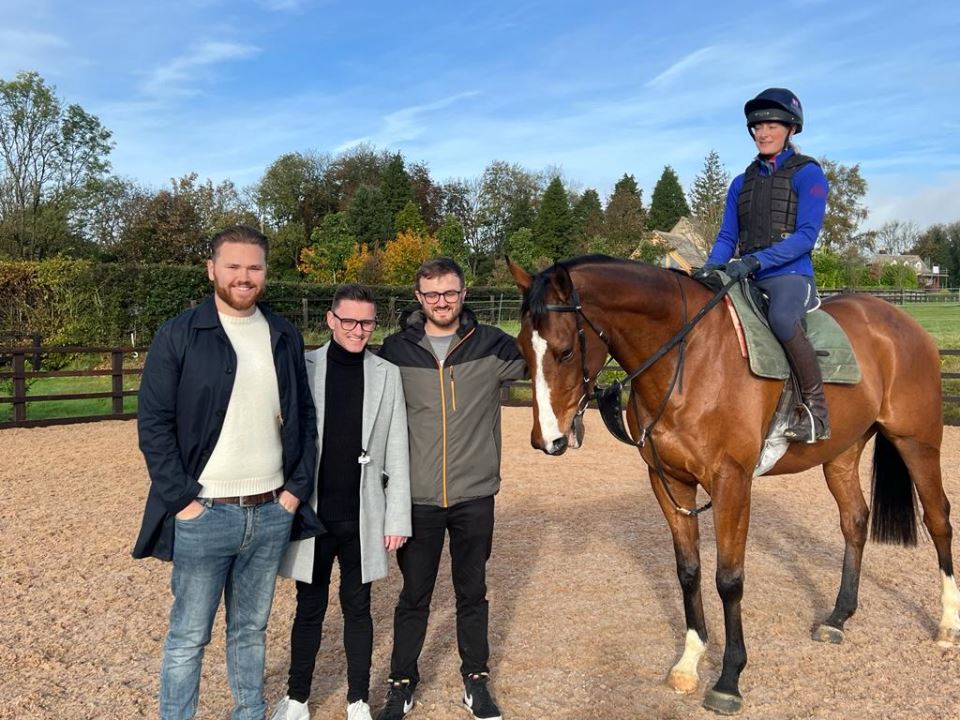 A few of his owners popped by to see him!
Next week looks busy – as I type Blue Bikini has been declared in Chepstow on Tuesday – Connor Brace in the plate – so we will be heading there. Thursday we have Rockola in at Stratford, Friday, Fortune Forever in Ffos Las (try saying that quickly), and on Saturday Greyval is scheduled to have an entry in Ascot. In there somewhere is a select sale of National Hunt foals in Doncaster! Don't rule out and addition to the squad!!
Just about the time you think you can make ends meet; somebody moves the ends!!