Rockola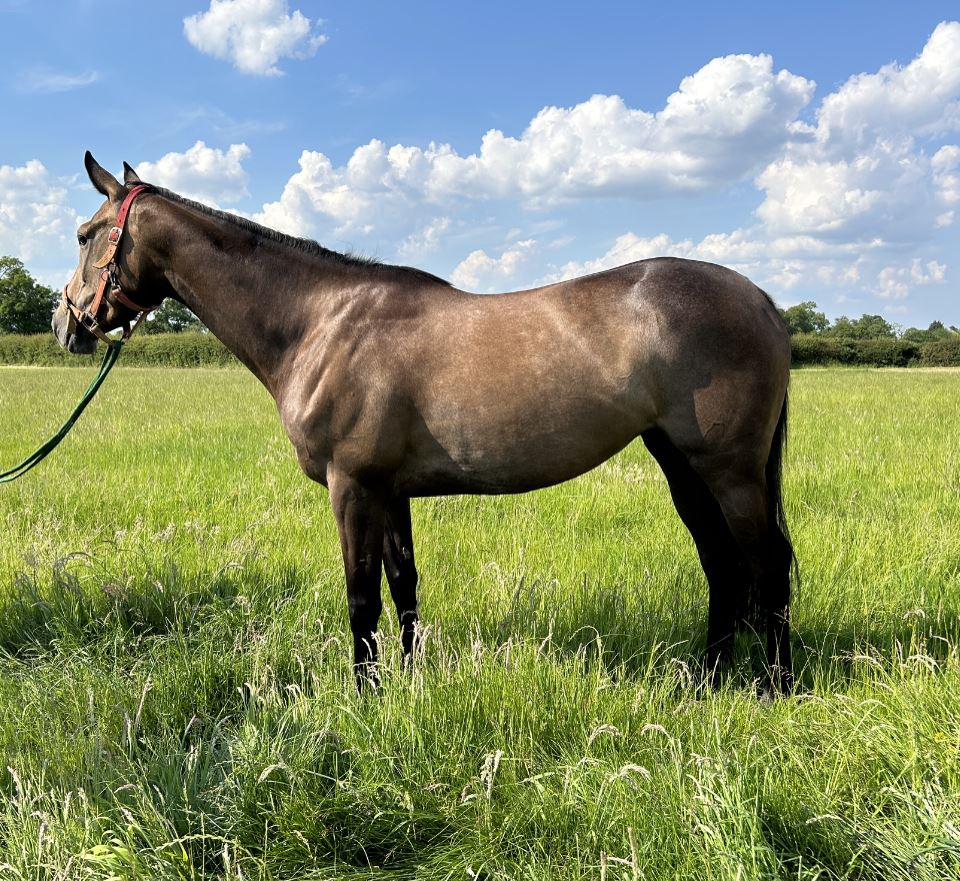 This stunning 3 yr old filly is from a family that we know well - we like her pedigree so much that she is the fourth foal of the dam that we have purchased. The first three were sold as 3 yr old store horses - and went on to achieve outstanding prices for their purchasers. The first made £145,000 after winning his 5 yr old point to point, the second made 220,000 Euros after winning his bumper during covid, and the third, this filly's full brother, made 170,000 Euros after winning his 4 yr old point to point this spring. The first two have both gone on to win under rules, and her full brother was very highly regarded by her trainer Rob James. Her half brother (by Crillon), Au Fleuron has also gone on to gain valuable balck type - this filly has a top class pedigree that is only getting better, meaning that she will always have a value as a broodmare after her racing days are over.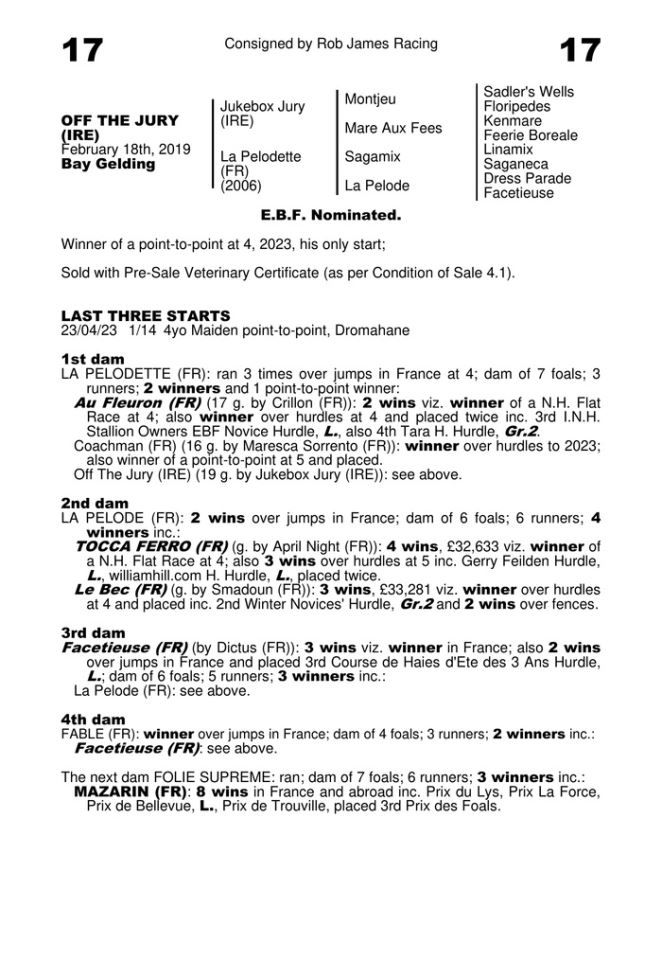 This is the pedigree of her full brother - who was sold at the Puncestown Fesival Sale for 170,000 Euros
It is therefore clear why we were keen to keep this filly on the team, she is a stunning filly, with a great mind and and exceptionally athletic movement. She was always going to stay on the team and not be offered as a 3 yr old, so she was broken in by Jason Maguire last year at 2 yrs old, and proved to be a filly with a great attitude and a super temperament.
She returned to The Elms Stud for the remainder of the year, and returned to Jason Maguire this spring, for a further 8 weeks education, where she has done plenty of cantering upsides and has been to Tom George's woodchip gallop for a couple of swinging pieces of work upsides another filly. She has pre trained really well, and is a filly that Jason thinks a lot of. He recommends her highly.
Far Side.
Her sire, Jukebox Jury is a sire we like very much, and another of our horses Cloud Dancer, was in fact his first winner from his first crop of foals bred in Ireland, as he was previously standing in Germany. Jukebox Jury was an ultra tough and consistent performer during his racing career for Mark Johnston. He was a dual Group 1 winner along with a further 5 victories at either Group 2 or Group 3 level. He raced for 4 seasons, running 22 times, winning 9 and amassing over £800,000 in prizemoney. He is now the sire of a Group 1 winner on the flat in the incredibly popular mare Princess Zoe, and also a Grade 1 winner over hurdles in Il Etait Temps. His first crop of Irish bred foals are now just 4, and the best of his progeny in the National Hunt Sphere are yet to come - he is a very excting sire indeed!
This filly is in training with Alan King at his Barbury Castle stables in Wiltshire. Alan is one of the very best trainers in the country, he has been training for 34 years, amassing 33 Grade 1 winners in the National Hunt sphere and 2 Group 1 wins on the flat. Alan has also saddled 16 Cheltenham Festival winners. The filly has now been named Rockola and has been training very well since her arrival at Barbury Castle, and has been working with some very talented mares and geldings.
Rockola made her debut in a junior bumper in Stratford, the race taking place in the middle of storm Ciaran - which was hardly ideal - but for a filly that had never been away for a racecourse gallop, Rockola behaved impeccably, and took all the prelims in her stride. In the race itself, she settled well, and got into a nice rythmn, before getting a little squeezed and intimidated on the home bend. Tom Cannon was patient with her, and rather than force her up the inner of a rival in the straight, he kept hold of her, and when he pulled her off the rail, the penny really dropped and she stayed on beautufully in the last furlong under a hands and heels ride to finish third. It was a lovely educational ride, and she will have learned a great deal from it. Alan believes she will come on plenty for the experience, and is a filly that will give her owners a great deal of fun going forward. The form of that debut run was franked in some style 12 days later when the 5th and 2nd from it were 1st and 2nd on the subsequent start in Huntingdon. We thought on the day that the race was decent for its type - and it is certainly looking like it now!
The Listed 4 yr old Bumper on New Years Day in Cheltenham remains a possibility with her . A race we have targetted in the past. From what we have seen during her two spells with Jason in the last 12 months, her training, and her debut, there is nothing to suggest that she is not up to running in this race. After that we have the option of remaining in bumpers and targetting some nice mares races in the spring, or heading her over hurdles in the National Hunt Juvenile Hurdle series, which would mean, either way she would remain a novice over hurdles for the 2024/25 season.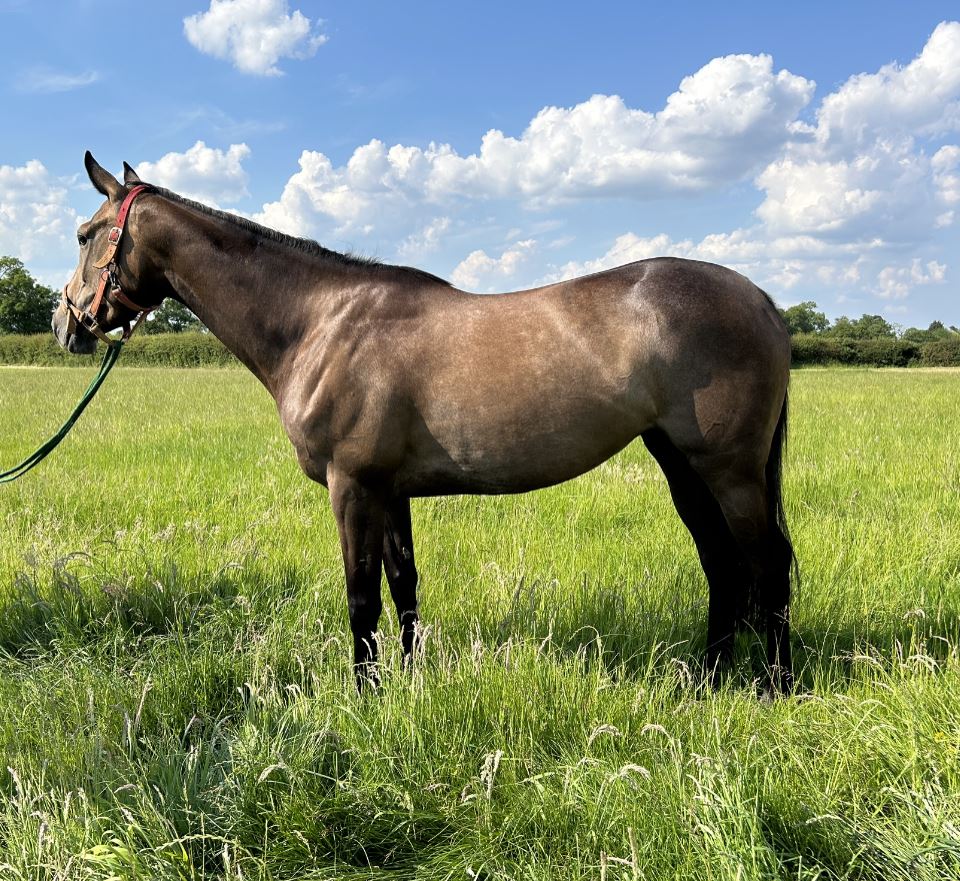 This filly will be syndicated in 12 shares. Each share is priced at £2,500 plus an all inclusive £250/month to cover all costs.
Please conatct Nick on 07909 518902 or email nickbrownracing@gmail.com to book your share in this filly.