The Grey Gatsby x Tucupita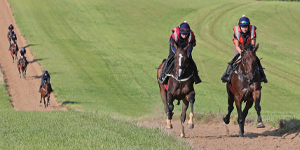 Here is something a bit special – and a syndicate opportunity with a slight difference. Those that follow our horses will be fully aware of Greyval, a 4 yr old filly that we purchased from France in October last year, having 'stalked' her from April 2023. Even before I managed to buy her I knew that there was a plan for her, which would involve the best fillies juvenile hurdles in the UK. I had to be patient to buy her, but thankfully the wait was worth it, as she did everything I had hoped and won the Listed hurdle in Doncaster. Her sire is The Grey Gatsby, and she is from his first crop – his eldest are now 4 yr olds. The Grey Gatsby is a horse I adored when he was racing, and I have been very impressed by his progeny, who have shown themselves to be good, strong, robust and well built horses, with a tough and hardy attitude to life. It is these qualities that have led us to buy this gorgeous yearling colt from the Somerville Yearling Sale in Newmarket.
Progeny of The Grey Gatsby tend to come into their own as 3 yr olds, so this horse, being a big, scopey individual, with plenty of growing and developing still do, was always unlikely to see the racecourse as a 2 yr old. The fact that he was being offered in an early yearling sale, which is usually full of handy, speedy 2 yr old types meant that he wasn't going to be on everyone's radar at the sale and we think we have got a bit of a bargain. As you can tell, we are looking at him as a long term project, and as a result we have come up with a bit of a cunning plan for him.
After another few weeks education with Jason Maguire at Ivy Lodge Farm, he will be gelded and turned away for the winter. Next summer we have two options with him, if The Grey Gatsby starts to have plenty of jumps winners, which I am sure he will, as there are plenty of 3 and 4 yr olds in his native France that look sure to try their hand over hurdles – and of course we ourselves have his best jumps daughter in Greyval, who we think could well take her form to a different level this winter, he will certainly come on the radar as a sire to look at by the national hunt fraternity. With this yearling looking like he will develop into a big strong horse as a three year old – we have options! If we think he could be attractive to point to point or national hunt trainers, and fetch a healthy return on the investment as a three year old store and we could aim him at one of the big store sales in Ireland, giving his syndicate a nice return on their money. Alternatively, if we think that he is better of remaining on the racing team and running for the syndicate he will continue his progress through our tried and tested system with Jason Maguire before heading into training with Fergal O'Brien.
I will say that the racing option is the plan we have started out with and the one we will stick to, but it has to be pointed out that the sales option is always there in the background should it look as though there is a healthy profit down that route.
This is the perfect opportunity to get involved in a young horse, by a very exciting young stallion, that has a lot of options open to him, Syndicate members could get the thrill of the racecourse, or the adrenalin rush of the sales ring – whichever way we go it will be a fun ride – come and join us!!
He is available in 10% shares, priced at £4,000 each.
Monthly fees are set at £100 per month per 10% share – up until the time he enters pre training when the fees will rise to £275 per month.